<h2 class="entry-title"><a href="https://yawnder.com/futon-vs-sofa-bed-which-one-is-the-better-choice/" rel="bookmark">Futon Vs Sofa Bed – Which One is the Better Choice?</a></h2>
Recently updated on February 16th, 2023 at 10:10 pm
There are plenty of options in the market when it comes to flexible sleep and lounging solutions. It can be difficult to accommodate overnight guests or have a friend stay with you for a couple of days if you are pressed for space and do not have a sleeping option for them. This can be very constricting to your lifestyle. Space is also a huge issue in this regard. Ideally speaking you might want to have a guest bedroom but with the property prices on the uprise, it can be quite a drain to get a larger space when you can easily make do with a smaller apartment. To get around these space issues and have the freedom of a social lifestyle you can choose certain flexible furniture pieces that will help you double up as sleeping surfaces. This not only saves precious space but has a great aesthetic presence while being extremely comfortable to use.
You will fall in love with these simplistic and minimalistic statement pieces in your living room. Futons or sofa beds add a decided charm to the space they feature in and make the whole house look cozy and chic. These streamlined bedding options come in handy as super comfy lounging options even when you do not have guests over. The difficult task is to choose between futons and sofa beds as your preferred furniture. This article will take you through these two flexible products by listing their advantages and their drawbacks. This will help you make an informed decision based on your requirements.
Futon Beds and Sofa Beds Defined
Before you step up to make a choice between a futon bed or sofa bed you need to understand exactly what a futon and a sofa bed are. Both these bedding options have very similar features that can make it a tad bit confusing to differentiate from each other. Both these terms are defined below for a quick understanding:
| | |
| --- | --- |
| Pros | Cons |
| Easy to move around | Ranks low in the comfort section |
| Lack of armrest makes it more versatile gives better sleeping space | Not very durable |
| Available in plenty of colors and sizes | |
A futon can be traced back to medieval Japanese culture. It is deeply rooted in the Japanese style of architecture. In recent times the original futon has been adapted with effective changes to suit the western style of living. The traditional futons were thinly rolled up mats that were placed on the floor with the mattress on top of it to make a surface that could be used for sleeping. This has seen quite an improvement to suit the modern user.
The modern futon is an open sofa concept that doubles up as a bed. They are generally low in height and typically come without any armrest. They have flexible upholstery that can be rearranged to create a bed when needed. The frame is also flexible and can be easily adjusted. You can either flatten it out by lawing low the backrest or there could be a pull-out mechanism that makes it resemble a bedding frame.
| | |
| --- | --- |
| Pros | Cons |
| Extremely comfortable as both sofas and beds | Big and heavy pieces make it difficult to shift from one place to another |
| Very functional with some even featuring extra storage space at the bottom | They take up too much space and attention in the room |
| Armrests make it a cosy bedding option | |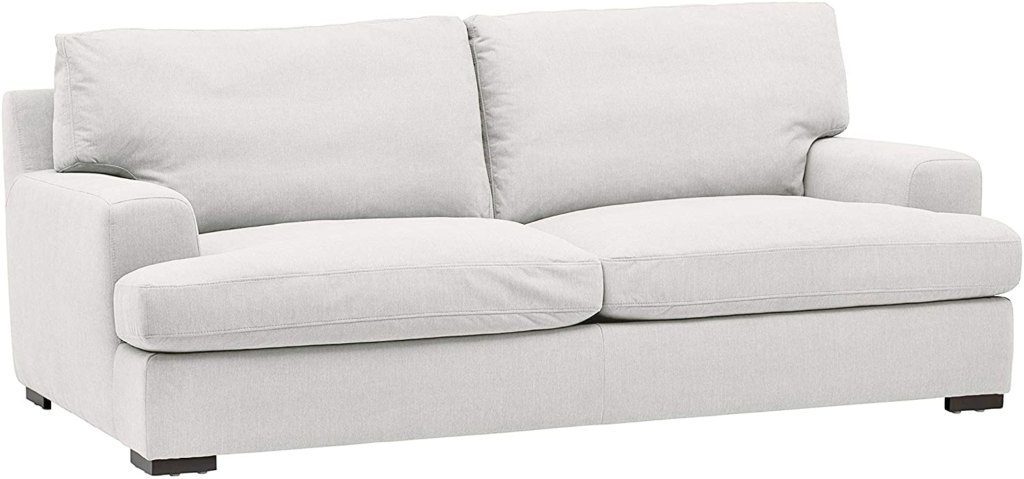 A sofa bed is a very modern furniture concept. It is designed for the space constraints of city living. It is true to its name and is a sofa and a bed rolled into one piece of furniture. A sofa bed is an extremely functional and flexible furniture design that not only helps in saving space in the room but also has the added advantage of doubling up as a lounge space or even a day bed that you can use for afternoon naps. They are very versatile and typically have a pull-out mechanism with a bed frame additional that is tucked under the mainframe.
The three-seater sofa beds can be converted into queen-sized beds whereas the two-seater sofa beds can be changed into double-sized bedding options.
Futon Vs. Sofa Beds
Both futon and sofa beds are designed to act as a sitting option that can be converted into a sleeping surface when required. However, even though the basic principle is the same in both these articles of furniture, there is an inherent difference between their structure and design that distinctly sets them apart from each other. These differences in their features will help you decide which one of these flexible sitting and sleeping options suits your personal needs best. You can then concentrate on getting the best in that category to complete your home furnishing.
The most important feature that you should consider while trying to decide between a futon and a sofa bed is the size of these two options. Keep in mind that the reason you are opting for a sit cum sleep furniture is that you are space restricted and want a multi-functional use from your seating fixtures. If you are looking for furniture that will help conserve space above everything else then a futon might be the best choice of the two.
This is because futons are lightweight structures that come with planks that are bonded together to make a seating frame. This frame can be adjusted to make it flat creating a sleeping surface. A sofa bed on the other hand is a solid piece of furniture with a pull-out mechanism that makes it bulkier in size. This pull-out mechanism eats up more space in the room than the futon.
Another important feature that sets a futon apart from a sofa bed is the weight of these two things. The weight of the product defines its ease of movement. A futon is designed and constructed in a fashion that makes it light weight than the traditional sofa bed. This makes it easier to move the futon around and change its position as and when needed. This is not the case with a sofa bed.
A sofa bed is heavier in comparison because of the extra bedding surface tucked into it and the folds it incorporates as a sofa to convert into a bed. This extra baggage that comes with a sofa bed makes it very cumbersome and a heavier option.
The structure of the futon and the sofa bed differs vastly. A sofa bed has the basic construction of a sofa with an attached metal or wooden frame under it that can be pulled out when you want to convert the sofa into a bed. A futon on the other hand is a simpler construction and is designed as a lounge chair with an adjustable backrest that can be flattened. It works on a lever mechanism rather than a pulling out mechanism. This makes a futon more appropriate for small spaces and office use.
Before deciding on whether you should buy a sofa bed or a futon, you should look into the general maintenance efforts needed for its upkeep. It is way easier to clean and maintain a futon than it is to clean and maintain a sofa bed. This is because a futon is designed with easily removable upholstery. You just have to unzip the covers and clean them.
The sofa bed on the other hand requires you to remove the slip-on covers that are generally fixed tightly on the sofa making that whole task extremely tedious and arduous. To make matters worse a majority of these slip-on covers are dry clean only. This makes it even more challenging to routinely clean the sofa beds.
The most important aspect of any furniture is the comfort factor associated with it. You want to be able to relax and unwind on your sofa, bed, or seating fixture above everything else. A highly comfortable perch is the best feature of any furniture article. Where comfort is concerned you will be hard-pressed to find a futon that is more comfortable than a sofa bed. A good-quality sofa bed easily beats any futon in both the seating and sleeping areas.
That said you cannot change the firmness and plushness offered by the sofa bed. It comes pre-arranged and cannot be customised. Futons offer you the edge in the customisation department. You can change the upholstery of the futon to make the mattress thicker and softer as per your choice.
It is no fun in getting an item of furniture and then spending ages trying to figure out how to set it up. If setting up is one of your concerns then you had better go in for a sofa bed rather than a futon. A sofa bed comes primarily assembled and you just have to attach the bottom extendable frame to the original frame. A futon requires much more engineering to set up with slates fixed in position before you can use it.
Ease of Converting into Beds
Both the sofa bed and the futon have to be converted into the sleeping position before you can use them as a bed. In this respect, it is easier to manoeuvre a futon rather than the sofa bed. With a futon, you just have to unlock the lever at the back and pull the backrest slate down into a straight position. You might have to pull the futon away from the wall to create the required space. However, this is an easy task since a futon is a lightweight furniture piece.
A sofa bed proves to be much more challenging in this respect. You have to manually pull out the lower section of the sofa bed and then secure it properly with the existing panel to create a bed platform. This requires a degree of physical exertion that might not be suitable for everybody especially those with lower back problems. You can opt for automatic sofa beds to make it more convenient but these are too pricey to justify the cost.
You should pick the place where you want to position the futon or the sofa bed. A sofa bed is much bulkier than a futon and requires a larger space than a futon. This is because you have to pull out the bottom to convert it into a bed. This requires a lot more space than simply having to recline the back of the futon into a straight position.
Hence, if you have a larger space then a sofa bed will work well otherwise you should opt for a futon only. A sofa bed in a smaller space will make the space look even more cramped even if it fits in it.
A futon works well with the existing décor and other furnishings in the room since it is lightweight smaller-sized furniture with a predominantly boho design and structure. It has upholstery that can be chosen to easily mix and match with the theme of the space it is in.
In comparison, a sofa bed is a piece of bulky and heavyset furniture that is a statement piece by itself. It is difficult to blend a sofa bed into the existing style of your room. Rather you will have to change the other little knick-knacks in the room to blend in with the sofa bed so that it does not stand out too much. If you would rather have a seating cum sleeping option that does not take up too much personality in the room then you should opt for a futon and skip the sofa bed.
Sofa beds are an expensive option by themselves. When you compare the sofa bed with futons then a sofa bed makes even less sense from the value of money and price point perspective. A futon is cheap and affordable with plenty of customisable options. You can easily revamp your futon to a different look and feel but this is not possible with a sofa bed. When you add up the functionality aspect with the ease of maintenance and performance deliverance then a futon is a much better value for money option than a sofa bed.
Wrapping Up
Futons and Sofas beds both give you excellent options in terms of comfort and usability. They both have great features to their credit. The decision between futons and sofa beds will primarily come down to your personal preference and needs. If comfort is your optimal desire, then a sofa bed will work much better than a futon. However, if you want more flexibility then a futon should be your go-to furniture.
At the end of the day, it is all about what fits you and your space the best. Whichever option you opt for there are plenty of attractive choices available in the market that will cater to your every requirement. This helpful review about futon vs. sofa beds will help you choose the best out of these two furniture options to give you maximum comfort while taking care of your practical needs.