The Amore Mattress is the newest entrant in the customized mattress space. This is a foam / coil hybid mattress that has 3 different firmness levels, soft / medium / firm with an added option to have different firmness levels on each side of the mattress. Since most couples have different firmness preferences, it makes sense to design a mattress that can be customized with different feels. The mattress also comes in at a competitive price at $775 for a queen.
Overview of the Amore Mattress
Here's a video of me on the Amore Mattress giving an overview of how it all works. The mattress I received has the copper-infused fabric cover which aids in cooling. After placing your order the mattress should arrive in about a week and comes roll packed in a box.
Construction of the Amore Bed
Below are the specifications as listed on the Amore website:
Contains super cooling elements made with CertiPUR-US foams free of flame retardants, heavy metals, formaldehyde, and phthalates. No toxic flame retardants used in this mattress.
Offers a dual firmness split design option allowing for two people to choose different comfort levels.
Introduces our specialized natural Talalay thermo-transferring graphite viscoelastic memory foam to keep you cool. Gel is 10-year-old technology. Get with the times and get today's 2017 best hybrid with Graphite!
Does NOT retain heat like typical all-foam universal mattresses. Our 4″ pocketed coils cost 4x the price of the 4″ of foam that competitors use. Our engineers (and our backs) agree it's worth it.
Incorporates the best of both worlds between spring and foam mattresses without the negatives.
Maintains lasting support for any sleep position with 4″ ultra-breathable precision pocketed-coils.
Revolutionizes a unique therapeutic copper ion fabric option offering priceless benefits.
Helps alleviate back pain by targeting pressure points with our industry leading hybrid technology of premium materials. More is definitely better with the 11″ AmoreBed.
The intelligent choice for informed mattress shoppers tired of salesman and retail markups.
Natural GOTS certified wool fire barrier
How Much Does the Amore Mattress Cost?
Twin Mattress – $550.00 regular; $400.00 w/ $150 sale
Twin XL Mattress – $650.00 regular; $500.00 w/ $150 sale
Full Mattress – $825.00 regular; $675.00 w/ $150 sale
Queen Mattress – $925.00 regular; $775.00 w/ sale
King Mattress – $1,100.00 regular; $950.00 w/ sale
Cal. King Mattress – $1,100.00 regular; $950.00 w/ sale
My Amore Mattress Findings
I received a split queen where one side is firm and the other is medium. They also have a soft option which would obviously be softer and sink more than the medium.
Below is a picture illustrating sinkage on the mattress. On the right is the medium side and the left is the firm side. There is a noticeable difference between the two. While they vary in firmness, the firmest option still provides good pressure relief.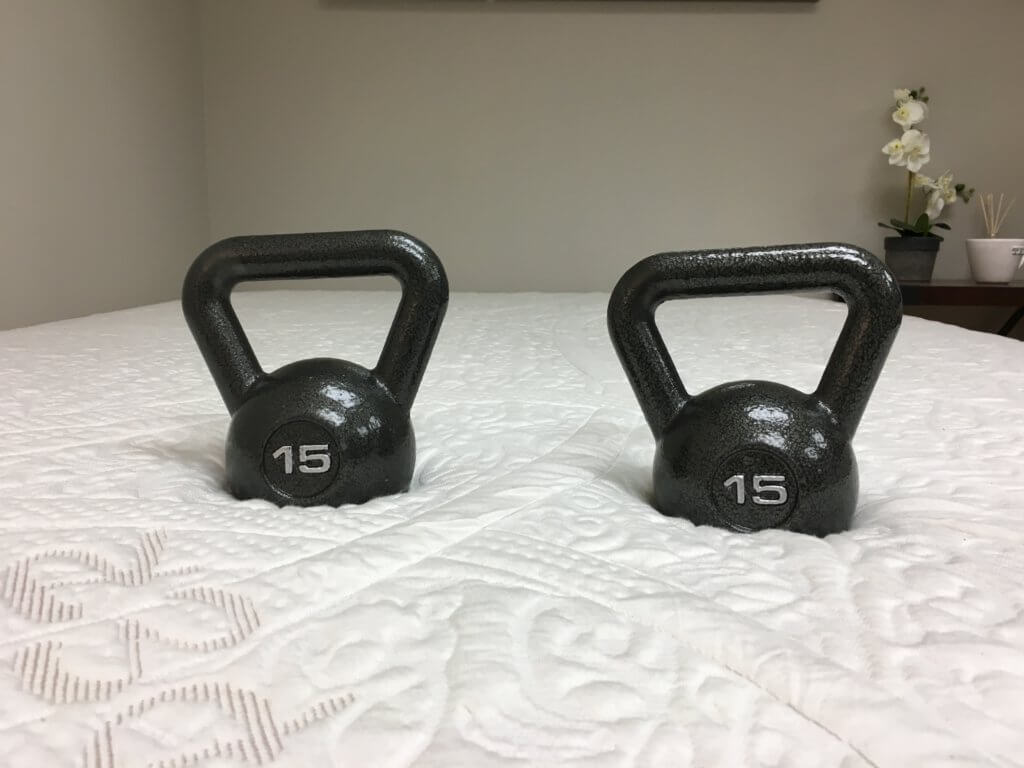 I also took apart the mattress to show you the inside. Below is a picture of the inside of the Amore mattress. The mattress has 4 distinct layers. The top layer being the graphite infused memory foam then foam underneath that two layers of memory foam and finally the pocket coil system which is encased in a border of rigid foam.
Here's a picture of the pocket coil system. Amore mattresses have 4 inch pocket coils. Overall this feels more like a foam mattress than a spring mattress but the coils add a nice touch in that the add a little more contouring than a simple base foam layer can offer.
Below is a video that illustrates how the layers react.
Below is a video of me bouncing my bowling ball on the soft side of the mattress to illustrate motion transfer.
Compare that to the firm side of the mattress below. Both handle motion well because most of it is absorbed by the foam layers immediately below the top graphite foam layer.

Here's a video illustrating heat retention on the Amore Mattress. The copper infused ticking will help a little with dissipating heat and so will the graphite
My Amore Mattress Recommendation
I really like what Amore has done with their mattress. The split firmness levels I had in my queen had a subtle transition for each side so you don't feel like there is a division between you and your partner. This mattress has a little bit of everything, copper, graphite-infused foam and pocket coils. That's a lot of different materials but everything comes together well. I recommend this mattress for people that are looking for an affordable hybrid mattress that cradles well and has some sinkage but is easy to move around in and still supportive.
Get $150 off your Amore Mattress with Coupon code Sherpa150
Learn more about the Amore Mattress