<h2 class="entry-title"><a href="https://yawnder.com/eluxury-supply-12-inch-gel-foam-mattress/" rel="bookmark">eLuxury Supply 12 inch Gel Foam Mattress</a></h2>
Recently updated on June 22nd, 2021 at 09:57 pm
The new 12 inch hybrid from eLuxurySupply is a very substantial mattress at an accessible price. It also comes with a 120-night trial where you can return it free within that timeframe. It is Made in the USA. Eluxury Supply is a United States Veteran owned and operated business out of Evansville, Indiana. In 2016 they were the #4 fastest growing company in America according to Inc. Magazine.
They have a nice assortment of mattresses to choose from as well as other accessories including mattress pads, sheets, pillows and even bed frames.
Overview of the eLuxury Supply mattress
This mattress comes shipped in a box similar to most of the other online brands. This mattress ships quickly and you should receive it in a week or less after placing your order.
Construction of the eLuxury Supply Hybrid
Below are the construction specifications of the mattress as listed on their website.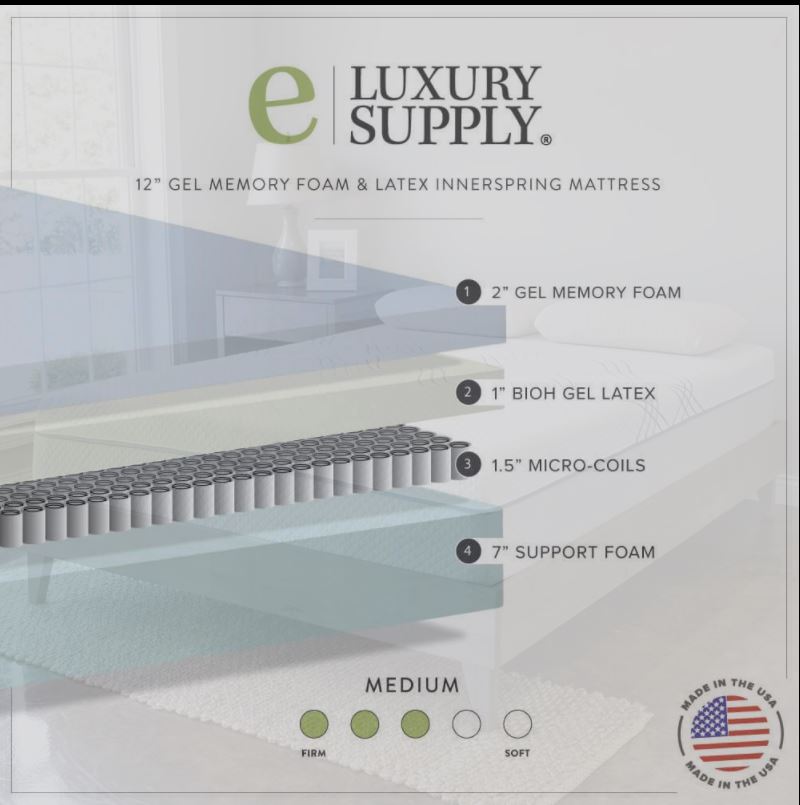 2″ GEL INFUSED MEMORY FOAM
1″ GEL INFUSED MEMORY FOAM
1.5″ ENCASED MICRO COILS
7.5″ SUPPORT FOAM
How Much Does the 12 Inch Hybrid Cost
Here are the current prices of the mattress if you were to buy directly from their website.
Twin $900
Twin XL $900
Full $970
Queen $1,000
King $1,150
California King $1,200
My eLuxury Supply Findings
For a foam hybrid mattress, I would classify it on the softer end of the spectrum, probably a medium soft. I do like how all the layers transition well. With some mattresses, you will feel the transition from foam to hitting the springs as you lay down. That's not the case here.
Here's a picture of my 14 lb. bowling ball on the mattress to give you an idea of how much it will sink..
Here's another video showing motion transfer. This mattress has very little motion transfer. I think that's because there are softer foams on the top layer which absorb most of the impact. It does have coils but micro coils really don't transfer motion. These coils provide just a little more contouring that foam alone cannot provide.
Here's a video that shows how well the mattress dissipates heat. I would say that this mattress is sort of middle of the road for heat dissipation. If your primary concern is sleeping hot there are better choices out there but I didn't notice it to necessarily sleep hot.
My eLuxury Supply Recommendation
There are other micro coil and foam mattresses on the market with similar construction, however, at $1,000 for a queen size this is a pretty good deal. Among the other microcoil mattresses this one is slightly softer. It lacks some of the cooling features such as a phase change cover but if you aren't a hot sleeper, you won't miss this. Eluxury has a 120 night hassle free return policy so there's no risk in trying it out.
I recommend this mattress for people that like a soft foam mattress but want just a little more push back that foam alone cannot provide. With the micro coil system you get the benefits of having a softer, denser foam at the top while the micro coils can do the work of springing it back to life a little quicker.
Learn more about the eLuxury Supply 12 Inch Hybrid.