I received a free Marpac YogaBed for review. I have been using it for the past 2 weeks and I found to be a big improvement over what I have bought through mattress stores in terms of price, quality and comfort.
The Marpac Yogabed Review
I received a queen size
YogaBed
this past Tuesday which costs $799. The ordering process is seamless, similar to the Tut & Needle or Leesa ordering process. Just pick a size, enter your address, credit card and a few days later a mattress in a box arrives at your door. You get tracking information on your order so will know what day it will arrive. This is especially helpful if you are coordinating removing your old mattress. This mattress arrives in a box about 4 feet high by 1 foot wide so it's easy to get in your door, up and down stairs and in your ideal location before unboxing. If you live in an apartment or house with small corridors, this might be the solution to you being able to get a king size mattress in your room that previously wasn't possible.
Unboxing the Marpac Yogabed
Unboxing the YogaBed is also similar to the Tuft & Needle process. Below is an excerpt of a video of me unboxing the YogaBed. You should note that it also comes with a handy cutter to cut through the plastic so that you don't damage the bed. I was so excited I overlooked this tool and just used scissors. The bed decompresses quickly and is ready to sleep on in about 1 hour or less. There is some odor at first but that dissipates after 2 nights. I didn't mind it so much, in fact, I get excited over the "new mattress smell" kind of like a "new car smell". It triggers a feeling that I just made a major upgrade in my life. There is the typical memory foam smell that comes with a freshly opened YogaBed but that's no different than any memory foam mattress or pillow I have ever tried. The bed inflates very rapidly and I was able to use it the first night I unboxed it. The memory foam smell went away after a few days. The composition of the YogaBed is listed below: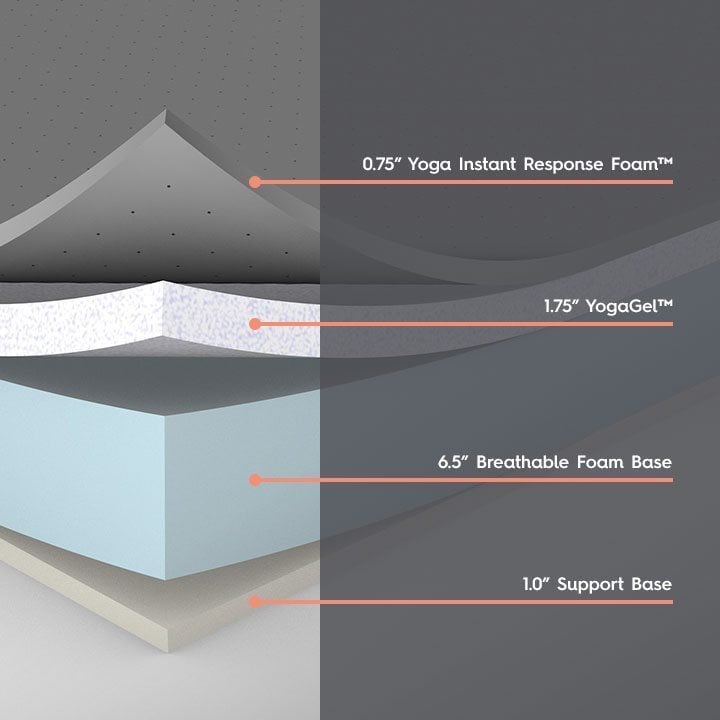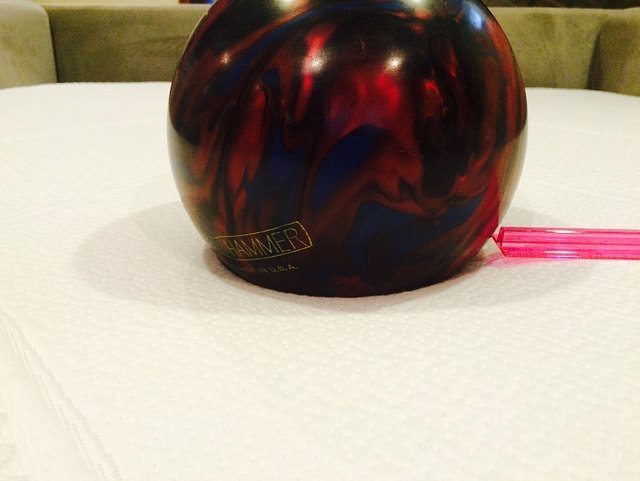 I put my 14 lb. bowling ball on the YogaBed to give you an idea of how much give you can expect.
.
Of all the
mattresses I reviewed,
the YogaBed cover was the easiest to remove. Note that the YogaBed contains a layer of gel or YogaGel. I noticed that this bed sleeps significantly cooler than the Tuft & Needle mattress and I can only attribute it to having this gel which the Tuft & Needle mattress lacks. This bed seems to be a bit softer than the Tuft & Needle mattress so something to consider if you prefer a mattress with a little more give. It also comes with 2 memory foam pillows that are on the thinner side. However, I think they work perfect for this bed. I tried using it on my old bed and they were too thin but that's just because my old bed doesn't conform to my body as well as the YogaBed. Check the Marpac Yogabed website for the latest deals.
Warranty and Trial for the Marpac Yogabed
YogaBed has an excellent 10-year warranty and a 101 day trial period. If you aren't satisfied you can return it within the trial period and not have to pay shipping costs for the return.
My YogaBed Recommendation
The YogaBed is a great mattress that is definitely worth considering. In addition to the mattress, YogaBed also has sheets, pillows and a foundation for purchase.
Shop the Marpac YogaBed
. Questions about this mattress?
Contact me
and I'll respond within a few hours
Disclosure: We aim to highlight products and services you might find interesting, and if you buy them, we may get a small share of the revenue. I do not have an affiliate relationship with YogaBed.