I recently visited the factory and headquarters for Brentwood Home in Los Angeles. This was my first tour of a real mattress factory and it didn't disappoint. As I have stated in my reviews of their products, what I especially like about this company is that they make their own products in-house with natural materials and are very dedicated to quality craftsmanship. I put Brentwood Home on a different level than many of the "mattress in a box" companies because they go beyond just creating compressed foam mattresses. Concept, design, development, and manufacturing; Brentwood Home controls the entire production process. With the expertise and technology at their disposal, they can create mattresses with a wider variety of natural, non-toxic materials and put them together with sharp attention to detail.
Recently, Brentwood Home transitioned to a new, bigger factory to keep up with demand. This factory is big, 180,000 square feet of mattress-making awesomeness. I was able to shoot some photos and videos to give readers a sense of what it takes to make their mattresses. I was able to tour every part of the process and it runs very efficiently but also in a laid-back California kind of way where you can tell the workers take pride in what they do.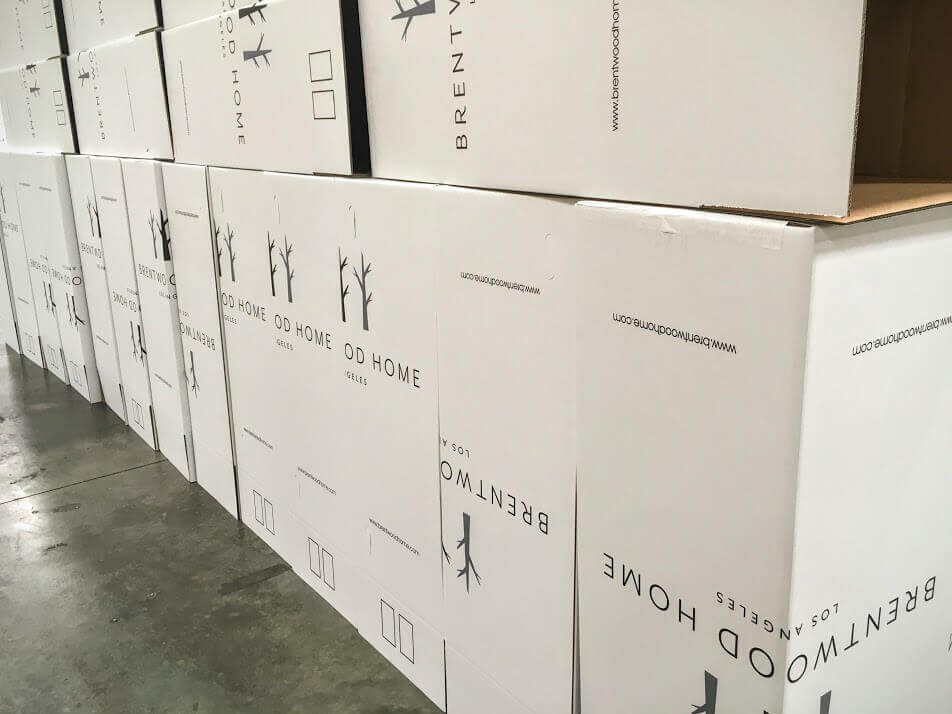 Brentwood Home makes its own mattress ticking, which is basically the outer cover of the mattress and has three machines dedicated to creating them. They just recently purchased a third machine which is more advanced.
Notice how thick these covers are compared to leading brands. This is a very high-quality cover that I haven't seen in mattresses below $2,000 in retail stores. According to Brentwood Home's CEO, Vy Nguyen, "Because we design, manufacture, and sell all of our own beds, we don't spend any money on middlemen and can pass this savings on to our customers. That's why we're able to offer such premium products at affordable prices."
There are also side panels stitched around the top ticking layer to hold it in place. Most mattresses in a box just have a "sock" that is wrapped around the foam and glued in the corners. Brentwood Home goes the extra mile and adds more durability to their mattresses by stitching their paneling into place.  Best of all, Brentwood Home makes this all in their factory with non toxic materials.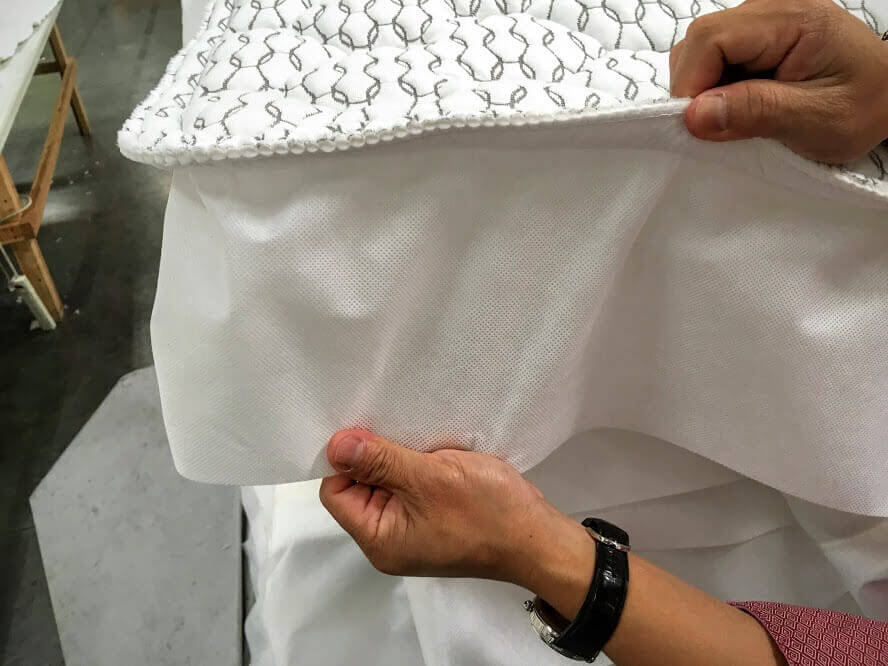 Below is a stitching machine that embroiders the Brentwood Home logo into the mattress side panel. Most mattress covers I have seen are created all as one piece and zipped over the mattress. These mattress covers are stitched all the way around.
They even stitch handles directly onto the mattresses which makes them easy to move and rotate once they are unpacked. Notice that the fabric here is furniture-grade fabric which means its extra durable, high quality fabric that is going to last a long time. It's that kind of careful, artful detail that makes this company stand out.
While the covers are being made, there another section of the factory dedicating to making the foam mattresses. Large pieces of CertiPUR-US Certified foam arrive to the factory and are cut into the layers that will make up the mattresses. Once this happens, the layers are then glued together in the machine seen below. The advantage to using a machine like this is that it is more consistent in applying glue and uses less glue which ultimately enhances breathability, important for those that tend to sleep warmer. Some factories spray the glue by hand which can lead to over gluing, prohibiting the mattress from fully expanding and blocking airflow.
In the second part you can see how the machine heats the glue so that it speeds up drying time.

Some of the higher-end mattresses are hand-tufted. Large tufting needles are placed into the mattress along with string. Once everything is secured on the other side, the mattress is decompressed and you get the tufted look. Tufting not only creates that luxurious look but it's also what holds the layers together without the need for glue.
This type of tufting can be found on many of their mattresses.

Here's what the mattress looks like when it is decompressed
Finally, when the mattresses are done being made, they are compressed into a box to be shipped directly to the customer. Even their pocket coil mattresses are able to be compressed and shipped – Brentwood Home is currently the only "mattress in a box" company that can ship spring mattresses.

Brentwood Home recently launched their 2016 line of mattresses which are separated into 3 categories. Within each line they are listed in descending price points.

I will be writing more in-depth about each of the new mattress lines of mattresses in subsequent posts.
In conclusion, I feel even more confident in recommending Brentwood Home for mattresses. Their factory is top-notch, I could tell the employees enjoyed the fun work environment and they display true craftsmanship from start to finish.