The Tempur-Pedic Cloud Elite mattress was discontinued in 2022. Tempur-Pedic regularly discontinues and updates its mattress lineup, and the Cloud Elite was replaced by the Tempur-Cloud Supreme.
The Cloud Supreme is similar to the Cloud Elite in terms of its overall feel and construction. It features a soft, plush top layer and a more supportive base layer. However, the Cloud Supreme is slightly thicker than the Cloud Elite, and it also uses a newer type of Tempur-Pedic foam that is designed to be more responsive and cooling.
If you are looking for a mattress that is similar to the Tempur-Pedic Cloud Elite, the Cloud Supreme is a good option to consider. It is also important to note that some retailers may still have Cloud Elite mattresses in stock, so it is worth checking around if you are specifically interested in that model.
Here are some of the reasons why Tempur-Pedic may have discontinued the Cloud Elite:
To simplify its mattress lineup and make it easier for customers to choose the right mattress for their needs.
To introduce new mattresses with updated features and technologies.
To reduce costs.
To make room for new mattress models that appeal to a wider range of sleepers.
It is also possible that the Cloud Elite was discontinued due to low sales. However, Tempur-Pedic does not release sales data for individual mattress models, so it is difficult to say for sure.
Overview of the Tempurpedic Cloud Elite
Contruction of the Tempurpedic Cloud Elite
Below is a cross section picture of the inside of the mattress. As you can see there are 4 foam layers. Many of the all foam mattresses online are 3 layers of foam. I think what you get from this mattress is a much more suble transition.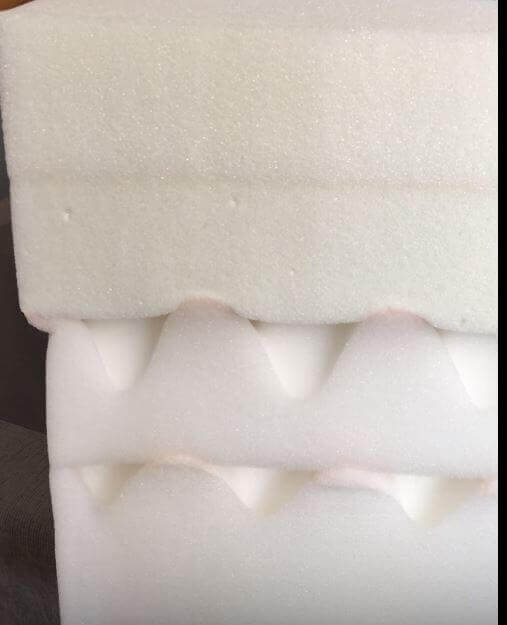 Below are the construction details of the mattress according to the Tempurpedic website.
Exclusive cover zips off and on for easy washing or replacing, with wear-tested, dual zipper accessed from any side. Soft and durable.
Innovative two-layer construction helps you stay comfortable during the night. Fibers in the top cover draw moisture away, while SmartClimate® treatment in the inner cover provides cool to-the-touch comfort.
Made from extra-soft TEMPUR-ES® material, the top layer determines the mattress feel and works with the Support Layer to allow for personalized comfort and support.
Formulated from TEMPUR® material, this layer provides support for your body and helps distribute body weight evenly across the mattress.
This layer serves as the "base" for the TEMPUR® material above it, and is also designed to help disperse heat from the mattress.
Tempurpedic Findings
Here's how much the mattress sinks when placing my 14 lb. bowlingi ball on it. The knit cover is soft and think compared to other mattress ticking I have tested. There's no need for a mattress pad here, in fact I would discourage you from using a mattress pad as this mattress is plenty soft without it.
In terms of softness below are the test from our proprietary firmness testing machine: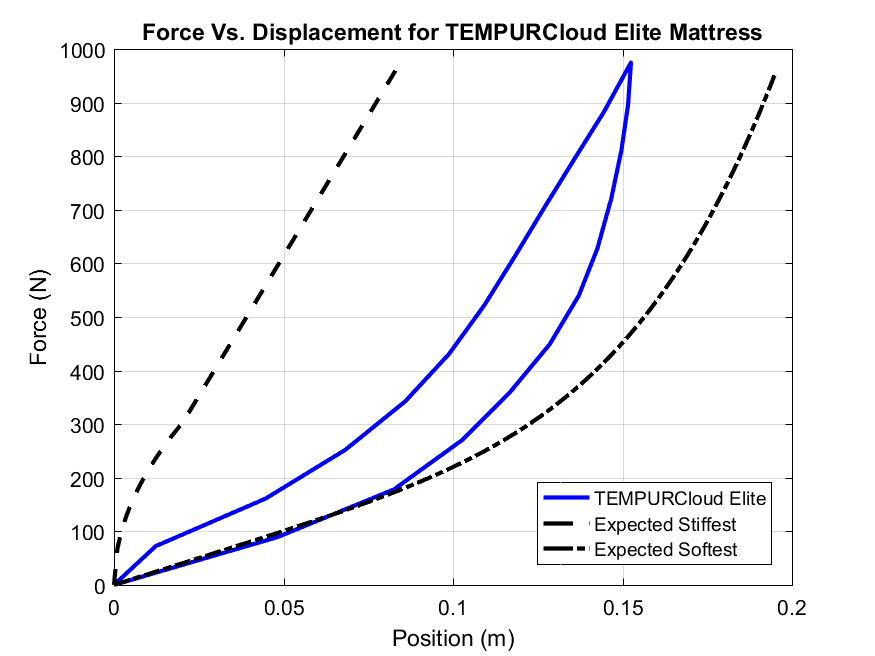 Below is a video illustrating how each layer of the mattress reacts: You'll see that the top two layers are the conforming foam and that the very top layer is the slowest to recover and also the softest.
The video below illustrates motion transfer on the Tempurpedic. True to its reputation, there's basically no motion transfer here.
Below are the more scientific findings from my engineering team regarding motion transfer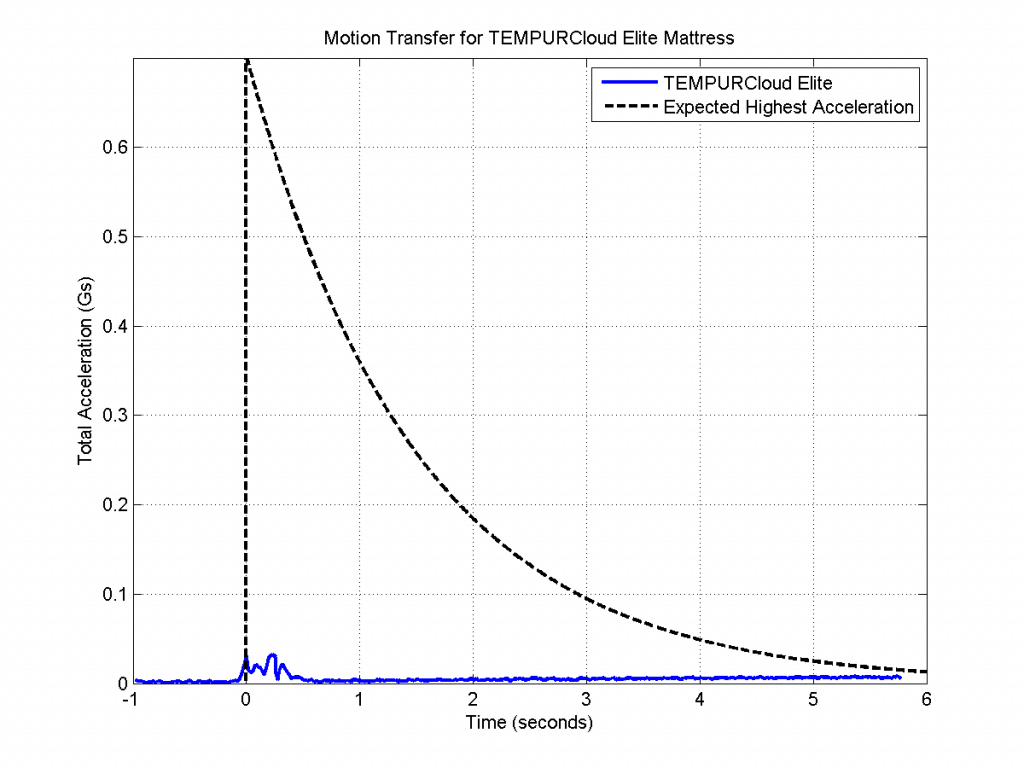 The following video illustrates heat retention on the mattress. I thought that this mattress would retain more heat but I think that the Smart Climate System, seen below, help dissipate heat below the cover.
Part of what help dissipate heat is the smart climate cover. When you unzip the top cover you will find this below which is a mateiral that is cool to the touch.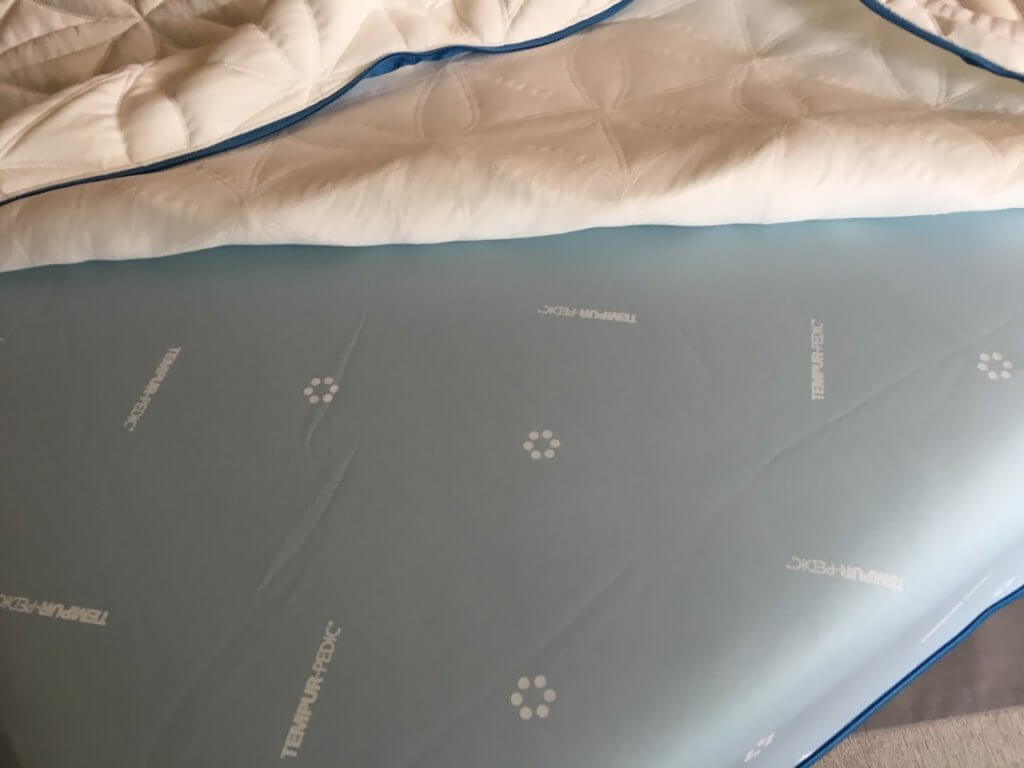 The cover itself is removeable and washable. I advise a mattress protector though if you tend to eat or drink in bed. I really like how easy it is to unzip the cover. Here's a picture of the zipper system.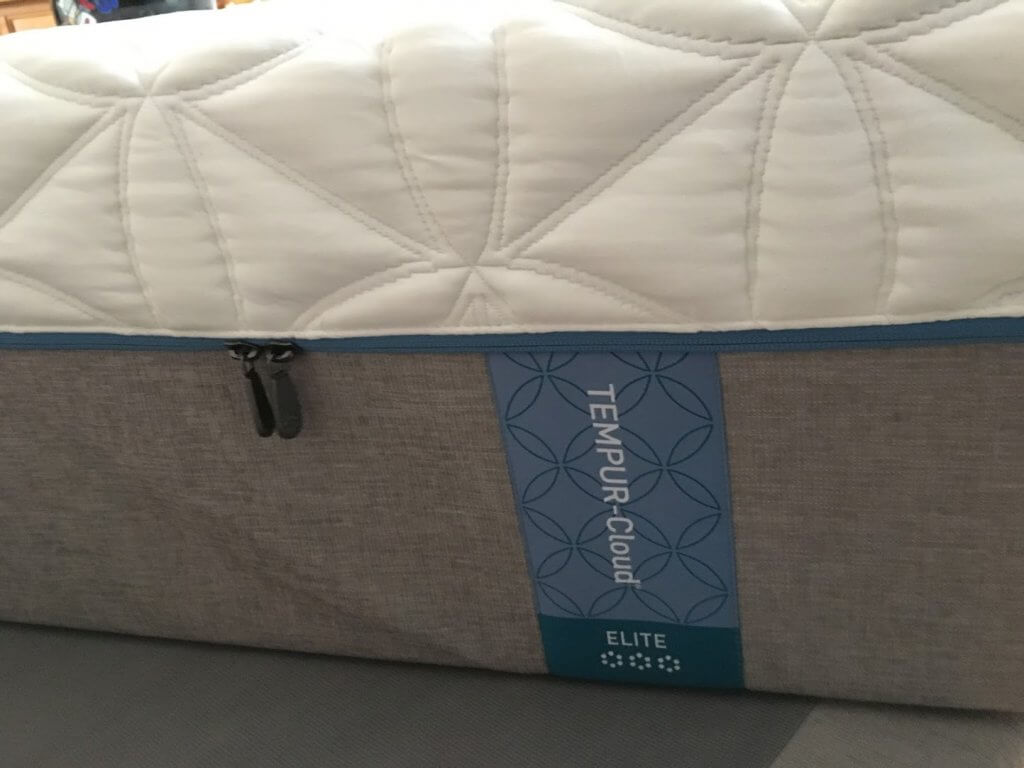 My Tempurpedic Cloud Elite Recommendation
If you crave a soft and cozy mattress that has excellent contouring, the Tempur Cloud Elite is an excellent choice. Although there are literally thousands of memory foam mattresses online, there are very few mattresses that come close to the feel of a Tempurpedic. This mattress is definitely on the pricier side  however, having been around for 25 years they have garnered trust in the industry and among consumers.It's not uncommon for Tempurpedic customers to be happy witht their mattress well beyond the 7 year lifespan of a typical mattress.
Learn more about the Tempur Cloud Elite