Slumbr is a new pillow startup that has a great offering of pillows that help you maximize your comfort depending on your sleeping style. I was recently given a couple pillows from Slumbr to review. I think we may start seeing more online pillow startups in the wave of all the mattress startups. This is generally a good thing since it gives you more choice and quality typically goes up while pricing goes down. Slumbr currently has 6 different models of pillows in their lineup and for this review, I tried out the Virgo pillow.
Overview of the Virgo Pillow
You can order Slumbr pillows direct from their website. They will arrive in about a week and come in fun packaging that you can reuse.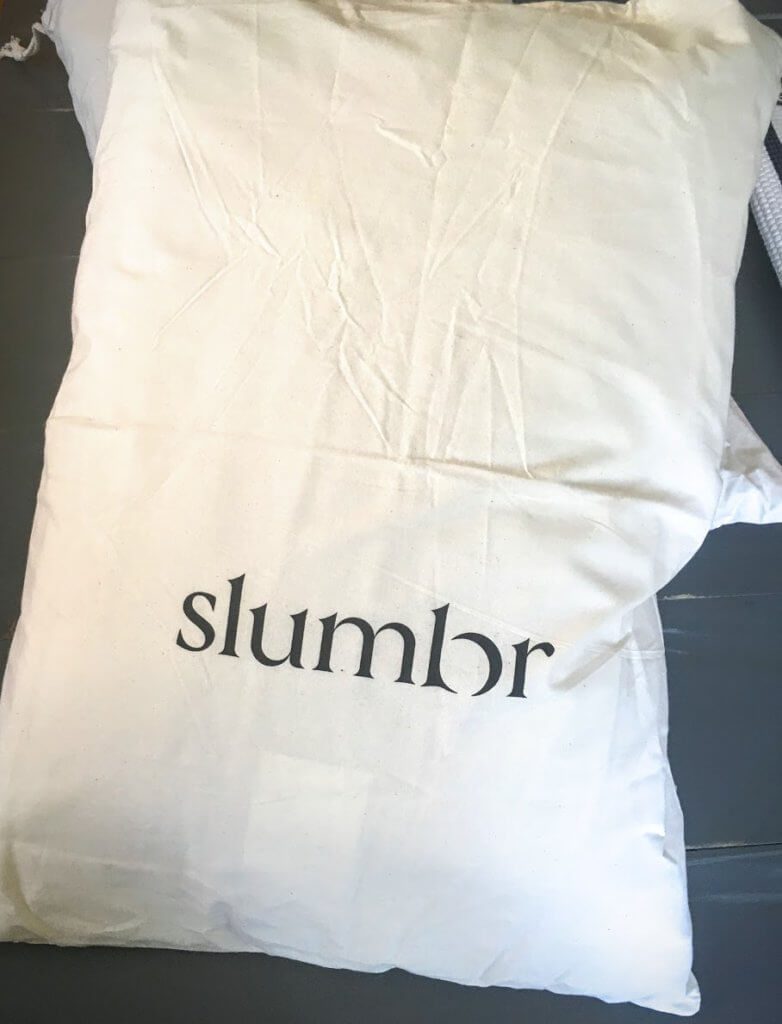 The Virgo pillow was designed for stomach sleepers or even back sleepers who prefer a thinner profile pillow. If you're unsure about which pillow would be best for you, they have a pillow quiz to help you make the best choice. What I like about this company is that they don't subscribe to the one pillow fits all philosophy. There is no one best pillow or the perfect pillow. That's why it's great to have choices and a trial period. Slumbr offers a 30 night trial period. If you want to return the pillow within that time period you will be refunded the full price of the pillow minus a $15 return fee.
Specifications
– Filled with 12 oz of 550 fill power duck down
– This type of down is cuddly-soft and of superior quality, yet economical
– Our down is responsibly-sourced and rigorously/sustainably cleaned
– The pillow's soft cover is 100% down-proof, 400-thread count sateen cotton
Standard size (20″ x 26″), fits standard pillowcases
Sewn and filled in the USA
Findings
This pillow is perfect for stomach sleepers like myself. I have been using this pillow for over a month now consistently and I would highly recommend any stomach sleeper try it. It will be terrible for side sleepers but Slumbr has a pillow for that sleep type too. The pillow is made from high quality down so it is easy to shape and it won't lose its hold quickly. You can feel the quality of the down as I didn't feel any feathers while squishing it.
There is no smell with this pillow so anyone sensitive to chemicals will appreciate that. I also think that a thin down pillow is superior to any foam pillow for stomach sleeping because you can scrunch up the pillow to get the exact level of support. The only exception would be an adjustable fill shredded foam or latex pillow but I find that you have to take out a lot of the filling to make it comfortable so you aren't using most of what you pay for.
My Virgo Pillow Recommendation.
The Virgo is a bit on the pricier side at $125 but I haven't come across a better stomach sleeping pillow yet. Because it is made with quality materials, it should last many years. Quality down will keep its shape over time much better than what you would typically find in a big box store. If you are a stomach sleeper that wakes up with neck pain, instead of changing your mattress, I would urge you to give the Virgo pillow a try. Chances are you may end up saving yourself some money and a lot of restless nights!
Disclosure: We aim to highlight products and services you might find interesting, and if you buy them, we may get a small share of the revenue. I have an affiliate relationship with HIBR.