If you are looking on Amazon for a new mattress, make sure to check out the Revel. It is a surprisingly affordable yet well-made foam mattress that holds its own among some of the better-known brands. It's made in the USA and has some of the next-gen foam technology that gives it broad appeal for all types of sleepers.
Overview of the Revel Hybrid
How Much Does the Revel Mattress Cost?
Below are the prices as listed on Amazon.
[table id=70 /]
Construction of the Revel Mattress
This mattress is similar to most online brands in that it has 3 layers of foam. The Top layer is 3 inches of cooling gel foam for a generous amount of pressure relief and contouring. Below that you get the 2 inches of Lifttex foam which I found to be similar to serene foam in that it is more responsive and recovers faster than the layer of foam above it. Finally, you get the 7 inches of base foam for proper support which is standard.
EMORY FOAM: Triple-layered, 12″ hypoallergenic memory foam mattress with 3″ Revel All Climate Cooling Gel top layer, 2″ Revel LiftTex Alternative Latex foam with airflow channels, and 7″ long-lasting DuraBase foam

COOLING GEL: Revel All Climate Cooling Gel top layer provides enhanced cooling as you sleep and resists changes in external temperature, so your mattress won't harden in cold weather or overly soften in warm weather

SUPPORT: Revel LiftTex Alternative Latex middle layer provides responsive support to lift and align your spine throughout the night

AMAZON EXCLUSIVE: Revel offers supreme comfort, convenience, and quality at a fraction of the price of comparable direct to consumer brands

MADE IN THE USA: Foam is proudly made in the USA by Innocor Inc. and CertiPUR US certified. Vacuum packed and shipped directly to you for easy and convenient setup. Comes with a 10-year warranty for lasting quality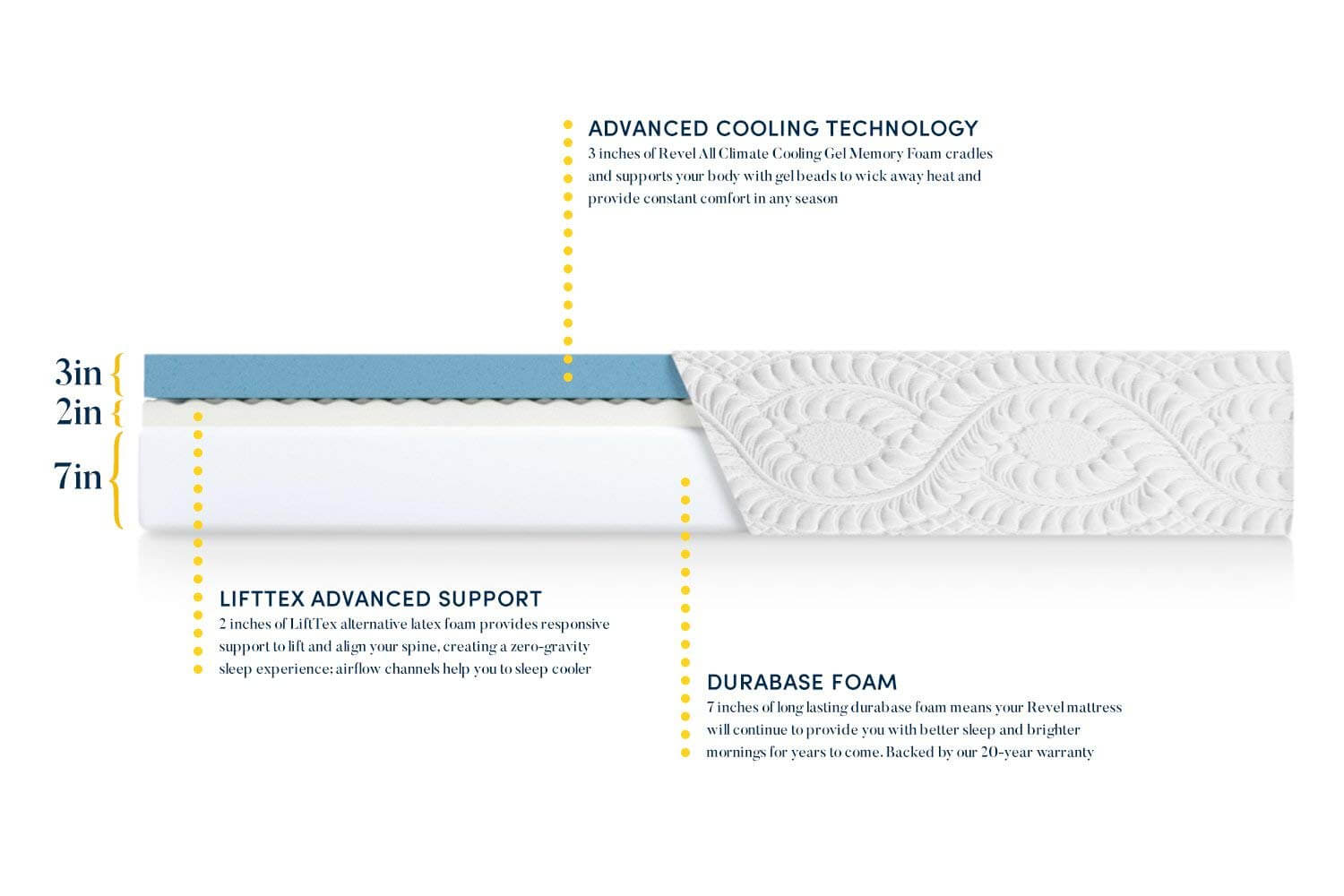 Here's a picture I took of the inside which is true to the description. I appreciated the fact that they didn't add too much glue to the layers. Doing so sometimes prevents the edges from fully expanding.
My Revel Hybrid Mattress Findings
Overall this mattress in an incredible value. First off, the fact that it is made in the USA is a big plus. I was impressed that there was little off-gassing and it came to life right away. Sometimes mattresses from overseas will sit on a shipping container for multiple weeks and this can affect how quickly your mattress comes to life. That certainly wasn't the case with Revel.
This mattress also finds a good balance between softness and support. I found contouring to be good but as a side sleeper that prefers a soft mattress, you may want to go even softer. That said, it will work for all sleep types.
Here's a photo of my 14 lb. bowling ball on the mattress to illustrate sinkage.
The knit cover is stretchy to allow the layers beneath to do their magic and because it is 12 inches thick you sheets will fit well. Sometimes 10 inch mattresses aren't thick enough and your sheets won't be tight on the mattress.
Having tried hundreds of mattresses with similar construction, I found the transitioning between the layers to be more noticeable than some of the more expensive brands, by that I mean I could feel where one layer ended and the other began. It's certainly not a deal breaker, especially given the price.
My Revel Hybrid Recommendation
Overall Revel is a solid choice for people looking for a quality budget mattress that is made in the USA. One drawback is that if you buy through Amazon you get their standard 30 return window but would need to pay for return shipping which will be expensive so you should at least know that you enjoy sleeping on a foam mattress before committing to purchasing.
It's rare that I find a mattress of this quality made in the USA. I think most people will find this to be a good firmness for their needs but if you want to make it softer, adding a topper is an easy low-cost solution.