Purple Sheets
The classic cotton feel you love, designed to work with your Purple mattress, with a breathable flat sheet and pillowcases and a fitted sheet upgraded with a Spandex blend so it can flex and move with your mattress as it adjusts.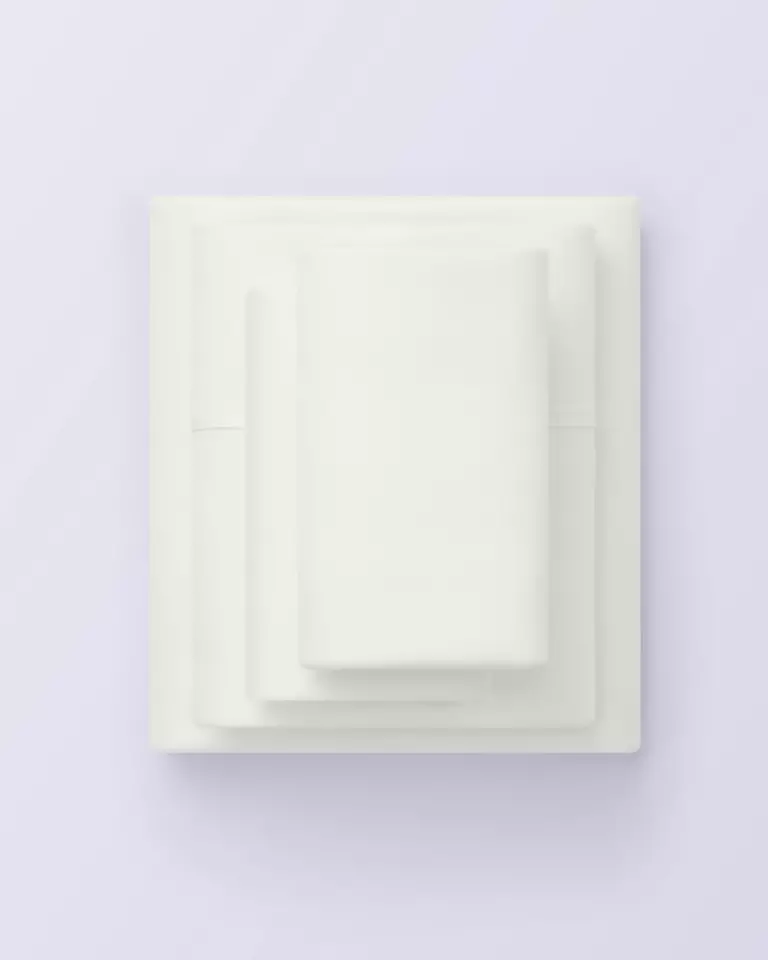 I just got my hands on the Purple sheets. They are advertising them as stretchy, soft and comfy so that you can get the most out of your Purple mattress or any mattress for that matter. They are indeed stretchy, comfy and cozy and in this review, I'll lay out the pros and cons of these sheets. After having already reviewed the
Purple Mattress
, the
Purple Mattress Protector
and the Purple Pillow, I have come to find that these are really innovative products. They certainly aren't for everyone but I am glad that Purple is bringing innovation to the space. Purple has some of the best product commercials. They are entertaining and informative. They actually make bedding interesting! Here's the Purple sheets commercial from YouTube:
Ordering and Unboxing my Purple Sheets
Purple has great packaging. Not that it affects the feel of the sheets but it certainly makes receiving and even giving them as gifts, fun. The box has a lid that closes with a magnet. There's also a cutout sample of the Purple sheets fabric so that you can feel them before you even take them out of the box. An important point to note is that there is no returns on these sheets so if you don't like them you are sort of out of luck.
Construction of the Purple Sheets
Here are the construction details of the Purple sheets as listed on their site:
| | |
| --- | --- |
| Appx. Weight: | 4 lbs |
| Color: | White/Slate/Sand |
| Fabric Content: | 10% Spandex, 90% Bamboo-derived Rayon |
| Shipping Dimensions (LxWxH): | 11″ x 9″ x 5.5″ |
As you can see these are basically rayon sheets. They say
bamboo-derived
but after all the processing that goes into making these, they are rayon. There is an assumption that bamboo sheets are eco-friendly but that is not true. Lots of chemicals are used in order to create the fabric for sheets with bamboo. That's true with any bamboo sheets, not just the Purple sheets.
My Purple Sheets Findings
I just received these sheets and will update readers on any issues I have with them but so far so good. I appreciate the stretchiness of the sheets without sacrificing softness. Other bamboo sheets I have tried have a very silky feel. These don't' have quite as much of a silky feel so they will feel a little cozier. I really like the heavy duty band and they would be the best sheets for an adjustable bed where traditional sheets can easily come lose due to flexing the mattress. Purple doesn't offer coupon codes so you can always get the best deal directly from their site.
Shop Purple
Purple Sheets vs. Sheex Which is Better?
Material:

Purple Sheets: They are made from a proprietary material called "Bamboo-Based Viscose," which is said to be incredibly soft, breathable, and moisture-wicking.
Sheex: They produce a variety of sheet sets, many of which are made from performance fabrics like their special blend of polyester and spandex. This material is designed to wick away moisture and breathe well.

Comfort & Feel:

Purple Sheets: They are known for their unique feel – soft, stretchy, and cool to the touch. They are designed to flex with the Purple mattress or any other mattress.
Sheex: Sheex sheets feel similar to athletic wear, as they are smooth and sleek. They are designed to provide a cool and comfortable sleep environment.

Cooling Features:

Purple Sheets: The bamboo-based viscose is a natural temperature regulator, helping to keep you cool in the summer and warm in the winter. Additionally, the fabric is breathable and helps wick away moisture.
Sheex: The use of performance fabrics means that Sheex sheets have excellent temperature regulation and are highly breathable. They also offer specific lines designed to maximize cooling.

Price:

Purple Sheets: They tend to be relatively expensive because they are made with a proprietary material. However, they are often included as a bonus with a Purple mattress purchase.
Sheex: They are also premium-priced due to the unique materials and technology used in their production.

Care:

Purple Sheets: These are machine washable and can be tumble dried on low. It's recommended not to use bleach or fabric softeners on them.
Sheex: They are also machine washable and dryer-friendly. However, it's recommended to avoid using fabric softeners with Sheex products as well.

Warranty & Trial Period:

Purple Sheets: As of 2021, Purple offers a 1-year warranty on their sheets.
Sheex: Sheex provides a 30-night risk-free trial, and their sheets come with a 1-year warranty.
Purple Sheets Complaints
Price: One common complaint is about the price. Purple Sheets are considered to be on the pricier side of bed sheets due to the unique bamboo-based viscose material.

Durability: Some customers reported issues with the durability of the sheets, mentioning that they noticed signs of wear such as pilling or thinning earlier than they expected.

Size and Fit: Due to the unique stretchy material, some customers complained that the sheets did not fit as tightly as they would like on their mattress, or that the sheets would come off the corners of the bed during the night.

Care: Some customers reported that the sheets did not hold up well in the wash, despite following care instructions. Complaints included fading, shrinkage, or the fabric becoming less soft over time.

Color Options: There were also complaints about the limited color options available.
Purple Sheets
The classic cotton feel you love, designed to work with your Purple mattress, with a breathable flat sheet and pillowcases and a fitted sheet upgraded with a Spandex blend so it can flex and move with your mattress as it adjusts.