We earn a commission if you make a purchase, at no additional cost to you.
The Pancake Pillow is popular because it is a versatile pillow that can be used by sleepers of all positions. It is also adjustable, so you can customize it to your perfect height and firmness.
Here are some of the reasons why the Pancake Pillow is so popular:
It is adjustable: The Pancake Pillow is made up of six thin layers that can be stacked or removed to create the perfect height and firmness for your needs. This makes it a good choice for sleepers of all positions, including back sleepers, side sleepers, and stomach sleepers.
It is comfortable: The Pancake Pillow is made with soft, supportive material that provides a comfortable night's sleep. It is also hypoallergenic, making it a good choice for people with allergies.
It is durable: The Pancake Pillow is made with high-quality materials that are built to last. It is also machine-washable and dryer-safe, making it easy to keep clean.
It is affordable: The Pancake Pillow is very affordable compared to other high-quality pillows on the market.
Overall, the Pancake Pillow is a popular choice because it is a versatile, comfortable, durable, and affordable pillow.
Here are some additional benefits of the Pancake Pillow:
It is easy to travel with: The Pancake Pillow can be compressed and rolled up to make it easy to pack for travel.
It is good for people with neck pain: The Pancake Pillow can help to align your head and neck, which can reduce neck pain.
It is good for people with snoring: The Pancake Pillow can help to reduce snoring by keeping your head and neck elevated.
The Pancake Pillow is one thick pillow with six thin pillows inside. The idea behind the Pancake Pillow is that you can take out any of the six pillows to adjust the loft to your preference creating the ideal support. This is a very popular Amazon pillow right now with over 242 reviews, most of them being positive. It retails for $79 and is eligible for Amazon Prime 2 day shipping. The Pancake pillow is also an Amazon's Choice product.
Overview of the Pancake Pillow
The Pancake pillow comes in a nice reusable carrying case. It makes for easy storage and keeps your pillow clean and dust free. If anything, I think this would make a great pillow for guests since they can customize it.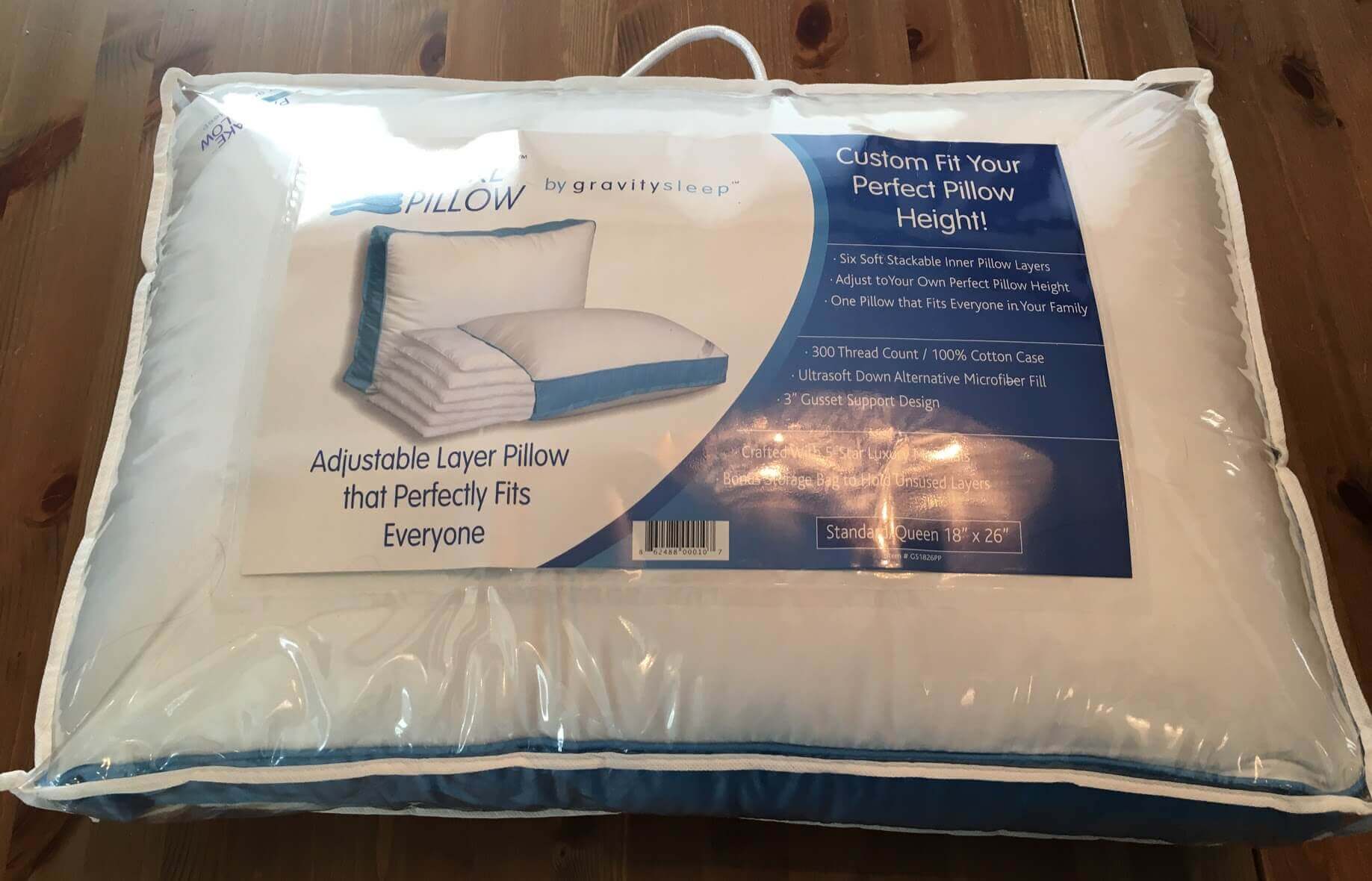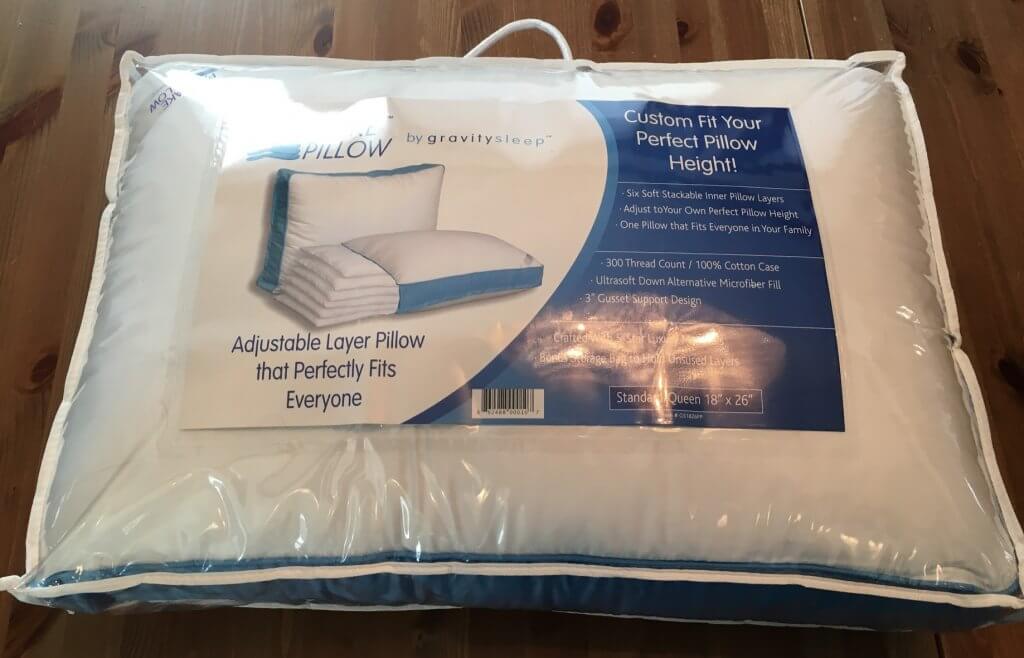 Here's a video of how the Pancake Pillow works. You'll notice that the pillows inside fluff up right away and rise like a pancake on the griddle.
Construction of the Pancake Pillow
Here are the construction details as listed on Amazon.
Adjustable Layer Pillow That Perfectly Fits Everyone! Side Sleepers, Stomach Sleepers, Back Sleepers.

300 Thread Count 100% Cotton Outer Case

Standard/Queen Size Pillow 18 x 26 inches

Six Soft Stackable Inner Pillow Layers – Custom Fit Your Perfect Pillow Height

Softest Down Alternative Microfiber Fill. Hypo Allergenic
My Pancake Pillow Findings
This is a very comfy pillow. There's nothing special about the inside of this pillow though, it's basically all polyester which is what you would find in your typical Target or Walmart pillow. However what makes it unique is the customization.
Here's a photo of the 6 pillows outside of the casing. As you can see when not inside the case, the pillows really fluff up! Having all 6 inside the case makes for a firm pillow which you can then start removing the individual pillows to make it softer and ultimately thinner.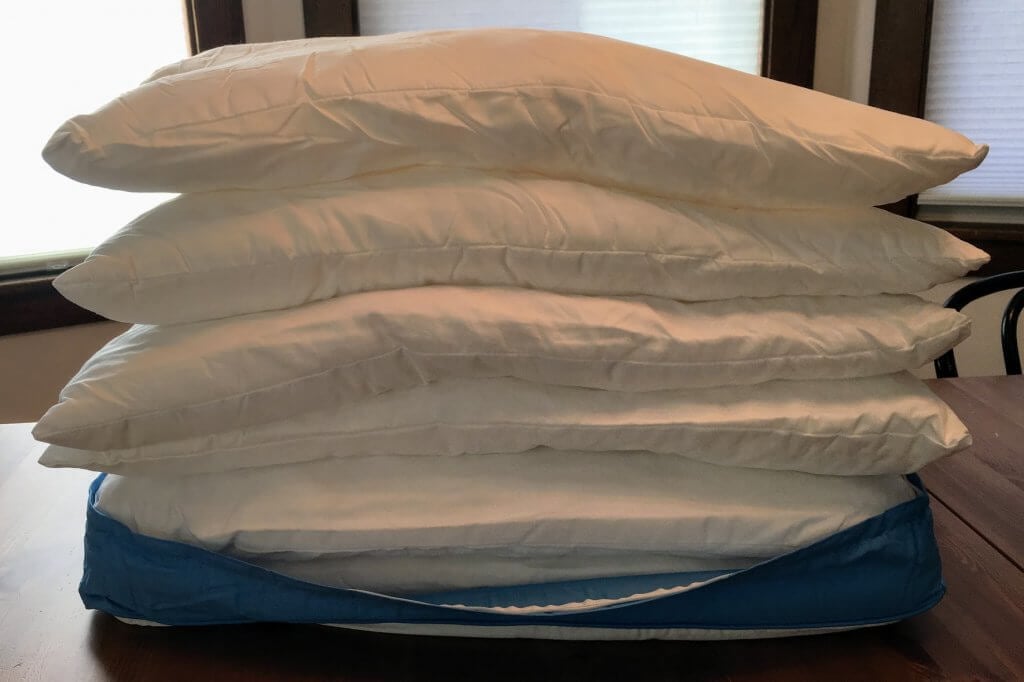 My Pancake Pillow Recommendation
At first glance, $79 is a lot for a polyester pillow. You can probably get 6 cheap pillows at Walmart for this price. However, what makes this unique is how it is all packaged together and that you can customize it. There are other customizable pillows on the market but what I have seen so far is that they are either shredded memory foam or shredded latex. These pillows offer a more finite level of customization but they can also get a little messy and aren't as easy to customize as the Pancake Pillow. Again, I think this would make the ultimate guest pillow since it's hard to anticipate what size or depth pillow your guests like.
I have found that people are very particular about their pillows, what some people love, others will hate and there's not hard and fast rule about what is best. If anything, the Pancake Pillow is your opportunity to figure out what amount of loft is right for you. I find that many side sleepers are sleeping on pillows that are too thin and not supportive enough.
If you buy this pilllow from Amazon you get their 30-day return window. You would just pay return shipping.