Mahabis are a type of slipper that is designed to be worn both indoors and outdoors. They are made with high-quality materials, such as wool, leather, and suede, and they feature a durable sole that can withstand being worn on a variety of surfaces.
Mahabis are known for their comfort and style. They are also designed to be supportive and provide good arch support. Mahabis are a good option for people who are looking for a slipper that can be worn all day long, whether they are running errands, working from home, or relaxing around the house.
Mahabis are available in a variety of styles and colors, so there is a pair to suit everyone's taste. They are also available in a variety of sizes, so sleepers can find the perfect fit.
Here are some of the benefits of wearing Mahabis:
Comfort: Mahabis are made with high-quality materials and feature a supportive design, making them very comfortable to wear.
Style: Mahabis are available in a variety of styles and colors, so there is a pair to suit everyone's taste.
Versatility: Mahabis can be worn both indoors and outdoors, making them a versatile option for everyday wear.
Support: Mahabis are designed to provide good arch support, making them a good option for people with foot pain.
Durability: Mahabis are made with durable materials and construction, making them a long-lasting option.
Overall, Mahabis are a great choice for people who are looking for a comfortable, stylish, and versatile slipper.
I recently received a pair of Mahabis slippers. I originally came across them while browsing Facebook and saw an ad for them multiple times. Eventually, I succumbed to the temptation and pulled the trigger to buy a pair and now Mahabis has sent me their new Mahabis Breathe slipper to get my thoughts. What made the original Mahabis unique is that they have a removable tread. This means when you go outside you can put on the tread so you don't dirty the slipper and then take it off when you go back inside so you don't get your house dirty. They also have different color soles and slippers that you can mix and match to make your own unique look. All of the Mahabis slippers are made with sustainability in mind, meaning most materials are eco-friendly and recyclable.
Mahabis are made in London and look upscale. The Mahabis Breathe retails for $109.  Even though I live in the United States, it didn't take that long for my slippers to arrive. Just over a week, and they were at my door.
Overview of Mahabis Breathe Slippers
Ordering Your Mahabis Slippers
You can order your Mahabis directly from their website. Shipping is fast. They come nicely packaged and would make a great Christmas or birthday gift. Here's a picture of the box and packaging:
Here's what they look right out of the box
Make sure you try them on inside to ensure you have the right fit and you are happy with the look. You have 30 days to figure out if they are right for you, if not you can initiate a return from their website where they will pay for return shipping. Just note that they will not accept returns for slippers that are worn.
Construction of the Mahabis Slippers
Made in Portugal and China
Tencel's cellulosic fibres of botanic origin. this 100% natural lyocell fibre is created naturally and using the latest technology keeps your feet feeling fresh.
Hybrid EVA sole has been engineered with our responsibly sourced Pura-Latex™ rubber mixed with 5% cornflower to reduce environmental impact.
 Cooling cork feature. the footbed is created using natural cork, which makes the wearer feel as though they're walking in bare feet and regulates foot temperature in warmer seasons/ climates.
My Mahabis Findings
I ideally wear a size 12.5 US. However, they don't come in half sizes so I bought size 13 which felt slightly large. Since they are slippers,  I don't expect too snug a fit.
As you can see they have a mesh design for ultimate breathability.
The sole is made with latex and cornflower to make it more sustainable. Adding latex costs more but latex is a very durable material and it provides good grip to surfaces.
I was worried at first that the cork sole liner would be too firm. I found it very comfortable for everyday tasks and running errands. I certainly wouldn't bring these on a long hike but they are perfect for everyday use.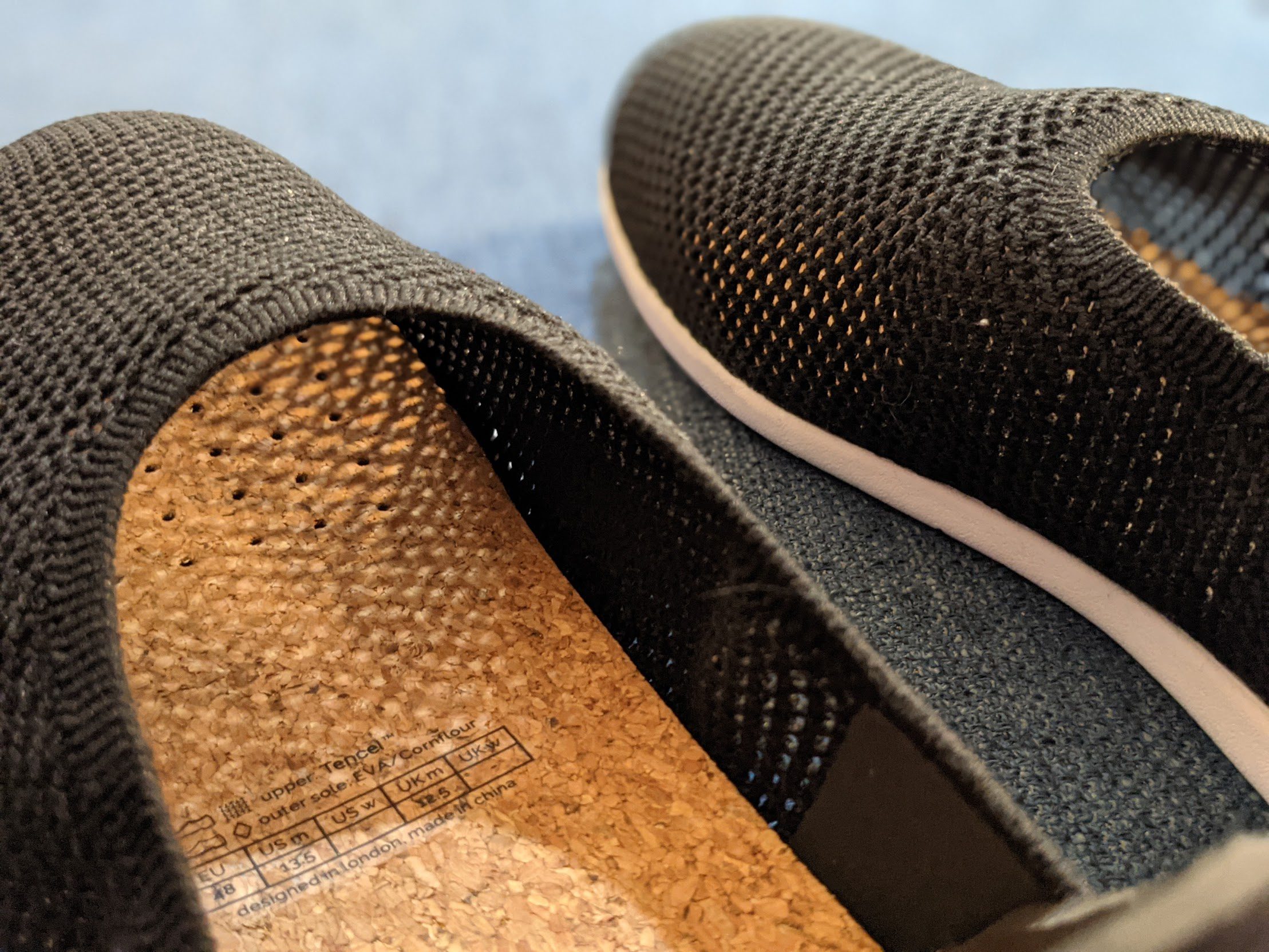 My Mahabis Recommendation
Mahabis provides some of the most ethically made slippers you can buy. On top of that, they are very comfortable and had a unique design you won't find anywhere else. They are just as breathable as a flip flop but more fashionable. They are the perfect accessory for your summer wardrobe.
Get 10% off your entire purchase with Mahabis Coupon Code SHERPA10 at checkout Shop Mahabi