Lucid is a mattress company that sells a variety of mattress types, including memory foam, hybrid, and latex mattresses. The company is known for its affordable prices and its commitment to customer satisfaction.
Lucid mattresses are made with high-quality materials and are backed by a 10-year warranty. The company also offers a 100-night sleep trial, so you can try out your mattress before you commit to buying it.
One of the most popular Lucid mattresses is the Lucid 12-Inch Gel Memory Foam Mattress. This mattress is made with a combination of memory foam and gel foam to provide pressure relief and cooling. The mattress is also CertiPUR-US certified, which means that it is free of harmful chemicals.
Another popular Lucid mattress is the Lucid 12-Inch Hybrid Mattress. This mattress is a hybrid of memory foam and innerspring coils. The memory foam provides pressure relief and comfort, while the innerspring coils provide support and durability. The mattress is also CertiPUR-US certified.
Lucid also offers a variety of other mattresses, including latex mattresses, innerspring mattresses, and crib mattresses. The company also sells bed frames, foundations, and other bedding accessories.
Overall, Lucid mattresses are a good choice for sleepers who are looking for an affordable and comfortable mattress. The company offers a variety of mattress types to choose from, so you can find the perfect mattress for your needs. Lucid mattresses also come with a 10-year warranty and a 100-night sleep trial, so you can try out your mattress before you commit to buying it.
Here is a more detailed overview of each Lucid mattress model:
Lucid 12-Inch Gel Memory Foam Mattress: This mattress is a good choice for back, stomach, and side sleepers who are looking for a soft or medium-firm mattress. The gel foam helps to keep the mattress cool and prevents overheating.
Lucid 12-Inch Hybrid Mattress: This mattress is a good choice for back, stomach, and side sleepers who are looking for a medium or firm mattress. The hybrid design provides both pressure relief and support.
Lucid 12-Inch Latex Mattress: This mattress is a good choice for all sleeping positions and is known for its durability and responsiveness. Latex mattresses are also naturally hypoallergenic and resistant to dust mites and mold.
If you are considering purchasing a Lucid mattress, be sure to read reviews from other sleepers and compare different models to find the best one for your needs.
Lucid Mattress Review
The Lucid Mattress is one of the most inexpensive mattresses sold on Amazon. The Lucid mattress review below is for the 10 inch gel mattress. Currently a queen size retails for $219.99. You would be hard pressed to find a cheaper memory foam mattress online. Lucid makes other depths of mattresses including a 5, 12, 14 and 16 inch. If you want to go extreme budget, you can go with the 5 inch Lucid mattress but I wouldn't advise it for heavy people since there simply isn't all that much material between you and the floor.  . This is a two layer mattress with a base layer followed by a top layer of foam. It is a firm memory foam mattress that will still give you some contouring. The top layer of foam is slow to react but will eventually conform.
Construction
Here's a breakdown of construction 10 Inch Lucid Mattress
Dual-layer mattress combines 2.5″ gel-infused, ventilated memory foam surface + 7.5″ high density foam base for excellent support with a medium-firm feel

Gel infused memory foam regulates temperature while conforming to the body to ease pressure points

Foam is CertiPUR-US certified for safety and performance

Compressed and boxed for convenient shipping and setup

Temperature-regulating, moisture-controlling TENCEL blend fabric cover creates a comfortable air layer

Queen size weighs 55 lbs.
Made in China
Ordering the Lucid Mattress
You can order this mattress direct from Amazon. It is an Amazon Prime eligible mattress which means you can get free 2 day shipping. It comes in a box like the one seen below.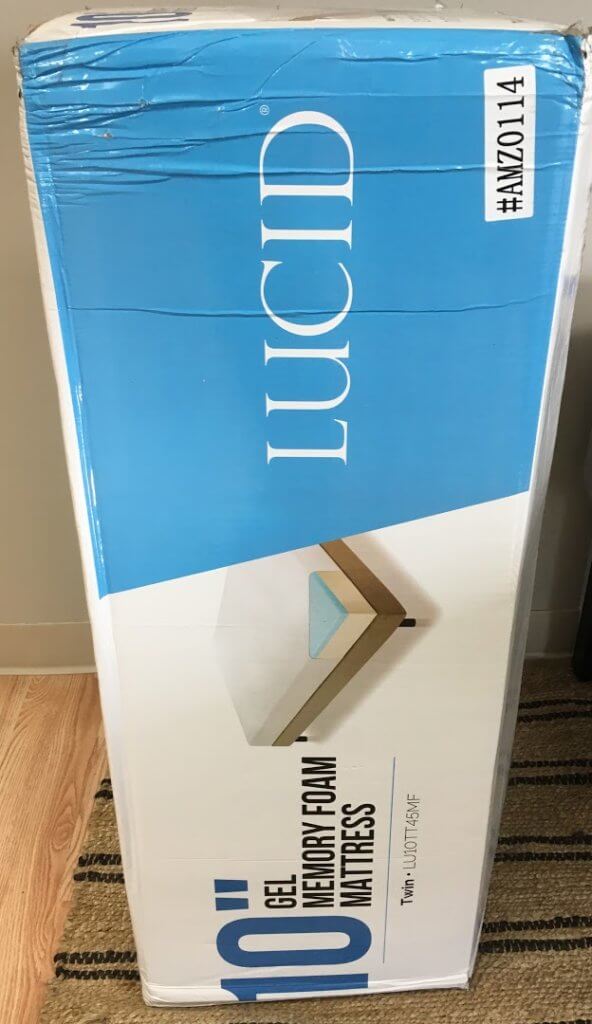 Here's a photo of it inside the box. This is a relatively light mattress so super easy to carry around.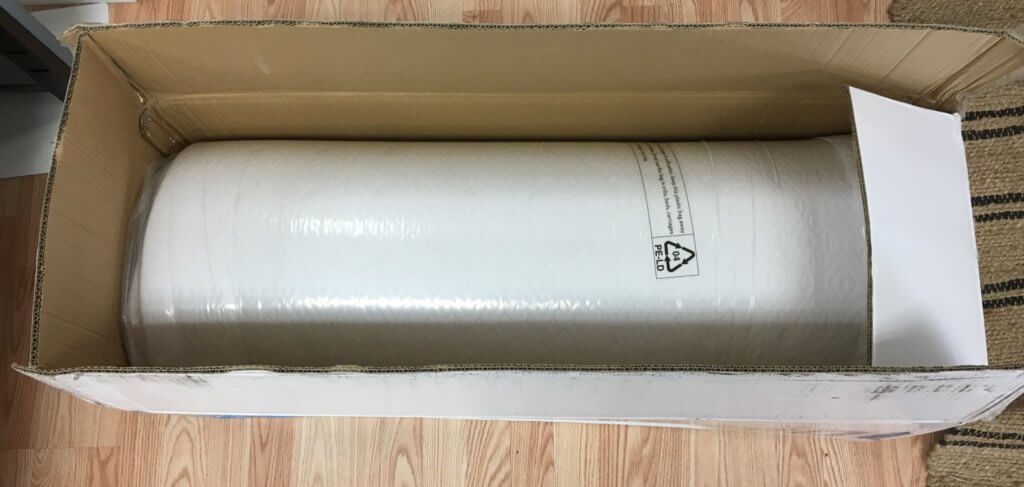 When you purchase from Amazon you get a 30 day money back guarantee for most items. However, please keep in mind that you would need to mail this mattress back to Amazon for a return and it isn't going to go easily back into the box it came. You will have to send it in a box probably as big as the mattress fully expanded which can cost a lot of money, possibly more than the mattress itself so just be aware of that.
That said, it is so inexpensive that it may be a risk worth taking assuming you have a good sense of how it will feel.
Findings
This mattress is definitely on the firmer side even though it says to be a medium firm. If you want a true medium firm you may want to check out some of my other reviews for something softer.
This is what the inside of the Lucid looks like after taking off the tencel cover. In the video you can see how each layer reacts. This is a simple construction of just two layers so all the comfort will hinge on the top layer of foam.
Below is a video illustrating motion transfer on the Lucid mattress. You aren't going to get much motion transfer at all on this mattress. It's all foam but added to that it is firm so there's little give all around.
Below is a video that shows how fast the mattress dissipates heat. I think this mattress will sleep cool for an all foam mattress. It performed well in the test below compared to other memory foam mattresses.
Conclusion
If you want a firm, no nonsense mattress at a rock bottom price, the Lucid mattress may be what you are looking for. Although it is a firm mattress, the foam is not all that dense. This is a bit concerning as I think this will affect the longevity of the mattress. However you could buy 10 of these for the same price of a high end competitor.
The Lucid mattress also comes with a 25 year warranty but if you read the fine print you will see that it only covers manufacturer defects and indents over 1.5 inches. That's a considerable indentation. That means it has to sag somewhere in the mattress over 1.5 inches without you on it. That's 15% of the height of the mattress.
Learn more about the Lucid Mattress
Disclosure: We aim to highlight products and services you might find interesting, and if you buy them, we may get a small share of the revenue. I have an affiliate agreement with Amazon.