The Leesa Hybrid pillow is a pillow that is made with a down alternative fill and cooling gel component to give you a cool, comfortable and cozy sleep. A standard size retails for $125 while the queen size can be had for an extra $10 at $135. The pillow should arrive to your door in about a weeks time.
Overview of the Leesa Hybrid Pillow
Here's a quick video overview of the pillow. As you can see it has two sides. The quilted down alternative side feels most like a traditional pillow while the other size has a cooling gel right below the top cover which is excellent for hot sleepers.
Construction of the Leesa Pillow
Below are the construction details of the pillow as listed on the Leesa website.
| | |
| --- | --- |
| MEASUREMENTS & DIMENSIONS | |
| COVER | 400TC; 60% Tencel®/40% Frio/Nylon; Silpure Treated |
| INNER PILLOW FABRIC | Polyester 210TC; 90gsm MicroFiber |
| INTERLINING: | 300TC Polyester |
| QUILTED POCKET FILLING | Polyester MicroFiber |
| BOTTOM COMPONENT FILLING | Ventilated Gel Comfort Layer |
| WARRANTY | 3-year limited warranty |
My Leesa Hybrid Pillow Findings
Overall this is a fairly versatile pillow. It allows for some adjustability in that you can remove some of the material from the inside to make it thinner. There are other pillows on the market that allow for more customization but for most sleepers this range should suffice.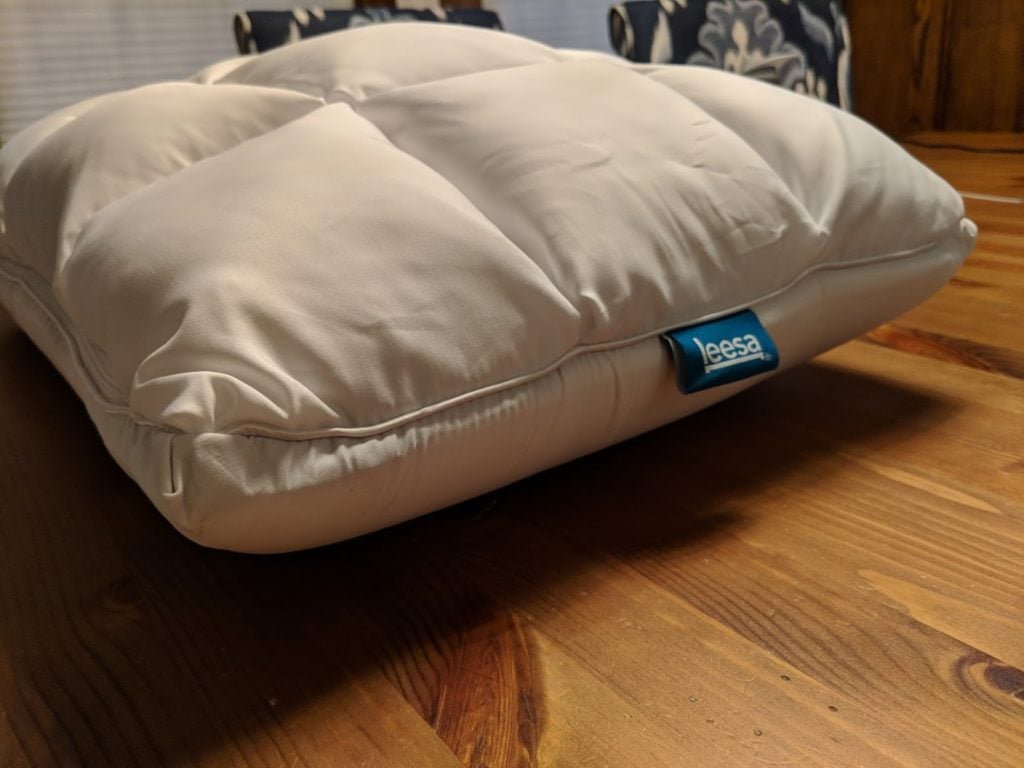 The other side of the pillow has a layer of cooling gel just below the cover. Here's what that side looks like up close.
Here's a video that illustrates heat retention on the cooling gel side of the pillow
The pillow recovers fairly quickly on both sides. The quilted side is a bit slower to recover and not as quick a recovery as their original pillow which has sort of a latex feel but this pillow is cozier.
You can adjust the loft of this pillow a little bit as there is an insert that can be removed to make the pillow just a little thinner.

My Leesa Pillow Recommendation
This pillow gives you lots of options. Between the two sides, I prefer to sleep on the quilted side as it is softer and gives me more contouring. However, if you are a hot sleeper the cooling gel side feels good too.
I recommend this pillow to sleepers that want more of a traditional down pillow feel but want better support throughout the night. The quilting really keeps the material from clumping and causing you to lose support. If you are a hot sleeper, the cooling gel seemed to perform better than other cooling technologies on the market. The drawback is that it doesn't conform quite as well.
Learn more about the Leesa Hybrid Pillow
Disclosure: We aim to highlight products and services you might find interesting, and if you buy them, we may get a small share of the revenue. I have an affiliate relationship with Leesa