The adjustable base from Leesa is a price competitive base that works seamlessly with the Leesa mattress and most other online mattresses. A queen size currently retails for $1,045 but there are often discounts available. It is only available through the Leesa website and will ship to your house in 3-10 business days. There is an optional white glove delivery service for an extra $100 where they will set up the base in your bedroom. This is done through an independent contractor that will call you to schedule delivery and setup.
Setting up the Leesa Adjustable Base
If you don't opt in for the white glove delivery, setup is easy. The base itself is heavy, near 150 lbs. so if you have help to move it into your bedroom the rest is simple.
The adjustable bed comes in a box like the one below.

Upon opening the box you will find the base wrapped in plastic to keep it clean.

Once you get it out of the packaging you just flip the base upside down and screw in the legs. The legs can be adjusted for different heights by pushing in the peg then sliding up or down.

You also need to insert a bolt on each side to make is to the two sides don't move up or down. This can all be found in the included instruction manual.

Overview of the Leesa Adjustable Base
Here's a video overview of the capabilities of the base. There is no massage feature but it does have a zero gravity button and LED lighting underneath which is great if you have to get out of bed at night and don't want to turn on the lights.
How Much Does the Leesa Adjustable Bed Cost?
With their new lanch, Leesa is offering special pricing as follows:
Twin XL $775
Queen $945
King $1,645
Cal King $1,645
Construction of the Adjustable Bed
Below are the construction details of the bed. The warranty is serviced by Leggett & Platt who have been making adjustable beds for years. All of this is outlined in the owners manual.
COUNTRY OF ORIGIN

Designed, engineered and assembled in the USA

MATERIALS & CONSTRUCTION

The Adjustable Base is made with birch wood, black powder coated steel and 100% polypropylene. Micro-hook is welded into the adjustable base topper.

MEASUREMENTS & DIMENSIONS

KING

76″ x 80″

116 lbs x 2

Ships as 2 packages

CAL KING

72″ x 84″

116 lbs x 2

Ships as 2 packages

WARRANTY

1-Year, 3-Year and 25-Year limited warranty
My Adjustable Base Findings
Overall this is a great looking adjustable bed. It also has a relatively quiet motor so if you need to make adjustments at night you have less chance of waking your partner. The remote is fairly simple and is great for people who want a simple interface and all the standard features.
Here's a picture of the base by itself. The two white strips towards the foot of the bed are actually little grips called micro-hooks, sort of like velcro that help prevent the mattress from sliding around. You also have the bar at the end of the bed but the grips help prevent the mattress from moving from side to side.
Here's a picture of the Leesa mattress on the base. But like I said, this will work with most mattresses that come in a box.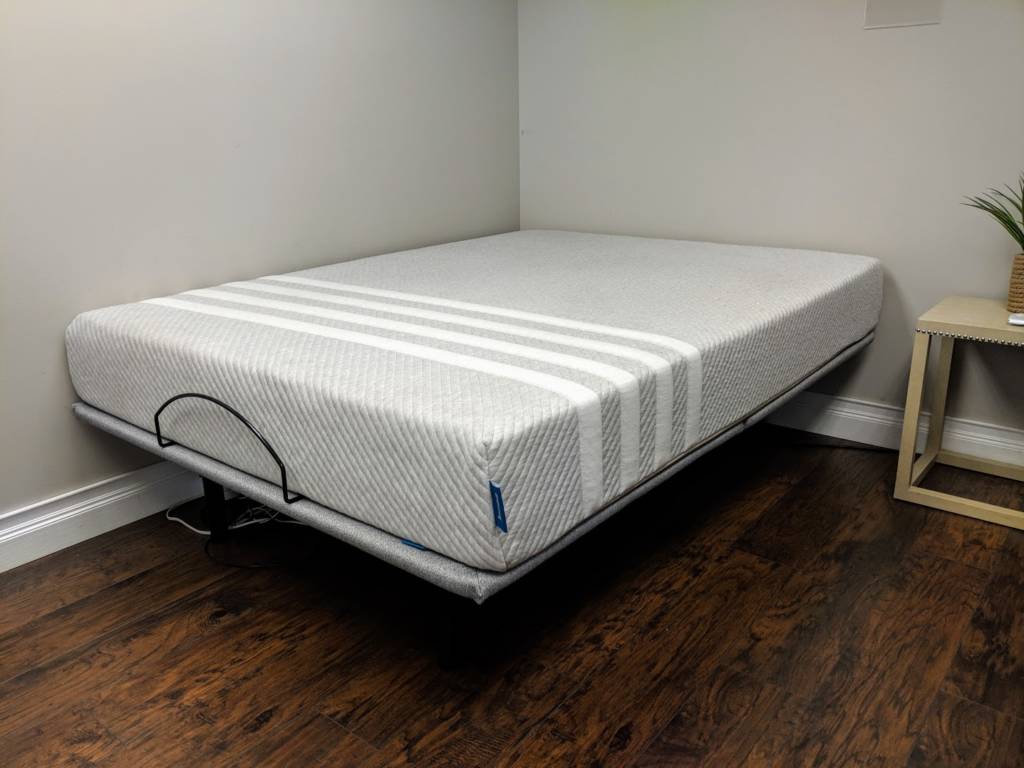 If you buy a king size adjustable base, you are actually getting 2 twin xl bases that you put side by side. The advantage is that it is much easier to move into your house and you can operate each side independently. If you go this route you will also want to buy two twin xl mattresses.
Some people don't like the idea of having two separate mattresses so you can just buy standard king mattress. If you do this you can sync both of the twin xl bases so they work together off one single remote.
Overall this is a great adjustable bed. If you are looking for a solid and reliable adjustable base this is it. It doesn't have a massage feature or the ability to save your favorite position but if you want that you will pay quite a bit more. I do appreciate that you can raise or lower the height of the bed by adjusting the feet. You can go low profile or make it higher if you are a tall person like me. In the video, I have it at the tallest setting which makes it about 13 inches off the ground, add in the 10-inch Leesa mattress and you are sitting about 23 inches from the ground.
I especially like that this comes with a 1o0 night trial. If you were to buy an adjustable base from Amazon you would only get the standard 3o day return policy and have to ship the base back to Amazon which will mean considerable shipping costs. With the Leesa base, returns are completely free.
Even if you don't opt for a Leesa mattress, their adjustable bed should be top of mind when looking to outfit your bedroom.