Recently updated on October 21st, 2017 at 09:06 pm
The Langham Hotel in Chicago at 330 N. Wabash opened it 2013 and was named best hotel 2017 by U.S. News and World Report. It was previously known as the IBM building. The building was added to the National Register of Historic places in 2010.
The Room
I stayed in a Deluxe Premier room. Here are some of the ammenities of this type of room as listed on their website:
ROOM
Dark walnut dressing and vanity parlour
55-inch LCD HD-television
Complimentary in-room coffee and tea
Cellarette with fully-stocked private bar
Complimentary Wi-Fi
Oversized executive work desk
Accessible Room available upon request
BED AND BATH
Signature Blissful Bed
Chuan Spa bath amenities
Botticino Fiorito marble, Alaskan White granite, and Travertine bathroom
Deep soaking tub and rainfall shower
"Reveal" opaque privacy glass at a touch of a button
SERVICES
24-hour concierge services
In-room dining services
Valet and laundry services
My room at the Langham was $500 per night which is very pricey so I was expecting the accomodations to live up to the price tag. Here's a picture of the room.

My room had a king size bed with a 55 inch tv. There's a mini bar along with a Nespresso machine. I don't normally drink espresso but since this is such a fancy hotel, I think it calls for it.

Near the desk you get a terminal to connect your computer to the TV via HDMI, etc. which is awesome if you want to stream Netflix from your computer.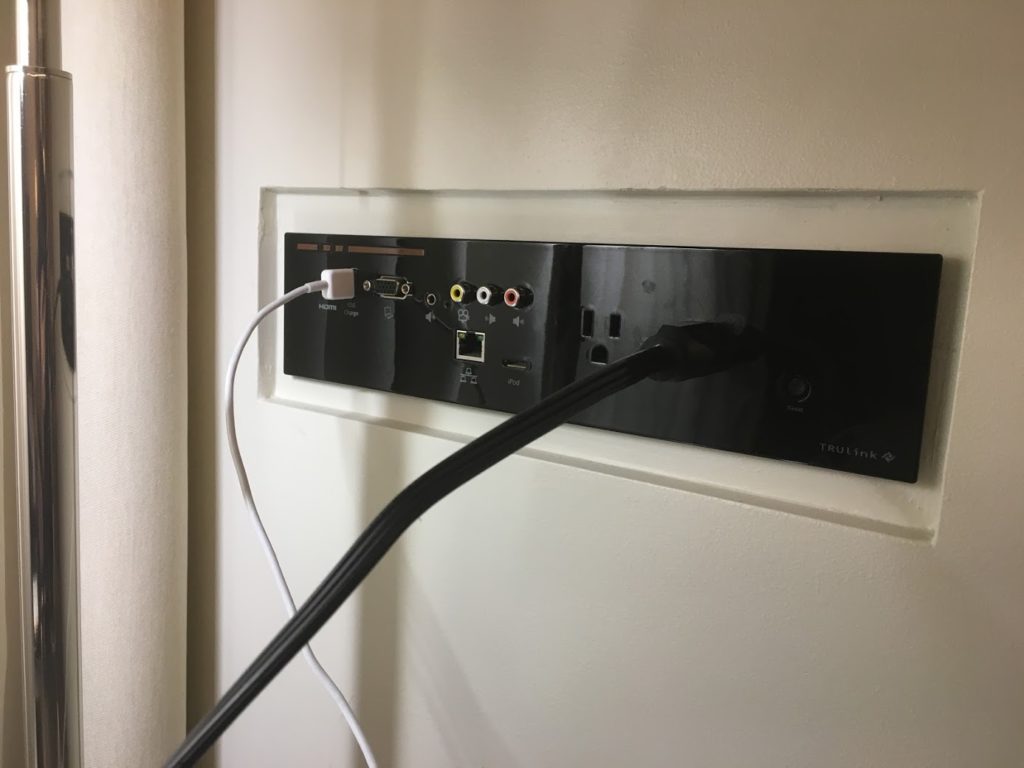 The bathroom is just as fancy. It has a large soaking tub and separate shower. You also get Chuan Spa shampoo, conditioner and soap. The Chuan Spa is located on the 4th floor of the hotel

Having a soaking tub can really help with your sleep experience as it helps you relax before bedtime.
If a bath isn't your thing, you can head down to the pool and hot tub to relax a bit. The pool is gorgeous and has great views of the city.

The Langham Hotel Mattress
My Bed at the Langham wasn't anything super special. I found it to be a bit firm. According to the Tag, it is a Beautyrest mattress. Here's a picture of the bed itself.
The sheets weren't anything special either but that's to be expected for all hotels as they are constantly washed for new guests and they cycle through sheet much faster than you would in your home.
I was heartened to see that the mattress had a mattress protector around it to keep bed bugs out and even a tamper proof lock.
The pillows that come on your mattress are varied. I believe some are down but others are simply a polyester fill. You get an extra pillow in the closet which I found to be a polyester fill pillow.
I only stayed one night at the langham. Here are some things to keep in mind regarding my sleep experience.
Pros
The room was quiet despite being in the middle of the city. You can still hear occasional sirens and horns but overall it was a quiet experience after I turned on my whitenoise app on my phone.
The curtains kept the room dark. Dark enough for me to sleep in until 9am without being woken up by sunlight.
The rooms are very clean and spacious. The ceilings are higher than why you would typically find making the space feel bigger too.
A soaking tub made me relaxed and helped me to fall asleep sooner.
There are control panels next to the nightstands where you can turn off and on lights in varous rooms. No need to fidget for a switch
The HVAC is quiet and the thermostat is intuitive.
Cons
There are lots of ambient lights in the room when you turn of the lights proper. Such as led lights from the cable tv box and even the lights from the control panel next to the night stand are a little too bright for me.
The mattress is a bit too firm for me as a side sleeper and someone who prefer as softer mattress overall.
I was a little underwhelmed by the polyester spare pillow. However you can ask for a memory foam or even a lavender infused pillow to be brought up to your room.
Our room came with a Bose sound wave speaker but the bluetooth connector was missing the charger so I couldn't use it to broadcast whitenoise which would have also helped.

My Langham Hotel Recommendation
Overall I enjoyed my stay at the Langham. I would have like to use the Bose radio and a softer mattress would have helped me get a better sleep but the cleanliness and beauty of the hotel along with a nice bath really made me relax. It's in a great spot for walking to major tourist attractions.
People that want to sleep on a firmer mattress will definitely enjoy this hotel while side sleepers or anyone who craves a softer sleep experience may want to look elsewhere.