Recently updated on March 7th, 2023 at 12:06 pm
You may have heard of euphorics, they are a new category of beverages for people looking for an alternative to alcoholic drinks. I first tried Kin Euphorics at a mattress event in Santa Monica this past summer. Each type of euphoric claims to give you a different feel. They contain adaptogens, which are herbs associated with relieving stress and nootropics which affect your mind. They come in cans and bottles and mine were poured by a mixologist to give you the sense that you are getting a drink at a bar.
The ritual involved with making a Kin drink is fun and is a great way to either cut down or eliminate your alcohol consumption altogether. I really enjoyed the taste of the High Rhode and Kin Spritz. They are very refreshing and have a much stronger taste than something like LaCroix or Bubly. It really tasted like a substantial drink that I could consume slowly and savor. With these drinks, I didn't really notice any effects on my mind. I can't say that I felt that much more relaxed either but they sure tasted good and I didn't wake up with a hangover the next day which is always good.
While most of the Kin Euphorics drinks are made to enhance cognition, I was particularly intrigued by the Dream Light which is made to help you fall asleep. I never really took a supplement for sleep that you had to drink. I suppose Nyquil may qualify but I certainly don't take a glass of that and it tastes horrible. Below are my thoughts on the Kin Dream Light drink.
Ordering your Kin Euphorics Drink
Right now the best and only way to order your Kin drink is through their website. I bought some a few days before I left town for Christmas and to my surprise, it arrived at my door before I left. Since the Dream Light comes in a glass bottle, it needs extra packaging so it won't get damaged in transit. Mine arrived intact to my door. Kin does not offer returns of any kind so make sure you this would be good. Especially since these drinks are expensive.
Here's the box it arrived in.

As you can see it was specially designed to house this bottle so it wouldn't break.

You also get a brochure that has info on the drink and the company.

How Much Do Kin Drinks Cost?
It depends on which drink you buy. The Dream light costs $39/bottle the High Rhode is $30/botltle and the Kin Spritz is $27/4-pack. Shipping is free but again, no returns are accepted.
With the Dream Light you get 11 servings per bottle and Kin suggests 1-2 servings before bed but no more than 4. So at best you get to use this 11 times and for me I used 2 servings so about 5 nights where I could use this before I would have to re order. If I were to use this consistently every night, it would cost me over $150/month!
What is in the Kin Dream Light?
Below are the supplement facts on the back of the bottle. As you can see there's really nothing groundbreaking here in terms of vitamins or other supplements. The proprietary blend has ingredients I have seen in many other popular sleep aids. What struck me is how little melatonin they use, .25 mg. Which they claim is used to trigger your body to get ready for sleep.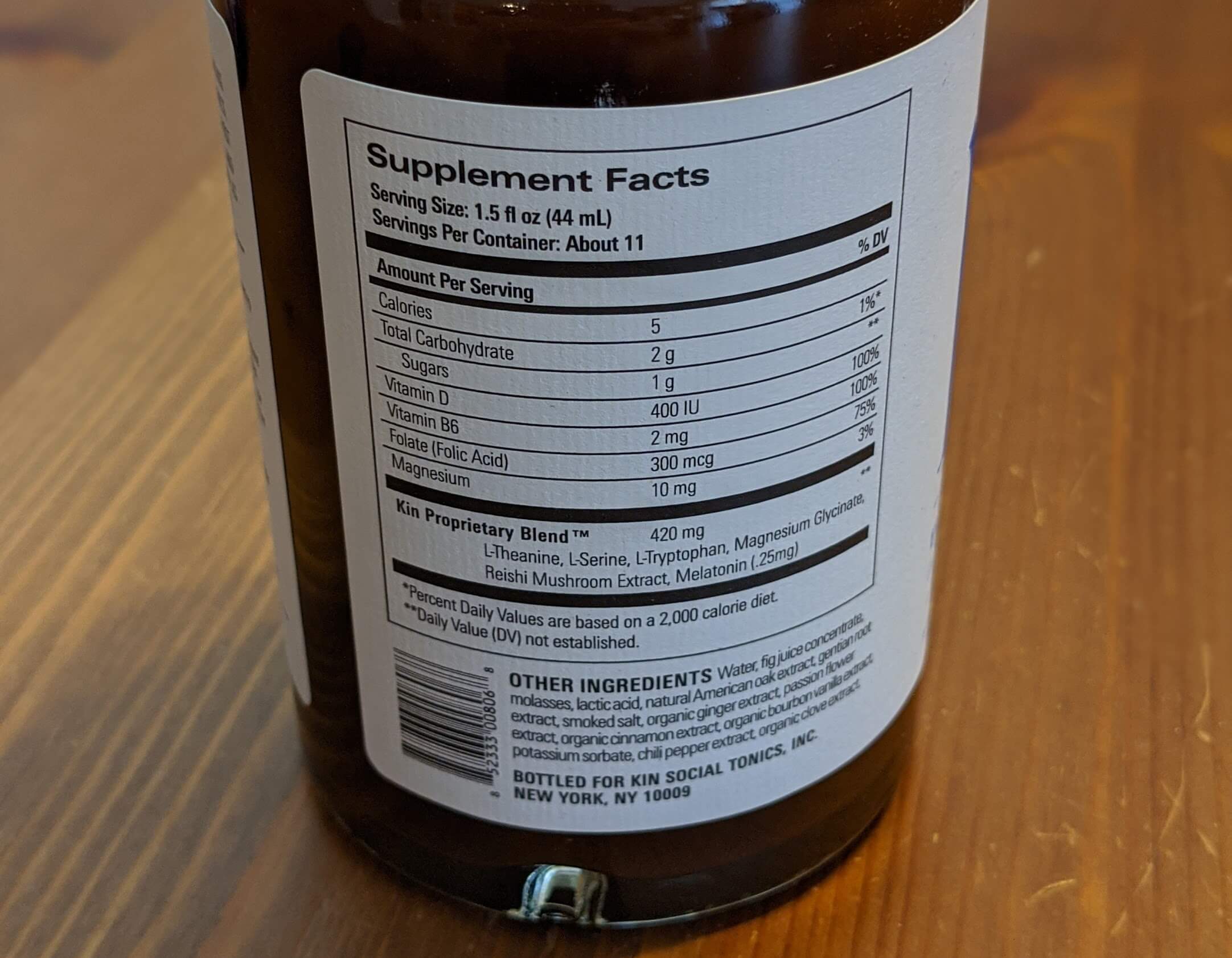 My Kin Euphorics Dream Light Findings and Recommendation
I wasn't a big fan of this drink for a few reasons. First, it really didn't taste all that great. It mostly tastes like fig juice which is the second ingredient after water. I wouldn't say it has a bad taste but I certainly wouldn't seek it out. The serving size is 1.5 ounces and I felt silly trying to measure it out so I just guessed. I'm sure most people will do the same, otherwise, you could use a shot glass but I didn't have one. But, since you probably should measure so you can get a consistent dosage it still felt like taking medication instead of a fun new drink.
This drink also needs to be refrigerated after opening which I get but they also ask that you use it within a week after opening as well. So this could be a very expensive habit.
I took two doses at once since I wanted to make sure I felt the effects. I think it did help me fall asleep a little faster and I had a good nights rest so I certainly have no complaints on that front but I didn't think it was any more effective than some of the other supplements I have tried.
Overall I think Kin is on the right track with creating drinks for social events that are free of alcohol. It seems like that is the natural progression of things. I think their other drinks are fun and would be a great addition to parties. However, the Dream Light doesn't make for a social drink unless you want everyone to get drowsy. I really don't crave a fancy drink right before bed, I just need something that's effective and reasonably priced.