The iSense Smart Pillow is a high-tech, adjustable pillow that boasts various features for those who want to be more educated about just how well they sleep. It's a step up from their other pillow, the Classic Regular Pillow, of which the main feature is only customization via the foam filling. With the Insense Smart Pillow there's lots more to revel in.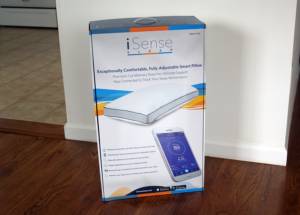 Overview of the iSense Smart Pillow
The iSense Smart Pillow isn't physically designed any differently than the iSense Classic Pillow but what is different about it is what lurks inside.
Along with the foam that goes inside the pillow is a hidden compartment that houses all of the awesome features of the product. Spread across the width of the pillow is a long sleep sensor. This sleep sensor is plugged into the included sleep tracker, which is something you'll need to charge about every 3 weeks. The sleep tracker connects to your phone via bluetooth, where it'll then be able to feed information to the Speedpace app (available on both Android and iOS devices) about it's findings regarding how well, or how poorly, you slept.
For those wondering how they will wash a pillow like this, have no fear. Both the sleep sensor and sleep tracker (along with the cords to each) can be taken out of the pillow easily so that you can throw it in the washing machine.
Regarding the foam, there are two separate compartments that you can access to adjust the filling. There is a compartment for the top portion of the pillow, and a compartment for the bottom portion.
So what awesome features does this pillow offer?
On the tech side, with the sleep tracker, you'll have access to knowledge you might not have otherwise. You'll now know precisely how long it took you to fall asleep, how long you actually slept, how many sleep cycles you've had in a night, the number of times you tossed and turned, as well as your heart rate and respiratory rate. The app also comes with a smart alarm, personalized tips based on how you're doing and social connectivity.
Aside from the tech stuff, some things you can expect are:
A 120-night trial period that will let you take your time to decide if it's for you or not

Precision cross-cut cooling memory foam that is anti-clumping and

CertiPUR-US

®

Certified

A premium and hypoallergenic cover made of moisture-wicking fabric, along with a breathable band
Construction of the iSense Smart Pillow
The pillow comes in either Queen or King size:
| | | |
| --- | --- | --- |
| iSense Pillow | Regular Classic Pillow | Smart Pillow |
| Queen | 16.5 x 26 | 16.5 x 26 |
| King | 16.5 x 32 | 16.5 x 32 |

My iSense Smart Pillow Findings
As far as the pillow itself goes, the claims they make on their website are #facts. The outer cover is both stunning and cooling and I could tell immediately that they had used a moisture-wicking, Dacron-inspired fabric here. These types of textiles are so much more high-tech than people realize and that's why items with them, or made out of them, come at a premium cost. The stitching on top is beautiful and it's also true that the cover is silky-soft. They did a wonderful job in making this pillow feel totally luxurious and high-end. Even if you were in a store and you were "just browsing," you'd be happy to have your fingers grace its surface. It's honestly lovely. The way this pillow is sewn is also awesome. It's not the standard style of what you'd expect from most pillows. It has corners, so-to-speak. Because there's this well-designed band along its perimeter, it allows the pillow to maintain its shape more efficiently thereby creating space for your neck to be supported. As a plus, the piping on the outer cover really adds to the aesthetic.
With the foam filling, I think that having two separate compartments within the pillow where the filling can be adjusted was an incredibly wise and functional design choice. It's all about balance here and it's evident that element was really taken into consideration. This is a distinction that I cannot overlook, because they've created a way for the foam to move around and within the pillow without eventually coming to occupy a single space. The separation between the top and bottom layers allows the filling to be spread out, as it should be. As for the foam itself, it's unlike any other foam filling I've ever seen before. The foam genuinely does not fall flat. It's honestly impressive and it's also surprising how fast it returns to its original volume.
My iSense Smart Pillow Recommendation
I have to say that overall I really love this pillow. I like that it's adjustable and machine washable and I think it's great that the sleep sensor and sleep tracker are both removable. You can tell that there was a lot of effort put into its creation and every element is an indication of that—from the foam itself to the compartments it's in, to the pillow's fancy moisture-wicking outer shell, and even to the way it arrives at your door. The packaging is definitely proper and I'm a consumer who definitely appreciates great packaging.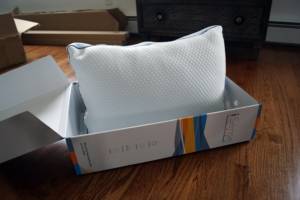 I also want to add that the fact that the outer shell already has some foam lining is a really nice touch. Another awesome benefit about being able to remove the sleep tracker and sleep sensor is that if you wanted to, you could actually use it in other pillows as well. If for whatever reason you didn't like this pillow, you would still be able to salvage the sleep tracker inside of it and continue to make use of it.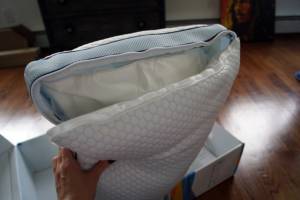 From my research, I've found that there is apparently some controversy surrounding sleep apps. Despite this, it all seems to come down to personal opinion. I think that this pillow is a great choice for someone who can appreciate the tech behind it and who believes in the growth and evolution of consumer-friendly sleep tech. If you strive to be mindful of your health and of your sleep, this product is catered to your person. If you're new to these types of smart products and manage to maintain a level of skepticism or reluctance, perhaps it's best to stick with what you know, especially if you don't think you'll be making much use of it. Go with your gut instinct, they always say. iSense's Regular Classic Pillow is what served as the foundation of their Smart Pillow so if you don't want a smart product, go with the original, which is still a super duper luxurious choice, that I'm sure you'll be more than happy with.