The Idle Latex is a monster of a mattress. So much so that it can't be shipped via UPS Ground, instead it needs to be shipped freight which takes a little longer but worth it because the quality is definitely there. This mattress still comes shipped in a box but will require two people to transport into your bedroom. This mattress is two-sided and therefore flippable. You can choose to have each side the same firmness or different firmness levels on each side. No matter what you choose the price is the same. A queen size current retails for $1,899 but you can often find good discounts like the one below for $300 off to save you a considerable amount.
All Idle Sleep mattresses come with a 120 night trial period where you can try it out in your home and if not happy during that time, return it for a full refund. Shipping and returns are also completely free.
Overview of the Idle Latex Mattress
The founder of Idle Sleep has been in the mattress industry for over 20 years and the impetus for creating this company was to bring better quality mattresses to the online marketplace. For decades, fippable mattresses were common in the industry because they did in fact prolong the life of the mattress. These were a bit more expensive to make but you did get what you paid for. Idle is the first company I have come across to bring an entire line of mattresses to market that are flippable or dual firmness. What has struck me about these mattresses is just how heavy they are. And in my opinion, weight is a good indicator of quality. That's not always the case but is certainly the case here.
Here's a quick video overview of the mattress.
How Much Does it Cost?
Here's the most recent pricing. Remember we also offer a $300 discount to bring these prices down.
Construction of the Idle Latex Mattress
Below are the construction details as listed by Idle Sleep.
All natural organic cotton cover.
1″ of Idle quilting foam.
3″ Talalay latex.
6″ Quantum edge-to-edge pocket coils.
same layers as 2 and 3 on the bottom.
It should also be noted that this mattress can indeed be used on an adjustable base.
My Idle Latex Mattress Findings
Below is a photo of how much the medium firm version sinks. For reference, this mattress has a lot more "hug" than a traditional latex mattress because there is a layer of quilted foam on the top which allows you to sink in more. If this were just latex on the top it would have a much flatter look and not much cradling.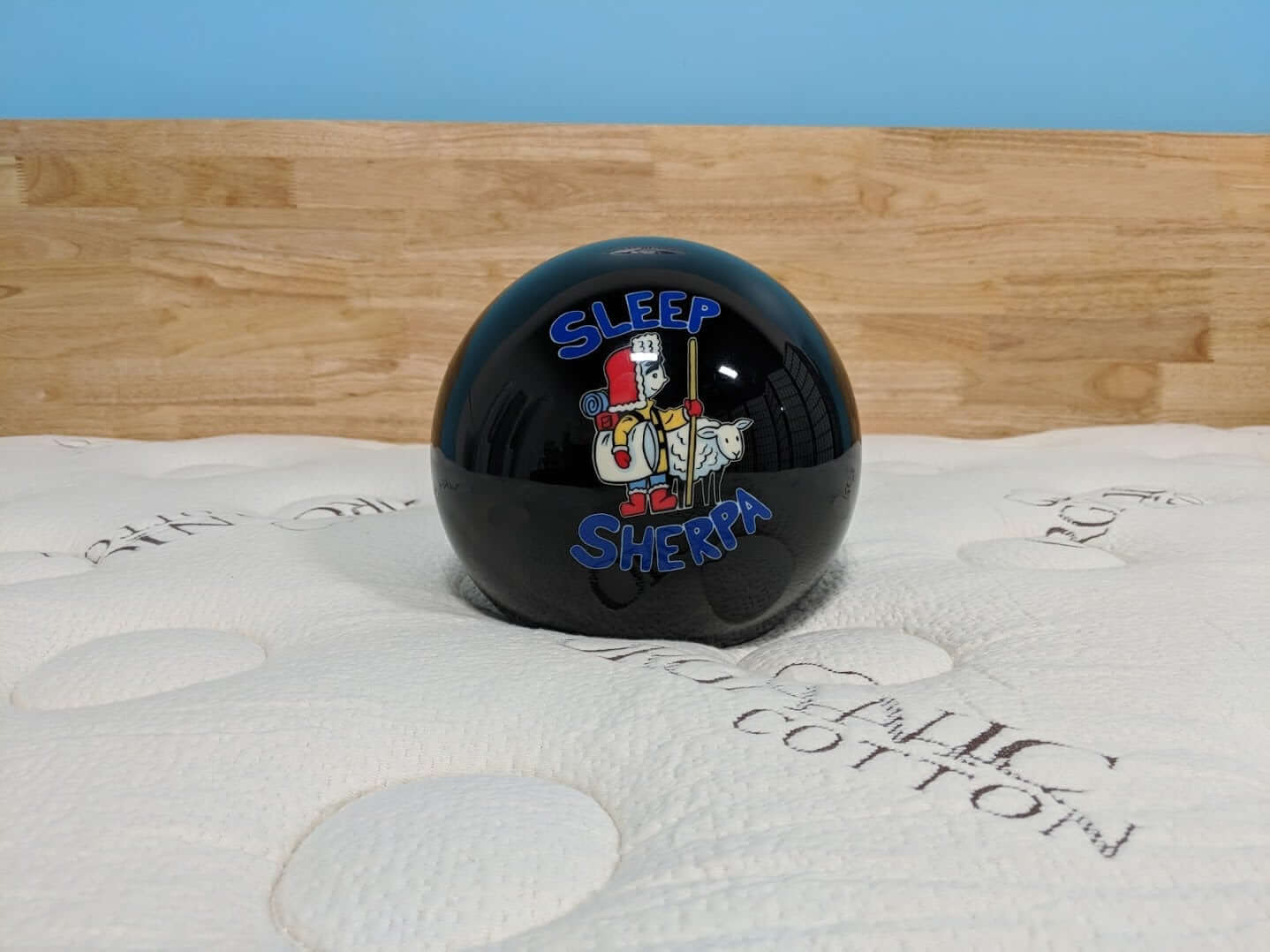 Here's a video illustrating motion transfer. This system. It absorbs a lot of motion at the top because of the quilted foam.
Since this mattress is so heavy, having handles makes flipping easier. Here's a pic of the handles sewn into each side.
This mattress won't sleep hot either. It does have a layer of quilted foam at the top which does trap more heat than a traditional latex mattress. but the foam isn't all that dense and there is only an inch so it doesn't impede on breathability that much.
My Idle Sleep Recommendation
Given the construction of this mattress and the fact that it is Made in the USA you are getting a really good value here. While this isn't necessarily an all natural mattress because of the quilted foam, for the most part it is made with natural materials making it more eco-friendly that most mattresses out there.
Some people love latex and others hate it, what I like about this mattress is that you don't feel like you are sleeping on a latex bed. The coil system and foam layer make it feel like a great traditional mattress. Latex is a very resilient material though and it makes me feel confident that this mattress should last quite a while longer than the one-sided foam mattresses currently out there. You will pay more upfront but it also means you can be with a bed you love for a lot longer.
I liked the feel of the medium firm which is a bit firmer than what a foam mattress company would classify as medium firm. People looking for a mattress with mostly natural materials that will last a long time and have the option of different firmnessess will really enjoy this mattress.