Hilton Worldwide Holdings Inc., an American multinational hospitality company, has been an industry leader since its inception in 1919. The company operates a vast global portfolio comprising more than 6,500 properties across 114 countries and territories.
Hilton's popularity is attributable to a variety of factors that have allowed it to maintain a leading position in the hospitality industry. These are as follows:
Brand Reputation and Legacy: Hilton's near-century-long heritage has cultivated a trusted reputation among travelers worldwide. Guests are often assured of the quality, service, and comfort they can expect from a Hilton hotel, owing to its established history and reputation.

Diverse Portfolio: Hilton offers a wide array of hotel brands, each targeting a different segment of the market. From luxury brands like Waldorf Astoria and Conrad to more budget-friendly options like Hampton by Hilton and Tru by Hilton, there is a Hilton property for almost every kind of traveler.

High Standards of Service: Hilton consistently delivers high-quality service across its properties. The staff's commitment to providing a comfortable and pleasant stay, coupled with their attention to detail, is widely recognized and appreciated by guests.

Innovation and Technology: Hilton has embraced innovation throughout its history. Whether it's pioneering the concept of room service, developing the first airport hotel, or more recently, adopting digital check-in and room selection through the Hilton Honors app, the brand's drive for innovation continually enhances the guest experience.

Loyalty Program: The Hilton Honors program is one of the most well-regarded in the industry, offering a plethora of benefits to its members. It encourages guest loyalty by offering points for stays which can be redeemed for future room nights, upgrades, and other perks.

Sustainability Efforts: In recent years, Hilton has made considerable strides in its sustainability initiatives. This commitment aligns with the increasing consumer preference for brands that prioritize environmental stewardship, further bolstering Hilton's appeal.
Have you recently slept at a Hilton Hotel and wish you could take the pillows with you? Well, there's a way to legally do that through the Hilton website or at a discount through Pillows.com.

I had a chance to try the pillow that is found in Hilton Hotels all over the world. This pillow is actually manufactured by a company called, Down Dreams. It is a dual chamber pillow that has an inner core comprised of mostly feathers and an outer core mostly of down. This creates a firm but cushioning sensation at the same time. It's why you feel so cozy in a hotel bed at a Hilton.
This pillow is ideal for back and side sleepers. It's not the greatest for stomach sleepers. What's nice about this pillow is that there's no off gassing like a memory foam pillow has.
The Hilton Pillow ordered from  Pillows.com comes in a nice zippered case.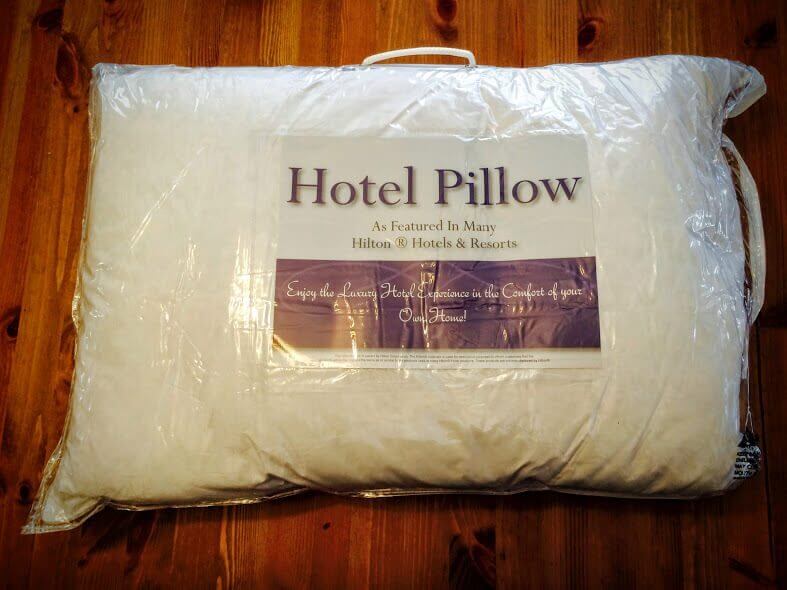 Because it's made of down and feathers, it has the old-fashioned traditional pillow feel. If you're going to buy one, you should really consider the whole set. I am not a fan of mixing different types of pillows on my bed, it's just too confusing!
Specifications
Here's an overview of the Hilton Pillow as listed on Pillows.com
Down Dreams ® Classic Pillows – Soft and Firm: The Down Dreams ® Classic Pillows come in two different firmness levels – Soft and Firm. Both contain the same content with the inner chamber-87% duck feather, 13% down; outer chamber 75% (minimum) down, however, the firm version contains more ounces (10-12 more), making it a firmer pillow. The firm version is ideal for side and back sleepers and the soft is great for stomach sleepers or for those who crave super soft pillows. These pillows usually reference "Classic Firm" or "Classic Soft" on the tag.
If you're a stomach sleeper like me you may want to gravitate towards a different type of pillow, however, for side sleepers, this is it. I will be keeping mine for guests who are side sleepers so that they get that Hilton Hotel experience when they stay over.
A growing trend is the pillow bar or pillow menu at hotels. Hotels understand that guests have all sorts of sleep preferences and rather than trying to switch out mattresses for every guest it's easier to give them a pillow that's more suitable to their needs.
What I like about purchasing from Pillows.com is that they have a good return policy. Here are the details of their return policy:
Return Policy:
Any item can be returned for any reason to Pillows.com within 30 nights of the date that the order is received by the customer, providing that the item is in LIKE NEW condition. Pillows.com cannot accept items that have been washed, tags cut off, stained, or damaged. The original shipping charge will not be refunded. Sheets and duvets that come in retail packaging, must be returned with their original retail packaging, else it will be marked as damaged. Customer must contact Pillows.com via phone, email, or chat and request an RA (return authorization number) in order to return an order and must be returned within 2 weeks of requesting. Pillows.com is happy to offer $9.99 pre-paid return labels per box, which is deducted from the customer's final refund amount, however, the customer has the option to return their order using any carrier they choose. We do not refund the original shipping charge and cannot refund the cost of return shipping if you use the carrier of your choosing.
If you want to see how this pillow stacks up against other popular hotel pillows, check out my Pillow Reviews Page.
So there's little risk if you want to try and relive the great night you had at the Hilton with a set of these pillows.
Hilton Worldwide Holdings Inc. is a global hospitality company that manages and franchises a broad portfolio of hotels and resorts. As of my last training cut-off in September 2021, the different types of Hilton hotels included:
Hilton Hotels & Resorts
Waldorf Astoria Hotels & Resorts
Conrad Hotels & Resorts
Canopy by Hilton
Curio Collection by Hilton
DoubleTree by Hilton
Tapestry Collection by Hilton
Embassy Suites by Hilton
Hilton Garden Inn
Hampton by Hilton
Tru by Hilton
Homewood Suites by Hilton
Home2 Suites by Hilton
Hilton Grand Vacations
How Often Are Hotel Pillows Replaced?
The lifespan of hotel pillows is not often a topic of public discourse, but it is a crucial aspect of the hospitality industry's commitment to providing a clean, comfortable, and luxurious experience for guests. The frequency with which hotels replace their pillows can vary substantially, contingent on factors such as the hotel's brand standards, budget, and guest feedback.
Generally, it is estimated that hotels replace their pillows every one to two years. This periodic replacement ensures that they maintain an optimal level of comfort and hygiene, thereby guaranteeing an elevated experience for their patrons.
Luxury hotel chains, in their pursuit to deliver superior comfort and a seamless experience to guests, might opt for more frequent replacements, sometimes as often as every six months to a year. This commitment to quality service is one of the factors that sets them apart in the competitive hospitality industry.
On the other hand, budget hotels or lower-tier properties, while still needing to meet certain quality and hygiene standards, may stretch the lifespan of their pillows to two or even three years. This extended period helps these establishments manage costs while still ensuring a satisfactory level of comfort for their guests.
However, it's important to note that these are general estimates. The exact replacement timelines can vary based on specific company policies, the quality and durability of the pillows, and the overall usage and wear and tear.
So, while the exact schedules for pillow replacement aren't typically publicized by hotel companies, guests can rest assured that regular maintenance, cleaning, and replacement of bedding materials, including pillows, are part of most hotels' commitment to their customers' satisfaction and well-being.