Giesswein is an Austrian footwear company that makes its products sustainable using primarily renewable materials such as wool and latex. I received a free pair of the Abend (indoor) slippers to review. The slippers currently retail for $90 and can be purchased through their website. I have been wearing these slippers for a couple months before writing this review and although these are primarily meant for indoor use, I have taken them outside many times to get the mail or drop off kids at the bus and the work great. Read this Giesswein Slippers review for more insights.
Overview of Giesswein
The video below is my impression of the slippers after wearing them for over 2 months.
Giesswein isn't an overnight company, they grew slowly and perfected their craft over time. Here's a brief history of the company according to the website:
In 1954, Walter and Elisabeth launched Giesswein to share their passion for wool with the world. Three generations later, the Giesswein family hasn't lost sight of the Austrian heritage that informs and inspires each unique design to this day. All Giesswein wool is crafted in the scenic Alpine village of Brixlegg overlooking the Inn River. No matter what you select from Giesswein today, know that it was made with the same dedication to craftsmanship that Walter and Elisabeth knit in to the very first garments they made only for family and friends.
All of their footwear has a timeless look so investing a little more is definitely worth it as they style won't age.
Ordering Your Giesswein Slippers
There are a few ways to order your slippers. You can order direct through their website. There is a shipping charge that will be calculated at checkout. Or, you can find them in a store. I was able to find them at some retail stores in Minnesota which is a good option if you want to try them out in person. They discourage purchasing from Amazon because they cannot guarantee the authenticity of the product sold from third-party sellers.
My slippers arrived in about a week after my order was placed. They arrived in a box like this:
Construction Details and Highlights of the Giesswein Abend
Below are the construction details of the Abend slipper according to the website.
high-level arch support (metatarsal and medial)
removable natural rubber/natural jute/recycled carbon footbed
moisture-wicking, breathable, 100% natural boiled wool upper naturally regulates body temperature
never itchy, scratchy, or sweaty
natural latex-dipped outsole with vegetable dyes is non-marking, flexible, and water-resistant
patented outsole uses no synthetic chemicals or glues
accommodates third-party orthotics
seam-free interior hugs the foot with no irritation or chafing
made in Austria
My Giesswein Slipper Findings
These slippers felt broken in right out of the box. Here's a picture of them upon opening the box.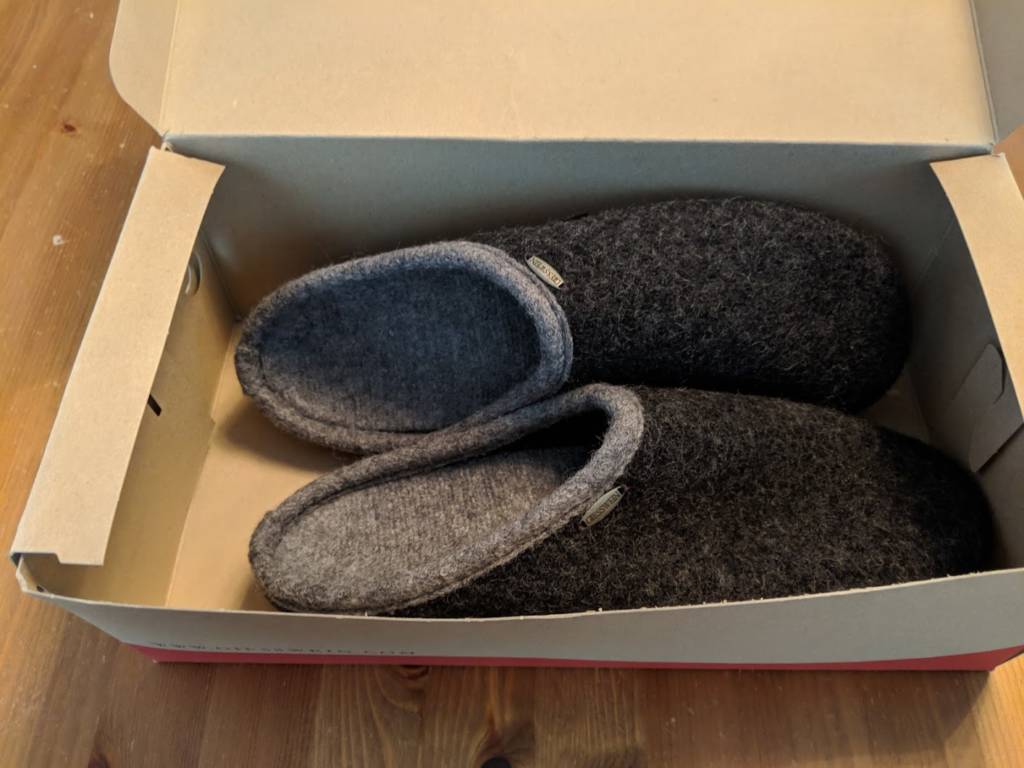 What makes these slippers "worth it" is their construction. They are made with boiled wool which is a process the wool goes through to make it softer, not scratchy and lightweight. Wool is a naturally breathable material so you get superior temperature regulation.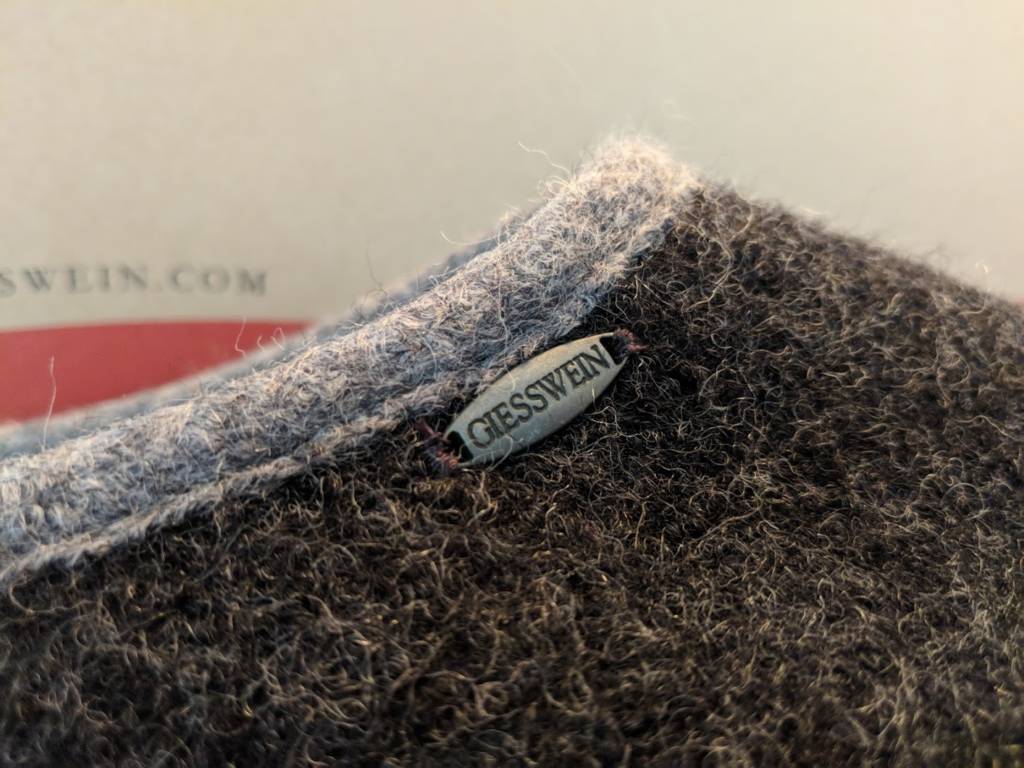 The other main feature is the sole of the slipper which is dipped in latex. This creates an excellent seal without the need for glues. The latex provides extra cushioning, grip and waterproofing so if you want to take the slippers for a quick mail run, no worries.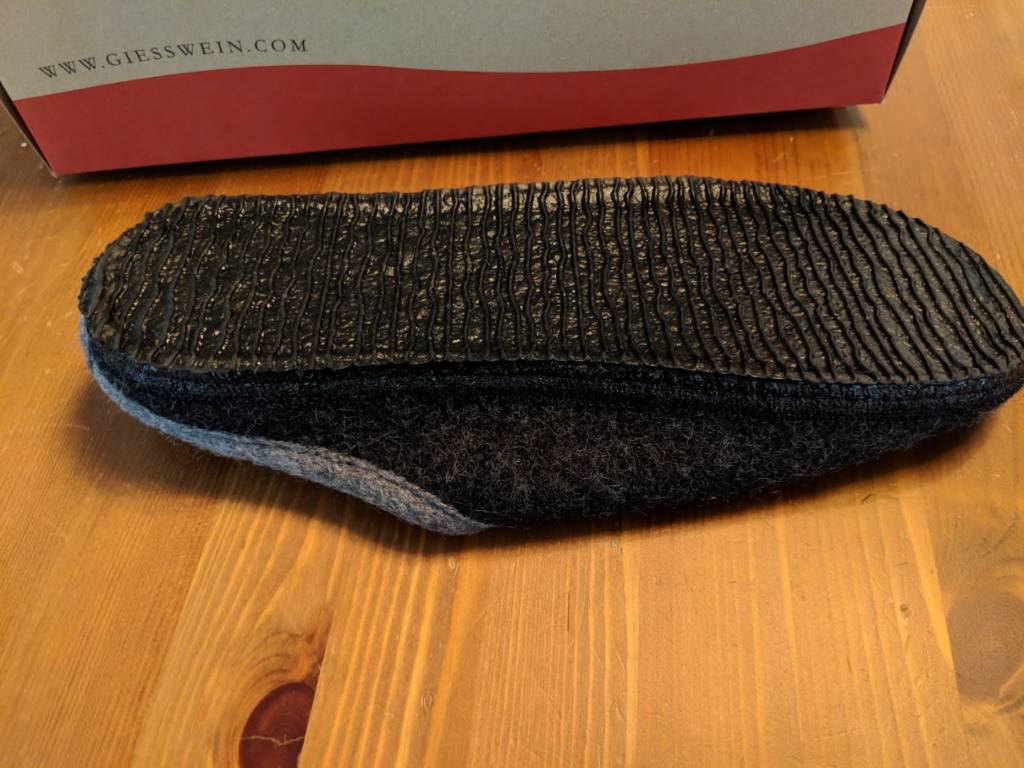 My Giesswein Recommendation
Aside from this model they make other slippers that are are of the same high quality and craftsmanship. I have been occasionally been using my cheaper slippers at times to compare against these and what is most noticeable is the arch support that these slippers provide. My feet get less fatigued at the end of the day. And now that we are starting off January my feet are also less cold! At $90 they certainly aren't cheap but they are made to last and I expect to have these for years to come.  Learn more about Giesswein