Four Seasons bedding is popular for a number of reasons, including:
Luxury and comfort: Four Seasons bedding is made with high-quality materials and construction methods, resulting in a luxurious and comfortable bedding experience. The company uses materials such as Egyptian cotton, down, and goose feathers to create bedding that is soft, breathable, and supportive.
Durability: Four Seasons bedding is designed to last. The company uses durable materials and construction methods to ensure that its bedding can withstand years of use.
Versatility: Four Seasons bedding is available in a variety of styles and colors to choose from, so sleepers can find the perfect bedding to match their décor. The company also offers a variety of bedding options to choose from, including sheets, duvets, pillowcases, and blankets.
Brand recognition: Four Seasons is a luxury hotel brand that is known for its high-quality accommodations and amenities. Four Seasons bedding is an extension of the company's commitment to luxury and comfort.
In addition to these factors, Four Seasons bedding is also popular because of its positive reviews from customers. Many people have said that Four Seasons bedding is the most comfortable bedding they have ever used and that it has helped them to sleep better.
Here are some specific benefits of Four Seasons bedding that people often mention in their reviews:
It is soft and luxurious.
It is breathable and comfortable to sleep in.
It is durable and well-made.
It is available in a variety of styles and colors.
It is backed by the Four Seasons brand name.
Overall, Four Seasons bedding is a popular choice for people who are looking for high-quality, luxurious, and comfortable bedding that is backed by a trusted brand.
The Four Seasons is a world-renowned hotel brand that is synonymous with luxury. Not only are the hotels located in the most prestigious neighborhoods but they take great care in how every aspect of their hotel looks and makes you feel. You can expect to instantly relax after you check-in and enter your hotel room. The rooms all look amazing but the most important piece of furniture in any hotel is the bed and its accompanying bedding. Aside from the mattress, the pillows can make all the difference. The 4 Seasons uses a blend of feather and down in their pillows for a fairly universal feel.
Ordering your Four Seasons Pillow
You can order the 4 Seasons pillow directly from their website. After placing my order it arrived surprisingly fast. They said it may take over week to arrive but mine came in 3 days! My pillow I ordered the down pillow, they also offer a down alternative pillow but I have a preference for down. I received an order confirmation from a company called Sobel Westex which also makes pillows so I'm not sure if this is the company that also makes the Four Seasons Pillow.
It will arrive to your door in a box but inside the box you will find it encased in a custom cloth package like the one below. I don't think I've come across fancier packaging for a pillow.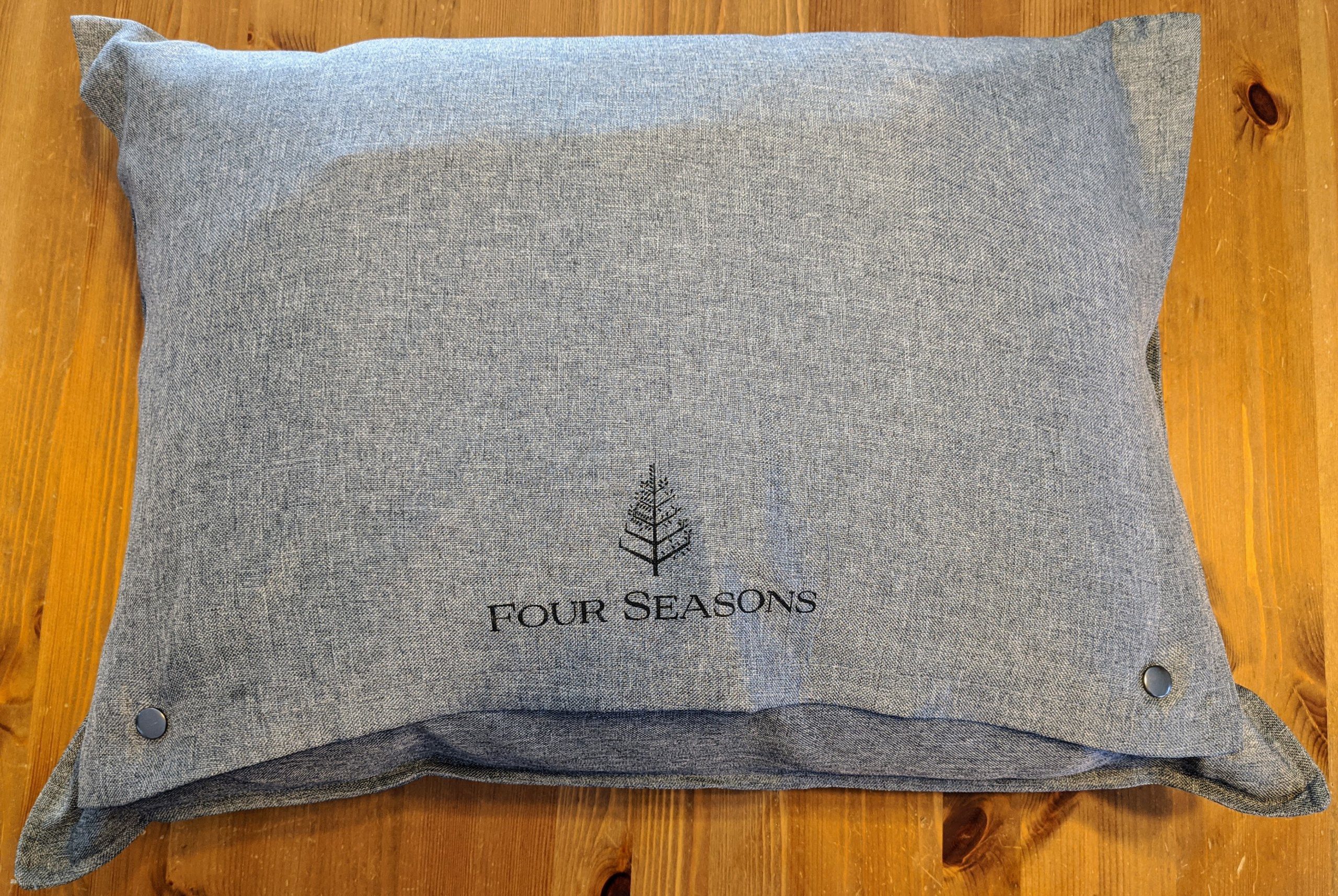 When you open the buttoned flap you will find an insert that lists some of the details of the pillow.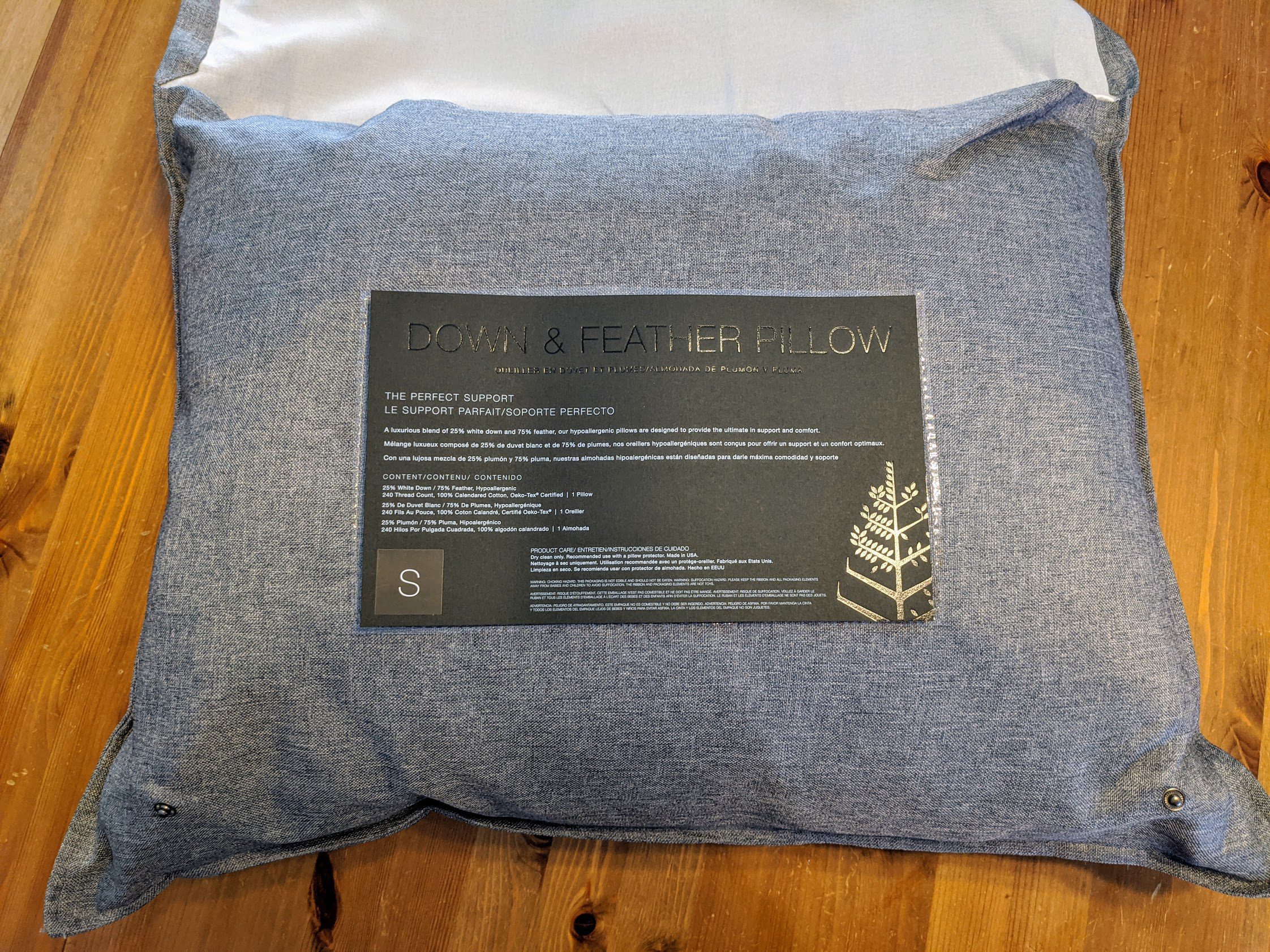 What's Inside the Four Seasons Pillow?
The Four Seasons Down Pillow is made with 75% Feather and 25% down
Here's a closeup of the insert. They recommend using a pillow protector and to dry clean only. The outer shell is made with 240 thread count cotton that is Oeko Tex Certified.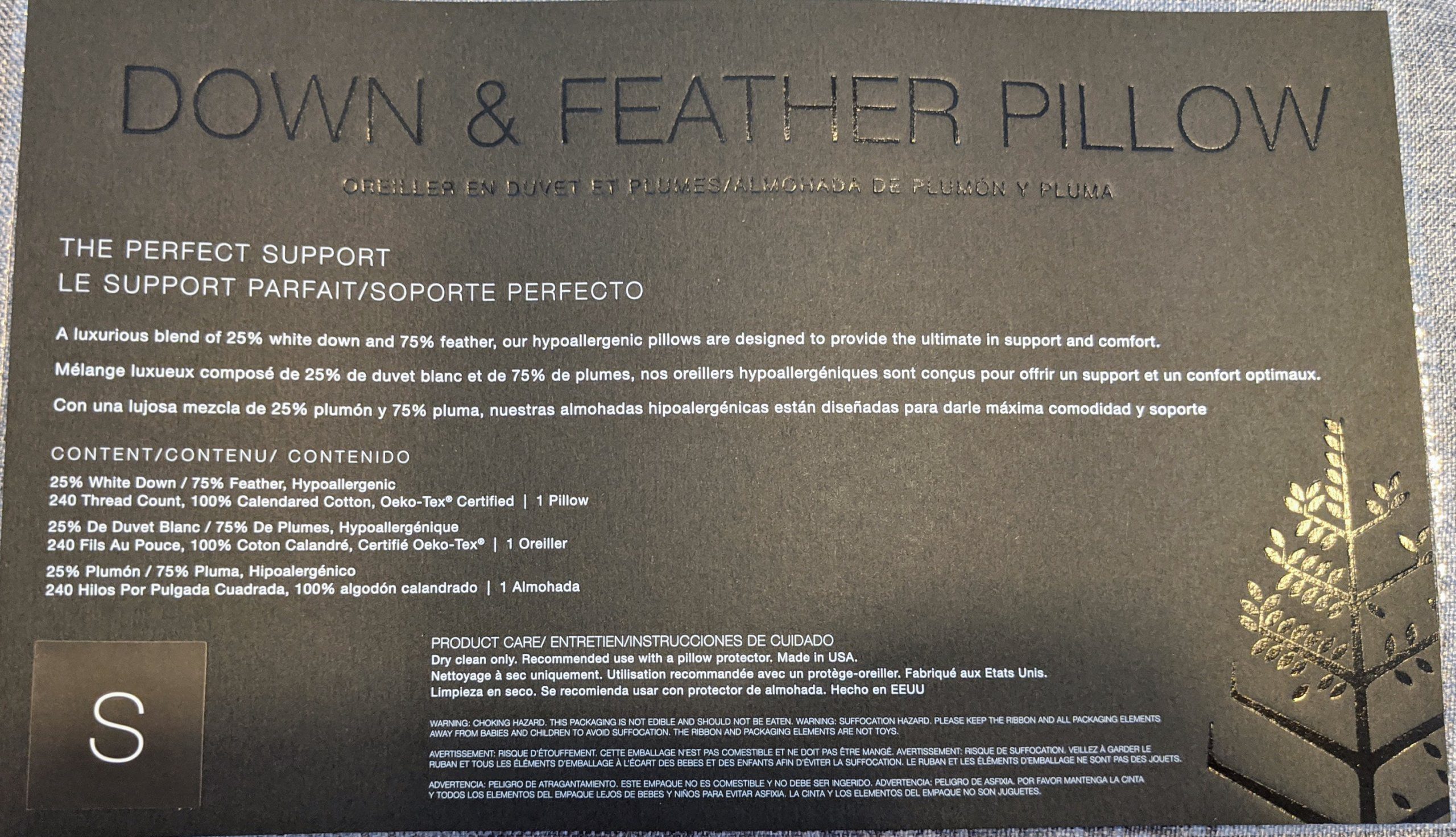 How Much Does the Four Seasons Pillow Cost?
Well, it's not cheap. It currently retails for $149 plus tax. Shipping is free and for me, it arrived quickly. They do offer a 30-day return policy but ask that the item be returned in, "as new" condition. You also need to pay return shipping so it can be costly to return and it's is vague as to whether or not they will accept it.
My Four Seasons Pillow Findings
This pillow feels as expected. What I mean by that is that there's nothing proprietary about the construction and therefore nothing spectacular about the feel either. What you do get is an ultra-soft and conforming pillow that only down can provide. Pure down is expensive so to save on costs, feathers are added. The more feathers the less expensive. Since this pillow is 75% feathers, it shouldn't be that expensive to make. An all down pillow will also be lighter than one blended with feathers and will have a more consistent feel. If you use all feathers, that will make it feel lumpy and will need to be fluffed more often.
Here's a picture of the pillow right out of the packaging. It is a standard size and doesn't require you to fluff it since it does not come compressed like less expensive pillows.
The Four Seasons label is also stitched into the side lest it gets mixed up with other pillows over time.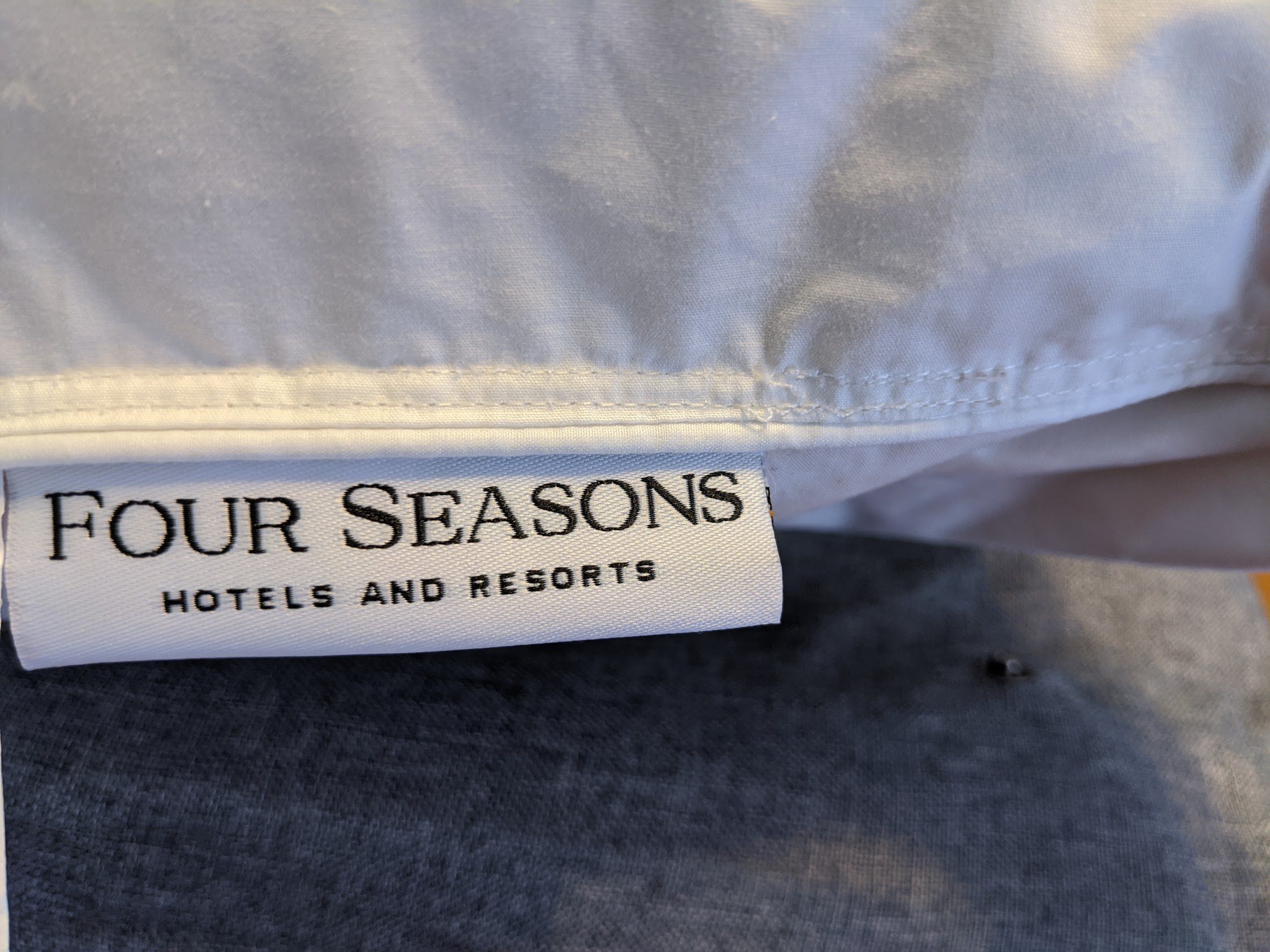 My Four Seasons Pillow Recommendation
Overall this pillow feels great and should appeal to all types of sleepers. It's miles better than any poly fill pillow you would find at a target or Walmart but I don't think it can command such a high price. That said, if you slept at a Four Seasons and fell in love with their down pillow, this is the one to get. If you want a similar alternative. Pillows.com offers one with a similar construction for about a third of the price and in that case, it makes more sense to try the cheaper alternative to get a similar feel and save some money or buy more pillows.