Recently updated on July 24th, 2019 at 02:12 am
Eli & Elm entered the bedding world in January 2019 with a goal to create high quality bedding for the average sleep enthusiast. Based in New Haven, CT, their name is an homage to Eli Whitney—the inventor of the cotton gin; and Elm City—the home of Whitney before its name was changed to New Haven. Three Connecticut men were inspired by Eli Whitney's innovation with the plant, so they took to improving the world of cotton bedding, with aspiring dreams to make the bed a better place for sleep. There hasn't been much innovation in the textile industry, so Eli & Elm made it their mission to create luxurious and durable sheets for affordable prices. Their work with researchers and engineers has paved the way for eco-friendly advancements in the field while also focusing their resources on making fair trade products that are ethically sound.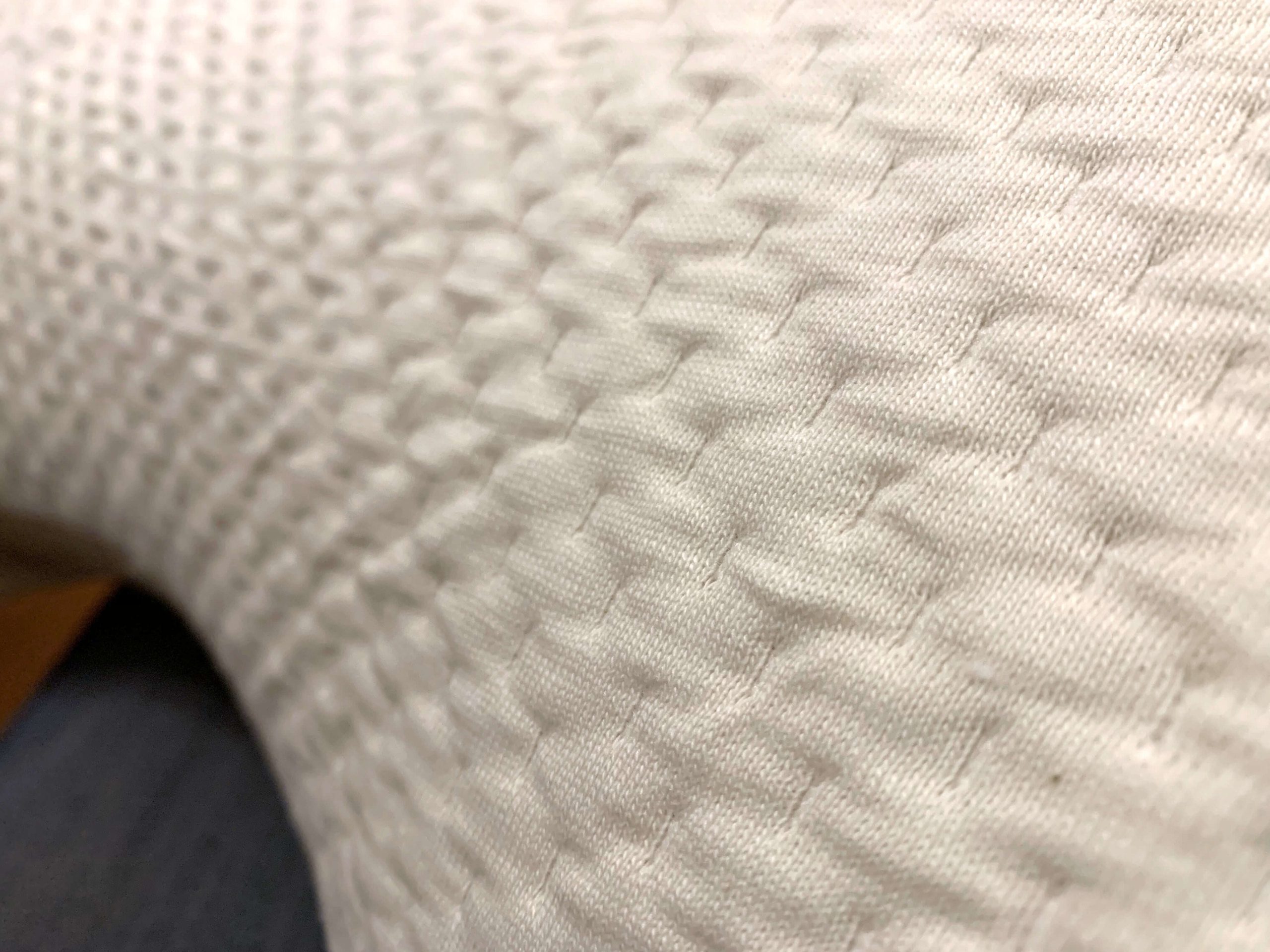 Eli & Elm sent me their king-size organic cotton Side Sleeper pillow. The large cushion was rolled up and stuffed inside its long, white shipping box.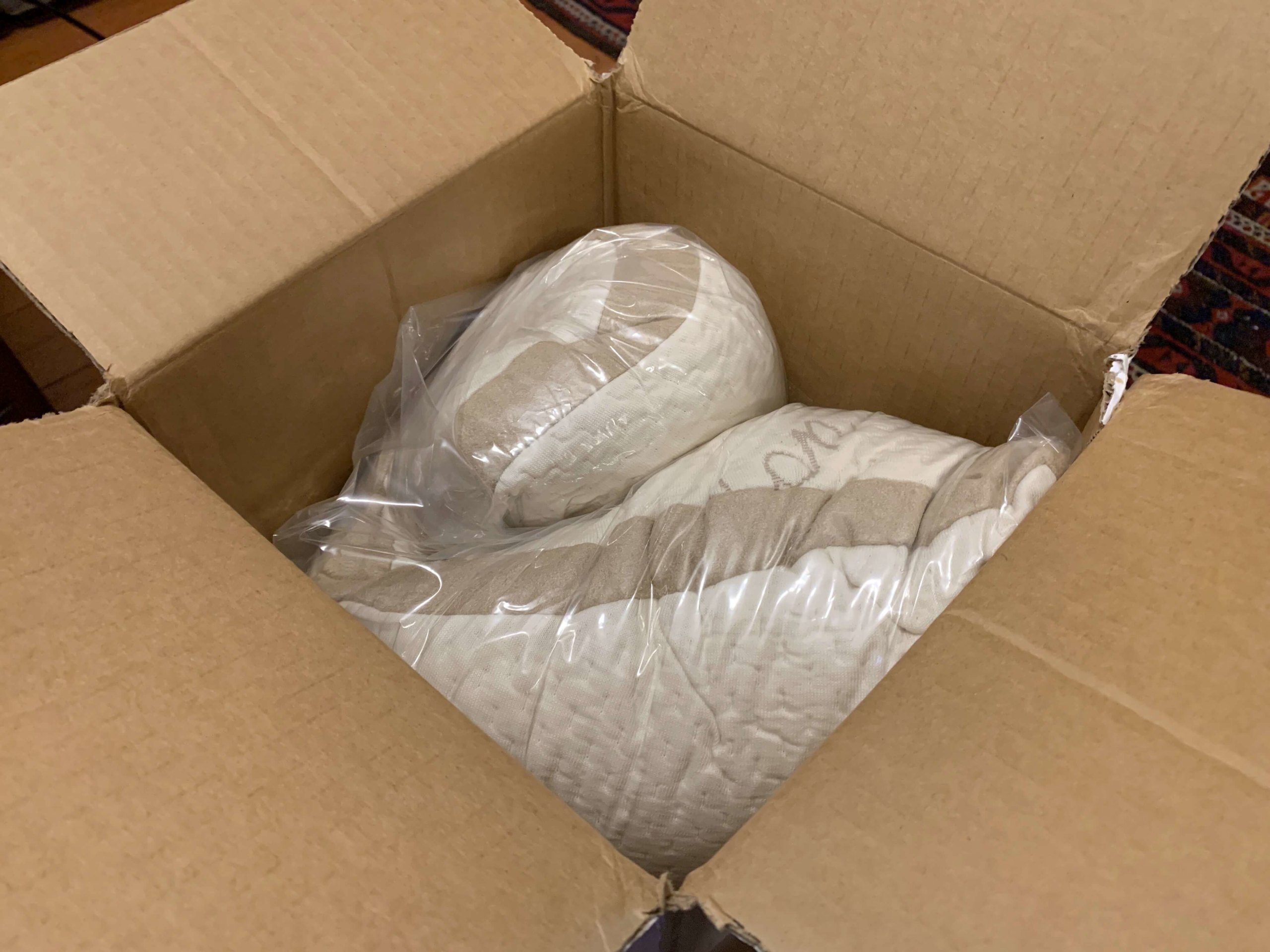 I pulled it out and cut away the bag and tape to reveal a gold and ivory pillow shaped like half of a fingertip bandage.
The quilted pillow fabric is extremely soft, and the filling is especially plush and squishy. The front and back of the pillow have "Organic" written stylistically across the pleats, and are joined by a gold suede band.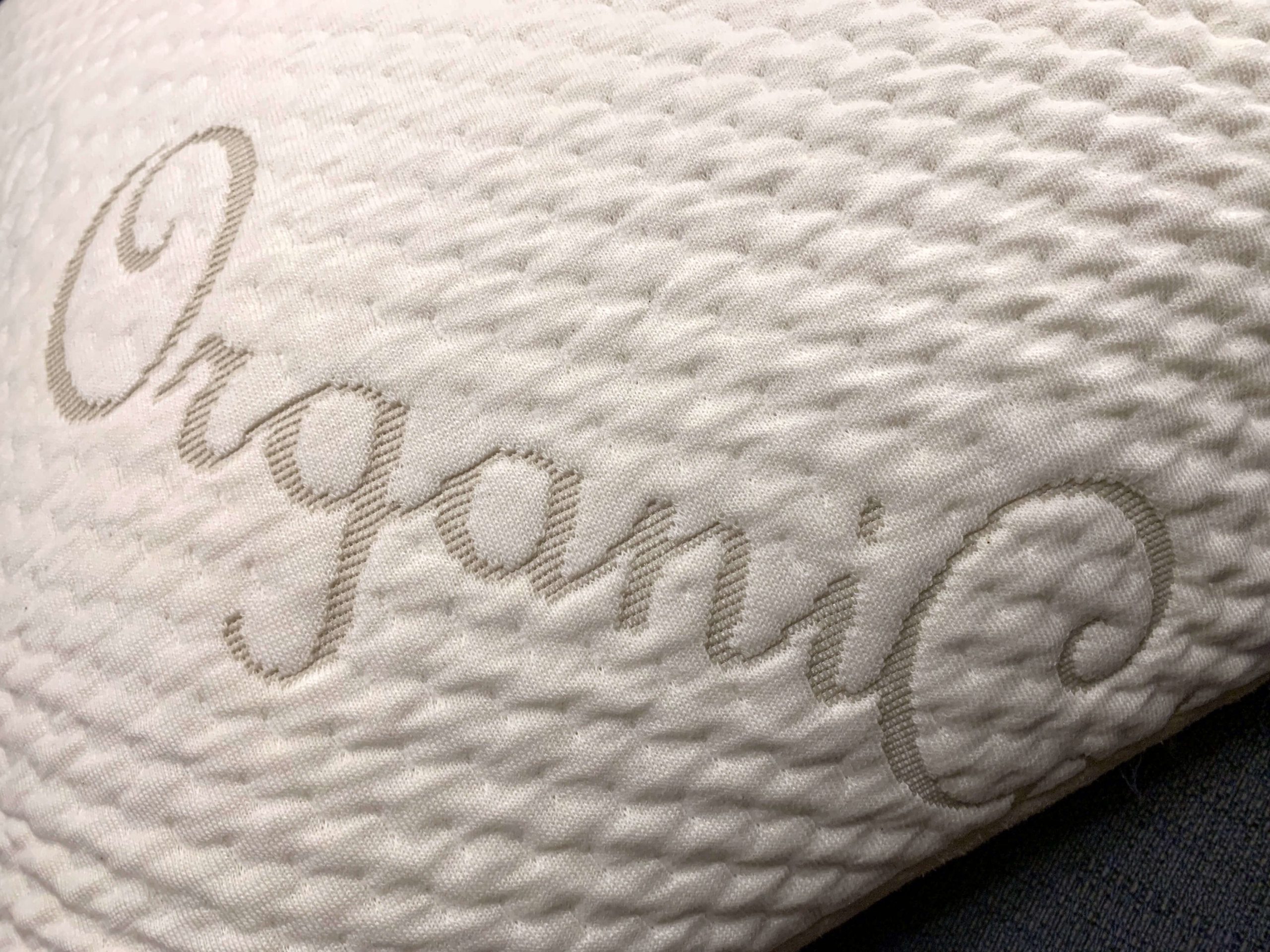 The seams are hidden and seem durable enough to withstand even the roughest of sleepers. I really appreciate the placement of the zipper, as many zippers that go from corner to corner often get jammed with the interior fabric. When I unzipped the portal to coziness, I was met with tiny noodles of cotton stuffing, which Eli & Elm explains can be removed to adjust height, support, and cushiness for a fully customizable experience.
Side Sleeper Construction
Eli & Elm's pillow design is not only customizable for all sleepers, but it's specially designed to benefit side-sleepers. The unique shape gives the head and neck the support they need, which is often not provided by flat pillows. I have two flat pillows that have lost every ounce of support and comfort that they once had, so this has been a long time coming. I couldn't find any information on how I was supposed wash it, and I've had issues in the past with damp pillows, so I gave it an extra hour for good measure totaling 120 minutes on low heat. Once out of the dryer, I could start enjoying the pillow without having to smell the factory in which it was made.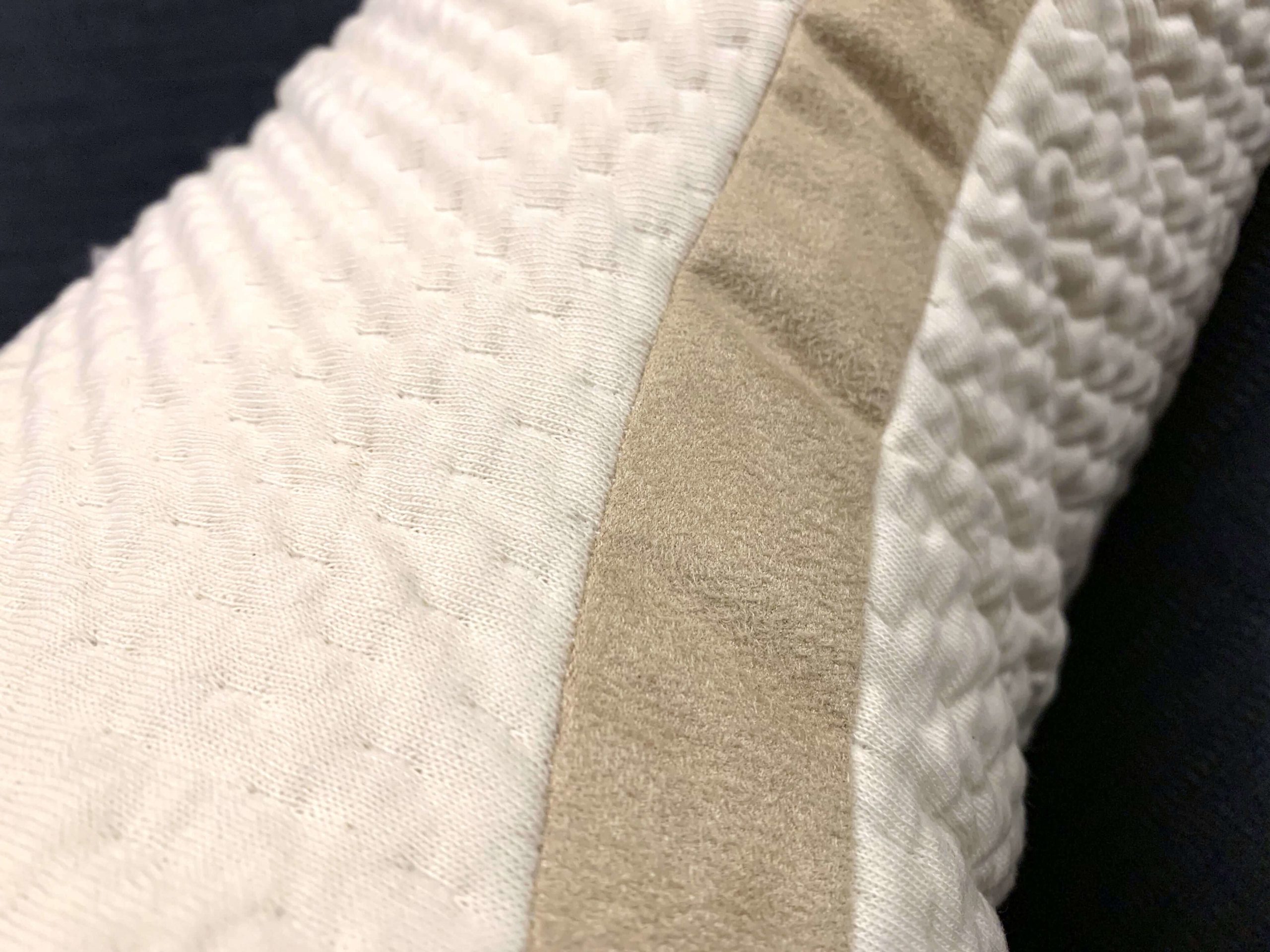 The pillow fabric is comprised of 37% organic cotton, 2% spandex, and 61% polyester; and the fill is made of 75% latex and 25% polyester fiber. Eli & Elm claim that their cotton fabric is breathable, hypoallergenic, eco-friendly, and temperature modulating, so I was intrigued to try it alongside Eli & Elm's Cooling Whitney Collection. Unlike the Whitney Collection, the Side Sleeper does not utilize Phase Changing Materials in its construction, so experiencing the cooling effects side-by-side would give me an ideal comparison test. In the end, it really did do what they said it would.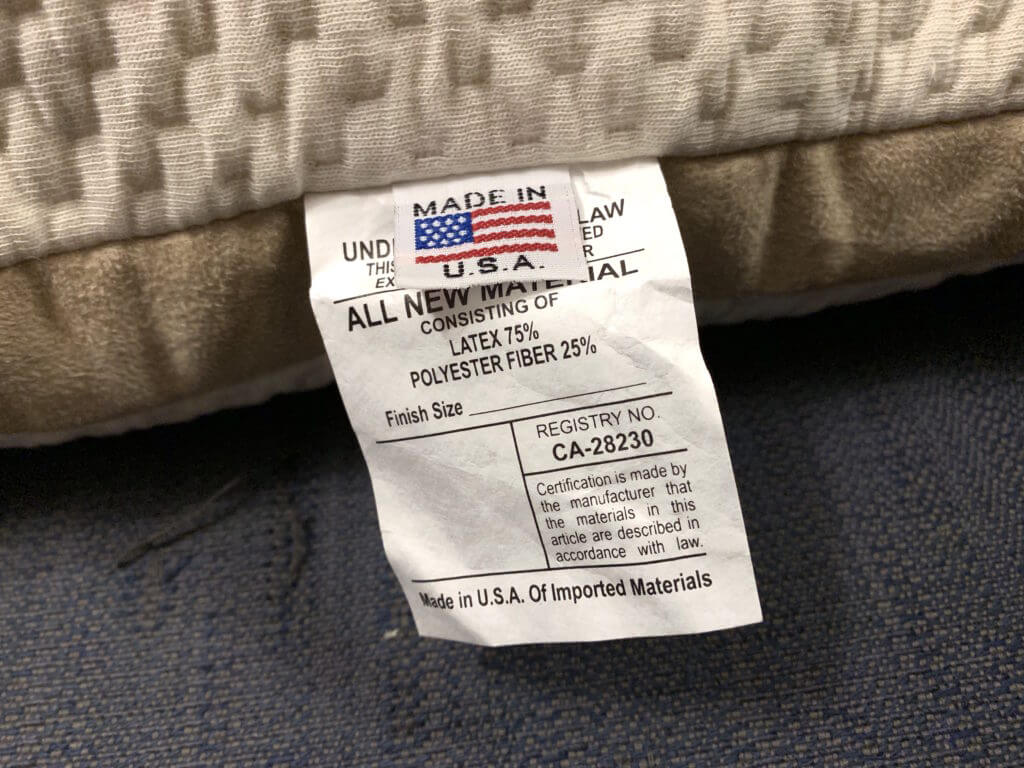 The pillow is heavy and kind of unwieldy—if you hold it with one hand, you feel like it will stretch into oblivion, but if you hold it with two hands, it still figures out a way to spill over your arms. When moving the pillow, it feels as though it's caught somewhere between liquid and solid despite very clearly just being a fabric pillow stuffed with little squishy noodles. When placed on an immovable surface—like a bed—the pillow takes on a whole different personality. The noodles compress under the weight of your head allowing the half-fingertip-bandage shape to conform to your neck. The Side Sleeper feels like a luxury neck pillow made of pizza dough, and I love it. It can be hard to find a pillow that meets all of your greatest expectations, but Eli & Elm got it right this time. No matter which way I slept or rolled, the pillow was always there, giving me the best cushion experience for all sides of my head. It was both supportive and forgiving, which makes it a perfect pillow for literally anyone.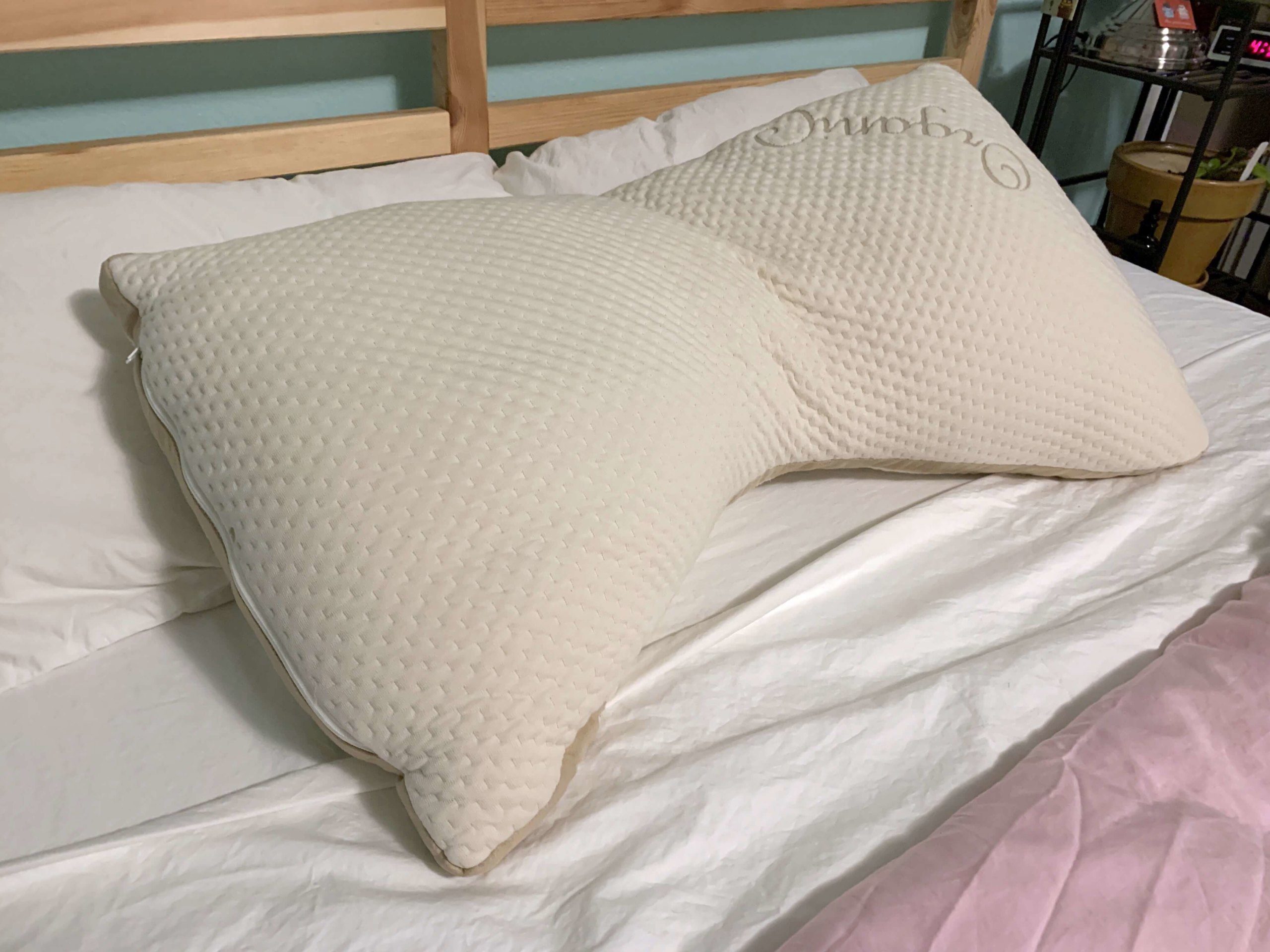 When used simultaneously with Eli & Elm's Whitney Collection, I found myself in one of the most breathable and temperature consistent sleeping environments ever. Sure, getting into the bed was a bit chilly (my house thermostat is pretty consistently set between 55F and 62F morning and night), but once inside, all the high tech cooling fabric started doing its thing and the sheets and pillow quickly adjusted to my body temperature. After a few days of usage, I was curious what the other side of the pillow felt like since the undersides of pillows are always colder—this one was very cold. In a sleepy daze, I strangely couldn't tell if the pillow was cold because it was damp or just cold—turns out by perching the Side Sleeper on top of my other pillows (covered with the Whitney pillowcases), I created a kind of black hole for heat in between the two cooling fabrics.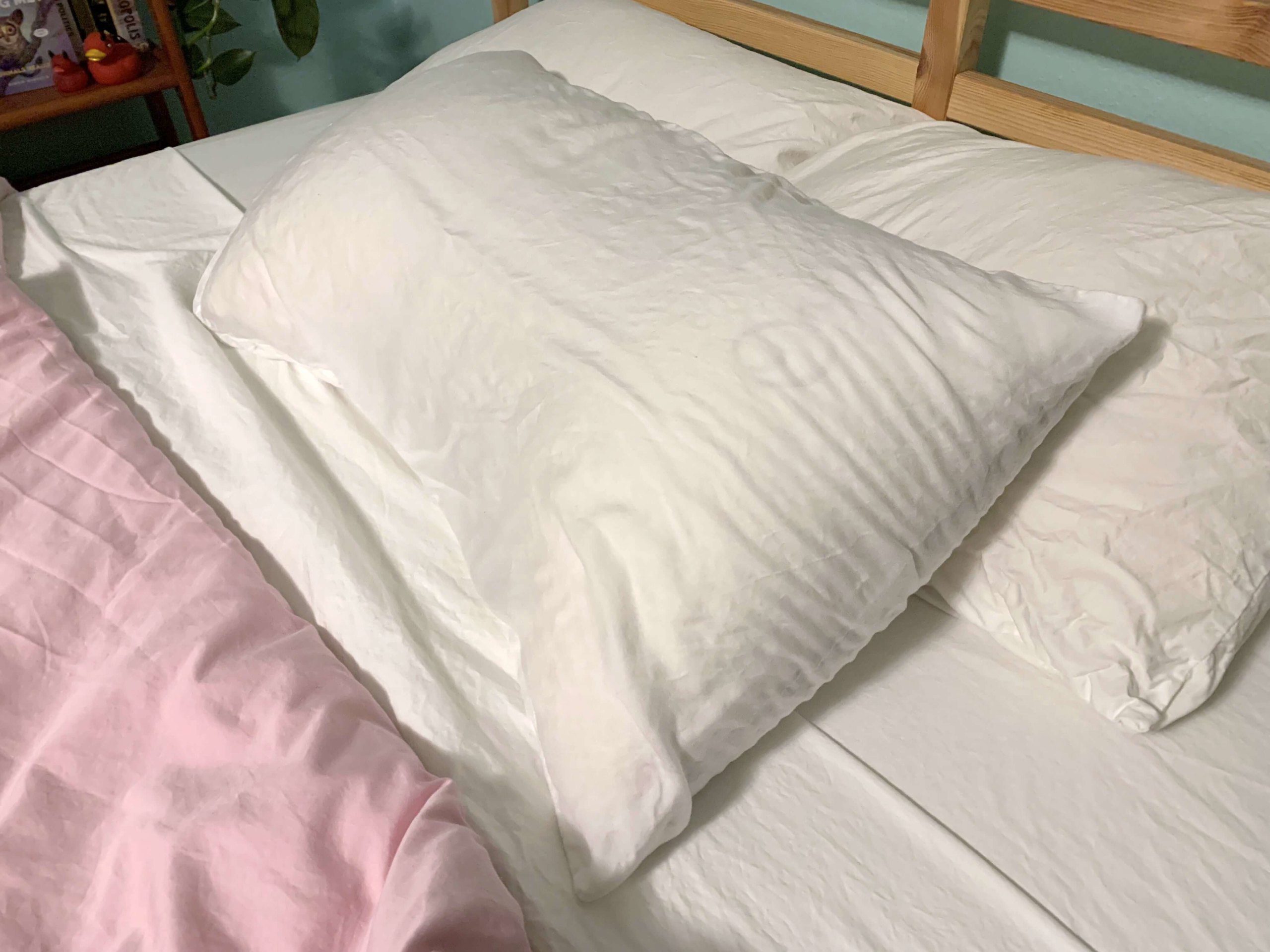 My Side Sleeper Recommendation
Eli & Elm's Side Sleeper is a magnificent pillow for sleeping, to which I have found no comparison. That said, pillows are generally very versatile and practical, but I don't think the Side Sleeper shares those traits. Due to its shape, it wouldn't make for a back or head cushion while playing cards or writing your next novel, and its weight and Jell-O-esque feel make me think traveling with it would be a hassle—its true element is on a bed. The only thing that I'm unsure about at this moment is the stiffness of the pillow. This of course is just a personal problem, because Eli & Elm recommends removing or adding noodles as you go to get the perfect firmness, which I haven't gotten around to doing. So for all of you prospective buyers and readers out there, if you're looking for a pillow that is more squishy than firm, make sure you extract some noodles first before deciding it's not for you! In the off chance the Side Sleeper is just not for you, Eli & Elm has a 45-day risk free trial period so you never have to invest in something you don't actually like. For me? This is a real keeper and paces miles ahead of the comparable $100 solid bamboo pillow I got online.