The Couchbed is a mattress and a couch all in one. And unlike a futon, there are no metal or wooden parts. You simply flip one side and it instantly becomes a mattress or couch. I was given a free Couchbed for review. This is an extremely versatile piece of furniture for people living in small spaces where having a piece of furniture that serves two purposes comes in handy. A right now it comes in either a twin or queen size mattress. A queen size retails for $499.
Overview of the Couchbed
Here's a quick video overview of the Couch Bed including just how easy it is to transition. I have it sitting on a platform base so you can see it better but of course, this was designed to go right on the floor.
You can order your Couchbed direct from their website. Shipping is quick since they fulfill orders our of Arizona. You can expect it to arrive to your door about 5 business days after placing your order. Right now they have five colors to choose from. Blue, Limestone, Charcoal, Red and Black. For this review, I chose the Charcoal color.
It will arrive in a box like the one below. It is around 70 lbs so a bit heavy but certainly lighter than a typical couch and easier to transport.
There is really no setup involved with this. All you do is take it out of the box and cut open the plastic and soon it will come to life as a queen size mattress.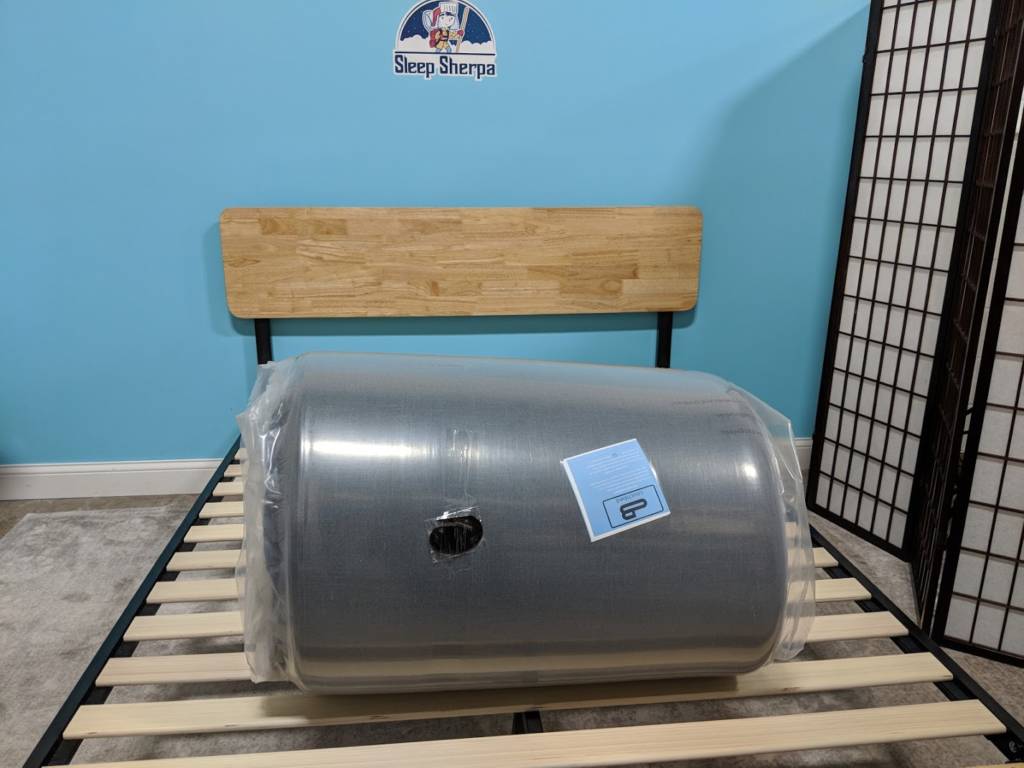 It comes with a letter opener which is all you need to setup the mattress.

Construction of the CouchBed
Considering that this serves two purposes, it has all the same premium foam that you would find in a traditional memory foam mattress.
10″ Tall
Made with 100% Certipur Certified ultra-dense memory foam.
Includes phase change material to cool the surface.
10 Year Warranty
How Much Does the CouchBed Cost?
As of this writing, you can choose between a twin size or queen size.
A twin size is: $349.99
A queen size is: $499.99
Twin Size Dimensions
Dimensions as a mattress
10″ X 38″ X 75″
Dimensions as a couch
20″ X 29″ X 75″
Weight
47 Lbs
Queen Size Dimensions
Dimensions as a mattress 
10″ X 60″ X 80″
Dimensions as a couch     
20″ X 42″ X 80″
Weight
70 lbs
The Couchbed comes with a 30-day trial where you can return the mattress for a refund within 30 days but you are responsible for paying return shipping.
My CouchBed Findings
As a mattress, this is certainly on the firmer end of the spectrum but that's to be expected since it also needs to function as a couch. As a couch, you get great support and could even nap on the queen size couch if you wanted to.
There is a zipper to unzip the fabric although it is recommended that you spot clean the cover instead of wash it.
Here's a look at the layers inside. As you can see there are two distinct layers the support layer and the top layer which contours and has the phase change cooling material.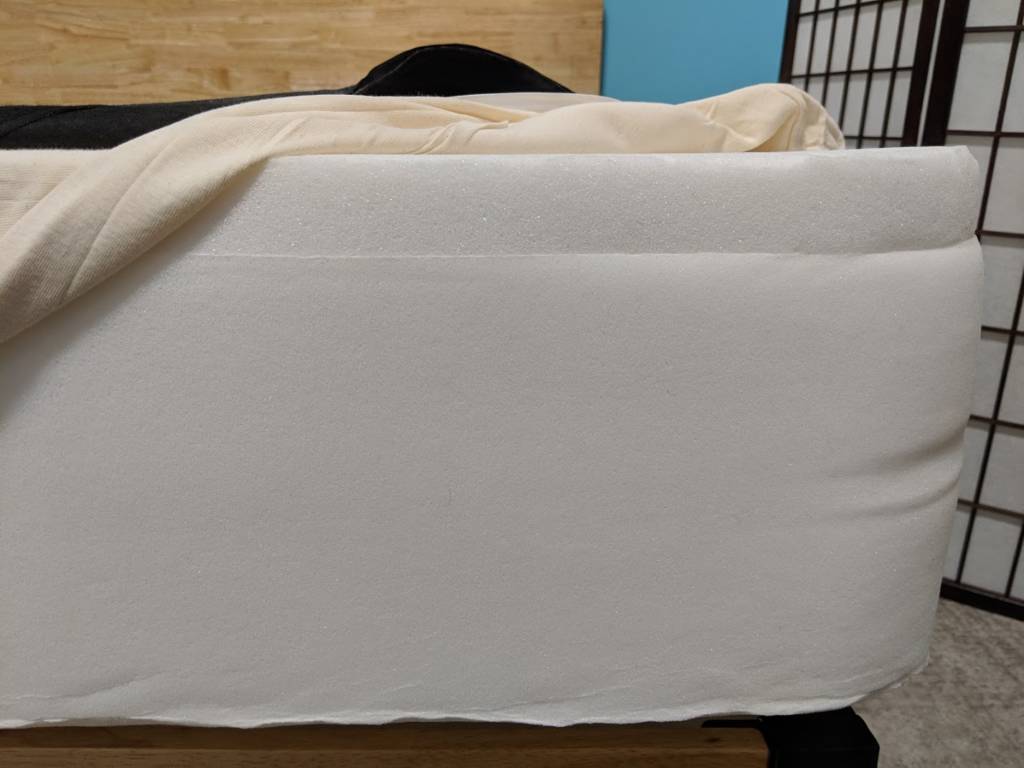 I made the clip below to show how each layer reacts. The top layer is slower to react because it provides more contouring.
The picture below shows my 14 lb. bowling ball on the bed/couch without the cover. Even with the contouring layer, you aren't going to sink all that much.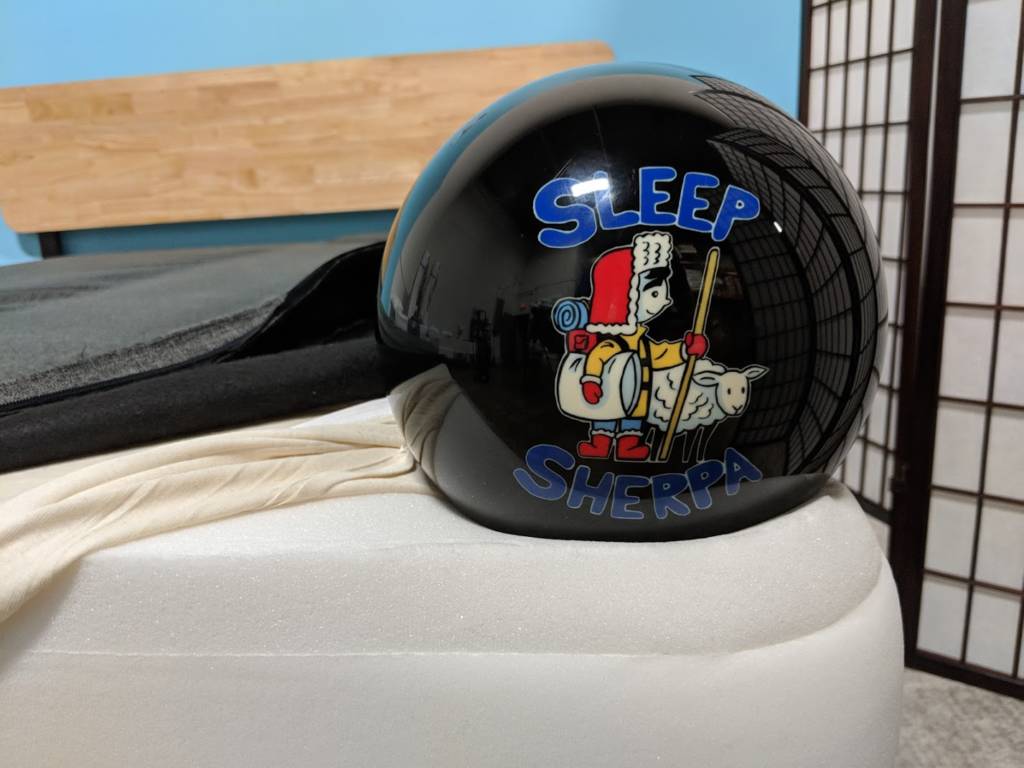 I should point out that I didn't notice the transition between the two pieces when laying on it as a mattress. You won't even see it when you put sheets on it. This will fit traditional sheets just fine since it is the exact same dimensions as a regular queen size mattress.
My CouchBed Recommendation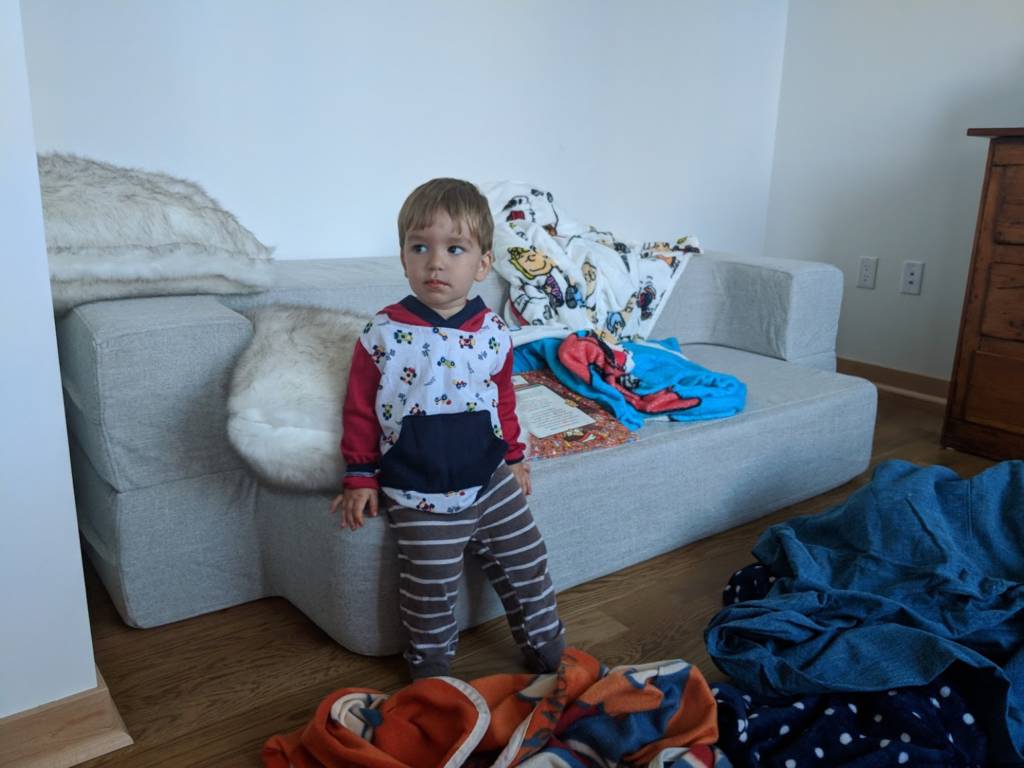 If space is tight or you just want to get more use out of a spare room on your house the CouchBed is a great choice. It is super easy to fold and transition to a couch, even more so than a futon and best of all there are no parts that will break. Anyone who has slept on a cheap futon will usually find the floor a better alternative. As a mattress, you won't get any metal rods digging into your back at night either. And as a couch, it is sleek and comfy for video games or a Netflix marathon. Given the very accessible price, you get a comfy couch and a quality mattress all for $500.