The Birch mattress is a hybrid mattress that combines the best of both worlds: the support of a coil system with the comfort of natural materials. The mattress is made with four layers:
Organic cotton cover: The cover is made with organic cotton, which is soft and breathable.
Natural Talalay latex: The latex layer provides pressure relief and support.
Organic New Zealand wool: The wool layer helps to regulate temperature and wick away moisture.
Pocketed steel coils: The coil layer provides support and durability.
The Birch mattress is a medium-firm mattress that is suitable for all types of sleepers. It is also a good choice for hot sleepers, as the natural materials help to keep you cool and comfortable throughout the night.
The Birch mattress is an all-natural mattress that is getting rave reviews and selling like crazy. Recently many online brands have come up with a natural mattress offering as it is a growing category. Mattress shoppers are waking up to the fact that mattresses made with quality latex and springs provide durability and comfort that is hard to get in an all-foam mattress. While the prices on average are higher, there is a lot of value to be had with these types of mattresses and the Birch mattress is no exception.
The Birch Mattress comes with a standard 100-night trial where you can try it out in your own home for 100 nights and if you don't like it for whatever reason, it is a free return. It also has a 25-year warranty against manufacturer defects. Typically mattresses that use latex as the comfort layer skew firmer. The Birch has a pillow top option, the Birch Luxe Natural Mattress, for an extra $400 to make it more suitable for people that want a plush feel and is overall my top pick for a natural mattress. 
Overview of the Birch Mattress
I have slept on dozens of natural mattresses with similar construction to the Birch Mattress, Including the Avocado Green Mattress and Naturepedic line of mattresses but each still has a distinct feel. I found the Birch Matress to be a medium firm feel among the spring latex mattresses I have tried and the Birch Luxe Natural Mattress to be a little softer than the Avocado Green Mattress with Pillow Top. Here's a quick video overview of my thoughts on the Birch Mattress.
Construction of the Birch Mattress
Below are the construction details of the Birch according to their website.
The Birch Mattress is made with all natural materials which means there is no foam and no off gassing to worry about which is typical when opening a new mattress with memory foam. Instead it has natural latex, some people call this latex foam but it's basically rubber from a rubber tree plant. 
1 Cover – Organic Cotton Cover
The Birch Cover is made using natural, organic cotton. It is designed to be highly breathable with a subtle stretch and soft touch. The Organic cotton cover is the layer closest to your body and so having it be organic and chemical free is reassuring. 
2 FR Cover – Wool
Each Birch Mattress uses natural wool fibers with rayon as the fire retardant layer, free of plastics to provide protection.
3 Comfort Layer – Birch Wool
100% all natural & organic Birch Wool provides unparalleled comfort and temperature regulation. Birch Wool is designed to retain shape with a natural elasticity of each fiber.
4 Pressure Relief Layer – Natural Latex
Natural Talalay latex with OEKO-TEX and Rainforest Alliance certifications, provides response to cushion your pressure points while giving support. Our latex is carefully managed to ensure consistency.
5 Support Layer – Individually Wrapped Coils
Hundreds of individual steel coils help to cradle your body and provide support, while also limiting motion transfer. Additionally, the reinforced perimeter coils provide best in class edge support.
6 Base Layer – Wool Batting
100% all natural & organic wool batting to provide stability and durability to the entire mattress.
How Much Does the Birch Mattress Cost?
Below are the current prices of the Birch before any discounts. Right now Birch is offering
$200 off these prices on their website
. Keep in mind that the Birch Luxe Mattress will cost $400 more for each respective size. 
Learn more about the Birch Mattress
My Birch Mattress Findings
Your Birch mattress will arrive compressed in a box about a week after you place your order. No need to schedule a delivery. Birch will automatically donate 1% of the purchase price to the National Forest Foundation. Some companies will actually add this as an optional cost but Birch will pay the 1% which is a nice touch. They also purchase carbon offsets!
For an extra $99 you can buy accidental damage coverage through a company called Mulberry. This covers the folllowing:
Accidental stains such as:
● Wine, Pizza sauce, and any other food and beverage stains
● Make-up, Nail Polish, Cosmetics
● Pen, Crayons, Pencils
● Human and Pet bodily fluids
Accidental damages such as:
● Rips, Burns, and Punctures
● Common accidents from children or pets
● Breakage that causes structural breakdown
● Chipping, cracking, and breakage from normal wear and tear
While this is a great option, I think a good mattress protector will address most of these problems and will also keep the mattress hygienic.
This mattress is 11 inches deep and is heavier than a typical foam mattress because latex and steel are heavy so you may need some help getting this setup.
This mattress is ready to sleep on right away. I didn't have any concern with off-gassing or waiting for the mattress to take shape because the latex will instantly spring to live along with the coil system underneath.
As you can see below, it has great edge support and I attribute that to the quality coil system. Yes, lots of people are still concerned about being able to put their shoes on at the side of their bed and the Birch Natural Mattress and even the Birch Luxe Mattress with extra layer of latex pass with flying colors.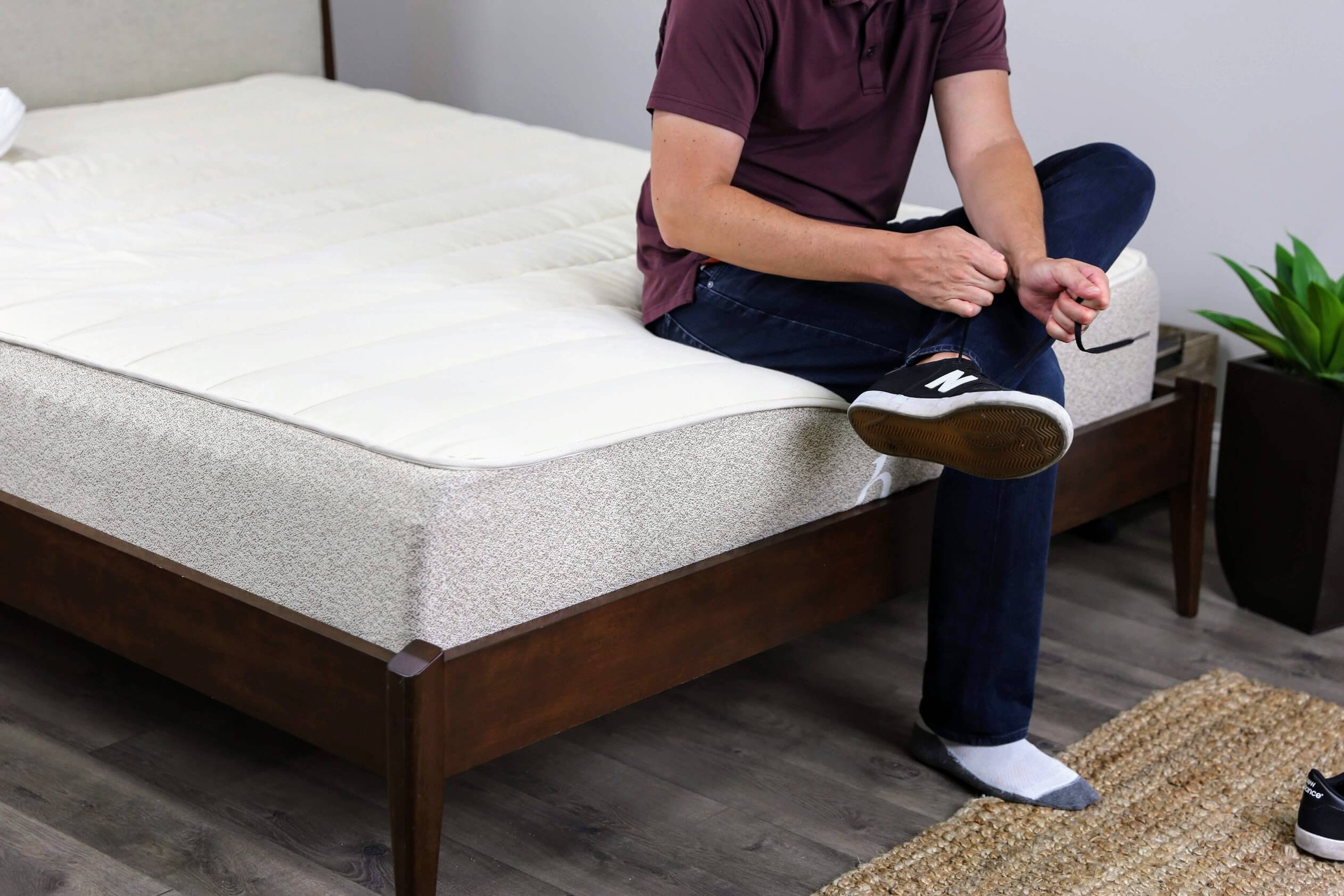 Here's how the mattress looks just a few minutes after opening. There's no need to to wait for it to inflate like a typical foam mattress. It's ready to use right away. 
You will get some motion transfer due to the spring system but it is a pocket coil system so the coils work independently to keep it to a minimum.  As you can see below there is some sinkage in this mattress and the top layer as a horizontal quilted pattern to give it a slightly more plush feel. I like that it wasn't stitched too tight either, this allows for maximum contouring with the Talalay layer underneath.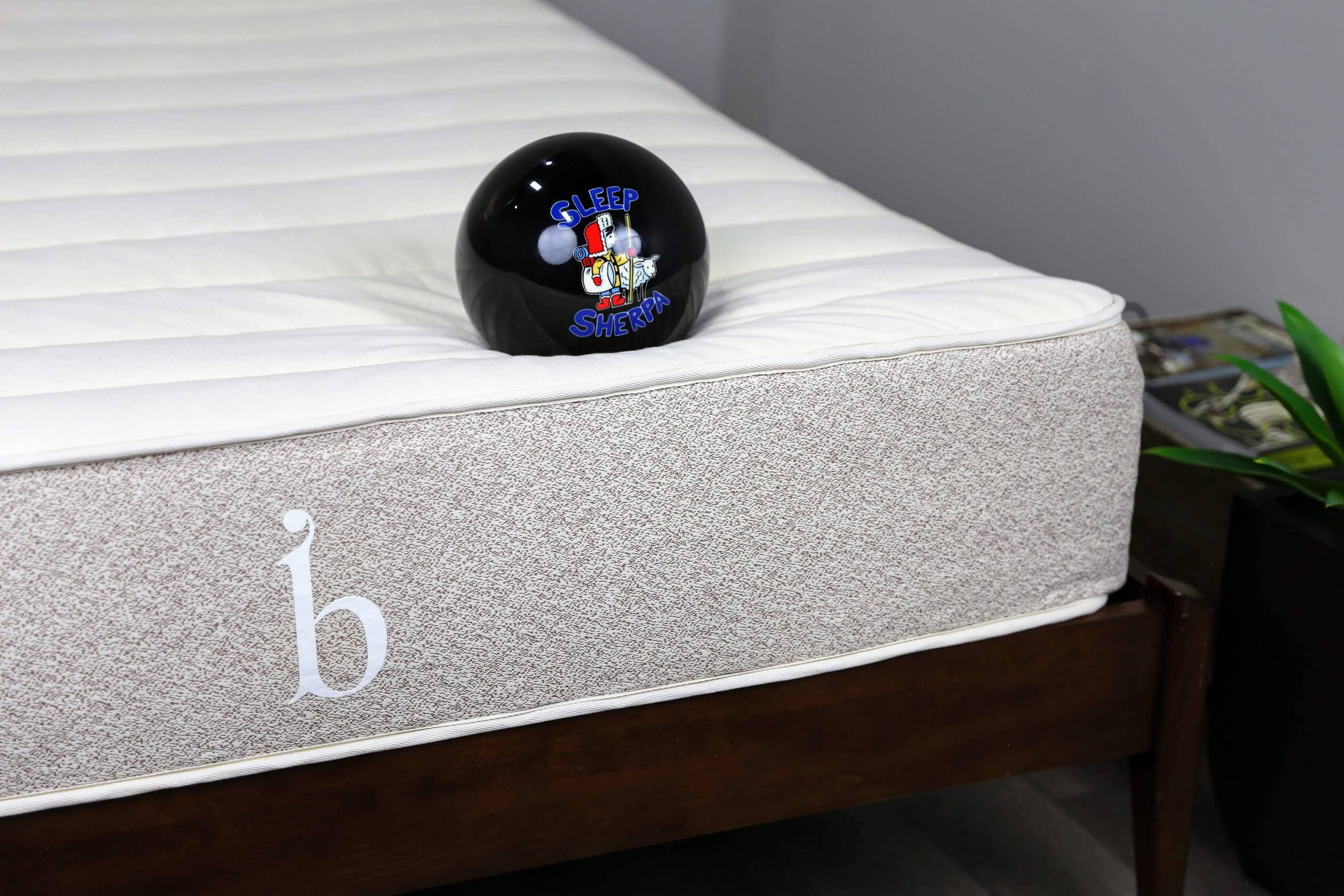 My Birch Mattress Recommendation
I think the Birch is best suited for back and stomach sleepers. Side sleepers that are seeking a firmer mattress will like it but I think they should consider going with the Birch Luxe or adding the Birch mattress topper. Here's a photo of me on my side to illustrate contouring.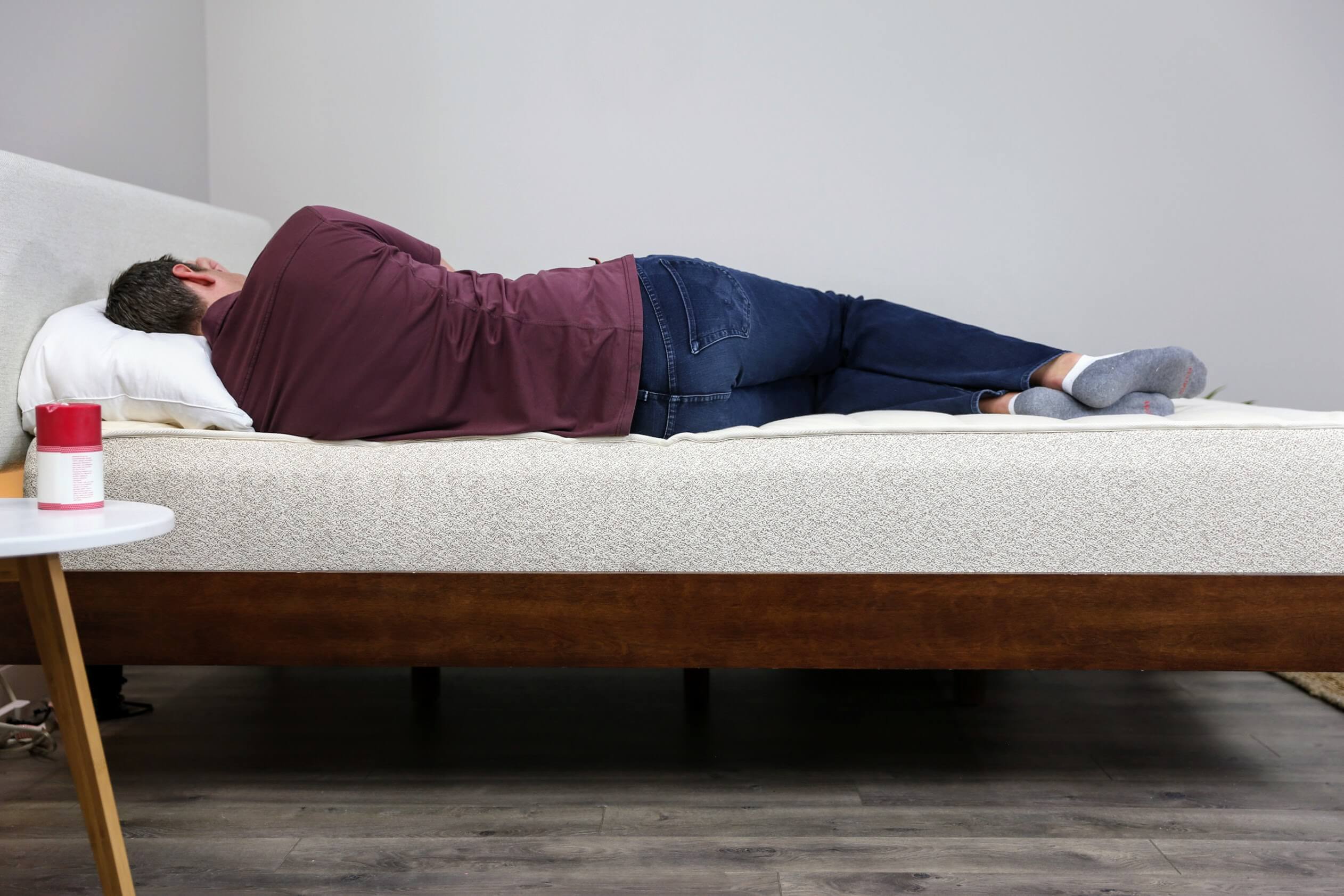 My Birch Mattress Recommendation
Birch has made a strong showing with this mattress and it is great to see more choices in the natural mattress category. The Birch mattress retails for $1,449 in a queen size while the Avocado retails for $1,899 in a queen size making the Birch Mattress more affordable than the Avocado. The Birch is a great choice if you want a mattress that is temperature neutral, does not contain any foam and made with renewable materials. Back and Stomach sleepers are best suited for this mattress and side sleepers will probably want to add the pillow top. However, I found the Birch to be just slightly softer than the Avocado and a slightly firmer than the Awara Mattress. 
Keep in mind, you get a 100 nighth sleep trial with the Birch mattress so there's no risk in trying it out in your own home. 
The Birch and Avocado mattresses are both popular hybrid mattresses that are made with natural materials. They have a lot of similarities, but there are also some key differences between the two mattresses.
Similarities
Both mattresses are made with a combination of natural latex and pocketed coils.
Both mattresses are medium-firm, making them suitable for all types of sleepers.
Both mattresses are good for hot sleepers, as the natural materials help to regulate temperature and wick away moisture.
Both mattresses are durable and built to last.
Differences
The Birch mattress uses Talalay latex, while the Avocado mattress uses Dunlop latex. Talalay latex is softer and more responsive than Dunlop latex.
The Birch mattress has a 1.5-inch latex layer, while the Avocado mattress has a 3-inch latex layer. This means that the Avocado mattress provides more pressure relief and cushioning.
The Birch mattress has a 7-zone support system, while the Avocado mattress has a 5-zone support system. This means that the Birch mattress provides more targeted support for different parts of the body.
The Birch mattress costs slightly more than the Avocado mattress.
Which mattress is right for you?
If you are looking for a mattress that is soft and responsive, the Birch mattress is a good option. If you are looking for a mattress that provides more pressure relief and cushioning, the Avocado mattress is a good option. If you are looking for a mattress with more targeted support, the Birch mattress is a good option. And if you are on a budget, the Avocado mattress is a good option.
Ultimately, the best way to decide which mattress is right for you is to try them both out and see which one you prefer. Both mattresses offer a sleep trial, so you can return the mattress if you are not happy with it.