Recently updated on February 21st, 2023 at 11:55 am
Best Orthopedic Pillows
Without the right bedding, it is almost impossible to get a good night's sleep. And without sleep, our whole life becomes bleak. Most people can survive without eating for as long as 30 days, but going without sleep easily takes a toll on us (the world record for going without sleep is of 11 days). That's because our bodies cannot work 24-hours. It needs a few hours to rest and recharge every day.
Think of our bodies as a machine that needs to be switched off for a few hours every day else the systems will overload and result in a breakdown. However, when it comes to sleep, the proper kind of environment and bedding are crucial. Not only does the wrong bedding interfere with sleep quality but it also causes aches and pains.
Sometimes we tend to get carried away with all the options in mattresses and duvets and forget about one of the essential items of bedding – the pillows. Most people are not aware that a pillow supports seven important bones of the neck, which hold up the head. When the pillow fails to provide support, the neck is strained and so is the head. Regular pillows are usually of a typical shape, and either too soft or too firm. They do not align with the spine or the neck and can lead to strains and pain.
You not only need a mattress that aligns to the curve of your body but also a pillow that contours to the shape of your neck and spine. A regular pillow doesn't offer this benefit. That's why you need to use an orthopedic pillow for better support.
What Is an Orthopedic Pillow?
Contrary to perceptions, orthopedic bedding isn't solely meant for those with medical problems like arthritis, osteoporosis or spondylosis. Anyone who wants their body to be better supported while they sleep can use orthopedic bedding. There are orthopedic mattresses and orthopedic pillows. Their purpose is the same, but for different parts of the body.
An orthopedic pillow is specially designed to provide and support to the neck spine and head while a person is sleeping or lying down. They are also often used to support other parts of the body, such as the knees, legs, and back. Normal pillows come in a very typical design; they are either rectangular or square and fluffy. They don't really have any special shape. Orthopedic pillows are distinguishable from their design. They are designed according to orthopedic guidelines to ensure proper placement and provide support to any part of the body.
Pillows have been conventionally made with fiber (such as cotton) or foam, but orthopedic pillows are usually made with memory foam. This is because memory foam is a heat sensitive material and acquires the shape of the part of the body touching it. However, it takes a while to get its original shape back when it's no longer in use.
Orthopedic pillows are also called therapeutic pillows because they claim to provide relief from a number of problems that interfere with sleep. From a back bad, sore knees, stiff neck, to sleep apnea and snoring, different orthopedic pillows relieve a number of ailments and sleep disorders by providing support to different parts of the body. In fact, there's a pillow available for almost every part of the body, often used together with orthopedic mattresses and cushions.
Types of Orthopedic Pillows
There are several types of orthopedic pillows, designed according to body shape and use. Some of them are:
Cervical or Contour Pillow
This is a sleep pillow that has a curved design and meant to align to the contours of the head, neck, spine, shoulders, and back when sleeping or lying down. A cervical pillow is one of the most common types of orthopedic pillows, used to relieve different conditions like neck pain, stiff neck, frozen shoulder sore back, respiratory distress, snoring and sleep apnea.
Neck Pillow
Also called a travel pillow, this is something often seen and used on a flight. A neck pillow is shaped like a horseshoe and is designed to fit around the neck to keep the head supported during long hours of sitting up. This pillow is useful because when your head is resting against a seat, it does not get the support that it needs, which can lead to neck pain and stiff neck and shoulders.
Body Pillow
This is a long, curvy pillow designed to support the entire body. A body pillow has curves that support the head, neck, shoulders, and back. A body pillow can be used by anyone who needs better support to be able to fall asleep. However, it is highly recommended for pregnant women because of the support it provides.
Knee Pillow
This is an hourglass-shaped pillow that is placed between the legs or under the knee to support the legs and keep the spine straight. Not only does a knee pillow provide support to the lower back by aligning the spine but also prevents friction between the legs. It is often used to promote blood circulation in the legs.
Lumbar Pillow
This is a half-moon shaped pillow that's used to support the lower back or the legs. While in a seated position, a lumbar pillow supports the lower back and provides the correct posture. While lying down, it can be used to elevate the legs, or even under the neck for support and massage.
Wedge Pillow
As the name suggests, this pillow is shaped like a wedge. It provides a sloping surface to rest any part of the body. A wedge pillow is one of the most versatile orthopedic pillows because it can be used for any part of the body. It can be used to support the leg and the knees or to support the head, neck, and shoulders in bed. Because a wedge pillow keeps the head inclined, it is often used to relieve respiratory distress, snoring, or sleep apnea, or even to relieve symptoms of acid reflux. Wedge pillows come in a single piece or can also be folded.
Water Pillow
If you want the utmost flexibility, nothing beats a water pillow. Simply fill the pillow with water, and adjust the height as needed. The water contours to the shape of the body and provide the ideal support.
How to Choose An Orthopedic Pillow?
Given the different types of therapeutic pillows, it can be difficult to make the right choice. Even if you do not suffer from any physical ailment or sleep disorder, it can be useful to have an orthopedic pillow at home, for those times when you have a sore back or stiff shoulders or want to keep your legs elevated. But regardless of what you buy it for, an orthopedic pillow should be purchased carefully, keeping certain factors in mind.
The following are a few of the factors to consider when buying an orthopedic pillow.
Budget: It goes without saying that orthopedic pillows are more expensive than ordinary pillows. They can be as low as $50 or as expensive as $200. Even before you set out to look for orthopedic pillows, it is important to have a specific budget because if you don't, your budget will skyrocket. There are orthopedic pillows available in every price range, so it's best to stick to a budget to avoid spending more than necessary.
Sleep position: Orthopedic pillows are designed according to the different sleep positions. It is recommended that you choose a pillow designed for the position that you usually sleep in. Side sleeping is the most common position followed by back and stomach sleeping. A body pillow is usually meant for side sleepers while a wedge pillow is better suited to back sleepers.
Support: If you are buying an orthopedic pillow because of any sleep disorder or physical condition, you need to consider which part of your body you want to support with the pillow. For instance, a neck pillow is designed to support the head neck and shoulders, while a lumbar pillow is meant to support the lower back and legs. If you end up buying a neck pillow for your lower back, it is not going to serve the right purpose.
Physical Ailments: Orthopedic pillows are designed to provide general support to the whole body or different parts of the body. But if you already have existing physical conditions, you may need the more specialized type of support. In such a case, an orthopedic expert is able to recommend the best type of pillow.
Material: Both regular pillows and orthopedic pillows are made of a variety of materials. But the most common material used to make therapeutic pillows is memory foam. Not only is memory foam soft and supportive, but their heat sensitivity makes them mold to any shape. Latex is another material used to make orthopedic pillows and is a better option for those who suffer from allergies. Like memory foam, latex also molds to the shape of the body and provides support and alignment. The outer cover of the pillow can be of cotton, viscose, or polyester.
Ease Of Cleaning: Pillows attract dust and can get very dirty if not cleaned regularly. When buying an orthopedic pillow, make sure to choose one that's easy to clean. You should be able to vacuum clean it or wash it with water. Not all pillows allow this, so if you want to wash your pillow, you should get a suitable material.
Top 5 Orthopedic Pillows
Now that we have looked at the type of therapeutic pillows available, their uses, and the materials they are usually made of, it's time to discuss the best orthopedic pillows that you can buy. Although there are several companies making several different types of orthopedic pillows, here we talk about the top five among them.
Snuggle-Pedic Ultra-Luxury Bamboo Shredded Memory Foam Pillow
The thought of orthopedic pillows brings to mind various curves that force you to sleep in positions you aren't used to. The vast majority of orthopedic pillows have curves and contours because they are designed to keep your body in place while you sleep. But a pillow can also provide support and alignment even without being curvy. Take the example of the memory foam orthopedic pillow by Snuggle-Pedic. One of the most popular orthopedic pillows today, the Snuggle-Pedic pillow is shaped like regular pillows but has the ability to support the head, neck, and shoulders. It is filled with shredded memory foam and has a breathable, micro-vented, zipper outer cover that can be washed. The pillow is fully customizable.
Priced at $60, this is one of the most affordable orthopedic pillows out there. Don't be misled by its shape; even though it doesn't have any fancy curve, it is excellent at providing support and alignment because of the memory foam molds to the shape of the body. Opening the outer cover also allows you to open the pillows itself, to adjust the stuffing inside. The memory foam is hypoallergenic, so even those with allergies can safely use this pillow. What's more, Snuggle-Pedic also offers a 90-night sleep trial and free shipping. The product is made entirely in the US and easily available on online sites like Amazon.
Pros
Fully customizable
Healthy and safe materials
Great for chronic pain and sleep apnea
Machine washable
90-night sleep trial
Affordable
Cons
Off-gassing required
Requires re-fluffing
Nature's Guest Cervical Support Pillow
If you want a pillow for neck or shoulder pain that's not made from foam or latex, Nature's Guest makes this cervical pillow with microfiber. The pillow is designed like a nest with an indentation in the middle and gussets at the edges. The indentation is for the head, and the gussets are for the neck and shoulders. Nature's Guest Cervical Support Pillow is recommended by chiropractors to those who suffer from neck and shoulder pain and is priced at around $60.
The cervical pillow has a washable cotton cover, and the filling is made of cotton and wood pulp. The firmness of the pillow can be adjusted by removing or adding filling. The cotton in the cover and in the filling helps in breathing and doesn't make the pillow hot. The neck roll is adjustable and moves your neck back to the right spot even when you move around. Those suffering from degenerative disc problems claim to have used and benefitted from this pillow. However, it is not too suitable for side sleepers.
Pros
Great support for neck and spine
Two different heights
Fully natural
Adjustable firmness
Breathable
Cons
Not suitable for side sleepers
Sleep Artisan Luxury Side Sleeper Pillow
This is a crescent-shaped pillow designed for side sleepers. It isn't made with either memory foam or microfiber, but rather it is made with natural latex. A completely healthy and eco-friendly option, this side sleeper pillow is made in California. Like all orthopedic pillows, it is adjustable and conforms to the shape of the neck, matter which side you sleep on. If you are a back sleeper, this pillow can be placed under the head to provide support to the neck. Breathable and hypoallergenic, natural latex contours to the shape of your body, and keeps you supported throughout the night. Because natural latex is expensive, the pillow is priced at $99.
Pros
Completely natural and eco-friendly
Superior natural latex
Works for both side and back sleeping
Cons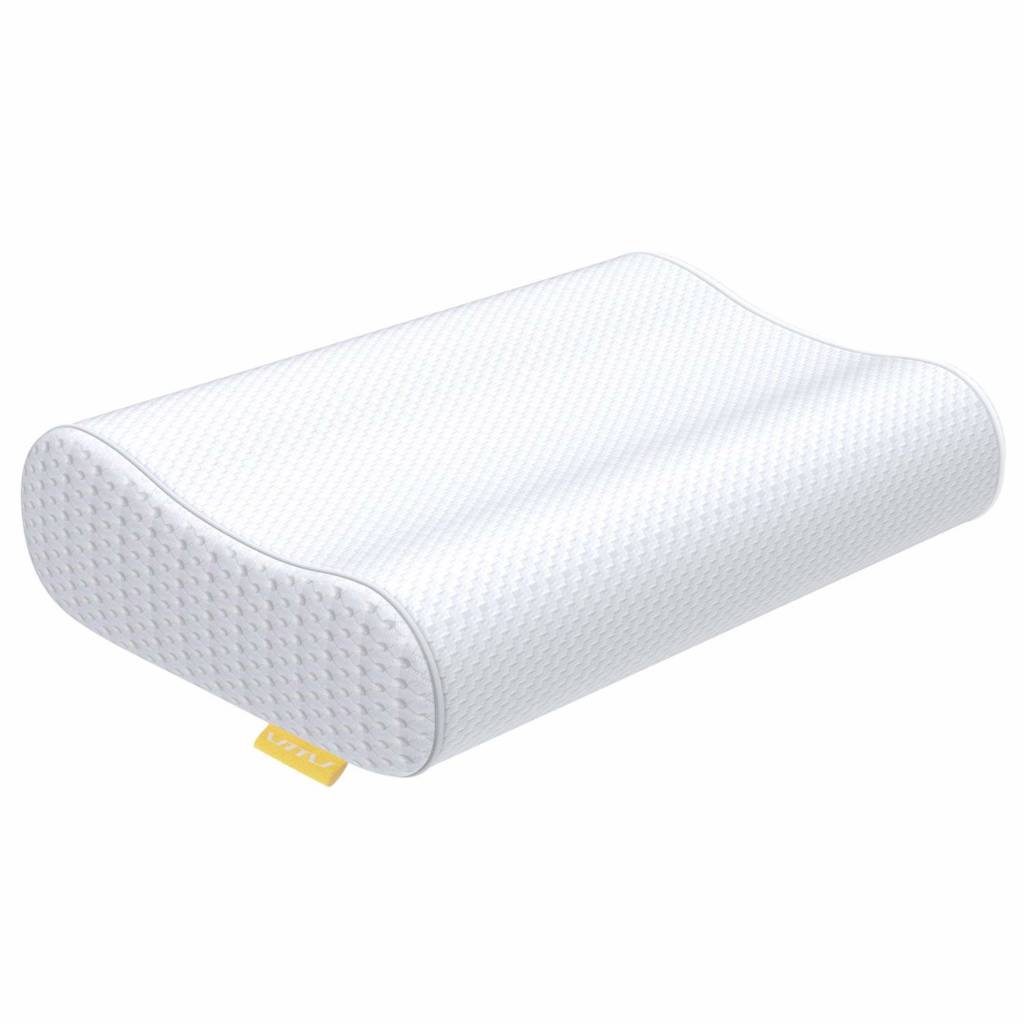 UTTU Adjustable Memory Foam Pillow
If you're looking for an orthopedic pillow that's suitable for all types of sleepers, then the UTTU Adjustable Memory foam pillow should be a great fit. Not only is this pillow great for sleeping with but also supportive when you are sitting for long hours working at your desk. Made with dynamic foam, this contoured pillow has a high density, preventing sinkage and sweating. The higher contour is for side sleepers while the lower counter is for back and stomach sleepers. Unlike memory foam, the dynamic form does not lose its firmness with use and always returns to shape despite all the molding. The cover is made of bamboo fiber that is soft and breathable, and machine washable. The UTTU Adjustable pillow is cheaper than other options on this list, at $39.
Pros
Breathable cover
Adjustable firmness
Soft and supportive
Suitable for all sleeping positions
96-night sleep trial
Affordable
Cons
Could be a little too firm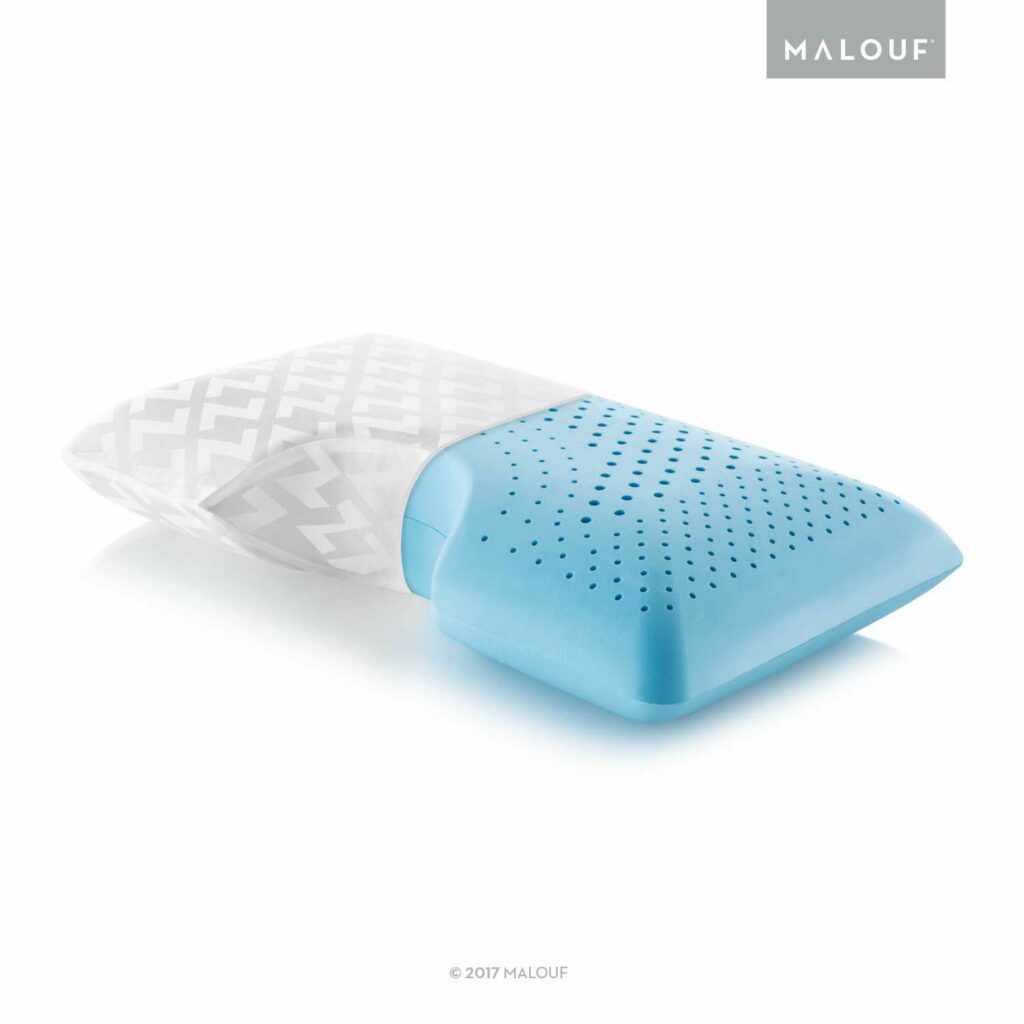 Malouf Z Shoulder Zoned Dough Memory Foam Pillow
Malouf makes a variety of different orthopedic pillows, infused with gel, lavender, peppermint, etc. The Z Shoulder Zoned pillow is made of memory foam and is gel infused. This pillow is designed to provide support to the shoulder region and is made with a number of different technologies. It has a unique shoulder recess specifically designed for side sleepers to minimize tossing and turning, while the zoned technology separates the pillow in two parts, one that is made of memory foam and supports the head and neck and the other that is infused with gel and promotes airflow. The outer cover is made of breathable TENCEL, which wicks away moisture and regulates heat. The memory foam is CertiPUR-US certified, and the product comes with a 5-year warranty.
Pros
Gel infused memory foam
Specially designed for side sleepers
Keeps cool and wicks away moisture
Hypoallergenic memory foam
5-year warranty
Cons
Off-gassing required
Expensive at $84
Orthopedic pillows come in different shapes, designs and pricing options. The final decision is a matter of personal preference and comfort. Remember to research from beforehand to avoid getting overwhelmed with all the different options available.