Recently updated on February 21st, 2023 at 11:42 am
Space is always a problem with most people, and are on a constant lookout for space-saving solutions. This is especially the case with city and apartment dwellers. For parents, this space problem tends to take on different proportions. It is very difficult managing space when you have kids running amok with their toys, books, and whatnots. Even a big room tends to feel small and smaller with kids around. There can never be too much space when you look at children's rooms.
Beds can then become great solutions. Where a normal bed for three will eat up the entire room, assuming you can even fit it in the room, a triple bunk bed will not only save space but is also suitable for small space where a queen size fit for three kids is not an option. They are also an excellent option for extra sleeping space for when your kids want to have friends stay over for the night. Apart from this, it is also a fantastic way of making your children's bedroom a fun and exciting place where their imagination can take flight. Be prepared for fights over who gets the top bunk!
The important question that now arises is which one to buy? As a parent looking for practical space solutions, it is understandable that you want the best without compromising on your budget. It is easy to get fooled by the bright and colorful triple bunkers that will just grab your attention, but you have to buy responsibly. With this article, you can easily select a triple bunk bed that will not only win your kid's heart but will also be a functional, effective, and safe addition to your home furnishing. Apart from the
What Are Triple Bunk Beds?
The triple bunk bed is one step over a simple bunk bed. It has three layers of bed stacked over each other. The style of stacking may differ with a simple triple bunk bed having the three beds directly on top of each other. It can be an I-shaped bunk bed, 3 tier bunk bed, an L-shaped bunk bed, or even a bunk bed with a trundle to make three beds.
The basic concept of a triple bunk bed is to have three beds for sleeping space on the footprint of a single bed or on an economized footprint. They come in an array of different features and specifications for you to choose from. The size can also be customized to suit your preference.
Different Types of Triple Bunk Bed
Most people visualize triple bunk beds are beds that come stacked on top of each other. However, this is only the most basic type of triple bunk bed. There are other types available in the market as well that might appeal to you more. The most common types of triple bunk beds are:
3 Tier Bunk Bed
These are the most common types of triple bunk beds. The beds come stacked on top of each other in three tiers. It is the most popular and simple design of triple bunk beds.
L Shaped Triple Bunk
This shape has two different versions. You can either get the L with two beds down and one bed up, or you can get it with one bedroom down and two beds up. The more popular one is one bedroom down and two beds up. This is in part because usually, kids prefer the upper beds, so this way, you will have two kids accommodated on the higher surface.
Partial Ladder Triple Bunk
In this, the ladder only goes till the second bed. You have to climb on to the third bed.
Full Ladder Triple Bunk
In this version, the ladder goes all the way up to the third bunk. It is more convenient, especially when you have to change the bedding but it might be less fun for the children who will prefer the climbing part.
Advantages of Triple Bunk Bed
Triple bunk beds come with a host of advantages. These are sure to convince your mind regarding their purchase:
Space Economizer
Triple bunk beds allow you to have three separate sleeping spaces for your kids without crowding the room. You can essentially get three beds in the space needed for just one. Just imagine all that space that is saved for properly storing playthings, sports equipment, study desks, and all the million little things that kids require. You also get to have added space for your kids to just play in the room. This would not be possible with a conventional bed.
Fun Decor
Triple bunk beds add a trendy statement to the room decor. They stand out in their construction and style. It enhances any interior design with its wonderful aesthetics that is both functional and pleasing to the eyes. There is something unique about the triple bunkers that capture your attention.
Add to this the lovely colors and patterns it comes in, and you have yourself the perfect piece of furniture to blend or stand out.
Exciting for Kids
Bunk beds are always exciting. Triple bunk beds are better at letting your kids' imagination run wild. They will love the whole dorm feel of the beds. Just snuggling into a high place, climbing up and jumping down the high beds will have them come up with a host of creative and imaginative role plays.
These beds allow kids to be kids in a fun and safe haven. They can pretend to be sailing or sleeping on an airplane. You can decorate the railings and bars as per their liking. Every kid can individually decorate their bed space with posters, lights, or streamers make it a personal haven of sorts. You can also have curtains on each bedside for the kids to have complete privacy.
Useful for Sleepovers
Kids love having their friends over for a night stay. However, accommodating an extra kid can be very problematic for the parents. In this case, a triple bunk bed can be very useful. You can have your kid's friends over any time they want without having to figure out sleeping arrangements. Also, each kid will have their own private sleeping space without having to share their bed.
High Value for Money
Bunk beds are cheaper to buy than individual beds. In this case, a triple bunk bed will be more cost-effective and budget-friendly than three individual beds. It also means that you can have an extra bed for guests without having to shell out anything more for additional mattresses and bedding.
Highly Customizable
Bunk beds, by nature, are space solutions. As such, you have a high customizable value attached to them. You can get a triple bunk bed with three different types and designs of beds on it. Your kid can choose the color, theme, shape, and decor of their bed. You can also have the beds designed to fit in the space you want.
Reasons Not to Buy Triple Bunk Beds
With all the advantages of bunk beds listed above, you might be tempted to blindly go and buy one right now. However, you must look at the negative factors of owning a bunk bed as well in order to make an informed decision. These are:
Accidents: The topmost bed on the triple bunk bed is at a height. Accidents can happen when you do not pay adequate attention to children. You will have to properly educate your children on the hazards of using a high-top bunk so they can use it responsibly
Stability Issue: Most triple bunk beds come with a safety warranty. However, with kids hanging around and jumping, there might be stability concerns over time. You need to check regularly that the railings are secure to avoid any untoward instances. This is a bigger concern with metal frames than with solid wood.
Height: The lower and middle bunk has pretty low clearance on the traditional triple bunk bed. A child could bump his head and forehead, getting in and out of bed if they are not careful about it.
Triple Bunk Bed Buying Guide
Going browsing with an open mind is a good thing. However, you must always have certain parameters in mind to give you a general idea about what to look out for. This way, you can have a smooth shopping experience and make an informed choice. A choice you won't regret as soon as you get back home. These factors are:
Design: Have a general idea about the kind of triple bed you are looking for. It could be high backed ends, full side grills, or curtain rods. This way, you will be able to better identify the ones you like and can shortlist. You will also be able to tell the salespeople your preferences, allowing them to help you better.
Dimensions: This is an extremely important factor. Make sure you carry the dimensions of your room. You do not want to buy a triple bunker that is just too big for your room or one that is too small, leaving a lot of unusable space around it. If you want the bed to fit a corner, then take those measurements as well.
Storage: There are lots of storage options with triple bunker beds. You can get one with drawers, sliders, shelves, or even cupboards. Get one that suits your needs the best.
Weight: The heavier the triple bunker, the harder it will be to move around and assemble. However, it will also be the most stable. So choose wisely the construction frames and material used. Wooden frames are way more sturdy and heavier than metal frames or mixed options.
Assembly: The more complicated the assembly process, the less likely that you will get it done right, and the higher the risk of injury. It will be better to call for professional assembly if the instructions prove to be too complicated. If you absolutely do not want to hire professional help, then you might be better off looking at easy assembly options for your triple bunker.
Price: It is important to have a clear figure bracket in your mind. This way, you will not go overboard with your budget. Remember, you might need to buy other furniture to fully furnish the room and should plan accordingly. Also, try not to go for the cheapest option or the one with the highest discount. Instead, look for a high value of money.
Top Triple Bunk Beds
| | |
| --- | --- |
| Pros | Cons |
| Lightweight metal frame | Not so sturdy |
| Easy assembly | No color options |
| Simple design | |
The Cairo Model Triple Bunk Bed is rather straightforward and simple in design. It features powder-coated metal tubes enclosing the three beds, which come stacked on top of each other in the classic three-tier fashion. Safety is a priority in this one, and it comes equipped with two full ladders and full wraparound metal guardrails.
The design is uniform across the bunks giving it a clean look. The guardrails and the ladder are both mates from the same powder-coated metal material. This adds to the uniformity of the product and gives it a good finish. This bed is a great space solution for small rooms and an ideal choice for both kids and teenagers. It comes in two sizes of twin and full-sized beds.
Key Features
Weighs 194 lbs.
Each bed can accommodate 148 lbs.
Two full ladders on both sides
Metal grail
20 slats on each bed
The full bed dimension is 79x 57x 75 inches
60 days return window for defective products
Available For
| | |
| --- | --- |
| Size | Price |
| Twin | $550.55 |
| Full | $644.84 |
| Assembly Charge | $167 per unit |
| | |
| --- | --- |
| Pros | Cons |
| Highly customizable | Difficult assembly |
| Timeless and elegant looks | Smells of chemicals at first |
| High durability | Wide slat space |
Dorel Living Phoenix Triple bunk bed is a lovely bunk bed that can be fully customized. You can take it apart and keep it side by side as three individual beds or simply have a bunk with one individual bed down. The choice is yours. The assembly and reassembly might be a little difficult in the beginning but gets easier with subsequent use. This way, you can always have your kids engaged with a new sleeping arrangement.
It comes in four classic colors to suit the classic design of this bed. Aesthetically pleasing, this triple bunker blends with any room decor and theme. It also gives you solid and safe sleeping space for your children since it is made of high-quality, durable wood.
Key Features
Weighs 105.8 lbs.
25 w x 77.13 h x 43.5 d (inches) assembled bed dimension
225 lbs. maximum weight capacity of each bed
Floor lower bed
75x 35.5 inches recommended mattress dimension
6-inch maximum mattress height
Comes in four colors: grey, white, mocha, and black
Available For
| | |
| --- | --- |
| Size | Price |
| Only one size | $584.80 |
| Assembly charge | $167 per unit |
| | |
| --- | --- |
| Pros | Cons |
| Solid base and structure | No color option |
| Attractive aesthetics | Only one size |
| Flexible formation | |
Coaster Home Furnishers is known for its high-quality products. They specialize in bunk beds, and this is carried over to the triple bunk beds as well. Their triple bunker is made of solid pine wood, which gives it a strong and durable structure. There is a ladder attached to the top bunk and one that carries to the middle bunk on the other side. The lower bunk is a little raised from the floor, and the ceiling clearance is ideal.
Key Features
Weighs 221 lbs.
3x 44x 76.8 inches triple bunk bed dimension
9 lbs. maximum weight capacity
Only available in white
Made of pine wood
One top ladder and one middle ladder
Available For
| | |
| --- | --- |
| Size | Price |
| Only one size | $577 |
| Assembly charge | $167 per unit |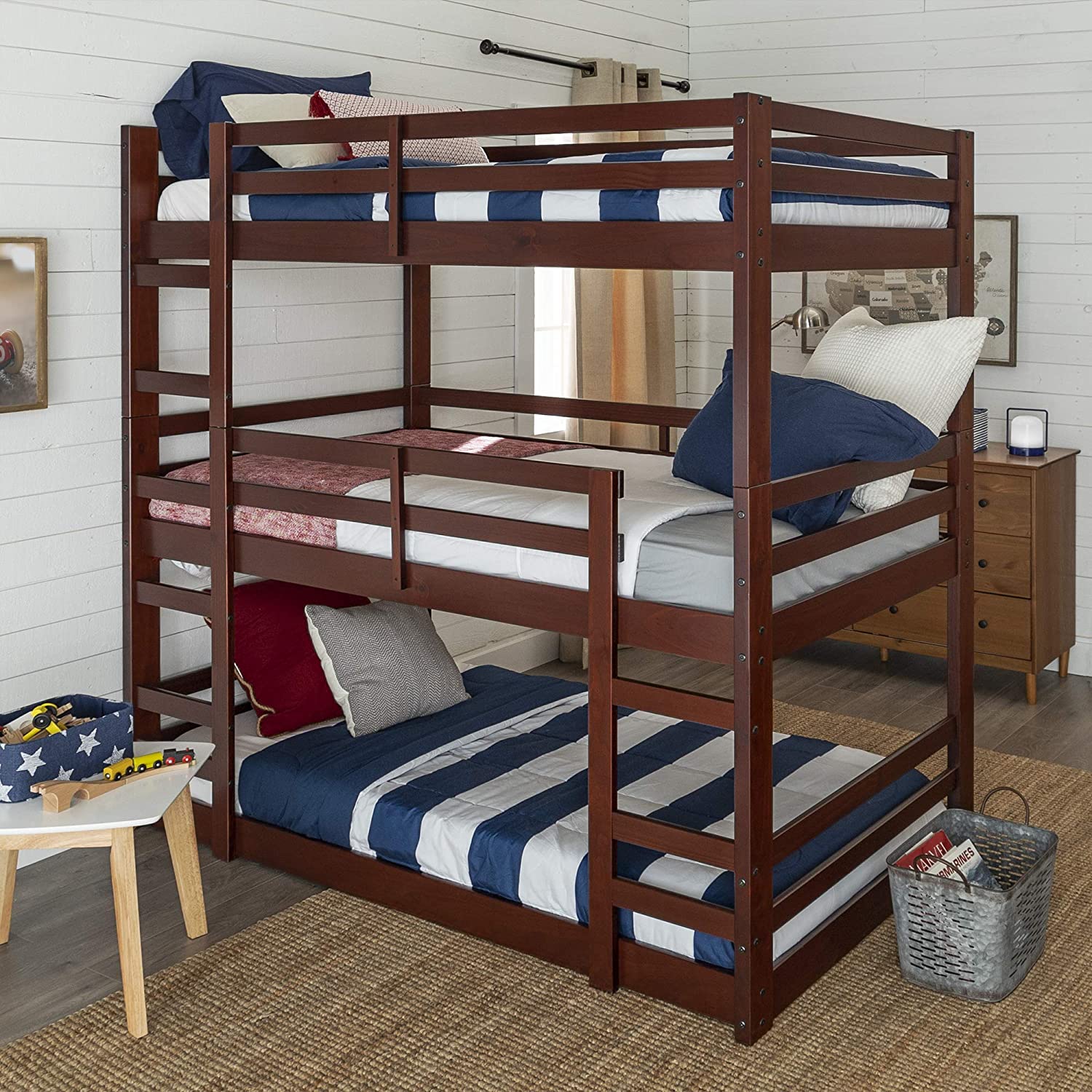 | | |
| --- | --- |
| Pros | Cons |
| Well placed guardrails | Needs thicker mattress |
| Attractive look | Lower clearance |
| Solid support slats | |
This is a simple and elegant design that looks good and ranks high on the safety quotient as well. It is an ideal option for small spaces. The bottom bed is about an inch from the floor, making it easier for anybody to get in and out of bed. It comes with support slats; hence you do not need box springs to go with it. Unfortunately, this means that you require a thicker than normal mattress of about 7 to 8 inches. This makes the average ceiling height between the lower bunk and the middle bunk a little less.
Key Features
Weighs 123 lbs.
79x 78x 44 inches bed dimension
Made of solid pine wood
Sports painted finish
Two ladders, one full and one half
Slat support
8 to 9-inch mattress thickness recommended
Available in four colors; white, grey, espresso, and walnut
1-year warranty
Available For
| | |
| --- | --- |
| Size | Price |
| Only one size | $592.21 |
| Assembly charge | $167 per unit |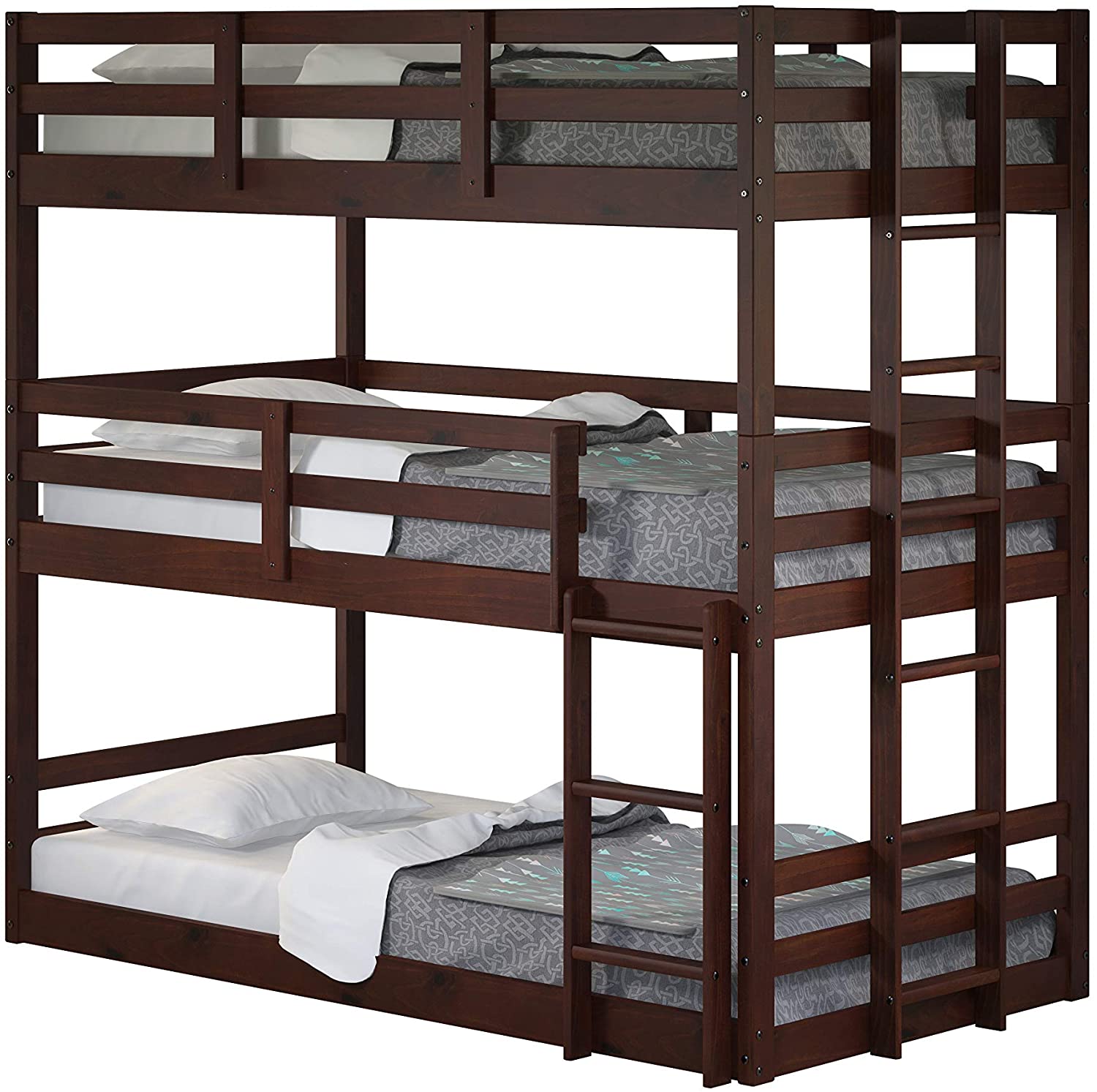 | | |
| --- | --- |
| Pros | Cons |
| Flexible configuration | Complicated assembly instructions |
| Efficient use of floor space | Requires electrical tools for assembly |
| Sturdy built | |
Donco Kids is a range by Donco Ltd that specializes in kid's furniture. A major part of it is their bunk beds and triple bunk bed range. They have a great product range in this segment. The triple bunker is made of solid pine wood, which gives it a rich, classy look and makes it silky and smooth to touch. The finishing on this bed is simply amazing.
The bed features a traditional look with a basic three-tier design. However, it is this simplicity that makes it stand out and become the center of attraction. It is appropriate for low ceilinged rooms as well since the lower bed sits on the floor.
Key Features
Weighs 197 lbs.
80x 44x 77 inches bed dimension
165 lbs. maximum weight capacity per bed
Made of solid pine wood
Comes in only dark cappuccino
30 days limited warranty
Available For
| | |
| --- | --- |
| Size | Price |
| Only one size | $473 |
| Assembly charge | $167 per unit |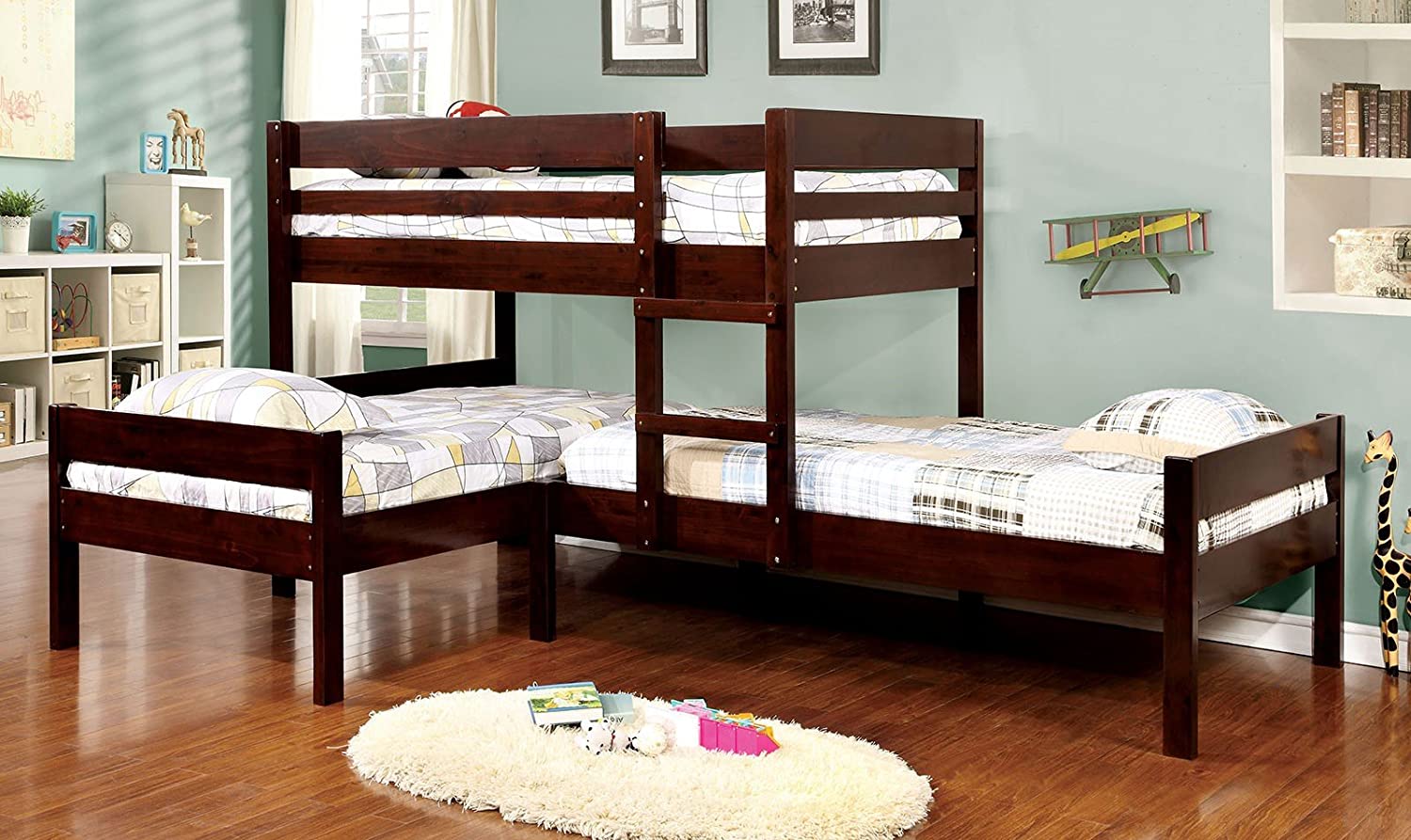 | | |
| --- | --- |
| Pros | Cons |
| Sturdy construction | Screws do not fit properly |
| Easy assembly | Expensive |
| Lovely design | |
If you are looking for an unconventional triple bunker, then this bed from Furniture for America will suit you perfectly well. It is an efficient product that ranks high on design and innovation. It comes as a middle bunk out structure. This means that the middle sleeper does not have to feel squeezed between two beds and can have an easy rest.
The bed slats as well and evenly spaced to offer maximum support to the mattress and the sleeper. It helps in even body weight distribution so that you do not wake up with aches and pains. The bed is made of wood, but the guards at ladders are metal, making it an attractive package with durability and functionality.
Key Features
Weighs 154 lbs.
25x 79x 74.25 inches bed dimension
200 lbs. maximum weight per bed
29-inch upper bed clearance
Features sand black finish
Combination of wood and metal
Available For
| | |
| --- | --- |
| Size | Price |
| Only one size | $695 |
| Assembly charge | $167 per unit |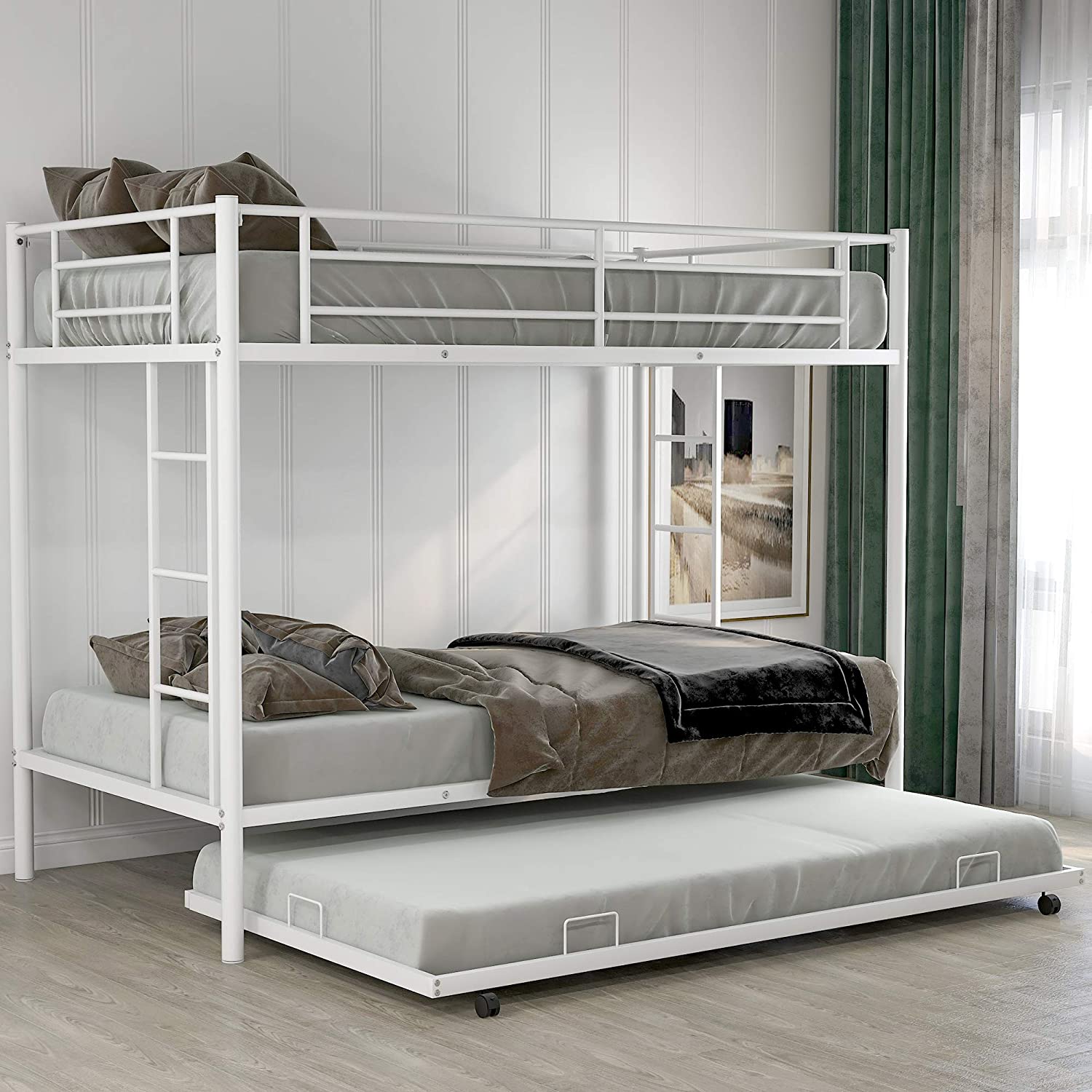 This type of triple bunk bed is another great option for those who require additional sleeping space once in a while or have a low ceiling room that cannot fit a conventional triple bunk bed. Merax bunk bed with trundle is a bunk bed with one on top of another and a trundle bed that can be slid under the lower bed.
It is designed with metal frames that sport a paint finish for a glossy and stylish décor. The mattress rests on support slates that are made of metal. This makes the slats sturdier and gives you good support. The trundle comes with two locking wheels for securing it at night and easily accommodates a 6-inch mattress.
Key Features
Dimension and Weight Capacity
| | | |
| --- | --- | --- |
| Bed | Dimension | Maximum Weight Capacity |
| Top Bed | 41.4x 78.1 Inches | 220 lbs. |
| Bottom Bed | 56.5x 78.1 Inches | 352 lbs. |
| Trundle Bed | 40.5x 70.8 Inches | 220 lbs. |
Two ladders on either end
Two locking and two normal wheels
Comes in black, silver, and grey color
Made of a metal frame
Metal slats for mattress support
Available For
| | |
| --- | --- |
| Size | Price |
| Only one size | $249.99 |
| Assembly charge | $167 per unit |
Questions Corner
Is It Safe to Use Triple Bunk Bed?
Triple Bunk Beds are a safe option for you and your kids. However, it depends on the quality, construction, design, and assembly. Care needs to be taken while choosing the bed. Don't fall for cheaper priced options. They generally come with inferior quality built and durability making it a danger risk.
Who Can Use Top Bunk?
As per Federal Standards for Bunk Beds, children under six years of age should not use the top bunk. Anybody over that age is fine; however, care needs to be taken about the maximum weight restrictions.
Can the Top Bunk Crash?
Top Bunks cannot crash on the lower bunks. This is because the dimensions of the topmost bunk are a little larger. Hence if the support fails, the top bunk will get stuck and not crash.
Conclusion
Triple bunk beds are a fun, space-saving solution and an exciting element to add to your children's lives. They are a functional and effective product that is also safe and aesthetically pleasing. They can be customized as per your preference, and rest assured you will not regret getting a triple bunk bed home.