Trundle beds are great space savers. They are perfect for apartment living and small homes with space constraints. Even though large parties and sleepovers are exciting to hold, the biggest constraint is the sleep solution. You might want to have your whole family join in, but space might be holding you back. Taking care of and managing sleeping arrangements for guests during sleepovers or family reunions can be stressful.
With all the options out there, from air mattresses to camping bags, trundle beds are a much better and aesthetically appealing choice when it comes to providing extra sleeping space. For one, they are a lot less bulky and uncomfortable than all the other solutions. This is the biggest reason for the rise in popularity of the trundle bed concept. Unfortunately, with all the choices in the market, it can get very difficult to zero in on the perfect one for you. You are sure to find the perfect trundle bed for your home amongst the top seven trundle beds listed in this article.
What is Trundle Bed?
Many people tend to confuse trundle beds with day beds. Trundle beds are vastly different from day beds. They are a set of two beds with one bed tucked under the other sitting on a different frame. The lower bed or the secondary bed is cleverly concealed under the primary bed and can be rolled out when required.
This aspect of concealment and rolling out makes trundle beds extremely functional and efficient. They are a great space-saving option with amazing flexibility of quick and easy storage. You just have to roll the lower bed under the primary bed, and you are done. There are no hassles of taking it apart, folding and keeping aside as with air mattresses.
Trundles are generally available in twin and double sizes. However, they are also custom made to size, and you can get one with your exact specification made. They come with a three-sided enclosure like the popular day beds and as your regular beds as well. You have the choice to decide which one you prefer. The best bit is that you can buy the trundle separately and fit it under your existing bed. As long as the upper frame is bigger or of the same size, you can easily slide the trundle bed under it.
The trundle mattress can be on a lower ground level or higher depending on the frame and wheel size. It can also be as a pop up to come at the same level as our primary bed. The two beds can then be attached to form a convenient sized double bed to accommodate couples or children. Some trundles also come as pull out drawers. This drawer space can then be utilized as a mattress space or just for storage. You can also get trundles with drawers under the mattress drawer. This is especially helpful since you get both an additional sleeping space and storage space under that sleeping space.
Who Is It For?
Trundles are great. They are functional, efficient, and convenient space solutions. But is trundle the solution you are looking for? Sometimes the best things can be a misfit for many. This is because some things are just not the right choice for your personal space. So, before you head out the front door to buy a trundle, you should go through the following checklist to ascertain if it is the best choice for you.
People with mobility issues
Perfect for kids' room
People with frequent sleepovers
For office use
Transitional bed for kids
Those requiring additional room space
Difference between Trundle and Other Bed Types
With so many different bed types available in the market, it can become confusing to judge why you need a trundle. The popular alternatives to trundle are day beds and twin mattresses. The below points highlight the difference between these two types and trundle beds.
Trundle and Twin Mattress
| | | |
| --- | --- | --- |
| Feature | Trundle | Twin Mattress |
| Design | Two mattresses slide on top of each other within the same frame | Both mattresses that lie side by side on the frame |
| Frame structure | Three-piece frame structure | A single piece frame structure |
| Panel | Two back panels and one side panel | One box spring panel |
| Comfort level | Medium comfort. Depends on the mattress used | Better comfort than the average trundle |
| Size | The average trundle is generally smaller than its counterpart. This is because the trundle has to slide beneath the bed | Average size is 39x 75 inches |
Trundle and Day Bed
| | | |
| --- | --- | --- |
| Feature | Trundle | Day Bed |
| Design | Two beds with one nestled under the other | Looks like a sofa with three side enclosure and two armrests. It has deep seating and generally features cushions and pillows on the back of the bed for added comfort |
| Front and Back End | Trundle beds have the traditional head and foot like a normal bed | This does not come with a head and foot. It only features back for support during lounging like a sofa |
| Upper case | Trundle features a mattress on top of another mattress | There is no upper mattress in this case |
Buying Guide for Trundle Beds
With certain factors clear in your head, it is easy to make the right decision even when you have a huge variety in front of you. There is nothing more annoying than having purchased a bed you are not quite sure of. The factors listed below will help you avoid that mistake and buy the perfect trundle for your home:
Design
Trundles come in different designs and structures. You have a variety of options, from color choice to the type of materials used and the theme it incorporates. Keep in mind the overall decor of your room and pick one that suits and complements that decor. You do not want a trundle that clashes horribly with your existing decor.
Frame Material
With trundles, you get to choose between two types of frame materials. You can decide on a proper traditional wooden style to a gothic, high framed metal style. The popular frame materials are:
Metal Frames: These are the lightest of all trundle beds. The metal frames are less durable than the wooden frames, but they offer a modern gothic look to your room. Metal is also great for an industrial feel. The lightweight feature makes metal trundles more convenient to move around. However, metal frame trundles do not come with drawers or storage space that is an added feature with the wooden trundles.
Wooden Frames: These are the most common type of trundle frames. The ideal wood type for this is either mahogany or oak. Wooden frames are generally preferred over metal and mixed frames since they offer better durability and other add-on features like storage drawers.
Mixed Frames: These are trundles that feature both wooden and metal frames. The wooden frame makes the base of the frame while the metal frames are used on the sides of the trundle. This allows the trundle bed to be lighter in weight for easy transport and mobility along with the benefit of added durability.
Frame Structure
Two types of trundles are generally found in the market. These are:
Drawer Type: These are trundles that come with a drawer-like space where the mattress is fitted. A few trundles might even feature additional drawers over this mattress drawer for some extra storage.
Pop-out Type: This trundle allows you to adjust the height of the mattress on it. You can keep it level with the primary bed or at any height you want. Generally, pop out trundle comes in the twin size. This allows you to create a king-size sleeping space.
Add On Feature
Some trundles feature extra storage space through carefully constructed pull out drawers. These are an excellent choice for those wanting to store things under the bed. An extra added space over the space saved by the trundle can be an amazing selling point.
Assembly
Most trundles are super easy to set up. They generally come as one package and can be assembled in less than 30 minutes. A few don't even require additional tools and just need to be screwed tight. However, some can be pretty hard to set up. Make sure that you get the one that is easy to assemble, especially if you are not very handy with tools or in following instructions.
Secure Wheels
Trundles feature wheels on all four corners of the base for sliding it in and out from under the primary bed. However, the wheels can get pretty bothersome while you are using the bed. You do not want the trundle bed to move with you every move. Wheel locks can help secure the bed in one place for a restful night. You need to be on the lookout for trundles that offer this feature if you want to wake up in the same spot you slept!
Pricing
Before you even start looking at trundles, you should have a clearly defined budget in mind. This way, you will not go overboard with the amount you spend. Trundles come in different price ranges depending on the quality of materials used; the design, structure, etc. Look for one that gives you the best value for money in terms of functionality and effectiveness.
Top 7 Trundle Beds
| | |
| --- | --- |
| Pros | Cons |
| High-quality materials | Hard assembly and set-up |
| Solid and secure frame | Lacks Finish |
| Aesthetic appeal | |
The trundle bed by Novogratz is a classic design with a high back and diamond tufted fabric, and narrow legs in brown color. The frame is wooden with linen upholstery. You have a choice of colors to pick from to suit your room decor. The trundle comes with rolling casters that can be secured in place for stability. The slats used to offer even bodyweight distribution for good spinal support.
Key Features
400 lbs. Day Bed Weight Capacity
250 lbs. Trundle Bed Capacity
Day Bed Dimensions 75.5x 43.5x 33.5 Inches
Trundle Bed Dimensions 75x 40x 11.5 Inches
6 Inch Maximum Mattress Height for Trundle
Single Box Shipping
5 Inch Slat Distance
14 Inch Clearance Height
5 Inch Headboard Length
Comes in 4 Colors
Available For $249 from Amazon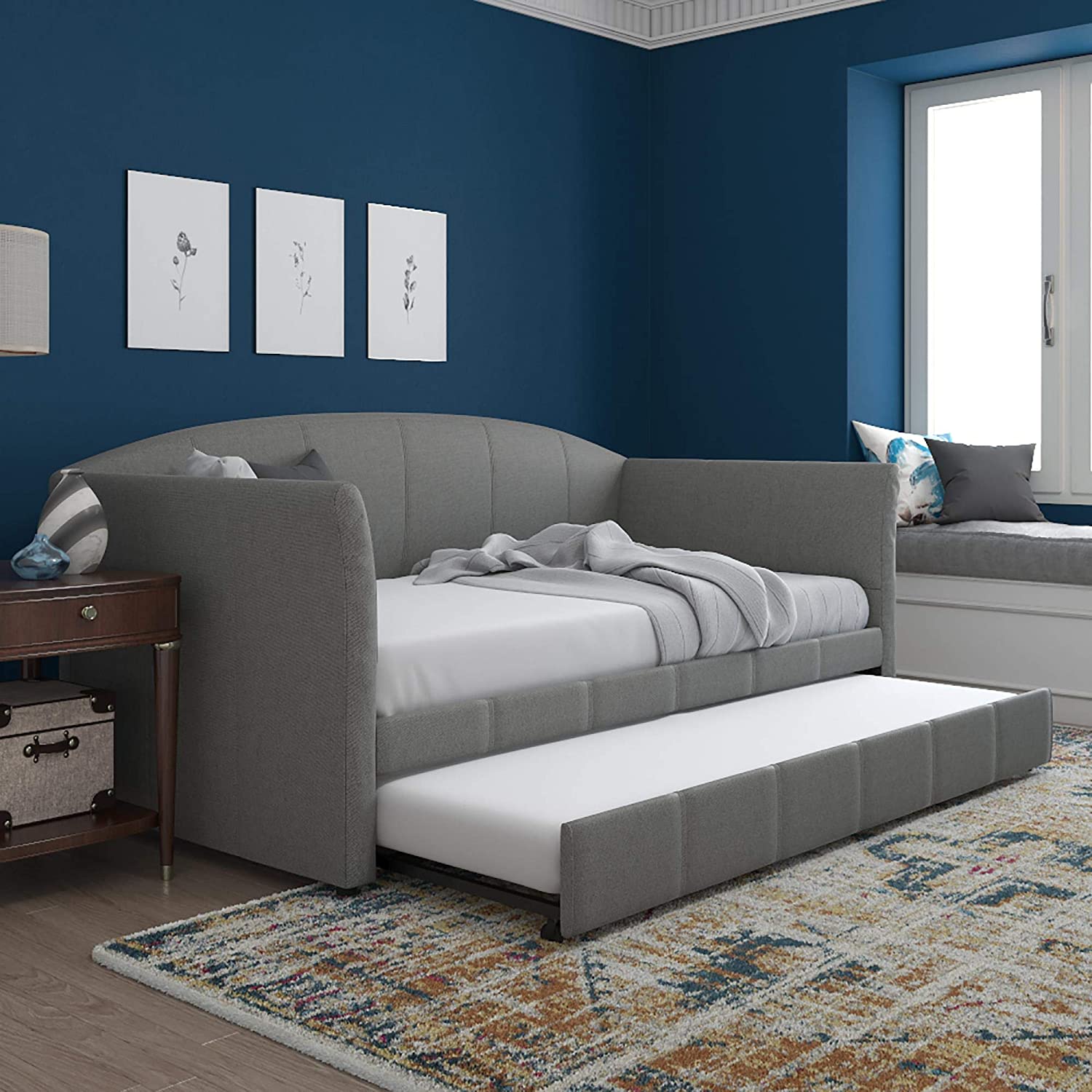 | | |
| --- | --- |
| Pros | Cons |
| Clean and Simple Look | A Little on the Expensive Side |
| Good quality materials | Wheel locks are not very effective |
| High finish | Only a one-color option |
This is an excellent choice for those looking for a day cum trundle bed. It features a high sofa back with two padded sidearms for the conventional sofa look. The trundle slides under this and is completely concealed until pulled out. Featuring faux leather upholstery, this DHP Halle trundle makes for a clean and classic look that is sure to blend with any room decor. This bed ranks pretty high on the functional aspect as well as on the quality ratio.
The padded sides and wrap around enclosing back give you ample support and makes this trundle extremely comfortable to lounge on or sleep the night away.
Key Features
Weighs 104.5 lbs.
5 x 84.5 x 38 inches in dimension
Supports up to 400 lbs. Day bed, and 225 lbs. Trundle
Accommodates twin size mattress
Ships separately in two boxes
Maximum mattress size is 6 inches
Available for $377.99 without assembly
Assembly charge is $59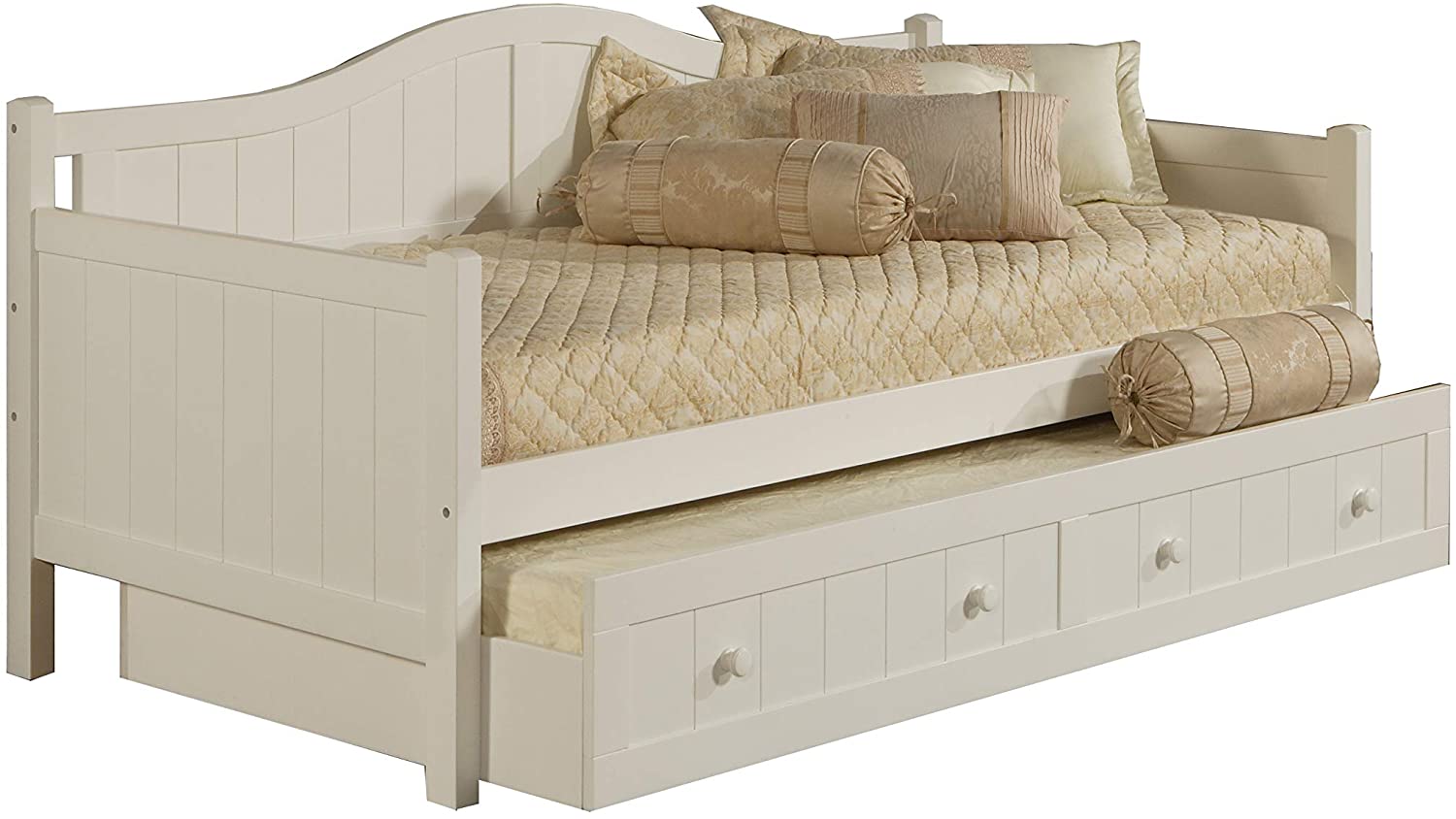 | | |
| --- | --- |
| Pros | Cons |
| Beautiful and elegant finish | High price point |
| Gives good support | Difficult assembly |
| High-quality wood used | |
The Staci daybed with trundle from Hillsdale is a sophisticated range of daybed that features classic design enabling it to enhance the decor and look of any room. It comes in three classic colors of white, black, and brown. The trundle has good wheel locks for securing purpose and is very comfortable with adequate lumbar support.
The frames are wooden with no padding or upholstery. The finish is excellent and gives a nice glossy look to the overall product. The wooden frame gives it high durability and a good lifespan.
Key Features
Weighs 141.2 lbs.
Maximum weight capacity of 350 lbs.
Daybed dimension 81.5x 41.5x 37 inches
Trundle dimension 77.13x 47.5x 13 inches
Comes in 3 colors
Maximum trundle mattress height is 7 inches
Available for
| | |
| --- | --- |
| Colour | Price |
| White | $577 |
| Brown | $572 |
| Black | $565 |
| | |
| --- | --- |
| Pros | Cons |
| Stunning nail accents | Does not come with a mattress |
| Solid supportive slats | |
| Elegant southern design | |
It gives a very southern look to the home. The Tulney collection is made for the sophisticated modern house in mind with its metal accents and solid colors. The button-tufted 100% polyester upholstery gives a nice fashionable look to the daybed with trundle. The frame is wooden, which makes for high durability and gives solid structural support to the bed.
Key Features
Weighs 174 lbs.
84 x 45 x 42 inches day bed dimension
8 x 38.6 x 12.2 inches trundle dimension
Accommodates 8-inch-thick mattress
Minor assembly is needed
Comes in three colors of grey, black, and brown
A mattress is not included with the bed
Available for $532
| | |
| --- | --- |
| Pros | Cons |
| Lovely colors to choose from | High maintenance required |
| High-quality materials | The instruction manual is a little confusing |
| Easy assembly | |
Little Seeds Ambrosia is a lovely trundle bed. It is upholstered in velvet for a soft, plush, and luxurious feel. The diamond tufts add to the inviting look. The sides and back of this bed are padded for extra comfort. The legs are made of plastic but have a wooden coating on it for a rich elegance. This bed is ideal for sleepovers and family get-togethers.
The slats are of good quality at adept at providing even support throughout your body. Unless you have a few adults jumping on the bed, the slat is in no danger of breaking.
Key Features
Weighs 132 lbs.
5x 43.5x 38 inches daybed dimension
75x 40x 11.5 inches trundle dimension
The maximum weight for daybed is 400 lbs.
The maximum weight for trundle is 225 lbs.
5 inches backrest height
Available for $582 without assembly
Assembly charges are $59
| | |
| --- | --- |
| Pros | Cons |
| Easy assembly | Metal frames are a little flimsy |
| High height for trundle | |
| Very economical | |
DHP Manila comes with rounded Victorian finials that add to the existing furnishings in any home. It is a good option for a condo, office, or even dorms. It lends a traditional look of understated elegance and charm that can only enhance your decor. The slats are sturdy enough to give ample support, and two of the wheels on the trundle lock in for a safe and secure night.
It comes in 3 beautiful colors of white, pink, and gold and offers you size choices as well. You can choose between twin, full, and queen as per your preference.
Key Features
Weighs only 61.5 lbs.
Ships in one box
Two locking and two non-locking wheels
Allows for good air circulation
Specifications, weight, and price
Size

Dimensions (Inches)
Weight (Pounds)
Price
Twin
Daybed: 77.5x 41.5x 41.5

Trundle: 84x 31x 4

Daybed: 400

Trundle: 225

$233.64

Full

Daybed: 77.5 x 56 x 41.5

Trundle: 83x 31x 4

Daybed: 450

Trundle: 225

$324.79
Queen
Daybed: 84x 63x 41.5

Trundle: 84x 34x 4

Daybed: 500

Trundle: 450

$291.03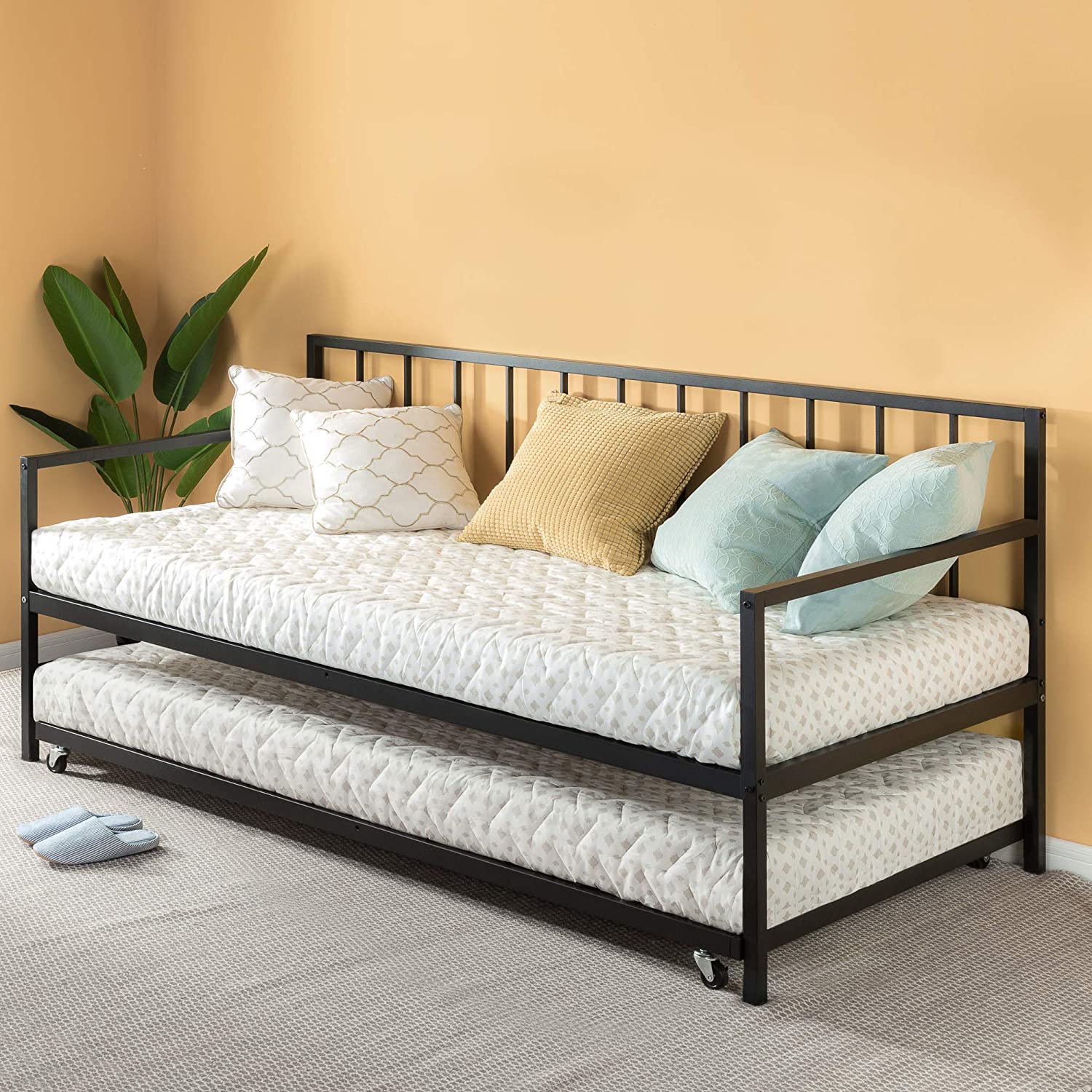 | | |
| --- | --- |
| Pros | Cons |
| Good value for money | Has gaps on the sides |
| High support | |
| Superior air ventilation | |
This daybed with trundle is a space saver on a budget. It is highly functional and provides excellent value for money. The assembly is super quick and does not require any tools. It is as simple as screwing the legs and securing the slats. The slats are made of high-quality material and feature good durability. The positioning of the slats allows for high ventilation, which in turn keeps odors away and prolongs the mattress's lifespan.
Key Features
Weighs 71 lbs.
77x39x 38 inches daybed dimensions
The maximum weight support is 250 lbs.
Steel slat support
Comes with 5 yr. warranty
Available for $198.69
Final Take
Trundles are a great way to save some space and brighten up your room decor. You can easily play with the daybed with trundle to liven up your living area and accommodate those night time sleepovers. You get to choose between wooden and metal frames and also have a variety of colors to satisfy your palate. All in all, trundles are the best choice for an extra comfortable bed that gives you a restful sleep with optimal support, just like a normal bed.