There are no limits to the ways in which you can decorate your home for the holidays. However, nothing is better than getting cozy in a nice set of Christmas sheets that have a festive pattern. On cold winter nights, it's nice to know that you will have a welcoming bedroom that exudes the Christmas spirit.
Below are some perirenal favorites and some newcomers. Pottery Barn, of course, is a staple for Christmas Bedding and linens but there are others with a new twist on an old tradition. Whether for yourself, your guest room or a gift, this year has some real gems.
Best Christmas Sheets of 2022
Pottery Barn Christmas Bedding
Pottery Barn is one of the best places to find new designs and styles. This year more brands are incorporating organic cotton into their offerings.
Here is a string light set that is currently retailing from $18-$90

Best Flannel Christmas Sheets
JC Penny is offering micro flannel sheets this Christmas. I really like this winter scene pattern below. It is sometimes hard to find Christmas sheets that are not flannel since cozy flannel is used almost exclusively in the winter.

Kohl's is offering a few new Christmas bedding patterns but I haven't been that impressed. They just aren't as festive as some of the other offerings. This North Pole printed flannel sheet set retails for $84.99-109.99 and will be warmer than the aforementioned JC Penny set.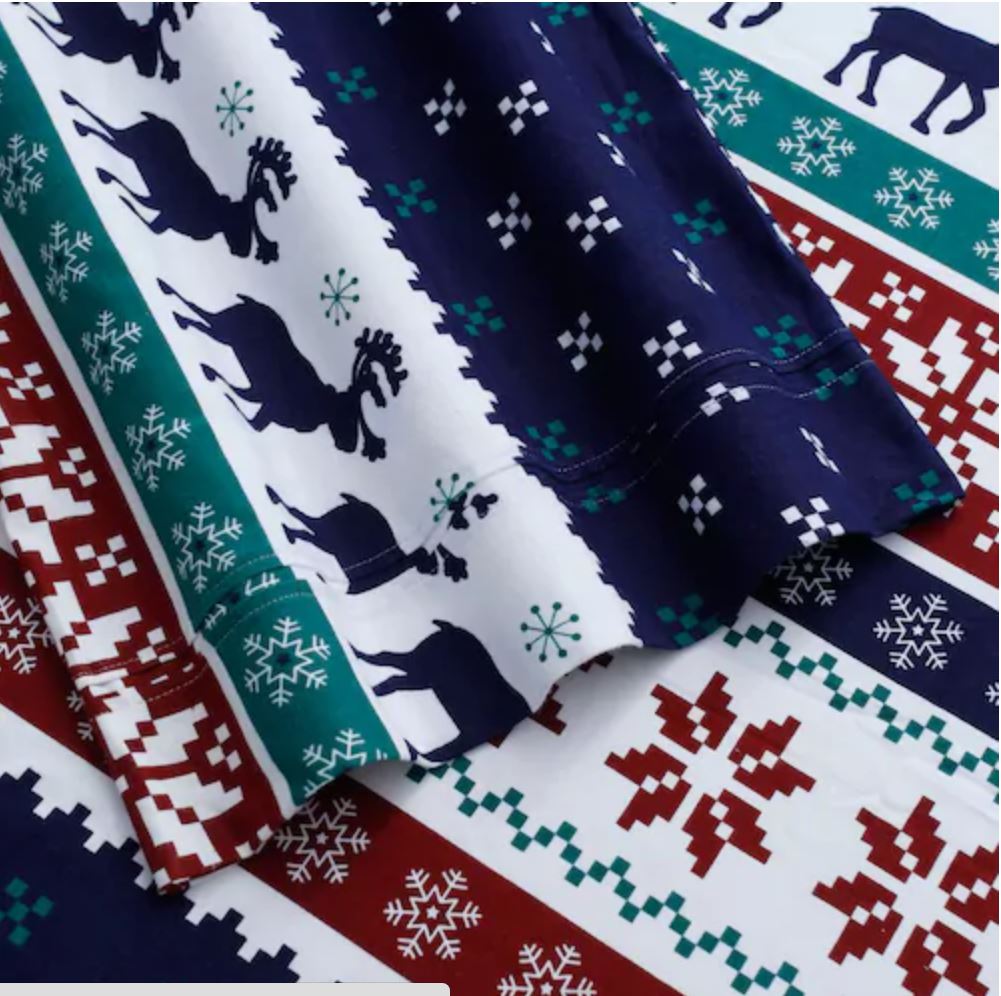 Best Micro Fiber Christmas Sheets
Target wins Christmas in the microfiber category. Are you sensing a "pattern" here? That's right when it comes to Christmas no need to be subtle. These sheets scream Christmas and they are super soft right out of the packaging. Normally I don't recommend microfiber sheets as they seem to break down after about 7-10 washes but since these are for holidays they won't get that much use anyway. Also, you can get a queen set for $24.99

Best Christmas Sheets for Kids
Pottery Barn always seems to land sweet licensing deals. This year you can get a Peanuts Christmas themed bedding set which includes not only sheets but duvet cover and/or quilt.

Best New Christmas Sheets
Continuing on the Peanuts theme, Vermont Country Store upped the ante with a flannel set of Peanuts sheets which seems to have more vivid colors than the Pottery Barn offering. These are 100% flannel cotton sheets made in Portugal. They are currently retailing from $79.95-119.95
I was hoping to find some fun patterns from some of the more dependable brands like Macy's LL Bean and Eddie Bauer but they either didn't have anything or there just wasn't anything worth mentioning. Take for instance the one offering I could find from Macy's on their website.