Bed tents are a great way to get away from the noise and seal yourself in an exciting private space. They provide you the privacy and comfort you desire without the need to have a separate space. It is a perfect way to share accommodation while in college or even share a room with your sibling. For kids, this gets even better. They can have a complete camping experience all from the comfort of their room every night!
With their growth in popularity over the years, the market is flooded with various types to suit each preference. You have single-use ones to bed tents with multiple functions making them more than just a tent. With so many choices out there, it can get very overwhelming to pick the right one. This list will help you narrow down your choices and make tent bed shopping fun rather than daunting. The products on the list are chosen for their blend of features, versatility, flexibility, price point, and durability.
Don't forget your sleeping bag. 
What is a Bed Tent?
Bed tents are tents that can be attached to your bed. The tent is secured very snugly around the bed to give you a place to relax, nap, or sleep on with the privacy of a closed bedroom . The tent comes equipped with zipped doors on both sides. The bed can be made of solid foam, or it might be the inflatable type. The tent is made of polyester or lightweight mesh material. Bed tents give you a subtle private spot to get away from the world and are perfect for your kids to explore the feeling of camping and to let their imagination run wild. If you are looking for the best bed tent for your needs, make sure that it provides an ideal environment for your own private space.  
Advantages of Bed Tent
Bed tents are an amazing product to have in your house. Their versatile nature makes it a must-have in any home, especially one with kids. They give you a private space with comfort to relax, unwind, sleep, and be the perfect cozy play area for the kids. Some advantages of having a bed tent are:
Privacy
Spacious
Comfort
Perfect for guests
Ideal for camping or hiking
Adequate protection in the great outdoors
Wonderful for children
Own Private Space
Warm room in a cold space
Great for a dorm room
 
Buying Guide for Bed Tent
You should keep in mind certain things while shopping for the perfect bed tent. This purchasing guide lists all the factors you need to make the right choice:
Size
Size matters a lot when you are shopping for a big product, like a bed tent. You should measure your floor space or the truck space you have before indulging in the purchase. The bed tent needs to fit into your room or your truck if you want to use it for hiking or other outdoor activity. Also, take into consideration how many people you want to fit in that bed tent. If you have kids, then you might be better off with a large adult size so the whole family can fit.
It is rare to find a bed tent for king-size beds. Although you could put two smaller play tents together on your king bed.
Material Used
You should choose a bed tent which is made of a material that suits your needs. If you are going to use your bed tent for outdoor activities, then you need to ensure that it is durable and can provide protection again winds or rain. Polyester might be a better choice for this purpose than cotton.
On the other hand, if you reside in a hot and humid area, then cotton might be preferable because of its breathability.
Handiness
It is important to get a bed tent that is easy to set up. Getting one that might look nice, feel comfortable but is not easy to install might spoil all the fun. It is better to pay a little extra and buy one that is easier to set up and stays put without coming down on you.
Portability
If your main purpose is outdoor sleeping space, then you need to factor in portability as a high priority. You don't want to buy a bed tent that doesn't fit easily in the back of your truck or weighs too much to be carried around. Look for one that can fold up easily and is lightweight.
Features
Different bed tents have different properties. Some are too hot to sleep in during summers, and some might have a lower ceiling making it unsuitable to sit in. Accessibility is another factor you should look into carefully. Secure models with zips are always better than only that have a tied opening, especially when outdoors.
Other things to look for are windows and air meshes to keep your bed tent ventilated during sleep.
Floor Attachment
Tents with floors attached to them give a better, more stable structure than the ones without. This is not a problem when you are attaching it to your bed because the bed frame and mattress keep the tent secure and in shape, but when outdoors, it is always better to have a tent with a floor.
Price
Lastly, you need to look at the cost of the tent. You must have a clear and well-defined idea of how much you are willing to pay for the tent. You should also look at the value for money aspect of the product you want to buy.
Top 7 Best Bed Tents
These are the best bed tents we have found for your ideal private sleeping space.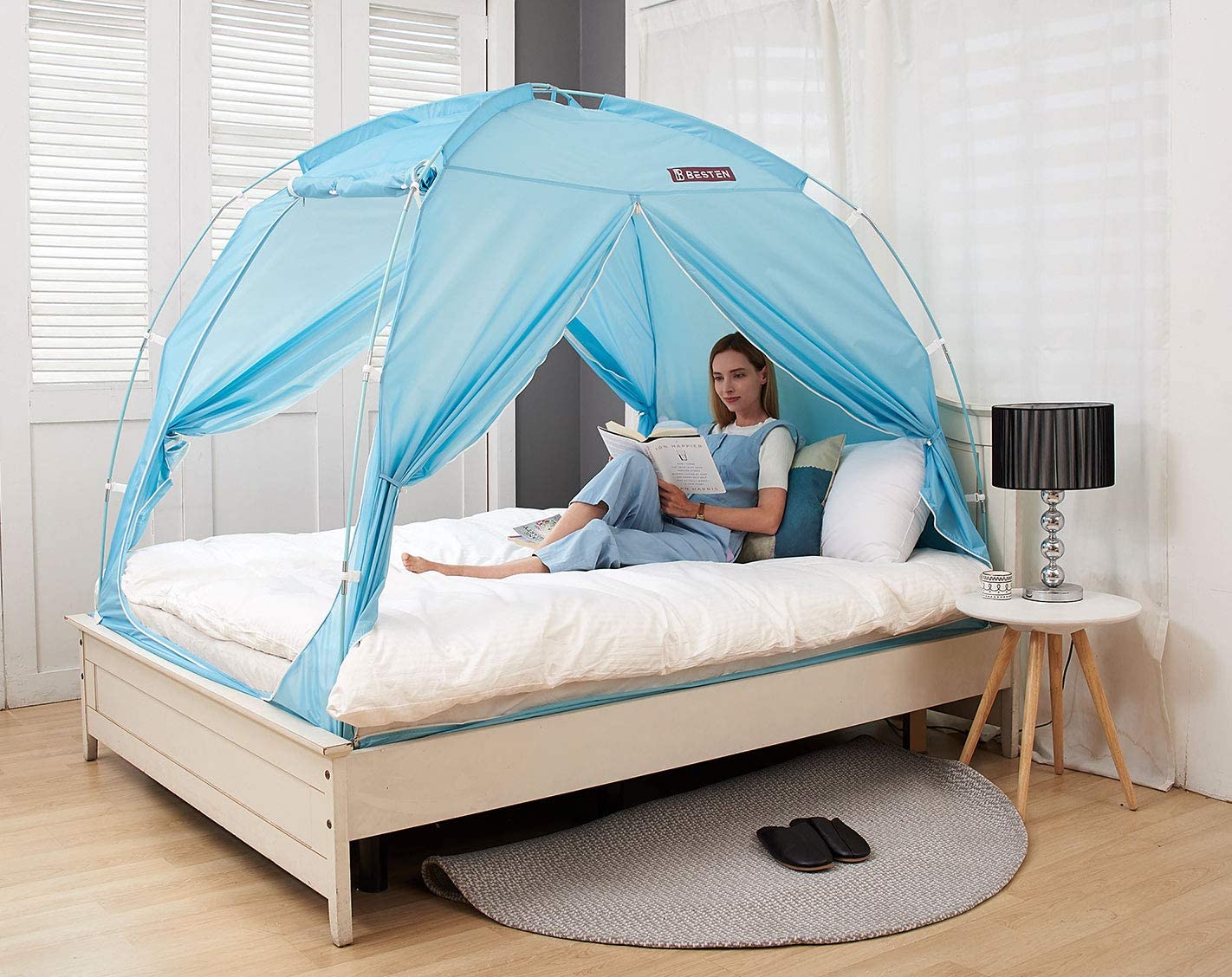 The bed tent from BESTEN comes without a floor attached. This causes a little stability issue but not much to hamper your safety or make you think twice about purchasing this product. Its versatility has made it one of the most popular indoor bed tents on the market shelf.
It can easily be installed on any mattress without fear of it damaging the mattress in any way. You get plenty of color options ranging from grey to pink and blues. The range is sure to have a complimentary color to match your bedroom décor.
The material is polyester, and it is fitted with three doors for accessibility. These are located in the front, back, and on the side. This tent can trap indoor heat, making it very comfortable and cozy to use in winters. The mesh vent at the top also ensures that the tent remains well ventilated.
Key Features
Polyester material
3 entry-exit points
Top mesh vent
No floor attached
Has adhesive hook and loops at each corner
2 sizes and 4 color choice
Reasons to Buy or Not to Buy
| | |
| --- | --- |
| To Buy | Not to Buy |
| Four color choices | Can become stuffy during summers |
| Fits all bedding size | Fit is an issue for big size bedding |
| No damage to the mattress | Assembly is not very user friendly |
| TPU band doubles up as a home theatre |   |
Purchase Price
| | |
| --- | --- |
| Size | Price |
| Twin | $85.90 |
| Full/Queen | $95.90 |
Privacy Pop is a well-known brand with bed tents. The pop bed tent is designed to provide security as well as comfort and privacy. It helps alleviate any anxiety that you or your kid might suffer from during sleep. It is especially helpful for children just branching out to sleep on their own or those prone to nightmares. The tent canopy provides a snug, warm, and safe place to doze off.
The product is both simple and durable with an easy assembly line that can be assembled by almost anyone. It comes in three sizes and has color choices to fit your preferences. The sides feature zip and mesh cutouts for easy air circulation and ventilation. The entry and exit points are located on both sides of the tent.
Key Features
Polyester fabric
Two-way entry and exit from either side
Zippered mesh windows on both sides
Double-stitched seams to prevent tearing
Sturdy under the mattress tent
Available in 3 sizes
5 different color choices
Reasons to Buy or Not to Buy
| | |
| --- | --- |
| To Buy | Not to Buy |
| Easy assembly | Mattress must be placed inside the tent |
| Good ventilation | Gets too warm for summer |
| Size and color choices |   |
| Very spacious |   |
Purchase Price
| | |
| --- | --- |
| Size | Price |
| Twin | $129.99 + $15.00 |
| Full | $149.99 + $15.00 |
| Queen | $159.99 + $15.00 |
The Alvantar Canopy Bed is a perfect choice for outdoor activities like camping. It features a pop-up design that can be set up in under a minute. The frame is also easily portable and sturdy enough to withstand the outside elements. Further, the cover does a good job of protecting you from the dust, rain, and heat but the opening can be adjusted to circulate fresh air. 
It also makes a good choice for indoor tents. You can easily set it up for your bed and enjoy the privacy it accords. The frames are stable and do not allow for any bent and wobble. The best part is that it is washing machine friendly and you can easily clean it without fearing any shrinkages or color fades.
Key Features
Pongee fabric
Patent-pending design
2 entry and exit doors
Weighs 5.8 lbs.
Fiberglass pop-up rods
Available in 4 sizes and colors
1-year limited warranty
Reasons to Buy or Not to Buy
| | |
| --- | --- |
| To Buy | Not to Buy |
| Washable covers | No mesh windows |
| Large doors for ease in entry and exit | Not so suitable for indoor use |
| Easy assembly |   |
| Features hanging loop |   |
Purchase Price
| | |
| --- | --- |
| Size | Price |
| Bunk Twin | $97.99 |
| Twin | $99.99 |
| Full | $109.99 |
| Queen | $139.99 |
The DDASUMI warm tent is the perfect bill for a bed tent that does not feature a floor. It is large, giving you ample interior space, and perfect for older kids or even adults. Made from durable polyester material, it successfully traps heat, making it ideal for colder areas. It also has large mesh windows to see out of. 
It comes in 2 different varieties and can fit twin, double, and queen mattresses. In the auto version, you can assemble the product with one click in less than 10 seconds. The frame is fiberglass making it very flexible the fiberglass rods are also portable and light. The design is very user friendly, and you can easily install it without any hassles. The mesh vents on sides allow for good ventilation making it one of the best bed tents you can buy. 
Key Features
Polyester fabric
Fiberglass poles
100% machine washable
3 color options
3 mesh windows
Reasons to Buy or Not to Buy
| | |
| --- | --- |
| To Buy | Not to Buy |
| Design is like an outdoor tent | Size is too large |
| 3 zip mesh vents | Not easily portable |
| Machine washable | Gets too hot during summers |
Purchase Price
| | |
| --- | --- |
| Size | Price |
| Double Bed | $92.00 |
| Double Bed Auto | $125.00 |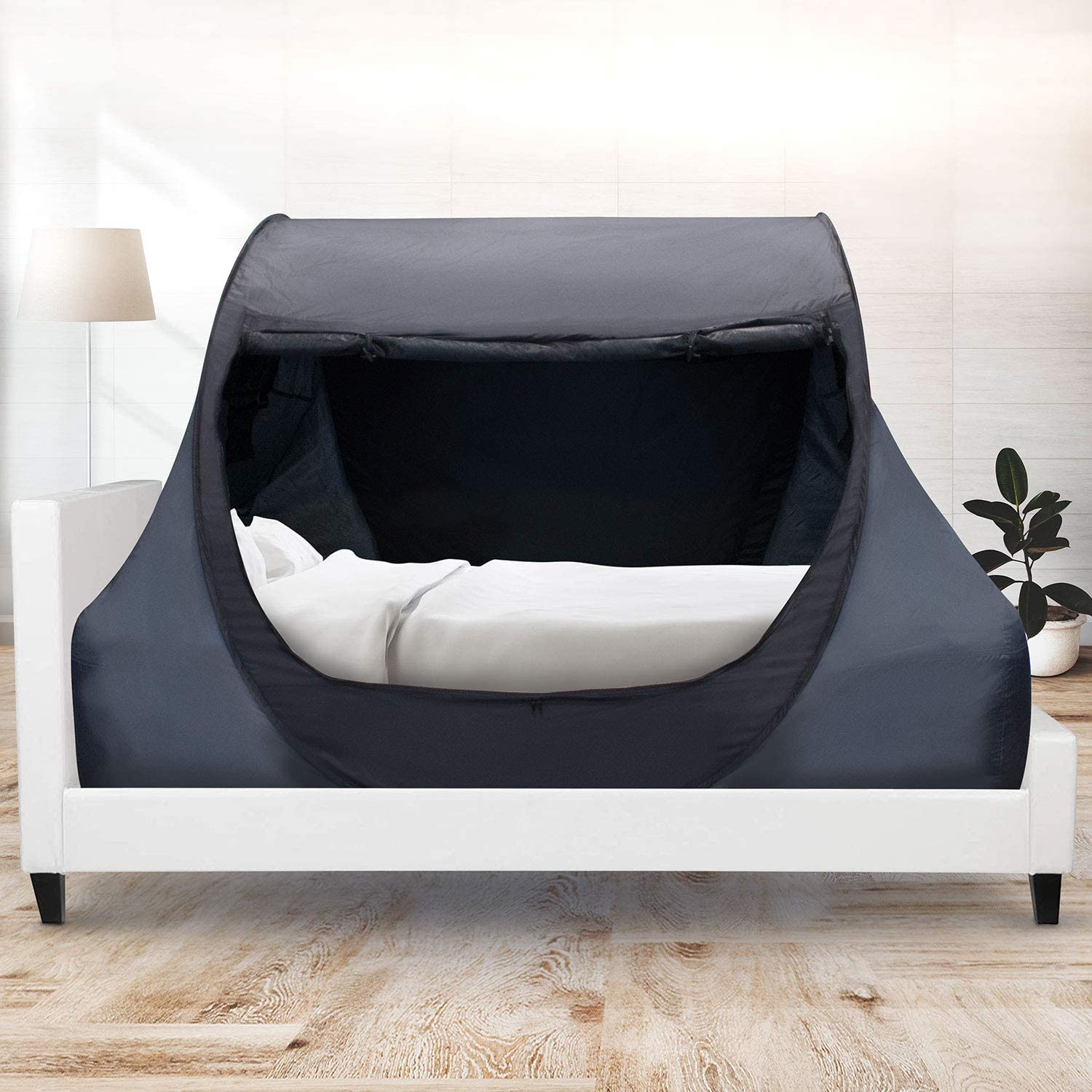 This privacy bed tent from Wintreal is a highly ventilated tent with two large side doors and mesh windows made with durable materials. It is fitted like a bedsheet with sides tucked in, which makes it easier for you to change your bedding.  It fits both twin and full mattress sizes and is compatible with almost all bed frames types. Bunk beds might be a challenge, but most are compatible with this indoor privacy bed tent.
It is a pop-up design and is easily stored and transported. This makes it ideal to have in the house whenever you feel like getting the outdoor experience.
Key Features
2 side doors and windows
Water-resistant nylon material
Fiberglass poles
The outer material is light dimming
Available in 2 sizes
Comes with storage and transport bag
Reasons to Buy or Not to Buy
| | |
| --- | --- |
| To Buy | Not to Buy |
| Easy set-up | Only available in neutral colors |
| Comes with a floor for better structure | Difficult assembly |
| Easily Foldable and Stored |   |
| High ventilation |   |
Pricing
| | |
| --- | --- |
| Size | Price |
| Twin/ Queen | $89.99 |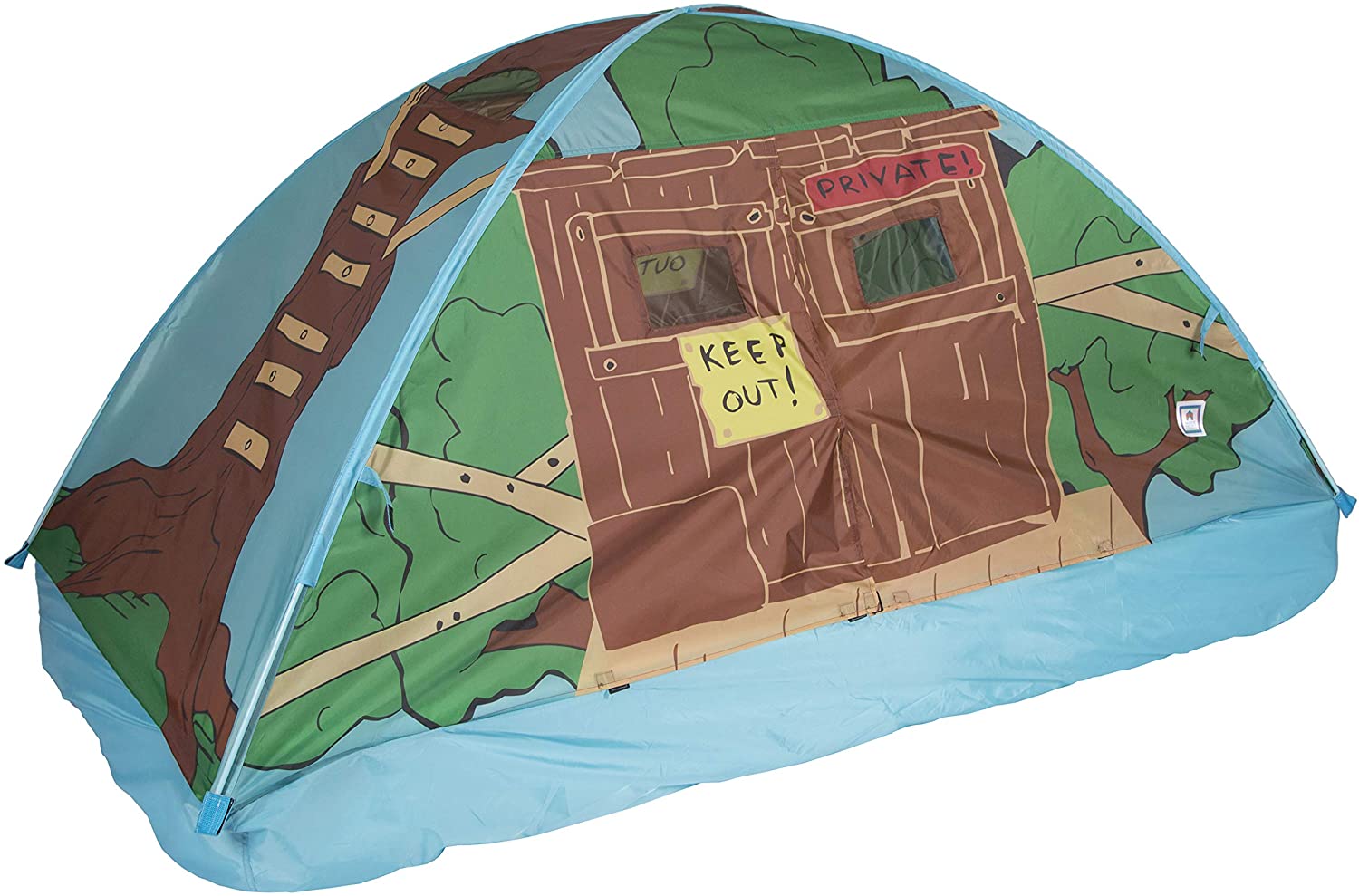 The Pacific Play Tent house is the perfect gift for your kid and can transform your child's bedroom. It comes with an attractive tree house graphics that will set your child's imagination on fire. This bed tent features high on durability and sturdiness to give your child the safest and most secure tent experience.
It comes in twin size and can easily fir two children at a time. The polyester fabric is child friendly and free from BPA and harmful phthalates.
Key Features
Tafetta polyester material
G3 super poles
2 doors on sides with mesh windows
77 x 38 x 35 inches in dimension
Comes with a carry bag
Reasons to Buy or Not to Buy
| | |
| --- | --- |
| To Buy | Not to Buy |
| Optimal ventilation with 4 doors | Difficult to transport |
| Highly durable |   |
| Easy assembly |   |
| Blocks out light well |   |
Purchase Price
This bed canopy from DalosDream makes all those outdoor trips extra special. The size is comfortable enough for two adults to fit in easily, and it is a breeze to set up. It is designed for indoor use, but the sturdy and durable built can easily withstand the outdoors.
It comes with a waterproof cover that is made of polyester that adds to the protective layer. The frames are aluminum with fiberglass poles that is foldable in two parts. The construction takes under 5 minutes and is very simple, with clearly given instructions.
Key Features
Polyester material
Fiberglass poles
2 doors on sides
80 x 60-inch dimension
Mesh on heat and foot
30 days return period
Reasons to Buy or Not to Buy
| | |
| --- | --- |
| To Buy | Not to Buy |
| Durable polyester | Not very sturdy |
| Simple assembly |   |
| 2 side mesh for bug control and high ventilation |   |
Purchase Price
Wrapping Up
Bed tents are excellent ways of getting privacy and excitement into your and your children's lives. It is also a wonderful option for outdoor activities. Just ensure that you purchase a bed tent that is easy to assemble and is highly portable with convenient storage.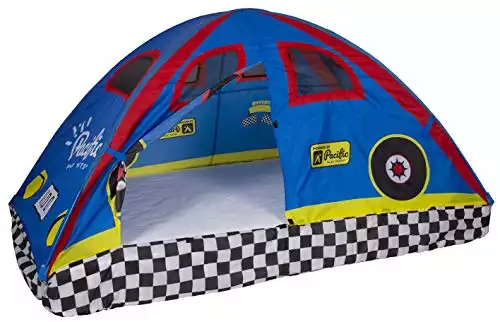 We earn a commission if you make a purchase, at no additional cost to you.