Beautyrest mattresses are popular for a number of reasons, including:
High quality: Beautyrest mattresses are made with high-quality materials and construction methods. The company uses durable materials such as pocketed coils and memory foam to create mattresses that are designed to last.
Comfort: Beautyrest mattresses are known for being comfortable and supportive. The company offers a wide variety of mattress types and styles to choose from, so sleepers can find the perfect mattress to meet their individual needs.
Motion isolation: Beautyrest mattresses are good at isolating motion, which means that you are less likely to be disturbed by your bed partner when they move. This is especially important for couples who sleep together.
Cooling technology: Many Beautyrest mattresses feature cooling technology that helps to keep sleepers cool at night. This can be especially helpful for sleepers who tend to get hot at night.
Warranty: Beautyrest mattresses come with a generous warranty. This gives sleepers peace of mind knowing that their mattress is protected against defects.
In addition to these factors, Beautyrest mattresses are also popular because of their brand recognition. Beautyrest has been in business for over 100 years and is one of the most trusted mattress brands in the country.
Here are some specific benefits of Beautyrest mattresses that people often mention in their reviews:
They are comfortable and supportive.
They are good at isolating motion.
They feature cooling technology.
They come with a generous warranty.
They are made with high-quality materials and construction methods.
Overall, Beautyrest mattresses are a popular choice for people who are looking for a high-quality, comfortable, and supportive mattress that is backed by a generous warranty.
They BeautyRest Hybrid mattress is a spring and foam mattress A queen size retails for $1,299. It is less expensive than the flagship Beautyrest Black which retails at  $2,099 in a queen size. The major difference between the two comes down to feel. The Hybrid is a bit softer on the top while the Black retains a firmer feel throughout. Both of these mattresses incorporate over a century of craftsmanship and innovation provided by Simmons. Most of the online mattress brands haven't even been around a decade.
Overview of the BeautyRest Hybrid Mattress
You can order this mattress directly from the BeautyRest website. You get the best price and free white glove delivery which includes setup of the mattress in the room of your choice along with removal of your old mattress. Normally online companies will charge an extra fee for this service which is often $150 or more.
This mattress is not roll packed either. That means it will arrive full size and won't require any time to inflate or off-gas. It comes with a 100-night trial where you can try it out in the comfort of your home and if you aren't happy with it, you can return it for free along with a full refund. This is another advantage of buying directly from Beautyrest. You get all your money back and aren't stuck picking from another mattress model in the store.
Here's a video overview of the mattress highlighting some of the stand out features.
Construction of the BeautyRest Hybrid
Below are the construction details of the mattress as listed on their website.
Cover
Cool-to-the-touch stretch fabric
Comfort Layers
1" Beautyrest® Gel Memory Foam
2" Beautyrest® Gel Memory Foam
1" Medium Comfort Foam
Support System
1000 Series Firm Pocketed Coil®
BeautyEdge®
How Much Does the BeautyRest Hybrid Cost?
Below are the prices of the mattress as of this writing and before any discounts.
[table id=96 /]
My BeautyRest Hybrid Mattress Findings
In keeping with the Beautyrest line, I found that this mattress has a firm coil base layer with a softer top layer of foam. This gives you superior support with the benefits of pressure-relieving foam. The foam at the top layer is dense so has a slower recovery time but is needed to provide adequate contouring.
In this picture you can see my 14 lb. bowling ball on the mattress.
Here you can see how much it contours as I sleep on my side. Compared to other hybrids, this mattress will only sink slightly and I didn't feel the coil system give all that much. It felt like the top layers of foam were providing all the contouring.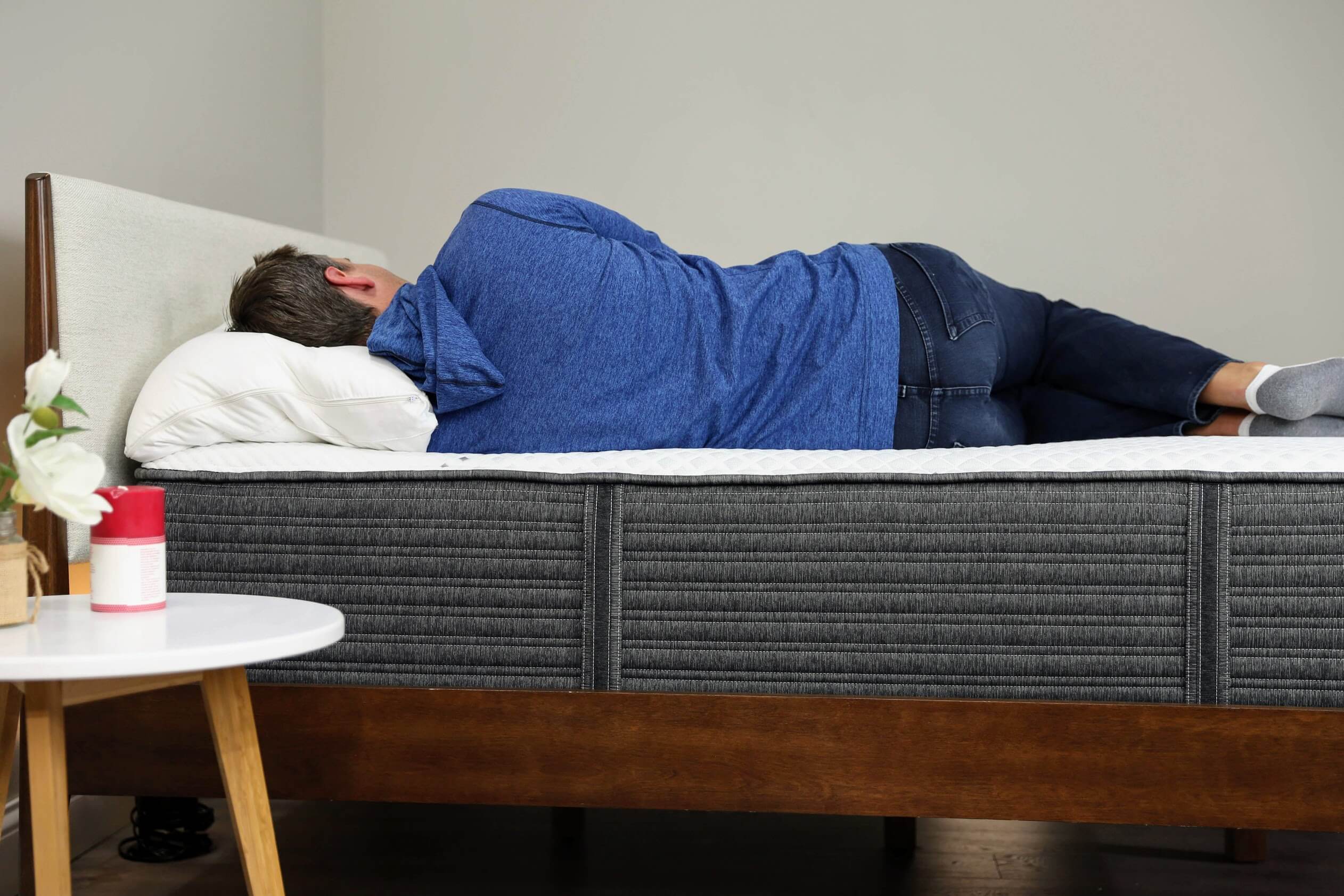 Here's another angle where you will notice that I'm not really surrounded by the mattress.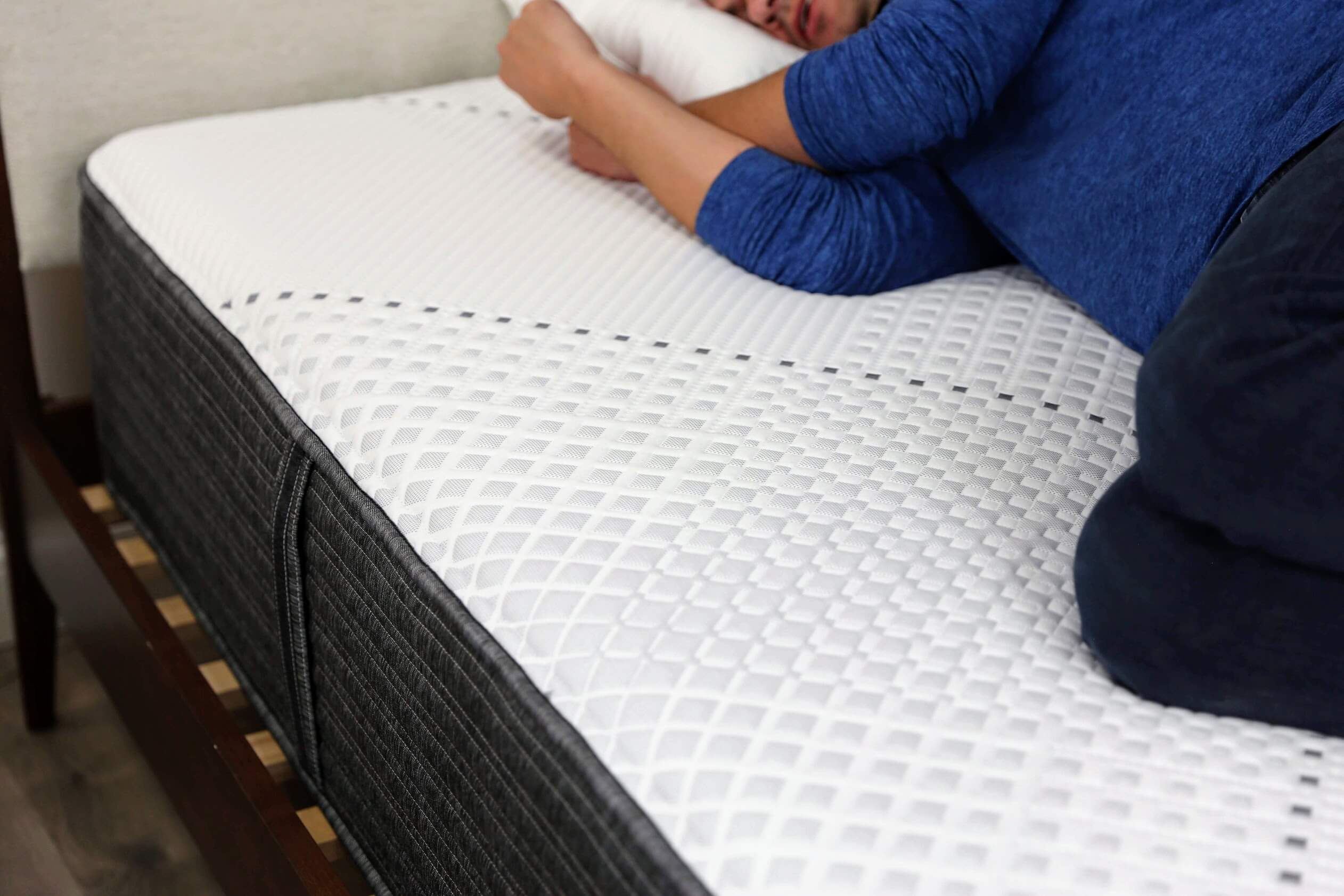 The mattress has superior edge support. Most foam mattresses don't have a perimeter edge support system and most hybrid mattresses rely on a firmer gauge coil to provide the support. With this mattress, Beautyrest used a rigid foam perimeter that provides better support than coils. That means you can sleep or sit on the edge without rolling off.
This mattress is one-sided so it cannot be flipped but to extend the lifespan, you will want to rotate it every 6 months. Thankfully they added handles to each side to make the process easier.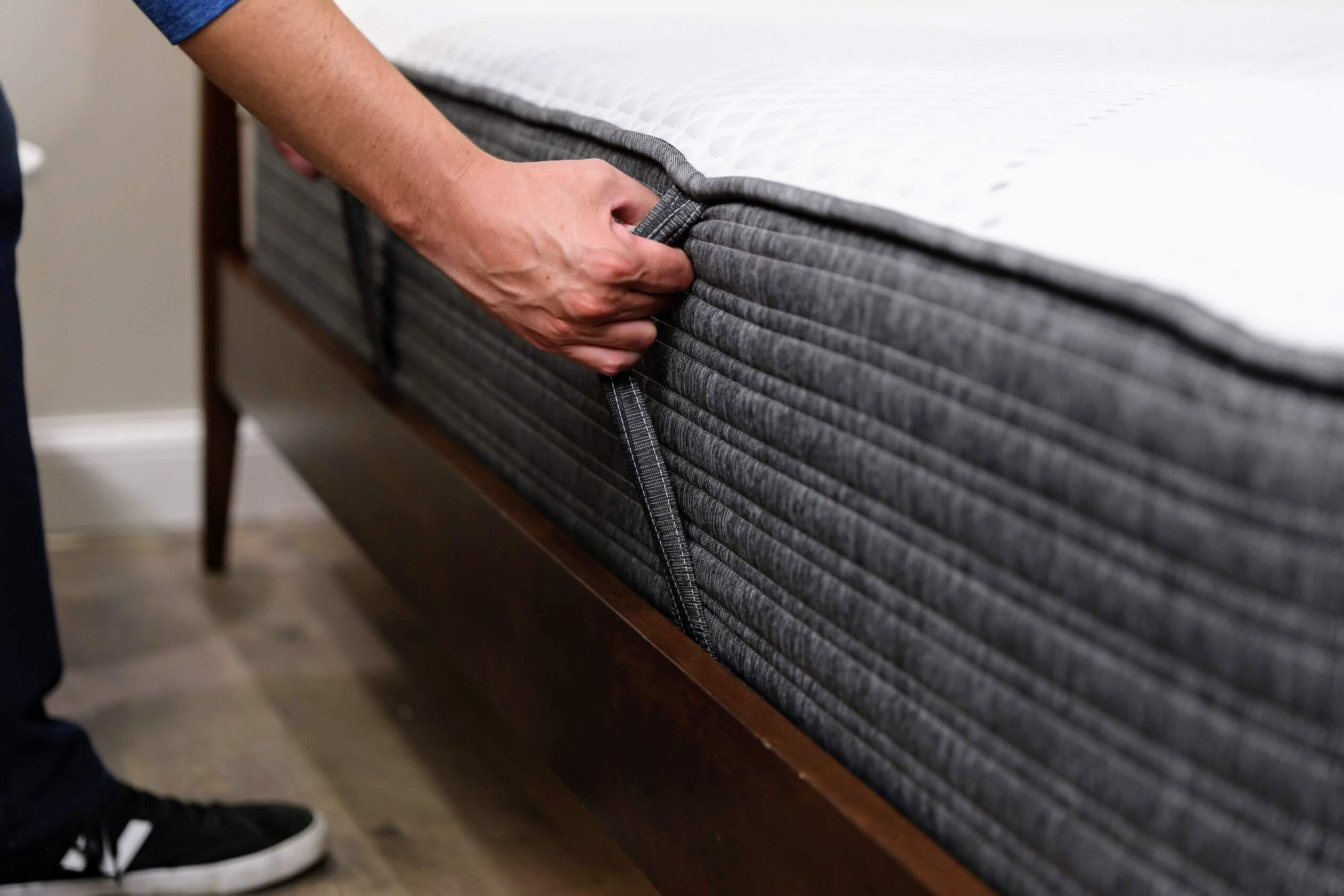 Here's a look inside the mattress showing the layers of foam. The first layer of foam is quilted into the cover so you can't see that in this picture but that is the densest layer followed by the 1′ medium comfort foam layer.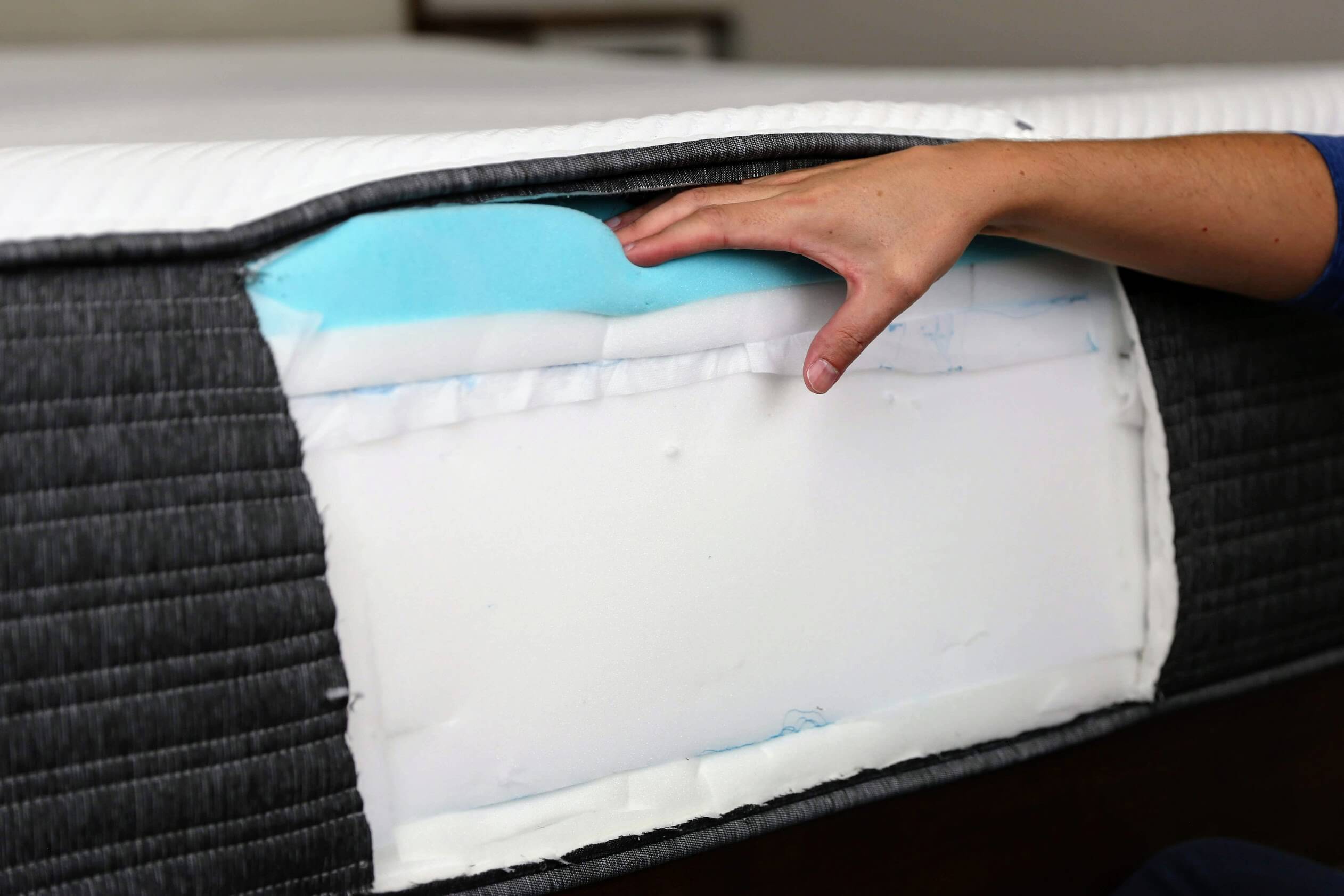 I cut into the mattress further to show the coil system. You can also see how thick the perimeter foam is.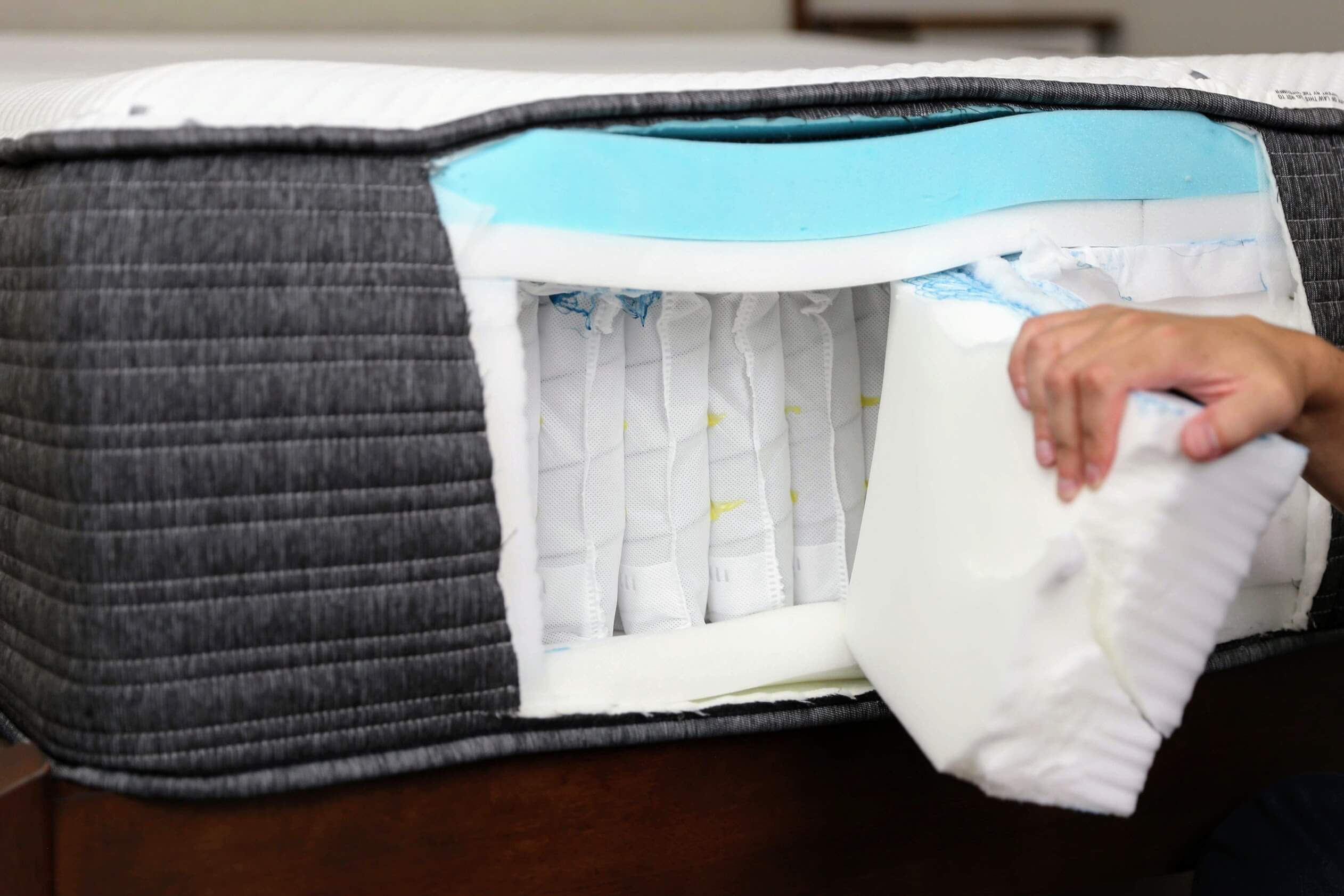 My BeautyRest Hybrid Recommendation
I recommend the BeautyRest Hybrid to combo sleepers, people that like to change positions but overall want a firm base of support. This mattress will initially fee soft but you will notice the firm coil system underneath for support. This mattress isn't a cozy mattress in that it won't hug your body. It's great for people that want to sleep cool but still get adequate pressure relief. If you are a dedicated side sleeper, this mattress may be too firm for your liking but still softer than the BeautyRest black. If you are a dedicated stomach sleeper, the BeautyRest Black is the better choice. At $1,299 it is a good price that makes it competitive with other popular online mattress brands but when you consider you get free white glove delivery, it's an even better value.