Amerisleep is a mattress company that sells American-made memory foam and hybrid mattresses. The company was founded in 2010 and has become one of the most popular mattress brands in the United States. Amerisleep mattresses are known for their high quality, durability, and comfort.
Amerisleep mattresses are made with a variety of innovative materials, including Bio-Pur, a plant-based memory foam that is more breathable and cooler than traditional memory foam. Amerisleep mattresses also feature a variety of other features, such as pressure relief, motion isolation, and edge support.
Amerisleep offers a variety of mattress models to choose from, each with a different firmness level and sleeping style. The company's most popular mattress models include the AS1, AS2, AS3, and AS5.
Here is a brief overview of each Amerisleep mattress model:
AS1: The AS1 is Amerisleep's firmest mattress and is a good choice for back and stomach sleepers.
AS2: The AS2 is a medium-firm mattress and is a good choice for all sleeping positions.
AS3: The AS3 is a medium-soft mattress and is a good choice for side sleepers.
AS5: The AS5 is Amerisleep's softest mattress and is a good choice for side sleepers who prefer a plush mattress.
Amerisleep mattresses also come with a number of benefits, including:
A 20-year warranty
A 100-night sleep trial
Free shipping and returns
A variety of financing options
Overall, Amerisleep mattresses are a good choice for sleepers who are looking for a high-quality, durable, and comfortable mattress. The company offers a variety of mattress models to choose from, each with a different firmness level and sleeping style. Amerisleep mattresses also come with a number of benefits, including a 20-year warranty, a 100-night sleep trial, and free shipping and returns.
If you are considering purchasing an Amerisleep mattress, be sure to read reviews from other sleepers and compare different models to find the best one for your needs.
I received a free Revere mattress from Amerisleep for review. The Revere mattress is one of the best-selling mattresses from Amerisleep. It has some unique features that set it apart from the rest of the bed in a box pack. Most notably it has a Celliant infused cover and incorporates soy in its foam to reduce dependency on petroleum. Best of all it feels great!
Overview of the Amerisleep Mattress
Below is an overview of the Amerisleep Revere. It's a great looking mattress that has a very durable cover. This mattress is also shipped in a box and will arrive at your doorstep in about a week. Amerisleep has a 100-night trial period where if you don't like it in that time frame they will work with you to donate your mattress and receive a full refund.
Specifications of the Amerisleep Revere
The cover of this mattress is infused with celliant. Celliant is a fiber that claims to promote recovery by turning your body heat into infrared energy. According to the Amerisleep website, a study was done where those who slept on celliant fell asleep an average of 15 minutes faster than those who did not use celliant fibers.
Here's what the cover of the mattress looks like: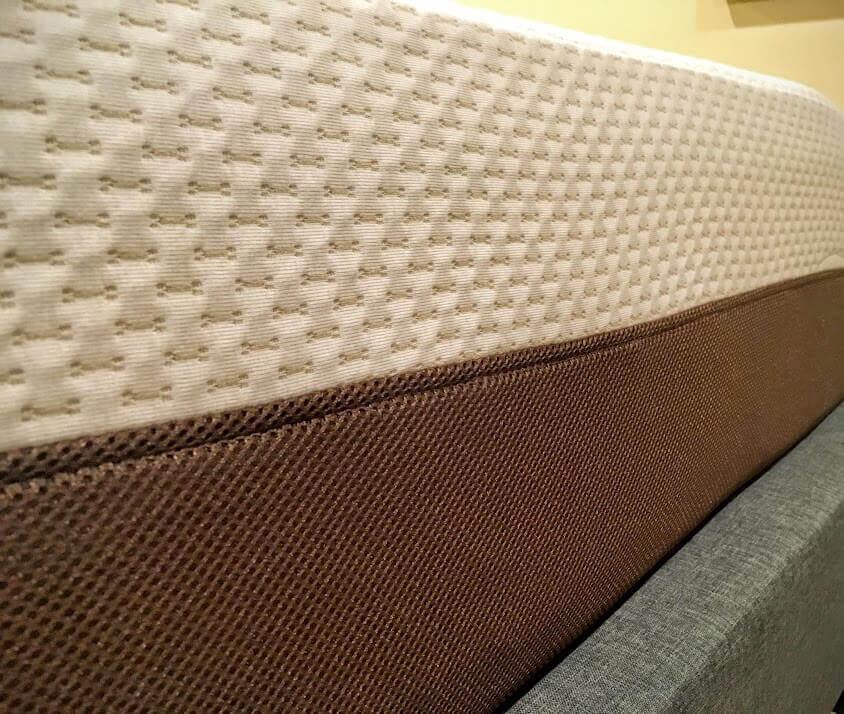 The foam layers consist of a 3-inch layer of open-cell memory foam that uses their trademark, Bio-Pur material that is made with plant-based materials.
The base layer is a standard, quality,  base layer measuring 9 inches in depth. Below is a picture of the layers:
My Amerisleep Findings
The Amerisleep mattress is a great mattress for stomach sleepers like myself. The base layer is firm enough to keep you in alignment but the top layer is soft enough where you can sink in a little bit and get good pressure relief.
Here's how the layers react.
Below is a video illustrating heat retention on the mattress. I was surprised it did this well since the top layer of foam is rather dense.
The Amerisleep Revere doesn't have much bounce at all and that's in large part to the dense foam top layer.
My Amerisleep Recommendation
The Revere mattress is a great choice for stomach and back sleepers. I really appreciated the dense top layer of foam to give me some hug and great pressure relief. The base layer kept me in alignment and there was really no motion transfer between my partner and myself. I would recommend it for sleepers that are looking for a little bit of hug in their mattress but also want to move around easily at night.
Disclosure: We aim to highlight products and services you might find interesting, and if you buy them, we may get a small share of the revenue.