Overview of the Allswell Mattress
Allswell is a brand owned by Walmart and their mattresses are manufactured by Brooklyn Bedding, a family-owned mattress company based in Phoenix, Arizona. Brooklyn Bedding has been in business for over 25 years and has earned a reputation for producing high-quality mattresses that are sold at affordable prices. Brooklyn Bedding is responsible for designing and manufacturing all of the Allswell mattresses, including the Allswell, Allswell Luxe Hybrid, Allswell Supreme, and Allswell Brick. Each mattress is made with high-quality materials and features a unique combination of foams and coils to provide comfort, support, and pressure relief for a variety of sleeping preferences. Additionally, Allswell and Brooklyn Bedding both offer a 100-night sleep trial and generous warranty terms to ensure customer satisfaction. The site offers two different mattresses. First, the Allswell, which is a spring and foam mattress also known as a Hybrid Mattress. Then you have the Allswell Luxe, which is another
hybrid offering made with pocket coils and foam
. What is really astonishing is that you can get the Allswell in a queen size for $345! In keeping with many of the other online brands, Allswell also offers free shipping and a 100-day trial period where customers can try out the mattress in the comfort of their own home and if they don't like it, returns are free.
The Allswell Mattress Original
Here's a video overview of the Luxe Classic mattress which I was sent for free. This mattress comes shipped in a box and will arrive at your doorstep in a week or less after placing your order. It is Made in the USA.
Construction of the Allswell Mattress
Below are the construction specifications of the mattress. This mattress has a great feel in large part because the comfort layer is quilted into the top layer of fabric which gives the mattress a more integrated feel overall.

BME fabric is 400 gsm 90% polyester 10% Spandex
.75" gel memory foam in the quilt
2" 1.5 lb 24 ILD transition (polyurethane foam)
6" caliber edge Individually encased coil unit
.75" 1.3 lb 32 ILD base (polyurethane foam)
How Much Does the Allswell Mattress Cost?
Here are the current prices for Allswell mattresses by model and size:
The Allswell Mattress:
Twin: $265
Twin XL: $295
Full: $345
Queen: $375
King: $465
California King: $465
The Allswell Luxe Hybrid Mattress:
Twin: $395
Twin XL: $445
Full: $545
Queen: $645
King: $845
California King: $845
The Allswell Supreme Mattress:
Twin: $725
Twin XL: $775
Full: $885
Queen: $985
King: $1,245
California King: $1,245
The Allswell Brick Mattress:
Twin: $345
Twin XL: $395
Full: $495
Queen: $595
King: $795
California King: $795
My Allswell Mattress Findings
This mattress is more on the medium firm end of the spectrum. You won't sink into it too much and that makes it easier to change positions. You also won't be surrounded as much by the mattress so it won't sleep hot. All foam mattresses can make it difficult to change positions as you have to wait for the foam to start to conform again. With the Allswell, you get a little bit of bounce and good support from the spring system.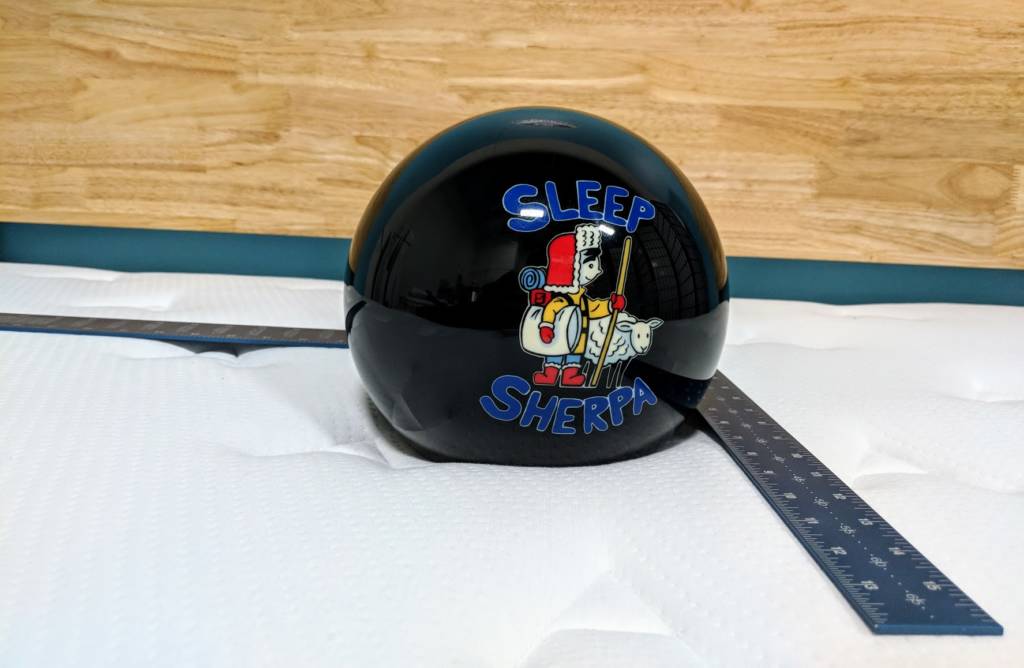 Here's a look inside the mattress so you can see how each layer responds. You can clearly see the pocketed coil system and the yellow layer of transition foam. The gel foam layer is quilted into the fabric so you can't see it but it provides a really nice feel at the top without being overly squishy. The
mattress handles motion transfer well because each coil
moves independently. While you will get some motion transfer it won't be enough to wake your partner unless you are jumping around.
Does the Allswell Sleep Hot?
This mattress sleeps fairly cool because it has a sping system for more breathability and because you dont sink into it that much. Since your body isn't surrounded by the mattress, heat won't get trapped.
Best Allswell Mattress by Sleeping Position
To help you choose the best Allswell mattress based on your sleeping position, here are our recommendations:
Side Sleepers: Allswell Luxe Hybrid Mattress – The Luxe Hybrid is the best option for side sleepers due to its thick layer of memory foam, which provides excellent pressure relief and contours to your body's curves.
Back Sleepers: Allswell Supreme Mattress – Back sleepers need a mattress that offers both support and comfort, and the Allswell Supreme fits the bill. It features a plush Euro top layer for added comfort and a supportive coil system to keep your spine properly aligned.
Stomach Sleepers: Allswell Hybrid Mattress – Stomach sleepers need a firmer mattress to prevent their hips from sinking too far into the bed, causing an unnatural curve in their spine. The Allswell Hybrid has a firm feel thanks to its supportive coil system, which provides the necessary support for stomach sleepers.
Combination Sleepers: Allswell Brick Mattress – Combination sleepers need a mattress that can accommodate their various sleeping positions. The Allswell Brick is a versatile mattress that offers a balance of support and comfort, making it an excellent choice for combination sleepers.
The Allswell Mattress Warranty
Allswell offers a 10-year limited warranty on their mattresses. This warranty covers defects in materials and workmanship, including sagging or body impressions of 1.5 inches or greater, physical flaws in the mattress that cause the foam or spring materials to split or crack, and manufacturing defects in the cover zipper or seams. To make a warranty claim, you need to contact Allswell's customer service team and provide proof of purchase, such as an order confirmation or receipt. Allswell will then arrange for an inspection of the mattress to determine if it qualifies for a warranty claim. If your claim is approved, Allswell will either repair or replace the mattress, depending on the extent of the damage. However, the warranty does not cover normal wear and tear, damage caused by misuse or abuse of the mattress, or changes in comfort preferences. It's important to note that the warranty is only valid for the original purchaser of the mattress and is non-transferable. Additionally, the warranty does not cover mattresses that are used for commercial or institutional purposes.
Allswell Mattress Complaints
Here are some common complaints that customers have had about Allswell mattresses:
Firmness: Some customers have reported that Allswell mattresses are firmer than they expected, especially for those who ordered the Allswell Hybrid Mattress.
Sagging: A few customers have reported that their Allswell mattress began to sag or develop body impressions within a few months of use, which can affect the comfort and support of the mattress.
Odor: Some customers have reported a chemical odor coming from their Allswell mattress, which can be unpleasant and take several days or weeks to dissipate.
Edge support: A few customers have reported that the edge support on their Allswell mattress is not as strong as they would like, which can make it difficult to sit or sleep near the edge of the bed.
Delivery issues: Some customers have reported issues with delivery, including delayed shipments, incorrect items being shipped, or damaged packaging.
My Allswell Mattress Recommendation
This mattress is an incredible deal. You would be hard pressed to find a less expensive mattress with these specs and made in the USA. I have found other brands at this price point and construction don't use foams that conform as well and just don't transition as well as this mattress. In other words you feel like you are sleeping on a spring mattress with a cheap foam topper. With the Allswell it just feels like a nice comfortable bed. You don't get the feeling like you are on just foam or just springs and that's the way it should be. You can't go wrong trying out this mattress. If you find you like it, you just scored one of the best bargains in town. If by chance you don't like it, returns are free and easy and you can persue other mattresses that are more expensive.
Allswell Bedding
Allswell
is a one-stop shop for not only mattresses but also pillows, throws and possibly other accessories including sheets. Allswell describes themselves as a "Instagram-worthy dream bed". Allswell aims to give you the complete bed solution. In addition to their mattress, they offer pillows, shams, duvets, duvet inserts, sheets and more. You can choose from different
curated looks by top designers
to make the decision process easier. They also have an optional white glove delivery service as well as the option to remove your old mattress for an extra fee. Something many of the other online brands won't do. If you decide to go with the bedding collection, you have a 30-day trial where you can return them if not satisfied. Allswell is the first brand I have tried where they put a lot of effort into getting the whole bedroom aesthetic right. Allswell partnered with four top designers:
Athena Calderone (Tonal Textures)
The full cost including inserts is $980.
Jerimiah Brent (New American)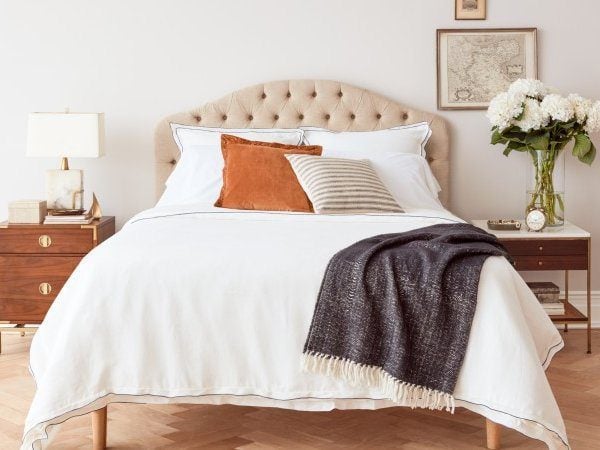 The full cost is $1,210 with individual items ranging from $50-$350
Rachel Parcell (Modern Glam)
The full cost of this set with the inserts is $1,106. Items range in cost from $22-$240
Genevieve Gorder (Globally Inspired)
The full cost of the set is $1,206, with items ranging from $50-$350. Once you decide which design works best, you can choose the whole look or select individual pieces. I should also note that their pillows and duvet insert are made with Hygro Cotton which helps regulate body temperature. What I really like about Allswell is that you don't need to commit. You can buy the mattress separately or the bedding separately. You can buy everything at once and still have the option to return for a full refund, 100 days on the mattress, and 30 days on the bedding. Allswell is the only brand that can deliver you a beautiful bedroom to your door. This is an up and coming brand that will soon be a household name.
Learn more about Allswell
[vc_column_text class="sleep-sherpa-exclusive-deal"]

Get 15% off your entire purchase with coupon code
SLEEPSHERPA15
Activate Here
[/vc_column_text]