The history of the Airweave mattress can be traced back to 2007, when Stanford School of Engineering graduate Motokuni Takaoka took over his uncle's fishing line company. Takaoka began experimenting with different applications for the resin fiber used to create fishing line, and he eventually discovered that the material was perfectly suited for making a newer and better type of mattress.
Takaoka's first product was a mattress topper, which he introduced in 2007. The topper was made from a proprietary material called Airfiber, which is a lightweight, breathable, and durable material that is also hypoallergenic and moisture-wicking.
The Airweave mattress topper was an immediate success, and it quickly became popular among athletes and other people who needed a mattress that could provide support and comfort without overheating. In 2010, Airweave introduced its first full-size mattress, and the company has continued to expand its product line to include a variety of mattresses, pillows, and other sleep accessories.
Airweave mattresses are known for their unique construction, which features a core made of Airfiber material. Airfiber is a network of interconnected fibers that create a supportive and breathable surface. Airweave mattresses are also designed to be lightweight and portable, making them ideal for people who travel frequently or who need a mattress that can be easily moved.
Airweave mattresses have been praised by critics and consumers alike for their comfort, durability, and innovative design. The company has also been recognized for its commitment to sustainability. Airweave mattresses are made from recyclable materials, and the company has a number of programs in place to reduce its environmental impact.
Today, Airweave is a leading global mattress company with a presence in over 20 countries. Airweave mattresses are used by athletes, celebrities, and everyday people alike who are looking for a mattress that can provide a good night's sleep.
The airweave mattress is a completely different mattress than anything I have tried before. There are no springs or memory foam in this mattress. It is made completely of a type of a resin fiber that is used to make fishing lines. The story behind airweave is that the founder, Motokuni Takaoka,  took over his fathers fishing line company in Japan. He found that this type of material could be used for other applications, in particular, mattresses. It can provide cushioning, support and is very breathable. Out of that discovery, Airweave was born.
Today, Airweave has been the mattress of choice for Team USA, the Royal Ballet School in London and more. It is a truly unique feel and construction.
Here's a picture of the inside of the airweave mattress: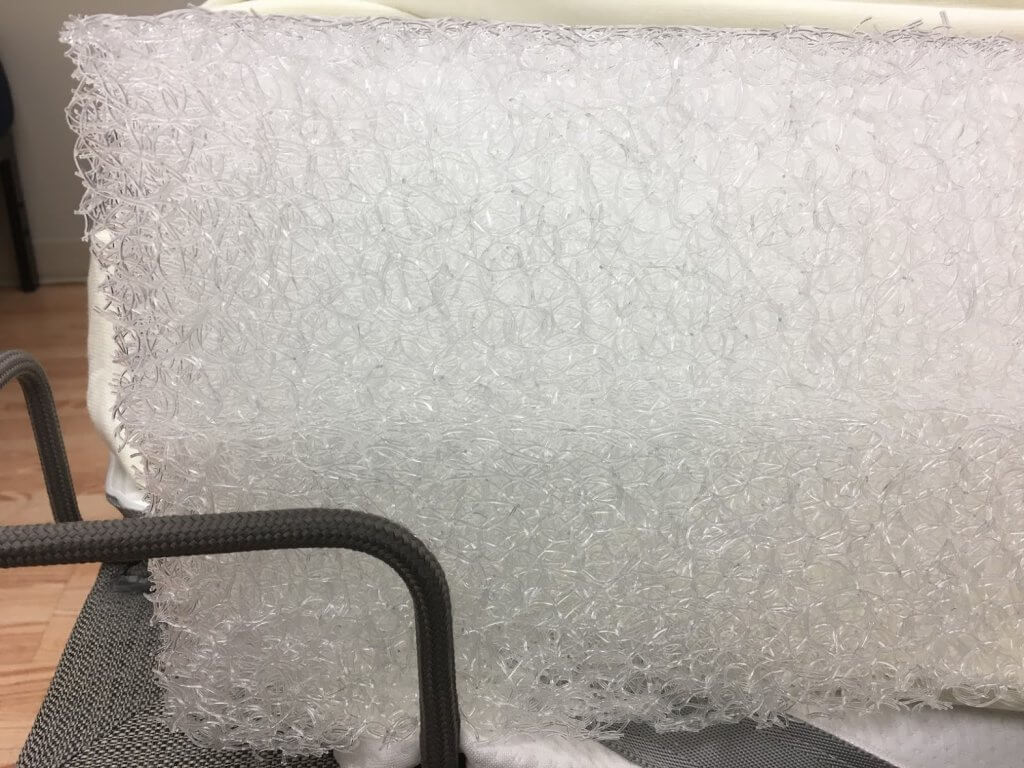 Overview of the airweave mattress
Below is a video of me on the airweave mattress. This mattress does not come roll packed as that would damage the construction. Instead, my queen size came in two boxes like the ones below.
After placing your order, you can expect the mattress to arrive in 3-7 business days and it ships via Fedex, USPS or UPS. Setup is not all that difficult and the mattress comes in pieces so it is easy to transport.  Standard shipping is free and the mattress comes with a 100 night trial period.
Here's a quick video overview of the mattress.
Setting up the Mattress
Setting up your mattress is very similar to putting together a latex mattress. The first step is to lay out the cover and then put the pieces inside.

Here's what it looks like after you put the pieces inside.

Construction of the airweave
Cushion: Polyethylene 100%
Quilt Mesh: Polyester 55%, Cotton 45%
Lining: Polyester 100%
Mesh: Polyester 100%
Twin: 55 lbs.
Twin XL: 60 lbs.
Full: 66 lbs.
Queen: 77 lbs.
King: 88 lbs.
CAL King: 88 lbs.
Findings
Here's a video showing how the inside of the airweave mattress reacts. It feels about how you would expect a tangled mesh of fishing line to feel. It will have some give to it since it is woven together in a loose manner. However it is also firm and doesn't have any bounce to it.

This is one of the firmest mattresses I have tried. Here's a picture below to show sinkage on the airweave. As you can see you aren't going to sink much at all.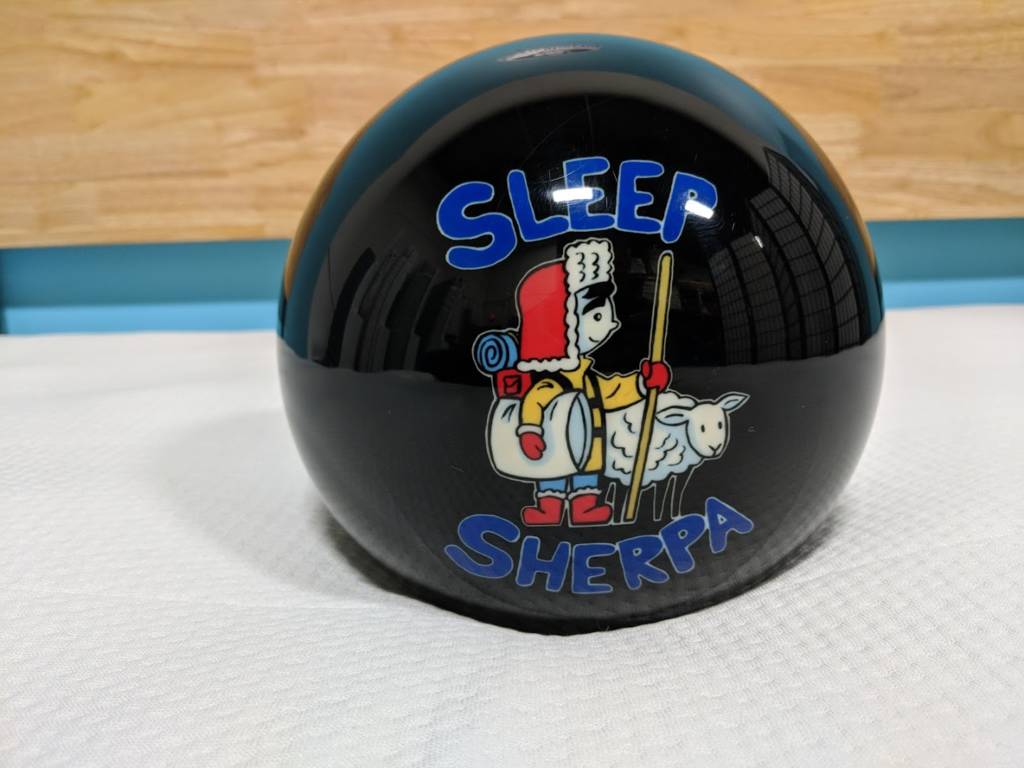 Below is a video illustrating motion transfer. As you can see, there really is none. That is one of the best features of this mattress.
This mattress will sleep cooler than most. That's because there is so much open space in the woven core for air to flow through. Here's a video showing how fast heat dissipates from the mattress using my infrared camera. The video below is a clip when I placed my hand on the plastic core of the mattress.
Here's another video on the airweave mattress with showing heat retention with the mattress cover on.
For heavier people, airweave mentions in the FAQ that people over 260 lbs. can expect a shorter lifespan for the mattress. I'm not sure why they chose this specific weight but I appreciate that they make it clear there is certain threshold.
airweave DUAL MODE. For this review I received the airweave mattress advanced which allows you to customize firmness. To do so, simply flip the mesh from the firm to sof side depending on your preference. This allows partners to have different firmness leveles. This mattress is on the firmer end of the spectrum so its nice to have the option to soften it up a bit.
Another unique feature of this mattress is that this is a truly washable mattress. You don't need a mattress protector for this mattress because if it gets dirty you can literally rinse it off with a garden hose. Because of the construction water willl run right through it and it will dry quickly.
My airweave Mattress Advanced Recommendation
The airweave brings a very unique feel to the mattress space. If you prefer a firm mattress that sleep cool, this is definitely worth trying. There will be basically no motion transfer and it looks great. I didn't have notice any off-gassing problems either. I suppose if you wanted to make this mattress firmer you could use a memory foam topper but that would take away from the intent of the mattress. It comes with a 60 day trial period and so it is something that has to be experienced to really appreciate it. It is also important to note that this mattress will not work with an adjustable base as it will damage the construction.  If you have tried the Purple mattress but found it to be too soft but like the cooling effect, the airweave is worth considering.