I was given a free Agility Bed for review. The Agility Bed  is a softer mattress that features a five zone latex system on the top layer as well as bio based gel foam. In between these layers are nearly 1,000 micro coils to provide extra support and contouring. What you get is a soft mattress that still gives you good support.
Overview of the Agility Bed Mattress
You can order the Agility Bed direct from their website. After placing your order it should arrive in about a week. When you receive it, it will come in a box like the one below. Even though this mattress has coils, it can still be compressed. In fact, mattresses bigger than this can still be compressed in a box and in my opinion are every bit as good as their store counterparts.
With the Agility mattress you get a 100-night free trial where you can sleep on it for 100 days and if you're not happy with it before the 100 days is up, you can return it for a full refund. It's free shipping to you and no return shipping fees either so it's a clean break.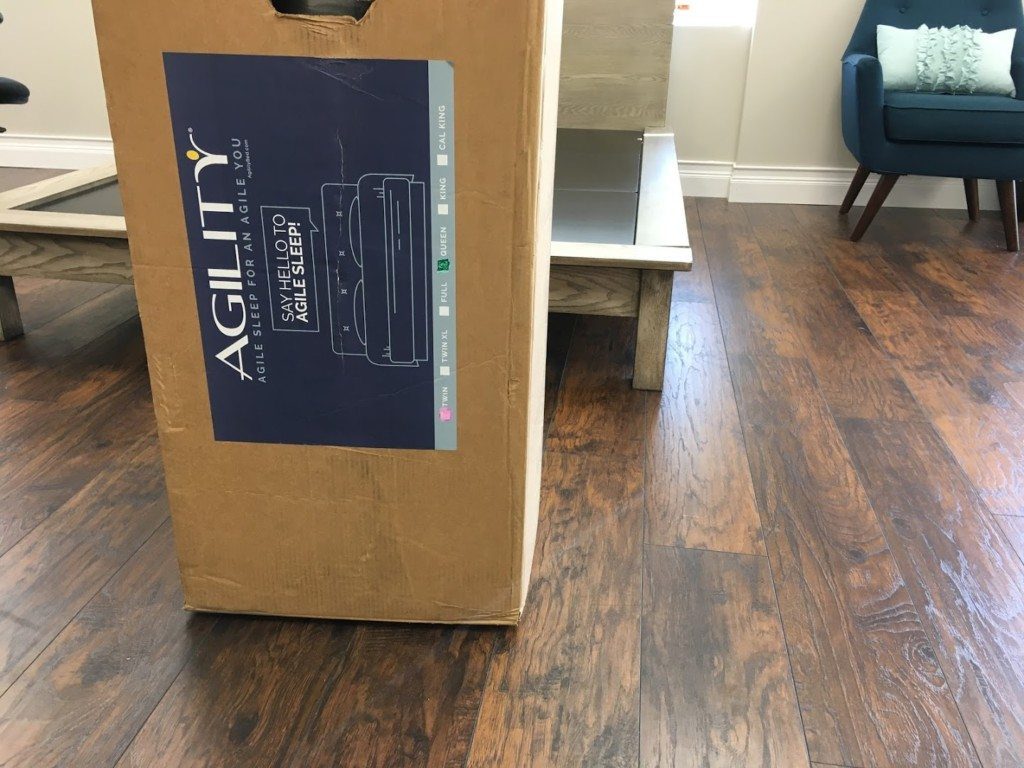 Below is a video highlighting some of the features of the mattress and my initial impression.
Construction of the Agility Bed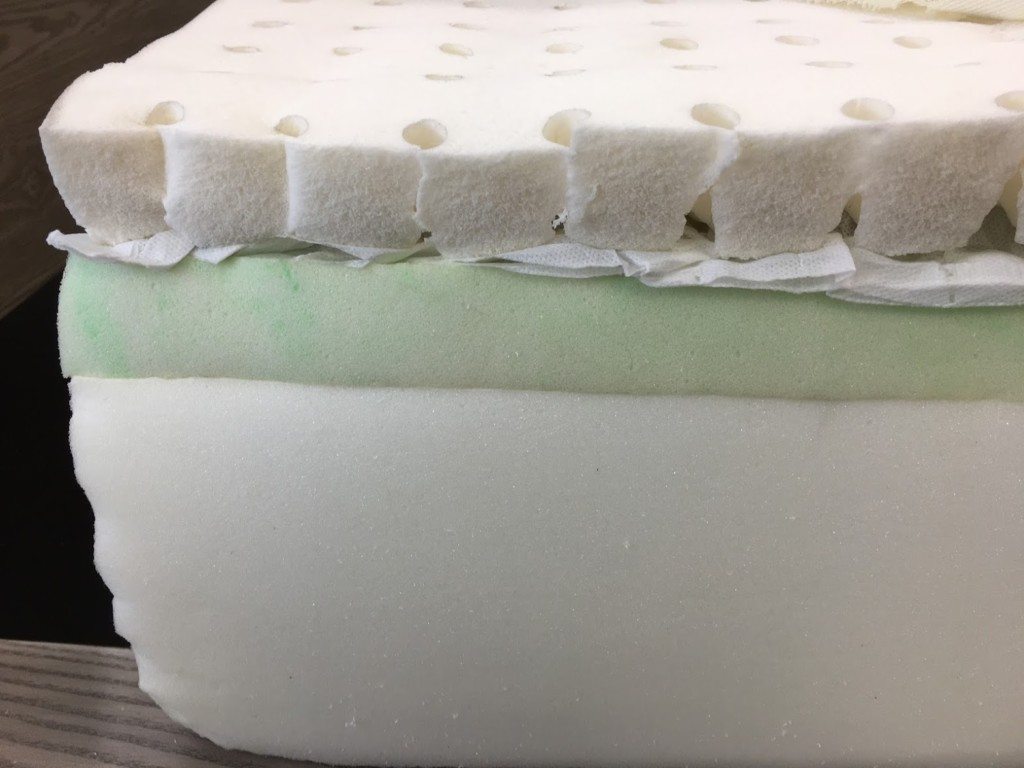 Latex top layer is a 3.3# density and ILD of 14.
Micro coils
Transition Layer of 4# density visco and 12 ILD.
Polyurethane core that is 1.8# density and 33 ILD.

Pricing is as follows:
Twin $799
Twin XL $799
Full $999
Queen $1,099
King $1,299
Cal King $1,299
My Agility Bed Findings
The Agility Bed is a soft mattress and you sink into it right away. As opposed to a dense foam mattress that takes a while for you to sink in, this mattress will instantly cradle you and spring back. What makes this possible is two things, the top layer of zones latex and the microcoils underneath. Check out the video below to see how each layer reacts.
The microcoils don't look like they are doing much and individually they really don't, but in aggreggate, they all work together to give you subtle support. They also add to the breathability of the mattress. Instead of using an extra layer of transition foam, the micro-coils act as a transition layer while the latex on the top layer serves as the comfort layer.
The foam underneath the microcoils is dense and will then allow the coils above to sink as necessary where they get the most pressure so that you don't get too much pushback from the coils system.
Here's a video showing motion transfer on the Agility Bed using my bowling balls. This was done at the center of the mattress. Keep in mind that since the top layer is a zoned latex system each part of the mattress will have a different firmness. I dropped the bowling ball at the middle of the mattress where your hips would be. Your midsection is the heaviest part of your body.
Usually a softer mattress means a less breathable mattress. That's because as you sink into the mattress you have more material surrounding you. The Agility Bed addresses this problem first with the latex Layer. As you can see in the picture below there are holes in the latex. This is because the latex mold creates these holes and what you get is a very breathable top layer.
Underneath that are the microcoils which also create more airspace for heat to escape.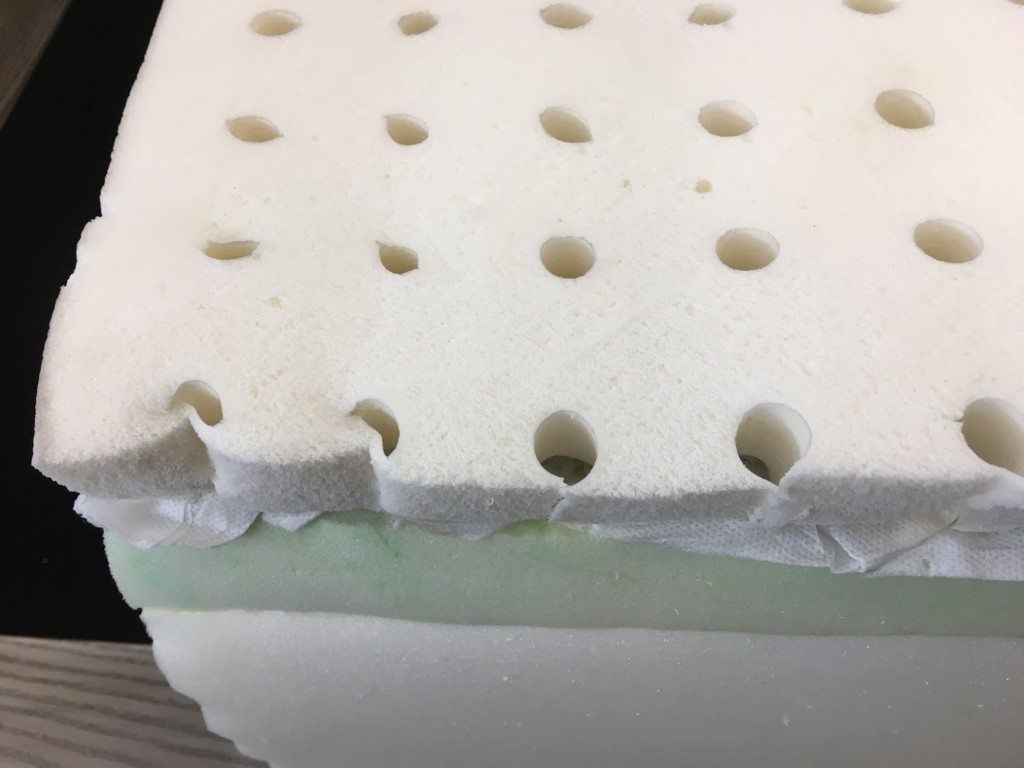 Here's a video showing how well the Agility Bed can dissipate heat from the cover.
My Agility Bed Recommendation
The Agility Bed is an excellent choice for anyone, not just moms, looking for a soft mattress that is breathable and supportive. Given the construction of the mattress, it is fairly priced as well. This is one of the softest mattresses I have reviewed and it is hard to get soft, "right" but Agility Bed did it with flying colors.
I highly recommend this for side sleepers that crave a soft cozy mattress.
Get $100 off your Agility Bed with coupon code SHERPA100. Shop Agility Bed