Deciding between getting a new mattress and just a mattress topper depends on various factors, including the current condition of your mattress, your personal comfort preferences, and budget constraints. Here's a guide to help you make an informed decision:
Age of Your Mattress: A typical mattress lasts 7-10 years. If yours is within or past this age range, it might be time for a new one.

Mattress Condition:

Sagging: If your mattress has noticeable dips or sags, especially in the areas where you sleep most, a topper won't fix the underlying issue. A new mattress might be in order.
Springs: Can you feel the springs poking through? If so, a mattress topper might provide temporary relief, but it's a sign that your mattress is reaching the end of its life.
Lumps: Uneven surfaces or lumpy areas can make for an uncomfortable sleep. A topper might help in some cases, but often a new mattress is the better solution.

Comfort & Firmness: If your mattress is still in good shape but just a little too firm or soft for your liking, a mattress topper can adjust the firmness without the need for a completely new mattress.

Allergies & Hygiene: Over time, mattresses can accumulate allergens like dust mites. If you've kept it for many years and suffer from allergies, consider a new mattress. However, using a mattress protector can help keep your new mattress cleaner for longer.

Sleep Quality: If you're experiencing poorer sleep quality, waking up with aches and pains, or finding it difficult to get comfortable, it's essential to discern if it's the mattress or other factors like stress or health issues. If it's the mattress, determine if its condition or firmness is the issue to decide between a topper or a new mattress.

Budget: Mattress toppers are generally more affordable than buying a new mattress. If you're on a tight budget but need a temporary solution to enhance comfort, a topper might be the way to go. However, investing in a good mattress can provide longer-lasting comfort and support.

Mattress Warranty: Check if your mattress is still under warranty. Some warranties might be voided if you use certain types of toppers. Also, if it's failing due to manufacturing defects and is still under warranty, you might get a replacement.

Temporary vs. Long-Term Solutions: Mattress toppers can be a great temporary solution to enhance comfort, but they typically don't last as long as mattresses. If you're looking for a long-term solution, investing in a new mattress might be wiser.

Type of Topper: If you're leaning towards a topper, consider the material and thickness. Memory foam, latex, feather, and wool are popular choices, each with its own benefits.
In conclusion, assess the current state of your mattress and weigh the pros and cons of each option concerning your needs and budget. If your mattress is old, sagging, or causing discomfort, it's probably time for a new one. If you're looking for a change in firmness or a temporary comfort boost, a mattress topper might be the answer.
The Zinus brand has gained popularity for several reasons:
Affordable Pricing: Zinus offers high-quality mattresses, bed frames, and other furniture at affordable prices. This makes their products accessible to a wide range of consumers who may be looking for budget-friendly options.

Comfort and Quality: Despite their competitive pricing, Zinus products are known for their comfort and quality. The brand uses innovative materials and designs to create mattresses that provide good support and pressure relief, ensuring a comfortable sleep experience.

Wide Product Range: Zinus offers a diverse range of products, including mattresses, bed frames, sofas, and more. This allows customers to find various furniture options that suit their needs and preferences, making the brand appealing to a broad audience.

Convenient Packaging and Delivery: Zinus mattresses are often compressed and shipped in a compact box, making them easier to handle and transport. This convenient packaging, combined with hassle-free delivery, appeals to customers who prefer the convenience of online shopping.

Positive Customer Reviews: Zinus has garnered positive reviews from customers who have praised the brand for its value, comfort, and durability. Positive word-of-mouth and online testimonials have contributed to the brand's popularity and increased customer trust.

Strong Online Presence: Zinus has effectively utilized online platforms and e-commerce channels to market its products. Their presence on popular online marketplaces and their active engagement with customers through social media platforms have helped the brand gain visibility and attract a large customer base.
I bought a Zinus Swirl Gel Memory foam topper, 2 inch to see how it would affect my mattress. I put this topper on the new Zinus Cooling Gel Mattress,  12 inch. This mattress is a medium firm feel as listed on their website but I found it to be a little too firm so adding one of their toppers might be a good solution.
You can buy the Zinus Swirl Gel memory foam topper direct from Amazon. It is currently selling for $54.99.
Here are some of the highlights of the topper:
2 inches of cool gel memory foam for ideal sleeping comfort

Air flow pattern for cool support

Green tea extract and castor natural plant oil naturally eliminate odor-causing bacteria

Only the highest Quality memory foam – memory foam is CertiPUR-US certified for durability, performance, and Content

Worry Free 5 year limited Warranty
You can also buy this Zinus topper in the following sizes.
1.5″ $39.99
2″ $54.99
3″ $69.99
4″ $109.99
Notice that if you go up to a 4″ the construction changes. Here are the construction details of the 4″ mattress.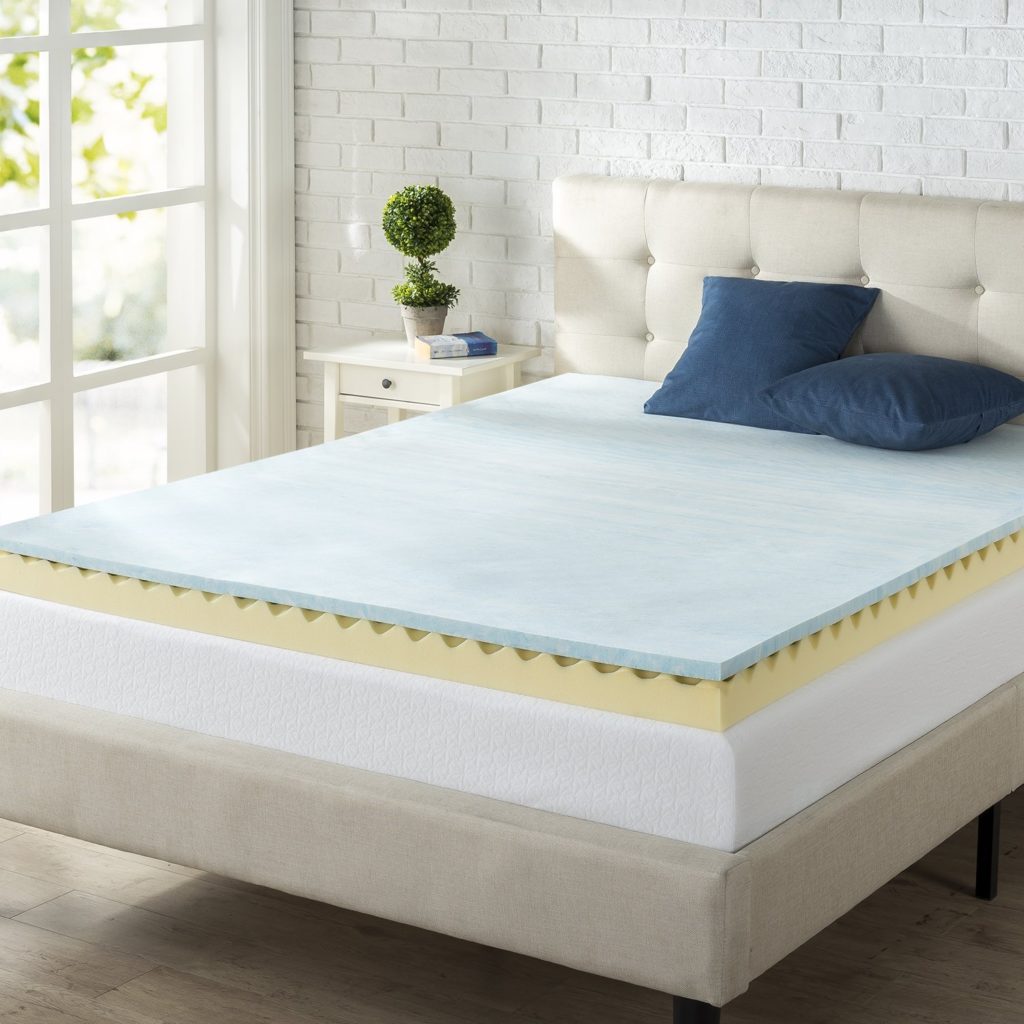 1 inch of cool gel memory foam for ideal sleeping comfort

3 inches of air flow high density support foam provides cool support

Green tea extract and castor natural plant oil naturally eliminate odor-causing bacteria

Only the highest Quality memory foam – memory foam is CertiPUR-US certified for durability, performance, and Content

Worry Free 5 year limited Warranty
The construction needs to be different or at least should be different on a thicker topper because if you don't have a dense foam support base, you will lose alignment and sink into the topper too much.
My Zinus Mattress Topper Findings
As always, Amazon will deliver your mattress topper lightning fast since it is Amazon prime eligible. I received mine in 2 days and it arrived in a compact box. Note that the topper was not shrink wrapped but it was wrapped. That may be different with the 4 inch topper though.
Here's what the topper looks like on my bed.
Here's another shot but closer up so that you can see more of the peak and valley construction.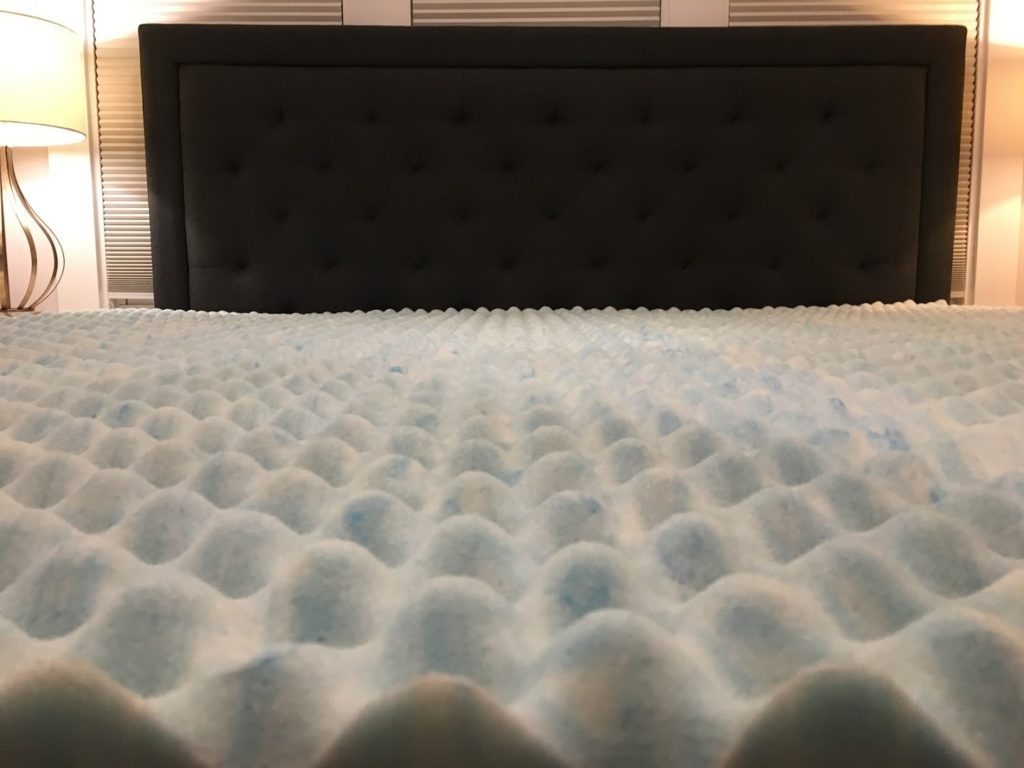 Below is a video that shows how the topper reacts. It recovers fairly quickly.
My Zinus Mattress Topper Recommendation
Mattress toppers are good if your mattress is structurally sound underneath. A mattress topper cannot solve issues with a sagging mattress or a mattress that just doesn't give you proper support. What it can do though is soften it up a bit to make it more comfortable and to extend the life of your existing mattress.
I particularly like this 2 inch topper because it softened my mattress just a bit more. If you go too thick such as a 4 inch topper you can either make it too soft or lose some of the support that your mattresses was designed for. I think the sweet spot for mattress topper thickness is between 2-3 inches. Going less than 2 inches really doesn't do much unless you are a really light person.
The box for this 2 inch topper from Zinus was small enough where if I wanted to return it, it would be fairly easy to do and since the topper didn't come shrink-wrapped it would be easy enough to get back in the box, unlike compressed mattress or topper.
In conclusion, if you have a mattress that still gives you proper support but you are just looking to make it a bit softer, definitely check out the Zinus Swirl Gel Foam topper. The peak and valley construction allows for more breathability and feels great!
Check the latest prices on the Zinus Swirl Gel Foam Topper.