Since the pandemic, we have all been spending more time at home, and working from home has become the rule rather than the exception. We all learned too quickly just how uncomfortable it is to work in a makeshift office. The first thing you'll notice is your dated office chair. Having the wrong chair is not only uncomfortable but can be bad for your health. Enter the X-Chair, an exquisitely designed office chair that will keep you comfortable all day and night. Below is my x-chair review and recommendation.
Right now is a great time to buy an X-Chair because of their Black Friday promotion going on now. 
Exclusive Savings on X-Chair
Overview of the X Chair and X Chair Models
What sets the X-Chair apart from other office chairs are the multiple ergonomic features. The lumbar support system is patented and provides constant support to your lower back. You can also adjust the seat height and choose your seat width when you make your purchase. 
Their sci-float infinite recline allows you to relax effortlessly without having to constantly adjust knobs. You can even choose your arm pads to rotate forwards and backward and even 350 degrees. 
In addition to standard wheels you can choose from the X Blade wheels and add locking wheels for more stability.  There are other models to choose from aside from the ones I cover in my video. Shorter people may prefer the X-Vision chair which is smaller and also less expensive but lacks some customization features that the other chairs have.  
No matter what xchair you choose, all X-Chairs have excellent build quality and come with a limited 15 year warranty. 
You have probably seen the commercials but if not, here's a quick overview of the X-Chair and why everyone is so curious about this new office chair design that is so comfortable. The X-Chair is the most customizable office and gaming chair you can buy.
You can order the X-Chair online. Shipping is free and after I placed my order, my chair arrived in about a week in this box.
You get tracking so you'll know exactly what day to expect your chair. You can also choose expert setup but I wouldn't recommend it as it's super easy to assemble and there are only 7 screws.  Just know that the chair is heavy, which is an indicator of quality so you may need some help bringing it in your house.
Here's a photo of the opened box. It looks a little overwhelming a first but keep in mind you really only need to assemble a few parts and it took me about 20 minutes from opening the box to having it fully installed and ready to use. I'm not the handiest person so if I can do it, you probably can too.
Although the packaging looks jumbled, the chair is packed safely and I didn't find any dents or scratches after unboxing. All the parts are wrapped well.
The wheels fit easily into the frame and will lock into place after you sit on the seat of the chair.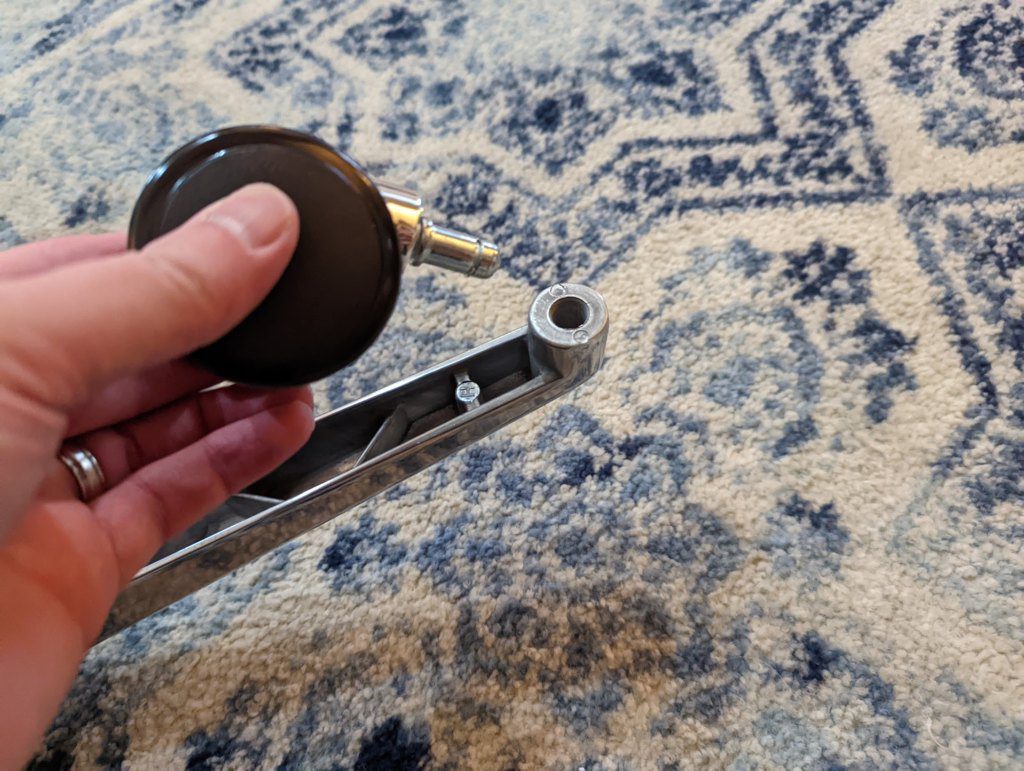 The seat of the X-Chair is the heaviest piece.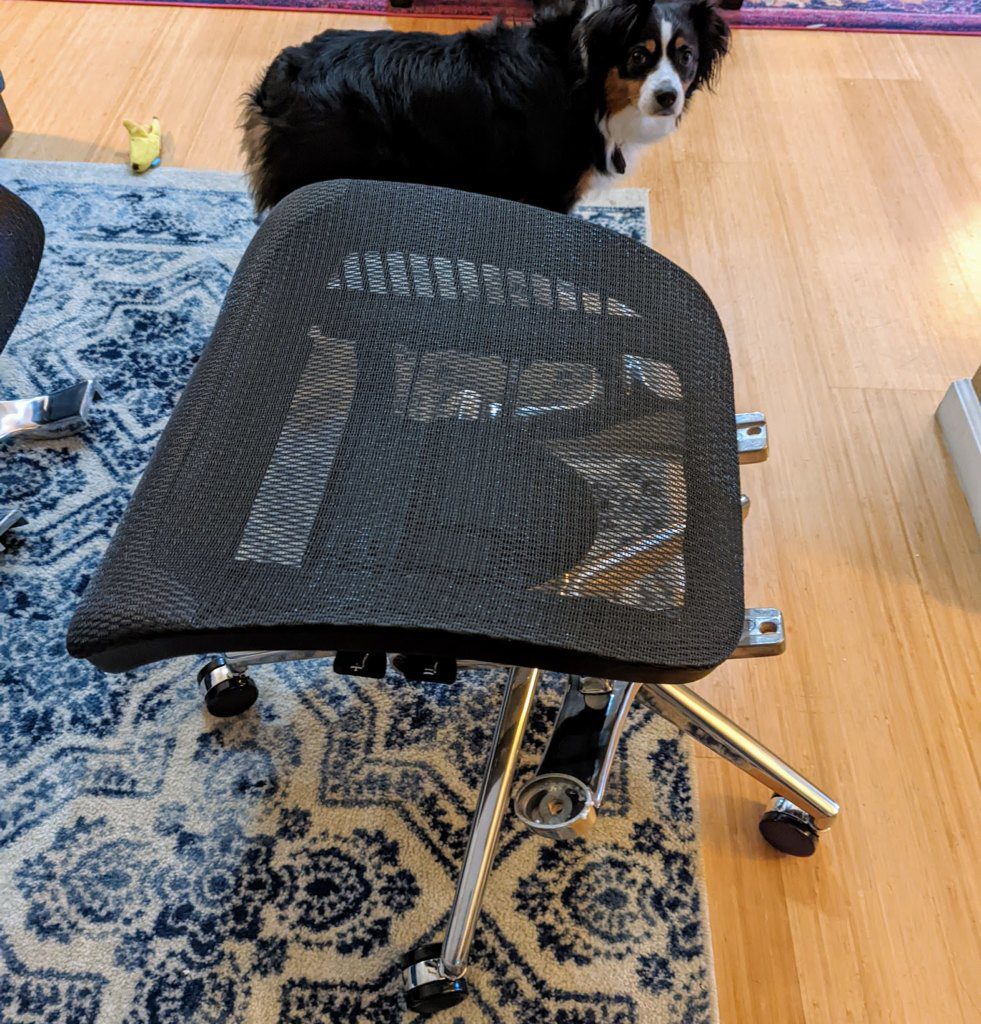 How Much Does the X-Chair Cost?
Prices for the X-Chair vary depending on what model and features you choose. For this review, I purchased the X2 Executive Task Chair with the cooling, heating, and massage feature for $1,029. But you can go with their basic model which starts at $699 or go with the X-Tech Executive that can go above $2,0o0 with certain features. Compare that with an Amazon Basics Office Chair at $90. But trust me, I have sat in the Amazon Basics office chair for hours and days at a time. It was comfortable for the first 30 minutes then I started to fidget and feel the need to get up and walk. That was not the case with the X-chair.
My XChair Findings and Recommendation
I spent my career as a librarian for 15 years sitting on Herman Miller Aeron Chairs which are comfortable but also pricey and aren't as customizable as the X-chair. I am 6'3 and weigh over 200 lbs. so the ability to have a chair that can accommodate by larger size is a plus. From an aesthetic standpoint, I also like the look of the X-Chair over the Herman Miller Aeron Chair.
Yes, it does cost a lot but considering this is the piece of furniture you will be using the most maybe aside from your mattress, it's a worthy investment.
A few things really stood out about the X-Chair:
DVL – Dynamic Variable Lumbar support. This is the lower part of the back of the chair that gently cradles your lower back and will move inwards or outward depending on how far back you sit. You are constantly getting support which gives you the stamina to work through the hardest grinds.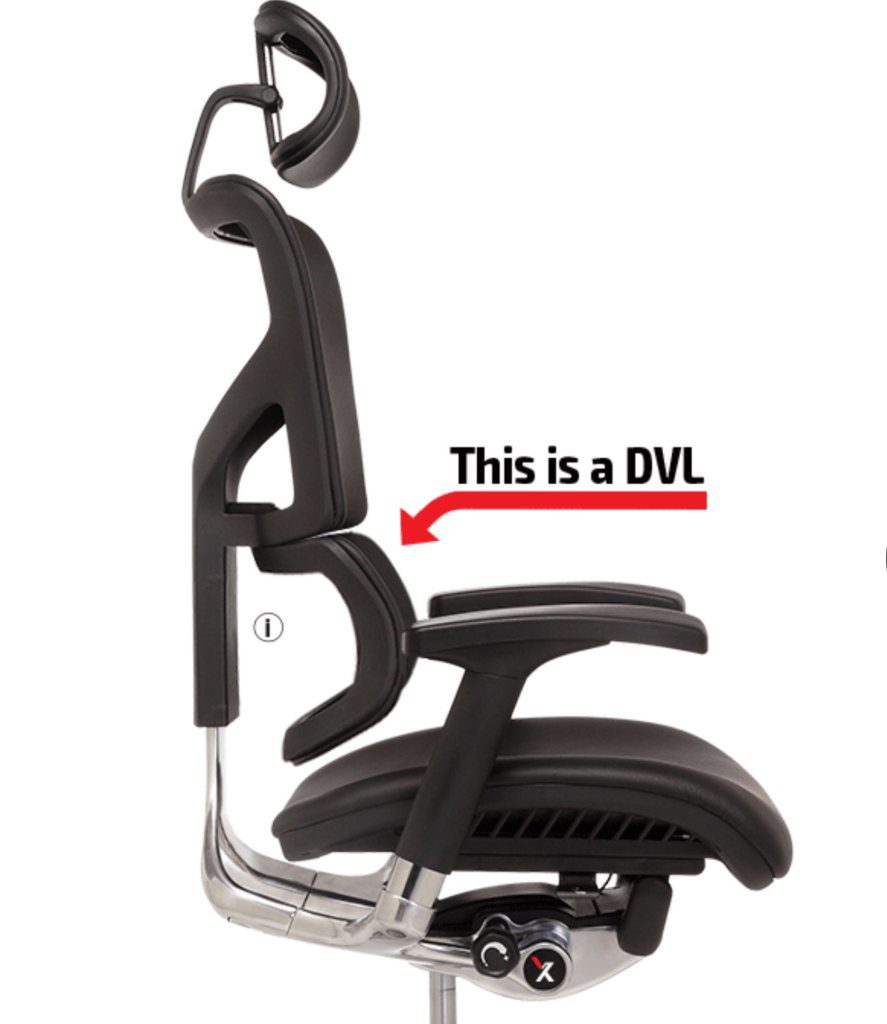 Sci Float Infinite Recline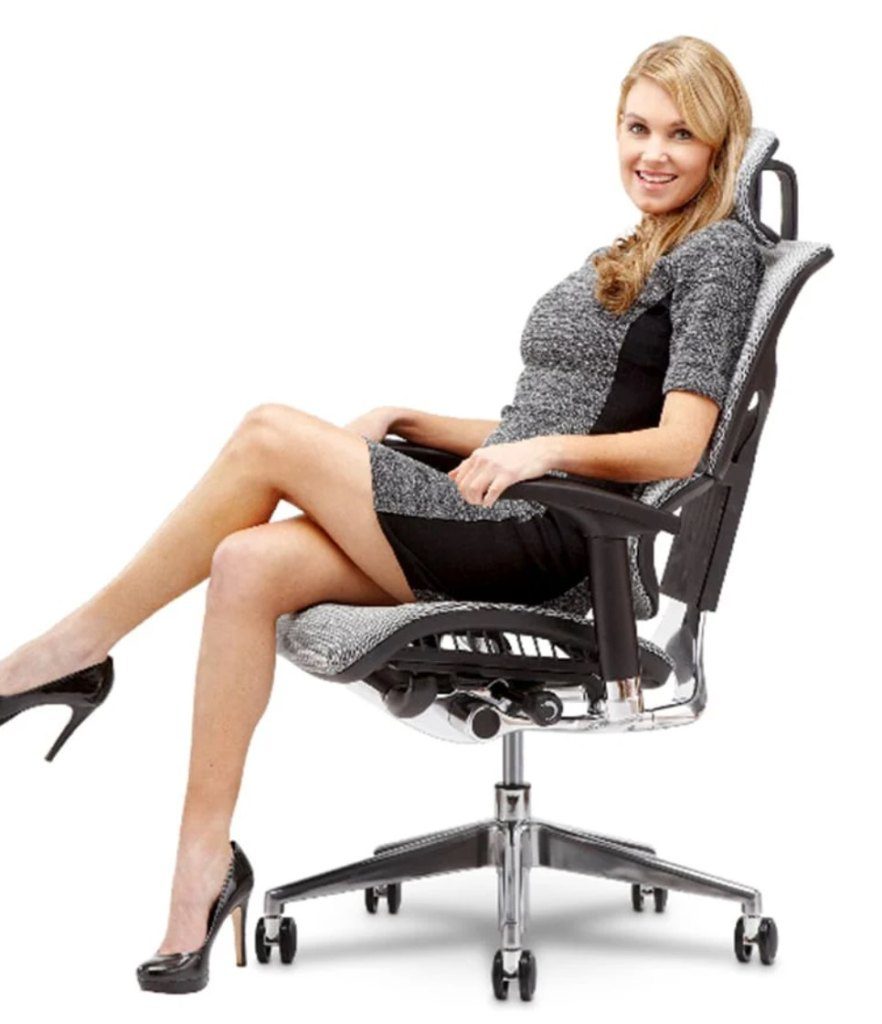 You can adjust the tension on the recline so that it is effortless to lean back and come back up without any jerking sensations that cheaper chairs have. I'm a rocker and like to move back and forth on my chair constantly so having this option work so smoothly was impressive.
The biggest decision you need to make is what kind of seat you will get with your X-Chair. I am a bigger person so I went with a wider seat which feels much more comfortable to me than the standard seat. You can adjust the seat depth forwards or backwards and you should aim to have the seat go about 2-3 inches short of the back of your knees to take pressure off your lower back. 
Right now I am using the X-Tech Executive Chair which has a wide seat and comes with a M Foam seat standard. I prefer this over the mesh fabric found in the X3 ATR even though the mesh fabric is more breathable. 
Here's My X-Tech Executive Chair. It has a mesh DVL so that you can use the HMT system more effectively. 
I also upgraded to teh 360 armrests but I really don't use the full 360. It is nice to have the armrest move with you though to reduce it rubbing your arm. There's also a locking mechanism where you can move the armrests in or out and lock them to your preferred position. 
X-Chair Trial, Returns, and Warranty.
The X-Chair comes with a 30-day trial where you can try it out in your home for 3o days and if you aren't happy with it during the trial period you can return it. Just keep in mind that they will keep $149 of the purchase price to send a return kit so it's not a full refund but still not bad considering how heavy this chair is and chances are you will probably keep it. If you do keep it, you are backed by a 15-year warranty. Some of the highlights of the warrant are that all moving parts are covered for 5 years while the metal components are for 5 years.
Where Can You Try the XChair?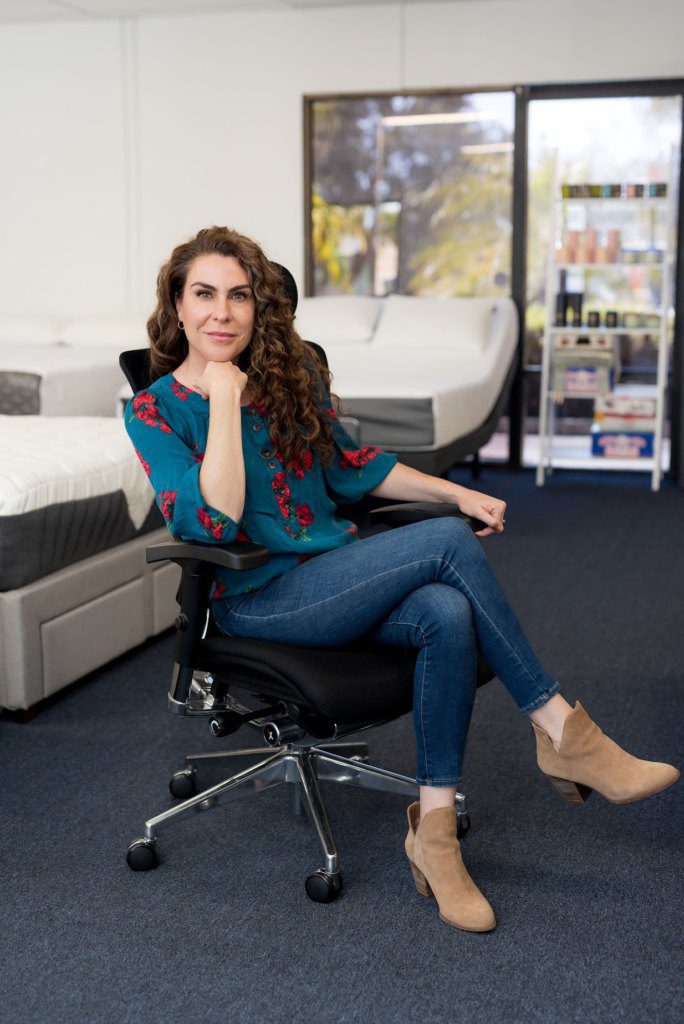 Right now there aren't many places to try the Xchair. Fortunately, we now have the Xchair available to try at our San Diego Yawnder Showroom.  Yawnder is a Premier Full Line Dealer of all X-Chair products so we can get you an extremely aggressive discount, much more than you will find online as well as free shipping. At our San Diego showroom, you can try the following Xchair models:
X Basic STS
X2-HMT with headrest
X 3 black memory foam with headrest
X 4 cognac with headrest
X77 black massage chair
The X77 Massage Chair is my top pick for massage chairs for tall people. Some of the other popular brands with enclosed foot massagers are too small for my feet. I wear a size 13. The X-Chair foot massage feature has open feet so it's much more comfortable for tall people or just people with big feet. 
If anything stop in for a free massage on the X77 Massage Chair, it's the only place in San Diego County where you can try it. If you want discounts beyond what X-Chair.com can offer, contact us at [email protected] or call us at 858-232-5760 for a quote. 
Get Exclusive Savings Through Yawnder
If you can't visit the showroom, get exclusive savings through our website or email me at ben@sleepsherpa for a quote that can't be beat. Just email me what you want and I will send a quote where you can purchase right away. We ship directly from X-Chair and are an authorized Premier X-Chair Dealer. 
X-Chair Products and Prices
Product
Price
X-YoYo Black
$399.99
XG Wing
$999.99
XS Vision Black
$599.99
XS Vision Black w/Headrest
$674.99
XS Vision Grey
$599.99
XS Vision Grey w/Headrest
$674.99
X-Tech Sage
$1,899.99
X-Tech Peat
$1,899.99
X-Tech Pumpkin
$1,899.99
X-Tech Navy
$1,899.99
X-Tech Onyx
$1,899.99
X-Tech Reef
$1,899.99
X-Tech Shiitake
$1,899.99
X-Tech Stone
$1,899.99
X-Tech Midnight
$1,899.99
X-Stack
$299.99
X-Side
$449.99
X-Project
$399.99
X-Project w/Headrest
$459.99
X77 Massage Chair Black
$7,799.99
X77 Massage Chair Brown
$7,799.99
X77 Massage Chair Black Brisa
$8,299.99
X77 Massage Chair Brown Brisa
$8,299.99
X77 Massage Chair Black / Red Brisa
$8,299.99
X-Basic
$499.99
X-Basic STS
$574.99
X-Basic STS w/Headrest
$624.99
X-Basic w/HR
$549.99
X4 Black
$1,199.99
X4 Black M-Foam
$1,399.99
X4 Black M-Foam w/Headrest
$1,549.99
X4 Black W/Headrest
$1,349.99
X4 Black Wide Seat
$1,349.99
X4 Black Wide Seat M-Foam
$1,549.99
X4 Black Wide Seat M-Foam w/Headrest
$1,699.99
X4 Black Wide Seat w/Headrest
$1,499.99
X4 Brown
$1,199.99
X4 Brown W/Headrest
$1,349.99
X4 Cognac
$1,199.99
X4 Cognac W/Headrest
$1,349.99
X4 Cognac Wide Seat M-Foam
$1,549.99
X4 Cogn ac Wide Seat M-Foam w/Headrest
$1,699.99
X4 Cognac M-Foam Wide Seat
$1,549.99
X4 Cognac M-Foam Wide Seat with Headrest
$1,699.99
X4 Red Premium Leather
$1,249.99
X4 Red Premium Leather w/Headrest
$1,399.99
X4 White Premium Leather
$1,249.99
X4 White Premium Leather w/Headrest
$1,399.99
X3 Black
$979.99
X3 Black M-Foam
$1,129.99
X3 Black M-Foam w/Headrest
$1,244.99
X3 Black W/Headrest
$1,094.99
X3 Black Wide Seat
$1,054.99
X3 Black Wide Seat M-Foam
$1,204.99
X3 Black Wide Seat M-Foam w/Headrest
$1,319.99
X3 Black Wide Seat w/Headrest
$1,169.99
X3 Blue
$979.99
X3 Blue W/Headrest
$1,094.99
X3 Glacier
$979.99
X3 Glacier W/Headrest
$1,094.99
X3 Grey
$979.99
X3 Grey W/Headrest
$1,094.99
X3 Grey Wide Seat
$1,054.99
X3 Grey Wide Seat w/Headrest
X2 Black
$879.99
X2 Black w/Headrest
$969.99
X2 Black Wide Seat
$929.99
X2 Black Wide Seat w/Headrest
$1,019.99
X2 Grey
$879.99
X2 Grey w/Headrest
$969.99
X2 Red
$879.99
X2 Red w/Headrest
$969.99
X2 White
$879.99
X2 White w/Headrest
$969.99
X1 Black
$729.99
X1 Black w/Headrest
$789.99
X1 Grey
$729.99
X1 Grey w/Headrest
$789.99
FS Wheels - Clear
$54.99
FS Wheels - Black
$59.99
FS Wheels - Red, Clear
$59.99
FS Wheels - Black, Locking
$79.99
FS Wheels - Clear, Locking
$79.99
FS Wheels - Glacier, Locking
$79.99
FS Wheels - Red, Locking
$79.99
FS Wheels - White, Locking
$79.99
FS Wheels - Pink, Locking
$79.99
FS Wheels - Green, Locking
$79.99
FS Wheels - Purple, Locking
$79.99
FS Wheels - Blue, Locking
$79.99
X-Table Black
$329.99
X-Table Cherry
$329.99
X-Table White
$329.99
Stool Kit (Cylinder, Ring & Base)
$149.99
X-HMT (In Retail Packaging)
$100.00
X-HMT (No Box)
$100.00
Elemax (In Retail Packaging)
$150.00
Elemax (No Box)
$150.00
X-TS Arm Double Black
$249.99
X-TS Arm Double White
$249.99
X-TS Arm Single Black
$149.99
X-TS Arm Single White
$149.99
Headrest (X4 Red Premium Leather)
$150.00
Headrest (X4 White Premium Leather)
$150.00
Headrest (X1 Black)
$60.00
Headrest (X1 Grey)
$60.00
Headrest (X2 Black)
$90.00
Headrest (X2 Grey)
$90.00
Headrest (X2 Red)
$90.00
Headrest (X2 White)
$90.00
Headrest (X3 Black)
$115.00
Headrest (X3 Blue)
$115.00
Headrest (X3 Glacier
$115.00
Headrest (X3 Grey)
$115.00
Headrest (X4 Black Standard Leather)
$150.00
Headrest (X4 Brown Standard Leather)
$150.00
Headrest (X4 Cognac Standard Leather)
$150.00
Headrest (X-Project)
$60.00
Headrest (Xs-Vision Black)
$75.00
Headrest (Xs-Vision Grey)
$75.00
X-Footrest (3" Rise)
$47.99
X-Chair 3" Footrest with Box Kit
$51.99
X-Flextop Black
$299.99
X-Flextop White
$299.99
X-Flextop Birch
$299.99
Cylinder (Short X2 / X3 / X4 / Xg-Wing)
$29.99
Cylinder (Short Xs-Vision / X-Basic / X-Project / X1)
$29.99
Cylinder (Stool)
$49.99
Cylinder (Tall X1 / X-Basic / X-Project)
$39.99
Cylinder (Tall X2 / X3 / X4 / Xg-Wing)
$39.99