Overview of the Wright Mattress
I received a free Wright mattress for review. After laying down on the Wright mattress for about 5 minutes, I knew this one was a winner. Wright's W1.27 model is going to be hard to beat.  The bed in a box has come a LONG way in just the past year. Companies are being forced to up their game to capture mattress market share. Wright went through 27 prototypes before arriving at the W1.27. This required money and most importantly patience. Lately, it seems like there is a rush to be first to market in this space which can lead to mediocre products. I think Wright played things right by investing in the R&D upfront so that they could offer a superior mattress that commands a price premium.
Ordering the Wright Mattress
You can order the Wright mattress direct from their website. A twist is that you can either get the mattress in 2-5 business days or wait a little longer and get white glove delivery. With this option, they will take away your old mattress and carry the new one to the room which you will set it up in. Getting rid of an old mattress is not always an easy task so this takes the stress out of the process. If you live in New York City, you can visit their showroom at 188 Lafayette Street. The Wright mattress is covered by a 120-day trial so you get about 4 months to try it out in your house to see if it's a winner. If for whatever reason you don't like it, you can return it at no cost to you with a full refund. This puts Wright on the more generous end of trial periods for the industry.
Unboxing My Wright Mattress
This mattress inflates fast. It's ready to sleep on after about an hour out of the box. There is some off gassing so I would wait at least 8 hours before sleeping on it.  The video is a bit amateur since my daughter filmed it. The kids never seem to grow tired of watching me unbox these.
My Wright Bed Findings
This mattress has a very unique feel. A common complaint with memory foam is that the top layer of foam is too slow to react. The next biggest is that it is too fast to react and you hit the middle and bottom layer creating a feeling like you are bottoming out on the mattress. Wright is able to achieve an excellent balance where you can't really tell where one layer ends and the other begins.
As you can see below, this mattress has four layers with the top being a gel infused foam layer.
Here's a clip that illustrates how the layers react.
There's not much motion transfer with this mattress even though the mattress recovers very quickly.
Here's the bowling ball drop test.
Below is the data from my accelerometer
Notice below that the bowling ball sinks quite a bit into the mattress. It's great for side sleepers.
Finally, here's a video illustrating the heat retention in this mattress:
My Wright Mattress Recommendation
Wright lives up to the hype and in my opinion, the quality is there to be able to command a higher price. It's very apparent that they have done their homework and have paid attention to detail. This is a very versatile mattress so it should appeal to most sleepers. If you want a very firm mattress, look elsewhere. If you're looking for a mattress that will relieve all your pressure points, that is easy to move around in at night, and feels nothing like an old school memory foam mattress, get Wright.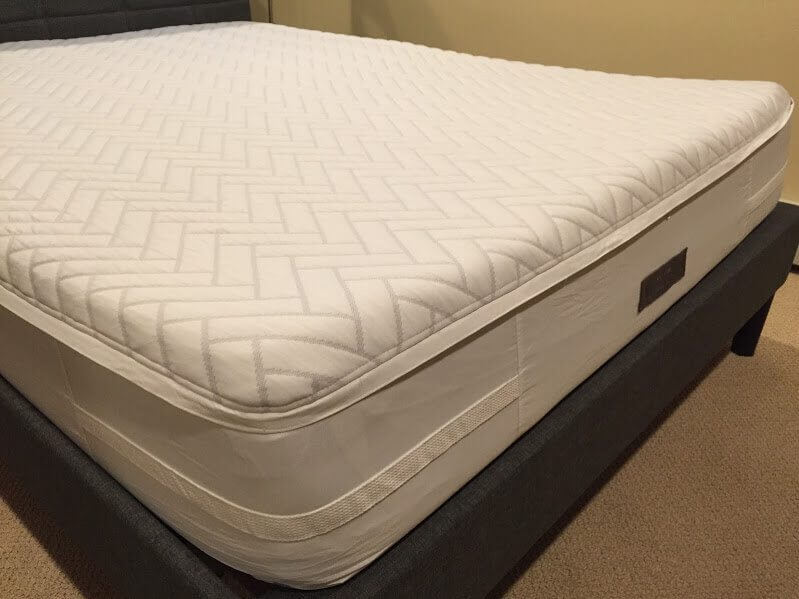 Disclosure: We aim to highlight products and services you might find interesting, and if you buy them, we may get a small share of the revenue. I have an affiliate relationship with Wright.