Recently updated on May 14th, 2019 at 09:56 pm
Everyone enjoys a quiet, undisturbed sleep every night; not everyone is fortunate enough to have that luxury. Sleep is one of those things that suffer from the worst distractions and disturbances. Sleep does not require focus or concentration, and yet, a vast number of people around the world suffers from poor sleep quality because of various distractions. Among the biggest distractions to sleep are environmental noises. From late night traffic to loud music to noisy neighbors, a number of environmental factors can rob us of the restful sleep that we require every night.
Various studies have found that those who live in a noisy environment or neighborhood are more likely to suffer from sleep disorders. Unfortunately, most urban people tend to live in noisy neighborhoods, where too many people live in close proximity, and the traffic can get unbearable at times. There are people who can sleep through a tornado, but there are others who don't have that ability. If you are sensitive to ambient noises, you can go for nights at a stretch without proper sleep. And not getting sufficient sleep for a prolonged period can result in various health problems, affect mood and appetite and negatively impact productivity and concentration. The end result is that your health, work, and social life suffer, all because of insufficient sleep.
This is the reason why white noise machines are slowly becoming popular around the world. The device earlier meant for babies is now used by a large number of adults to fall asleep more easily.
How White Noise Helps?
Ambient noises like the sound of traffic can seem like it's beyond your control, but there are things you can do to minimize the impact such noises have on your sleep. You can try putting up thick curtains or use soundproof glass for your windows, but the best way to manage environmental noise is by drowning them out. And nothing drowns out noise better than some other kind of noise.
'White noise' is an umbrella term for any type of sound that's capable of drowning out background noises. When it comes to white noise machines, it is generally in the form of soothing or repetitive sounds. Because of its ability to drown out disruptive sounds and help people fall asleep easily, white noise is considered a sleep aid. Those who live in a noisy environment or travel frequently use white noise machines to fall asleep at night. Some models are designed for adult use while some are meant for babies and little kids.
Even till a few years ago, the use of a white noise machine wasn't very common, but because a large number of people face sleep disturbances from environmental noise, they now use a sound machine to fall asleep every night. A wide range of white noise machines are available at different price points, while the higher-end models come with various high-tech features.
Types of White Noise
There are various types of white noise that are used to drown out distracting environmental sounds. White noise is not only supposed to drown out distracting environmental noises but also be soothing enough to help the person fall asleep. A sound machine is like a small speaker that can be set on your bedside table to play soft, soothing sounds to help you fall asleep. A sound machine usually comes with various types of prerecorded sounds, such as the sound of crickets, rainfall, ocean waves, fan, or instrumental music like the piano.
You can choose the type of white noise according to your personal preference. Some people prefer the repetitive noise of the fan, while others prefer the soothing sound of rainfall. And there are those that prefer soft, soothing music instead of sounds.
A white noise machine also comes with headphones sometimes, for use when there are other people in the room that can be distracted by the sound machine. The volume after sound can be set according to preference.
There are numerous sound machines available today, from small portable ones to headphones to larger devices that are not very portable. Given all the different options, it can be hard to choose one for your needs.
If you're more comfortable with the sound of the fan, then you should choose white noise machines that specialize in fan sounds. If you prefer nature sounds, then there are sound machines specializing in those. Volume adjustment and portability are also factors that go into determining the right sound machine. White noise devices usually come with a timer that automatically stops the sound after a certain time. This ensures the device doesn't continue to play after you have fallen asleep.
However, keep in mind that sound machines are great at drowning out all noises, including the ones that you should hear (crying child, fire alarm, doorbell, morning alarm, etc.). Therefore, even when you use a sound machine to drown out distracting noises, make sure it doesn't make you oblivious to your surroundings.
Is White Noise Harmful?
No long term study has been made on the effects of white noise, but the benefits certainly outweigh the downsides. In one study, it was found that playing white noise in intensive care units helped drown out the disturbing and distracting noises and reduce episodes of wakefulness in patients.
But it must also be noted that white noise is noise after all, and should be used in moderation.
Whether you are listening to the white noise via speakers or headphones, remember to keep the volume at a comfortable level to prevent hurting your ears. It is also important to try other methods of drowning out environmental noises because white noise machines can be habit-forming.
When it comes to babies or children, sound machines can be harmful if the noise level is above
85 decibels. In children, a sound machine can turn into a habit if it is used every time to help them fall asleep. When a child falls asleep to a sound machine every night, it can be hard for them to sleep without it.
White Noise Machine Reviews
Because the sound machine market is flooded with a variety of products, it can often be hard to know what to choose. Should you choose the basic devices or the high-end ones with the latest features? Even the most basic sound machines are capable of performing the function of noise isolation and cancellation, providing the user with quality sleep. But if you want a bevy of features, you will have to go higher in the price range.
To make a choice easier for customers, we have compiled a list of the top-rated sound machines in the market right now. They range from basic to high-end and suit both adults, children, and babies.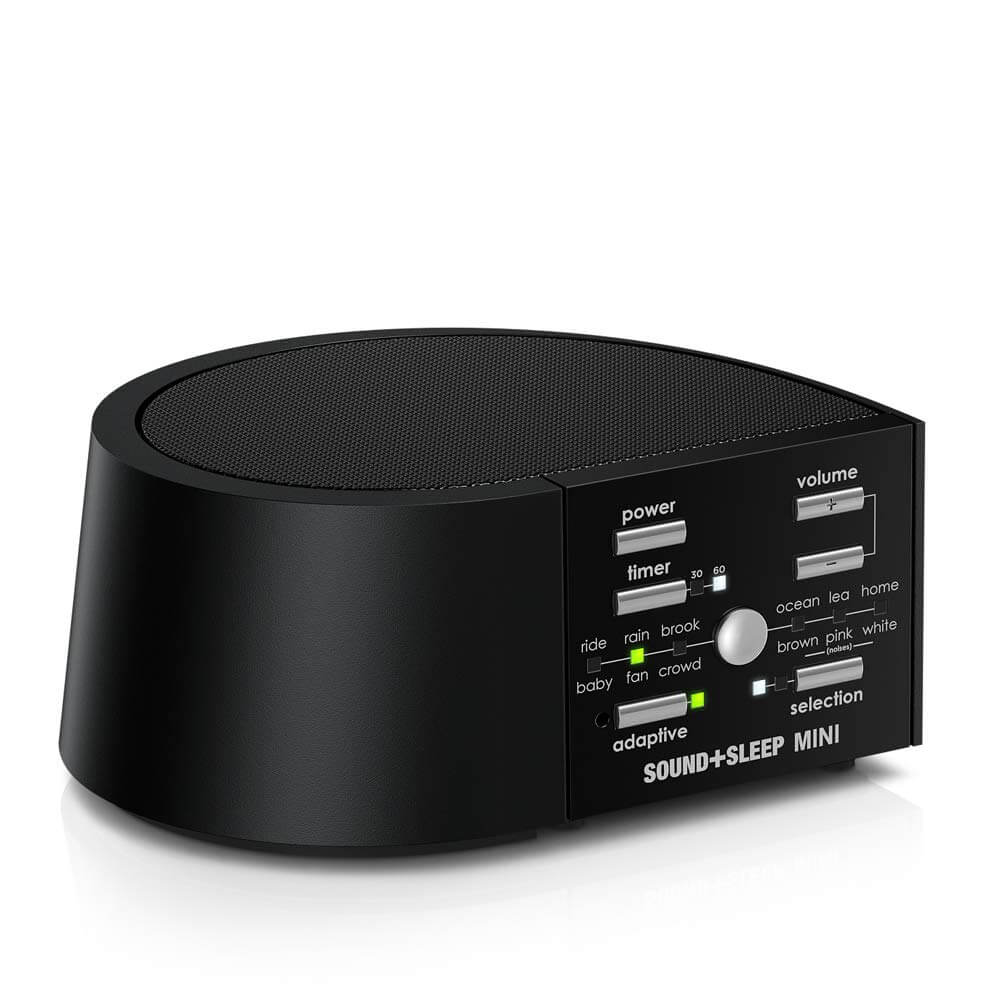 This is one of the most popular sound machines in the market today, not only because of its budget pricing but also because of the various features it comes loaded with. Besides being a high-fidelity sound machine that helps you sleep well at night, this devices comes with the option to record your own sounds. You also have the option to choose from white, pink, and brown noise, with a large selection of natural and ambient sounds as well. You can choose up to 30 sounds in this device.
One of the biggest problems for people is to turn off the machine when they fall asleep. The Sound + Sleep machine solves that problem by including a noise-reduction timer, which can be set to 30-, 60-, 90-, and 120-minute increments. This gradually lowers the volume while enhancing the noise blocking experience. Even if you fall asleep and don't remember to turn off the sound, the machine will automatically lower the volume. The device also comes with a headphone jack.
The Sound + Sleep white noise machine is small and compact, at only five inches long and less than two pounds in weight. Besides the portability, the machine also comes with a one-year warranty. The Sound + Sleep machine retails for $62 online.
Pros
Great for those who like to sleep to white, pink, or brown noise
Includes nature sounds as well as ambient sounds (such as the fan)
Includes headphone jack
The gradual lowering of volume
One year warranty
Cons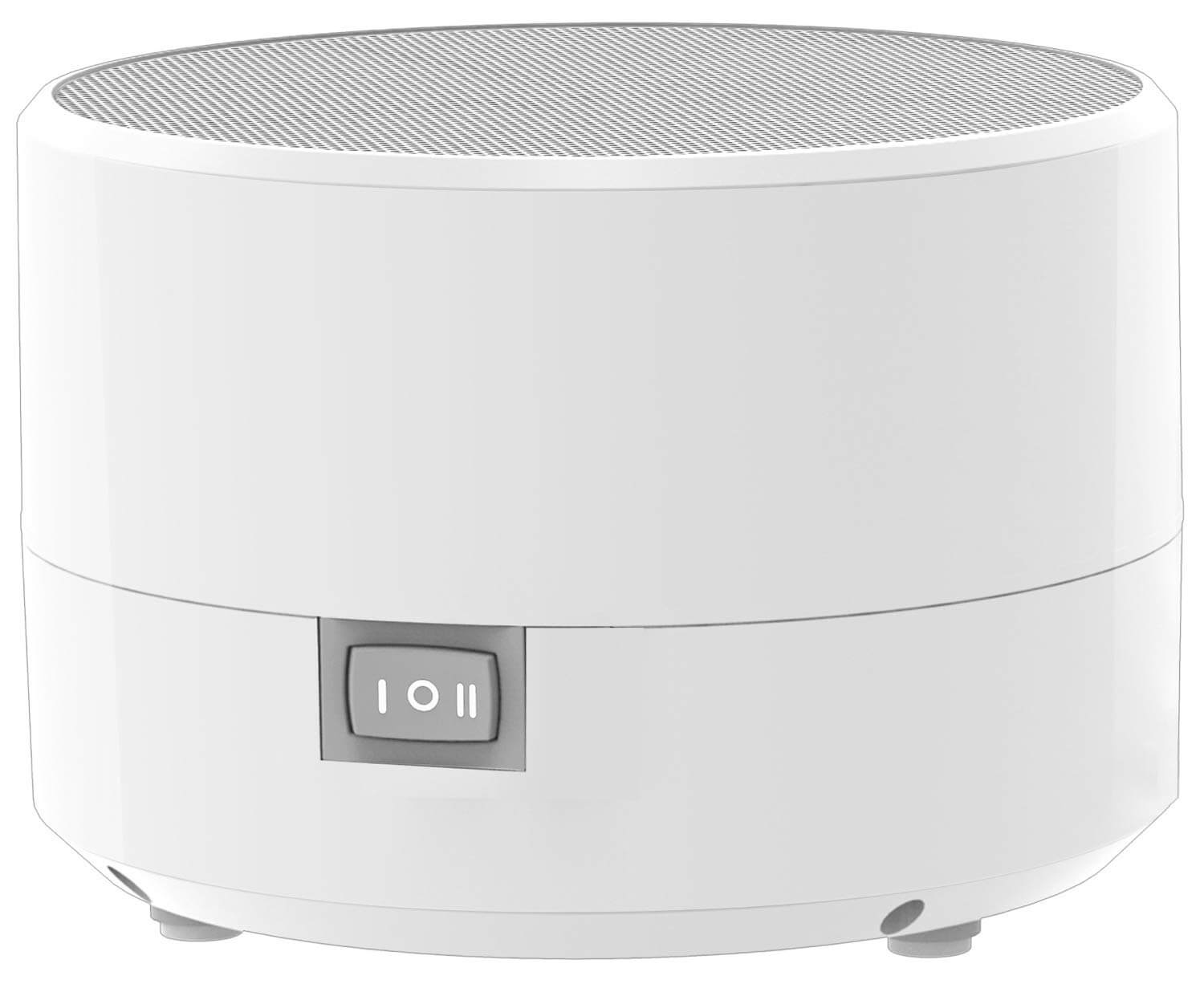 Most people do not want to spend a ton of money on a white noise machine. But a lot of white noise machines come for at least $40, which can be expensive for a lot of people. However, the Big Red Rooster is available for $20, which is half the price of most quality sound machines. Despite the low price, this device offers the same quality as many higher-priced models. The features include a white noise option, and five natural sounds, including summer night, brook, rain, thunder, and ocean. There's also an option for a sleep timer for up to one hour with 15-minute increments. This white noise machine is small and compact and weighs less than 10 ounces.
Pros
Basic machine for those who want only white noise
Great for those who love natural sounds
Ideal size for traveling with
Cons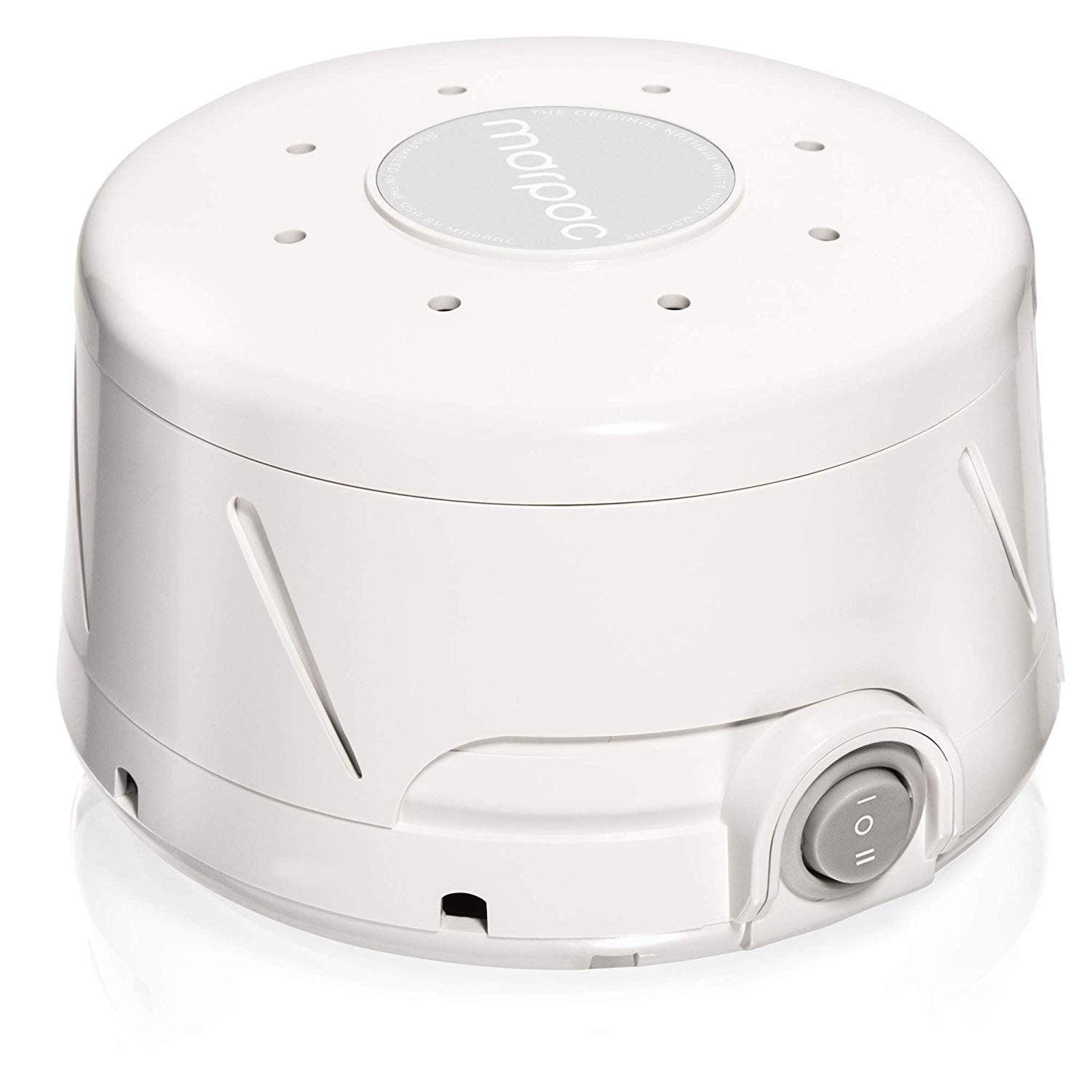 This is one of the oldest sound machines in the market, first introduced in the market as 'Sleep-Mate' in 1960. If you're looking for a fan-based white noise machine, this one is for you. Not only is this machine simple and basic, but also affordable. It doesn't have a timer so you can run it all night long. You can adjust the volume and tone settings.
The Dohm also has a child version called Dohm for Baby, which is much similar to the Dohm Classic. The devices come with a 101-night sleep trial and a one-year warranty, as well as free shipping within the U.S.
Pros
Good for those who use white noise
Great for those who run the machine all night
Value-based device
Cons
Very basic device
No advanced features
Slightly expensive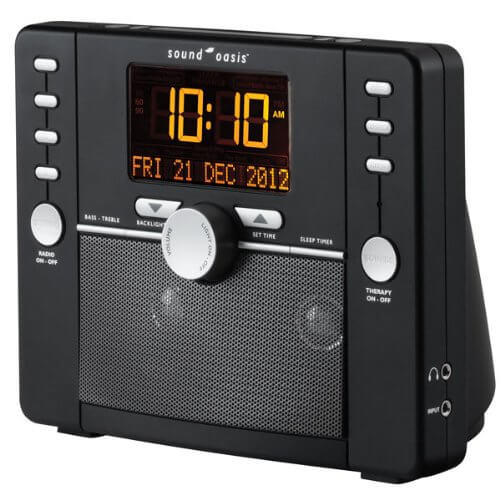 If you're willing to spend more than a $100 on a sound machine, then the S-5000 Sound Oasis is your pick. Along with a steep price tag, the device also comes with a wide range of sound selections. There are a total of 145 different sounds that you can mix with 24 sound profiles to create your own customized sounds. The two speakers provide excellent sound quality, and also includes a headphone jack.
Other features of this high-end sound machine are an adjustable alarm clock, sleep timer, nap timer, and international AM/FM radio and dual voltage adapter. The machine is priced at $200 and has a one-year warranty.
Pros
Great for those who want an extensive sound library
God for international travelers
Includes a wide array of features
Cons
Shop Sound Oasis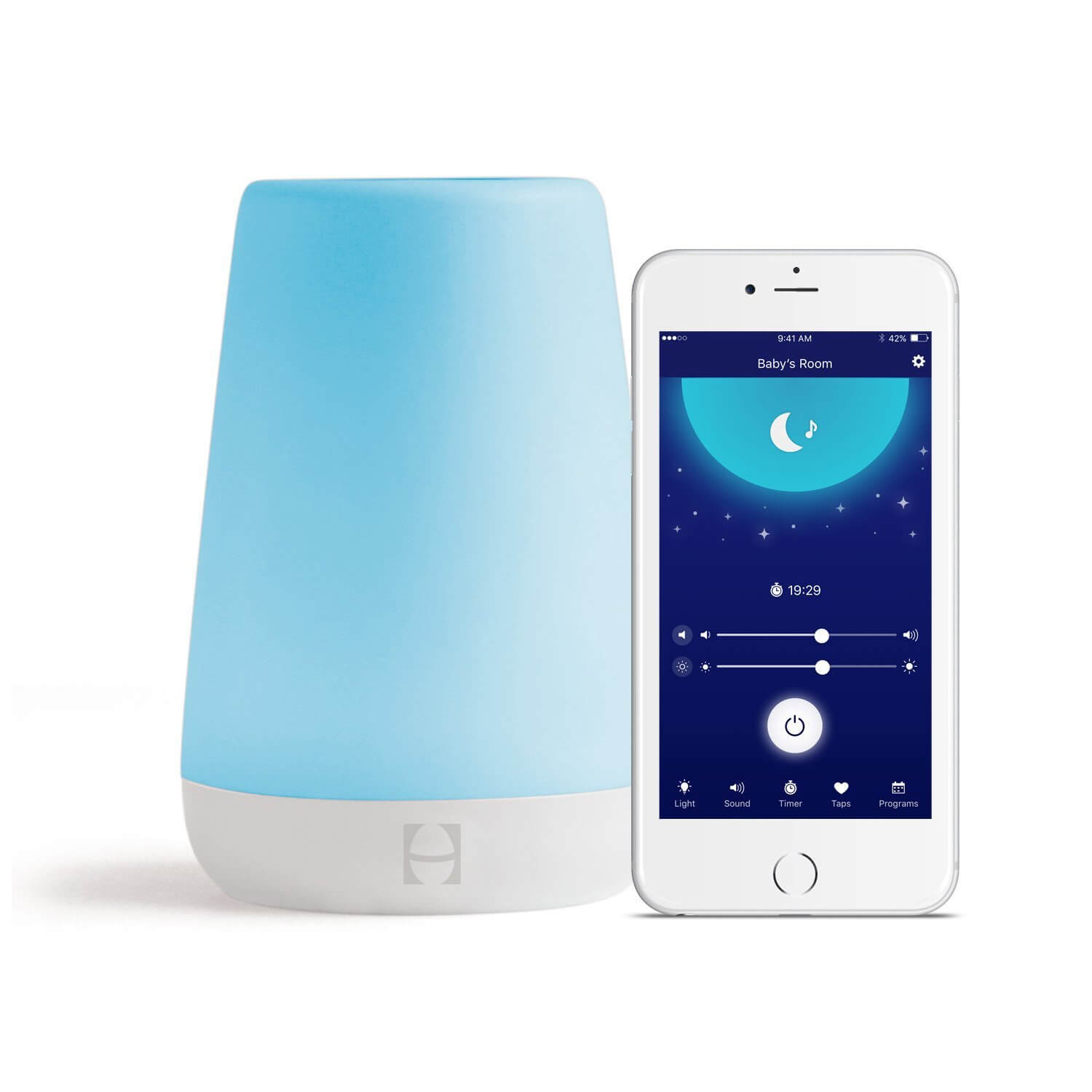 Babies and toddlers wake up very easily at even the slightest noise. They also take a long time to fall asleep unless they are soothed. This is why a white noise machine is helpful in making babies and toddlers fall asleep faster and more easily. If you're looking for a white noise machine for your child, the Rest from Hatch Baby is a complete white noise solution designed for babies and toddlers. It combines light and sound therapy and is accessible via a smartphone app. With the combination of light images and sounds, the device creates a soothing environment for the child.
The device is useful for children of various ages. While the white noise is ideal for soothing the child, the nightlight helps toddlers fall to sleep easily, and the 'time-to-rise' alarm is perfect for school-going kids. This product retails online and comes with a one-year warranty.
Pros
An ideal device for parents with babies, infants or toddlers
Helps soothe children who cannot sleep in the dark
Smartphone accessible device doesn't require parents to go into the child's room to turn off the device
Combination of light and sound
Cons
Collects a ton of private information
No battery option