The Tempurpedic Cloud Supreme Breeze is one of the best selling Tempurpedic mattresses. I have been getting lots of questions from readers about how this mattress compares to the online mattress companies I have reviewed. In short, this is a great mattress but you can get something that in my opinion is similar for about a third the price. For instance, check out the Nectar Mattress
Ordering the Tempur Cloud Supreme Breeze
This particular ordering process reminded me of why I started this website in the first place. I ordered the Tempurpedic online through olejostores.com which is apparently a subsidiary of Mattress Firm. I paid about $2,700 for this mattress, I ordered a Twin XL size, after all the discounts.
I didn't hear about my order for a few days and eventually, I received an email that they needed my phone number which I thought I provided on the order. I emailed back with my phone number and they were able to schedule delivery on a Saturday from 9-12 which was convenient. The mattress arrived within the delivery window and I had it dropped off in my living room. After the delivery people left, I notice the plastic wrapping had the words, "Pre Owned" on it. I later learned that I did in fact receive a new mattress but they took it out of the box ahead of time and put plastic around it for protection.
The company I ordered from offers a 30-day money-back guarantee MINUS return shipping which could be a few hundred dollars. So there is a cost associated with the return.
Unboxing the Tempur Cloud Supreme Breeze
My Tempurpedic did not come in a box so there was nothing major to dispose of except for the plastic which is easy. They also deliver it into any room of your house which is nice, especially if your bedroom is upstairs. And they can remove your old mattress which is a big plus over the bed in the box brands.
I checked my Awair air quality monitor and noticed the VOC level rose around the same time the mattress arrived.
You can tell when I unwrapped the mattress to present where it levels off at 2.0. This is a reading from my new Awair air monitor. This is by no means a scientific measurement but I did notice a correlation.
My Tempurpedic Supreme Breeze Findings
The  Tempurpedic feels nice and incorporates high-quality foams. Below is a video of the inside of the Tempurpedic mattress. Notice that there is a convoluted base layer, this will help dissipate body heat. In my opinion, the top layer makes the most difference and the dense foams really do a good job of conforming to your body.
Here's how much it will sink as illustrated by me putting a 14 lb. bowling ball on the mattress:
Here's the inside of the Tempurpedic showing the various layers. You can see that it is very well made.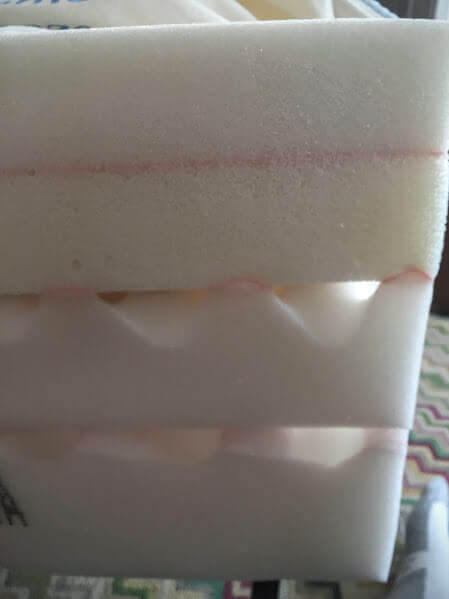 Tempurpedic is well known for motion transfer. Remember the commercials of the person jumping next to the wine glass? It holds true.
Here's how it looks on the accelerometer which measures motion.
My Tempur Breeze Mattress Recommendation
Tempurpedic is known worldwide for their quality memory foam mattresses. They were one of the first on the scene and many people aren't aware of all the other options out there. If money isn't a factor, this is a very versatile mattress that will accommodate all sleep types and should hold up well over time.
Overall though you won't find many Tempurpedic complaints.
Learn more about the Tempurpedic Cloud Supreme Breeze
Disclosure: We aim to highlight products and services you might find interesting, and if you buy them, we may get a small share of the revenue. I do not have an affiliate relationship with Tempurpedic. I do have an affiliate relationship with Novosbed.
The Tempur-Pedic Cloud Supreme Breeze is an all-foam mattress that is designed to provide pressure relief and cooling comfort. It is the softest mattress in the Tempur-Pedic Cloud line, and it has a medium-firm firmness level.
Pros:
Cooling: The Cloud Supreme Breeze has a number of features that are designed to keep you cool while you sleep, including a cooling cover, a gel-infused memory foam layer, and a breathable base layer.
Pressure relief: The Cloud Supreme Breeze conforms to your body's curves, providing pressure relief and support.
Motion isolation: The Cloud Supreme Breeze does a good job of isolating motion, so you won't be disturbed by your partner's movements.
Durability: Tempur-Pedic mattresses are known for their durability, and the Cloud Supreme Breeze is no exception. It comes with a 10-year warranty.
Cons:
Price: Tempur-Pedic mattresses are more expensive than many other brands on the market.
Off-gassing: Some people report experiencing off-gassing (a chemical odor) from new Tempur-Pedic mattresses. This odor usually dissipates within a few days or weeks.
Slow response time: Memory foam mattresses can take a few seconds to respond to your movements, which can make it difficult to change positions quickly.
Complaints:
Some people complain that the Cloud Supreme Breeze is too soft, especially for back and stomach sleepers.
Others complain that the mattress sleeps too hot, even with the cooling features.
A small number of people have reported durability issues with their Tempur-Pedic mattresses, such as sagging or indentations.
Overall, the Tempur-Pedic Cloud Supreme Breeze is a good mattress for people who are looking for a soft, pressure-relieving mattress that sleeps cool. However, it is important to be aware of the potential drawbacks before you purchase, such as the high price tag, the slow response time, and the possibility of off-gassing.