The Tempur-Cloud is made with a combination of soft and firm TEMPUR material for the perfect medium feel. It features superior conforming comfort and motion isolation so you can sleep soundly and get more restorative rest.
The Tempur-Cloud is also backed by a 90-night trial, so you can try it out for yourself and see if it's the right mattress for you. If you're not satisfied, simply return it for a full refund.
Here are some of the benefits of the Tempur-Cloud mattress:
Conforming comfort: The TEMPUR material molds to your body's unique shape and weight, providing pressure relief and support where you need it most.
Motion isolation: The TEMPUR material absorbs motion, so you won't be disturbed by your partner's movements during the night.
Coolness: The TEMPUR material is designed to help you stay cool and comfortable while you sleep.
Durability: The TEMPUR material is built to last, so you can enjoy a good night's sleep for years to come.
If you're looking for a high-quality mattress that is available in a box, the Tempur-Cloud is a great option to consider.
Tempurpedic is the original memory foam mattress and ever since introducing the world to memory foam, they have been associated with comfort and quality. Tempurpedic mattresses are still highly rated for their long lifespan, providing comfort well past the industry standard of 7 years. It's not uncommon for former Tempurpedic customers coming into the Yawnder stores to say they have been on their Tempurpedic for 10, 15, and even 20+ years! Obviously they are coming into our showrooms because the mattress no longer works for them but that is quite remarkable and is a testament to the quality of Tempurpedic and that in this case, you get what you pay for.
Recently, Tempurpedic introduced The Tempur Cloud, their first mattress in a box, or more accurately, in a zippable bag. This reduces shipping costs, eliminates the need to schedule a home delivery and installation, and makes it easier to move it into the room of your choice. I have reviewed 3 other, more expensive Tempurpedic models before the Cloud and I found that while it lacks some of the finer features of the more expensive options, you still get a quality mattress that should outlive most of the other online brands.
Overview of the Tempur Cloud
This mattress comes in a bag with a zipper on top which makes is very easy to open. There are also handles on each side so you can get it up the stairs. I just dragged mine over each step as a king-size weighs almost 100 lbs. This bag isn't flimsy either, the handles held up and didn't come loose at the seams.
How Much Does the Tempur Cloud Cost?
Below are the prices before discounts. Tempurpedic usually always runs some sort of sale so the prices below are more than what you will pay.
[table id=116 /]
How is the Tempurpedic Cloud Made?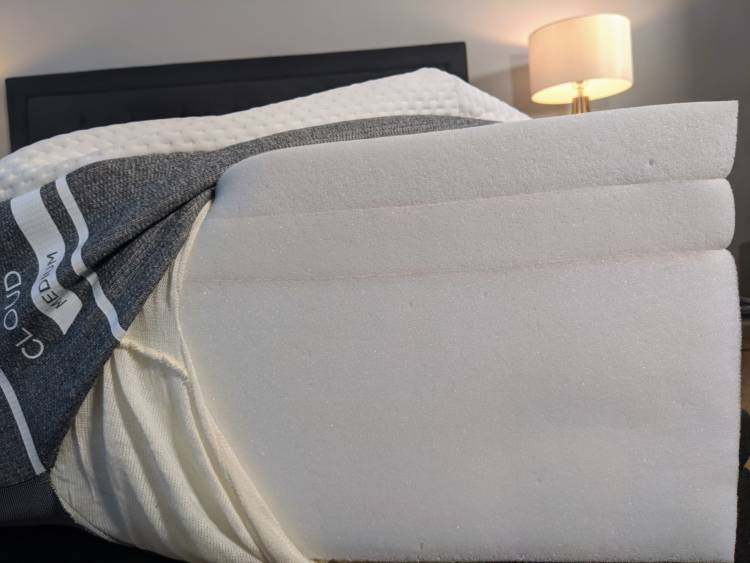 Below are the construction details of the mattress. There's really no mystery to what's inside. At first glance, you may think this is just an overpriced 3 layer foam mattress. But it's the quality of the foam that makes all the difference and this is where Tempurpedic really shines. Tempurpedic is still the best when it comes to foam. The feel is consistent, and the foam is dense and durable to last longer than other online brands. Tempur doesn't get into details on density but ask any Tempurpedic owner and the vast majority will speak to the longevity of the mattress.
A premium, moisture wicking cover that is superior in breathability and air flow compared to other compressed mattress brands++.
An all new formulation of TEMPUR® material, designed to be soft, responsive, and cushion every point of your body as you settle in.
A firmer support layer of TEMPUR® material that slowly adapts and conforms to you, delivering pressure-relieving power throughout the night.
A premium foam base layer providing all night support and durability.
My Tempurpedic Cloud Experience
I have been sleeping on this mattress for 3 weeks and it takes some getting used to, especially if you are coming from a mattress with springs. I am used to sleeping on spring and foam mattresses but the Tempurpedic mattresses always feel a bit firm at first. They aren't kidding when they say they require a break-in period. You need to give the mattress at least a couple of weeks before you can truly tell if it's right for you. It took me that long and the more I slept on it the more I like it.
Tempurpedic mattresses have no motion transfer. Here is a video illustrating this. Tempurpedic ran commercials in the 90s and 2000s with the wine glasses.
My Tempurpedic Cloud Findings
This mattress is going to feel firmer than your typical medium-firm mattress. I think what they were trying to do here is provide a mattress that is going to appeal to a broad range of sleepers and in that regard, I think they hit the mark. As long as you have the right expectations, you should be happy with this mattress. By that I mean, don't expect it to sink in all that much. This mattress has great pressure relief but it is not one of those that will provide a pillow top feel. Below you can see that my 14lb. bowling ball doesn't sink in all that much.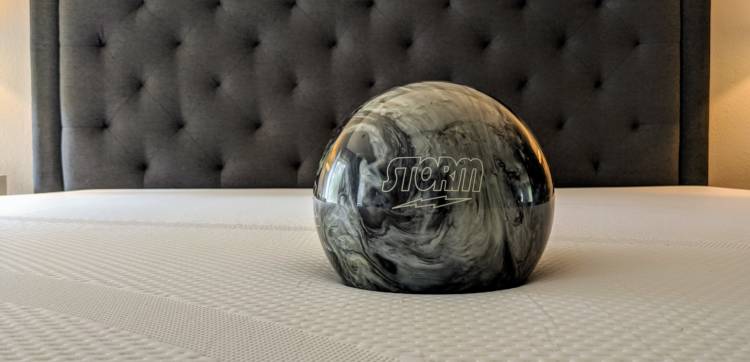 My Tempur Cloud Recommendation
If you always wanted to own a Tempurpedic but were turned off by the price, the Cloud is a great entry model to get all the quality of a Tempurpedic without spending an arm and a leg. You also won't be sacrificing all that much. Some of the more expensive models offer cooling fabric covers or an extra layer of foam but honestly, the cooling fabrics only provide temporary relief and as I said in my video review, the best way to stay cool is to run a fan and/or the air conditioning although your first step should be to assess what kind of covers you are using. If you have a down comforter, swap it out for a think blanket.
Tempurpedic a great choice for people that want to get it right the first time. The Cloud is an excellent value in that it will last longer than the vast majority of online competitors and you get all the assurances that a big company like Tempurpedic can provide.
Other Tempurpedic Models
Tempur-Pedic, a leader in memory foam mattresses, offers a wide range of models to cater to every sleeper's unique preferences. If you are considering a Tempur-Pedic mattress, it is essential to find the right level of firmness for your comfort and support needs. Here is a list of Tempur-Pedic models, arranged from softest to firmest, to help you make an informed decision.
Tempur-Pedic Models: Softest to Firmest
As you explore these Tempur-Pedic models, remember that comfort is subjective, and it's crucial to find the perfect balance between softness and firmness to suit your needs. By considering the options listed below, you'll be well on your way to discovering the ultimate sleep experience with a Tempur-Pedic mattress.
| Rank | Model | Firmness Level | Description |
| --- | --- | --- | --- |
| 1 | TEMPUR-Cloud | Softest | The epitome of softness and luxury, the TEMPUR-Cloud provides a plush, cloud-like feel that hugs your body and adapts to your every movement. Its pressure-relieving properties ensure a restful sleep, making it perfect for side sleepers and those who crave a cushiony sleep surface. |
| 2 | TEMPUR-ProAdapt Soft | Soft | Combining advanced pressure relief with a soft and conforming feel, the TEMPUR-ProAdapt Soft model is designed for those who enjoy a gentle sleep surface without sacrificing support. Its innovative TEMPUR-APR material offers personalized comfort, making it a popular choice among various sleepers. |
| 3 | TEMPUR-LuxeAdapt Soft | Soft | The TEMPUR-LuxeAdapt Soft boasts a luxurious, plush feel without compromising on adaptability and support. The mattress is designed with an exclusive TEMPUR-ES comfort layer and TEMPUR-APR+ support layer, ensuring a soft yet responsive sleep experience. |
| 4 | TEMPUR-ProAdapt Medium | Medium | Striking the perfect balance between softness and support, the TEMPUR-ProAdapt Medium is an ideal choice for those who desire a mattress with a medium firmness level. Its adaptive comfort and pressure relief cater to a wide range of sleepers, including back and stomach sleepers. |
| 5 | TEMPUR-Adapt Medium | Medium | Featuring a medium firmness level, the TEMPUR-Adapt Medium model is versatile and suitable for a variety of sleep preferences. Its cooling cover and hybrid design offer a blend of comfort and support, making it an attractive option for many sleepers. |
| 6 | TEMPUR-LuxeAdapt Firm | Firm | The TEMPUR-LuxeAdapt Firm mattress provides a supportive sleep surface without feeling too hard. Designed with TEMPUR-APR+ material, this model is perfect for those who prefer a firmer mattress with contouring properties. |
| 7 | TEMPUR-ProAdapt Firm | Firmer | Designed for sleepers who need additional support, the TEMPUR-ProAdapt Firm model is engineered with the revolutionary TEMPUR-APR material. This mattress provides a firmer feel while still adapting to your body shape, making it an excellent choice for stomach and back sleepers. |
| 8 | TEMPUR-Contour Elite | Firmest | At the top of the firmness scale, the TEMPUR-Contour Elite delivers exceptional support and proper spinal alignment. Its firm, contouring sleep surface is ideal for back and stomach sleepers, as well as those who suffer from back pain or require increased support. |
As you explore these Tempur-Pedic models, remember that comfort is subjective, and it's crucial to find the perfect balance between softness and firmness to suit your needs. By considering the options listed above, you'll be well on your way to discovering the ultimate sleep experience with a Tempur-Pedic mattress.
Tempurpedic vs. Online Mattress Brands
Tempur-Pedic is a well-established and respected brand in the mattress industry, known for its high-quality memory foam mattresses. While there are numerous online mattress brands offering various features and benefits, Tempur-Pedic stands out in several key areas when compared to these online competitors. Here are some factors to consider when comparing Tempur-Pedic to online mattress brands:
Materials and Quality: Tempur-Pedic mattresses are made from proprietary TEMPUR material, a viscoelastic foam originally developed by NASA. This unique material provides superior pressure relief, motion isolation, and temperature regulation compared to traditional memory foam. Many online mattress brands use more generic memory foam or lower-quality materials, which may not deliver the same level of performance and durability as Tempur-Pedic.

Adaptability and Comfort: Tempur-Pedic's advanced memory foam technology contours to your body shape and weight, providing personalized support and comfort. While many online mattress brands offer adaptable materials, they may not match the level of customization and pressure relief that TEMPUR material provides.

Longevity and Durability: Tempur-Pedic mattresses are known for their longevity and ability to maintain their shape and support over time. Online mattress brands may use lower-density foams or other materials that may wear out or sag more quickly, requiring replacement sooner.

Reputation and Trustworthiness: Tempur-Pedic has been in the mattress industry for over 30 years and has built a reputation for quality, innovation, and customer satisfaction. While some online mattress brands have gained popularity and positive reviews in recent years, they may not have the same level of trustworthiness and proven track record as Tempur-Pedic.

Trial Period and Warranty: Tempur-Pedic offers a 90-night trial period and a 10-year warranty on its mattresses. Although many online mattress brands offer similar trial periods and warranties, Tempur-Pedic's long-standing reputation in the industry adds an extra layer of confidence when purchasing their products.

Customer Support: As an established brand, Tempur-Pedic has a dedicated customer support team to address any concerns or issues you may have. While online mattress brands often have customer support, their level of responsiveness and expertise may vary significantly.
While online mattress brands offer competitive pricing and convenience, Tempur-Pedic's reputation, material quality, and proven performance make it a reliable and worthwhile investment for those seeking a premium sleep experience.