I received a free down alternative comforter from Slumbercloud for review. The Slumbercloud Cumulus lightweight duvet is a great down alternative comforter as compared to a traditional duvet that can lead to overheating at night. I highly recommend it for people that live in southern states where temps don't get extremely cold.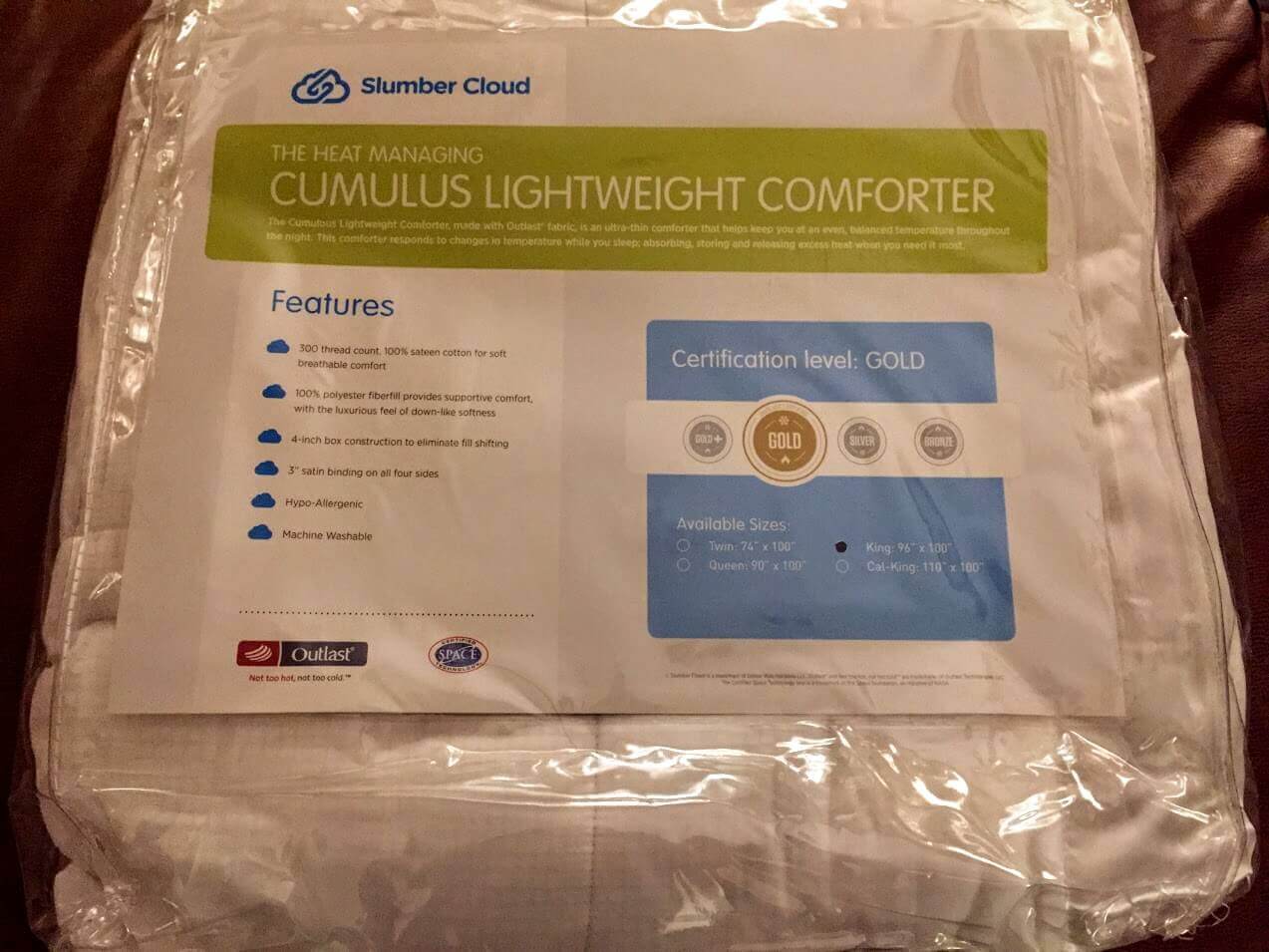 Overview
Slumber Cloud is a leader in temperature regulating bedding. I previously reviewed their Cirriform mattress pad which uses the same Outlast technology found in this duvet. Below is a video that explains how Outlast works.
You can purchase this duvet directly via slumbercloud.com.
Below are the specs:
300 thread count, 100% sateen cotton for soft, breathable comfort
100% Polyester fiberfill provides supportive comfort, with the luxurious feel of down-like softness
A layer of Outlast fabric to provide heat managing properties
4-inch box construction to eliminate fill shifting
Durable 3" satin binding on all four sides
Hypoallergenic
Easy to care for – just throw it in the washing machine
Outlast® Gold Comfort Rating (this is their second highest rating for temperature regulating ability)
It's important to note that their sizes are different than standard US bedding although I didn't think this made much of a difference.
Twin: 74" x 100"
Queen: 90" x 100"
King: 96" x 100"
Cal-King: 110" x 100"
Findings
Since I live in Minnesota I often sleep with a down duvet during the winter. However now that we are moving into Spring I have been able to test this comforter out. I found it to do a wonderful job of preventing me from overheating at night. There are times when we jack up the thermostat when we get home from work and the house doesn't cool down to optimal sleeping temperature until well after midnight. During these times, a down comforter is overkill.
I washed this duvet in my washing machine which is a plus since down duvets require special dry cleaning. It is super light weight and I consider it more of a blanket.  It has a nice trim around it so looks fine without a duvet cover.
I have been sleeping with just the Cumulus duvet over a top sheet off and on for over a month now and find that I don't overheat and at the same time I rarely get too cold where I need extra blankets. If I do get too cold, I will put our regular down duvet over my feet and legs and that does the trick. And by cold, I mean it's about 15 degrees outside and the temp inside is around 62 degrees Fahrenheit.
I'm really looking forward to using this during Spring, Summer and Fall where we sleep with a window open and temps can fluctuate more. Waking up because you're too hot or too cold is a leading cause of sleep problems and having bedding to address these problems can lead to drastic improvements. There are many mattresses on the market that help address overheating but that's just half the equation. Your bedding, which covers the other half of your body also needs to be addressed.
Conclusion
If you are waking up at night too hot or too cold, consider this duvet. You may find yourself staying asleep much longer and thus getting more quality sleep.
Get 10% off your purchase with coupon code: CLOUD9 at checkout. Shop Slumber Cloud
Disclosure: We aim to highlight products and services you might find interesting, and if you buy them, we may get a small share of the revenue. I have an affiliate relationship with Slumbercloud