Best Adjustable Bed for Heavy People
Puffy Adjustable Base
This adjustable base has wireless remotes, with the added luxury of one-click Zero-G elevation for perfect pressure relief after a long day. Save and extra 5% over sale price with coupon code Sherpa5 at checkout.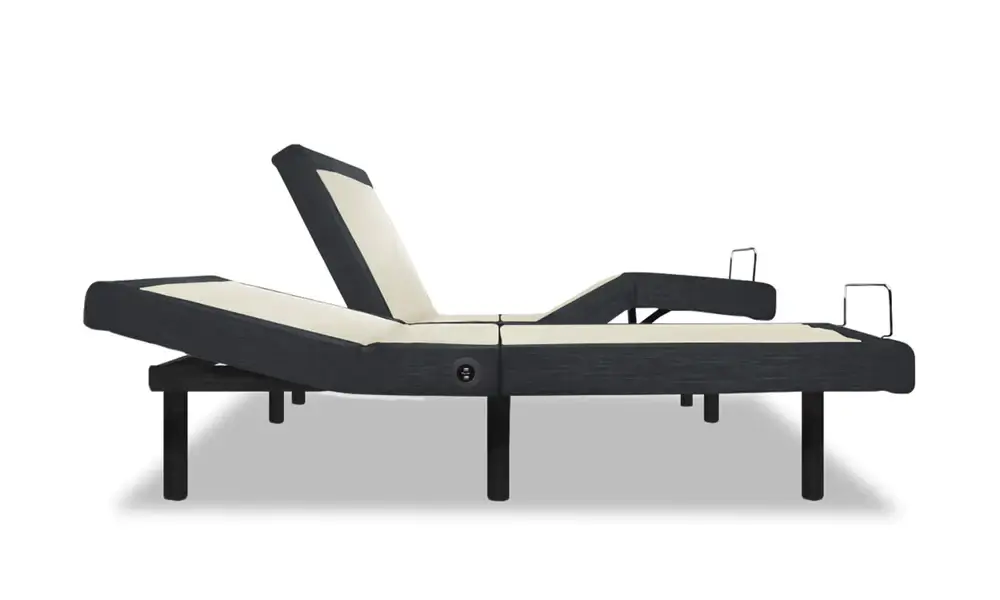 We earn a commission if you make a purchase, at no additional cost to you.
UPDATE 2023
The sleep products you have in your bedroom define your sleep quality to a great level. You will never get the quality sleep you require in an uncomfortable bed. Unfortunately, bedding is an expensive deal making it an item that is not easily replaceable. Hence once you purchase a mattress or a bed base to go with it, you expect it to last for quite a few years.
Bed bases are an extremely important part of your bed products. It defines the base for your mattress. An ill-fitting and ill-structured bed base will not give adequate support to your mattress and ultimately to your body while you sleep. When you are looking into buying a bed base, there are lots of factors that you need to bear in mind.
An adjustable bed base is typically more expensive than the normal bed frames. However, they also come with added benefits and flexibility that more than makeup for the cost difference. This article will guide you through those points and help you in justifying the additional cost. Additionally, it will also take you through the ins and outs of the best adjustable bed frame, "Puffy Adjustable Base," and let you decide why it might be the best choice for your bedroom.
What is an Adjustable Bed Base?
Before you start considering an adjustable bed base as your next bed product purchase, you should understand the concept of it. An adjustable bed frame is one that can be customized as per your preference. You can easily, with the touch of a simple button, "adjust" your mattress to achieve a comfortable sleeping position.
The adjustable bed base is made up of an assortment of joints that can be moved around to allow the base to freely take the level of position you want. This is what grants it the flexibility of different sleeping positions. Each of the joints in the bed base can be rotated to a certain degree, allowing you to get in that perfect position. Generally, you can lift the head and foot of the bed base from 40 degrees to 70 degrees.
Why use an Adjustable Bed Base?
When it comes to buying a product, you should always consider its value for money. This is as important if not more important than the cost of the product. Similarly, when you look at adjustable bed bases, you should be able to justify the higher cost of a traditional bed base. Some advantages of having an adjustable bed base as opposed to a normal bed base are as follows:
Breathing Conditions
Poor breathing patterns during sleep can cause a host of problems like sleep apnea, snoring, and asthma. An adjustable bed base can help you in this regard by elevating your head to the optimal height, which will release pressure from your windpipe, thereby allowing it to operate better. This also encourages increased and regular airflow into your system while you are lying down.
Relieves Insomnia
An adjustable bed base has plenty of sleep positions to choose from. This way, you can get into the most comfortable position aiding you to get a good night's rest. You can hence say goodbye to the constant tossing and turning that comes with insomnia.
Helps with Swollen Legs
You can both prevent and relieve swollen legs elevating your feet. After a day on your feet, there is nothing more restful than putting your feet up. It allows you to elevate your feet to relieve the pressure from swelling as well as prevent swelling. You don't have to worry about piling on cushions or pillows under your leg anymore.
Helps in Mobility
An adjustable bed base is a gift for those with mobility issues or those that require a little assistance getting in and out of bed, especially the elderly. With the mattress elevated, you can easily get out of bed without any help from others, making you more independent.
Improved Blood Circulation
Elevated bed positions help with better blood and oxygen circulation in the body. This is because the raised platform relieves pressure on your windpipe and heart, making the organs work more effectively. It also helps in balancing your blood pressure, which naturally drops during sleep.
Eases Joint Pressure
A normal traditional mattress is straight. These puts added pressure on the body joints. The additional pressure can induce conditions like arthritis or worsen the condition. An adjustable bed base allows you to relieve the pressure on the body joints. You can easily find the right spot of elevation that is most comfortable for your body. You can also raise and lower the foot of the bed in the mornings to relieve the arthritis pain.
Back Support
A straight mattress can be too hard on the back, especially for those with lower back problems. The adjustable bed base allows you the flexibility to adjust the mattress level to properly align with the spinal curve of your body, thereby giving your back the best support it can get.
Helps with Heartburn
Lying straight on a surface causes the stomach acids to move upwards along the esophagus. This results in heartburn. With an adjustable bed base, you can raise your head slightly to prevent the acids from traveling upwards, aiding in better digestion and a night of comfortable sound sleep.
Better Rest
Beds are not just for sleeping. They are used for lounging and just relaxing. Most people like to read or watch TV lying on the bed. However, finding that perfect position for lounging on a traditional setup is very difficult. With an adjustable bed base, you can easily raise or lower the head and foot of the bed to get cozy and comfortable.
What to Look for In Adjustable Bed Base?
The market is flooded with numerous adjustable bed bases. Each one claims to be better than the others. This can make it difficult to pick and choose the right one for you. It also makes it easy for you to be duped into buying a substandard bed base. It is hence useful to keep in mind certain factors while looking at different adjustable bed bases. These are:
Simple Head Up
These bed bases are very basic adjustable bed bases. It means that the bed base allows for only the top half adjustment. So, you can raise and lower the top half of the bed to find the right spot. The degree to which it can be raised depends on company to company.
Both Head and Foot
With a head and foot adjustable bed base, you can lift both the top half and the bottom half of the bed base. This makes for a full bed base adjustment. This is a preferred option for an adjustable bed base since it allows you full flexibility. You can lift the bottom half to prevent any leg swelling and relieve arthritis. The top half can be elevated to prevent acid reflux, increase mobility, and enhance lifestyle.
Remote Control
You can get both wired and wireless remote control to operate the bed base adjustment. It is always better to opt for a wireless remote control rather than a wired one since it is more convenient and also makes for better aesthetics.
Zero Gravity
The zero-gravity feature is an awesome feature to be on the lookout for in your bed base. This feature copies a zero-gravity mode by taking off the pressure from your legs and spine. In this, both the top and lower half of the bed is raised. Hence your legs will be at a higher level than your heart, and the upper body will be in a reclining pose. This position allows the body to relax naturally, with its weight evenly distributed on the surface.
Value for Money
Sometimes the most expensive or the least expensive is not necessarily the best choice. Do not be fooled by the price tag or the pretty colors. You must analyze the value for money that the bed base carries with it. This is the most appropriate benchmark for the quality and features of the bed base in question.
Puffy Adjustable Base Review
| | |
| --- | --- |
| Pros | Cons |
| Wireless remote control | Ranks slightly low in adjustability |
| USB charging slot |   |
| High value for money |   |
Puffy is a renowned US brand of bed products. Their products include mattresses and bed frames and offer the optimal level of comfort and support that you require for a good night's rest. Their adjustable bed base is a recent addition and already making the rounds in the market as the best adjustable bed base you can get your hands on. The ins and outs of this highly popular adjustable bed base are highlighted below:
Design
The Puffy Adjustable Base comes to you after going through rigorous quality control tests for comfort, durability, and efficiency. Made with high-grade materials, this adjustable bed base from Puffy ranks high in both quality and efficacy.
The design is sturdy and stable. It comes as an upholstered surface attached with six legs. The upholstery is soft and plush to the touch and in a charcoal grey color. The grey fabric blends well with any decor and gives a highly appealing aesthetic touch to the bed base. The corners of the bed base are layered with polyfoam. This gives a good cushion to the sides and avoids any painful bruises and stubbed toes while using the bed.
Puffy has designed a generic compatible frame that goes with all open cavity beds. It can be used flexibly with box springs, foundations and goes with all mattresses that are designed for adjustable bed bases. It goes the best with Puffy line of mattresses. The mattress is kept safely secure with the two metal retainer bars on either end of the adjustable bed base.
The base of the adjustable frame has highly powerful independent motors attached to the joints. This makes the adjustment operation very smooth and quiet. It also makes the bed base very responsive to wireless remote-control commands.
Operation
Puffy Adjustable Base is a head and foot adjustable bed base. The remote control allows you to lift both the top half and bottom half of the bed to the desired level of elevation for your optimal comfort. You can adjust the head and foot independently or simultaneously based on your preference. The base allows you to elevate your upper body to a maximum of 60 degrees, and your feet can be raised to 45 degrees.
The remote control is very user friendly with an easy design and control function. Its keys are soft to touch and highly responsive, making it a breeze to adjust the base as per your desire. It comes with batteries and a backlight option making it easy to use at night.
Apart from this, Puffy also gives you dual USB charging slots on either side of the base. You can hence easily and conveniently charge your tablet, phone, and other electronics from the comfort of your bed.
Weight Capacity
An adjustable bed base needs to be able to hold both the people sleeping on it as well as the weight of the mattress that is put on it. The Puffy Adjustable Base is designed to hold between 200 to 700 pounds in weight. This ensures that you do not have to worry about breaking your bed base due to extra weight and gives you plenty of weight flexibility. So, no matter your weight or the weight of the mattress, this bed base has you covered.
Mattress and Size Compatibility
Puffy Adjustable Base is compatible with any mattress that is designed for an adjustable bed base. However, it is a perfect fit for Puffy mattresses. Hence, if you already own a Puffy mattress, this adjustable base is the perfect companion for it.
It also comes in all sizes, from twin to king and even king XL. The king XL is an excellent size and offers you a double side-by-side adjustable feature. In this, you and your partner can independently adjust your side of the bed without having to compromise with one position. This is ideal for couples who want to sleep together but in different positions.
USB Port
Another excellent feature that comes with the Puffy Adjustable Base is the USB charging dock on either side of the base. With this, you have the convenience of charging your phone, tablet, and other electronic accessories without having to get out of bed.
Assembly
Most products lose points when it comes to assembly. It is often thought to be the most dreaded part of the purchase. Here, Puffy takes the cake. The assembly process is simple and easy. The instructions are clear cut and easily followed. It takes under 15 minutes to assemble the adjustable base and can easily be done by a novice with no problems at all.
The base comes folded along the hinges, and all you have to do is set it up and unfold. The motor needs to be attached, legs need to be screwed fast, and then you need to plug in the device. No specialized tools are required in the process; just a simple screwdriver is all it takes.
Preset Memory
The base comes with a memory option. In this, you can program the adjustable base to remember and preset your preferred positions. This way, you do not have to readjust your bed base every time and can just opt for the preset position.
Warranty
Unlike other adjustable bases, the Puffy Adjustable Base comes with a 10-year warranty. However, the company does not offer any return policy. So, once you purchase the product, you are stuck with it. You can always replace it under warranty, but you cannot return it.
Delivery
The Puffy Adjustable Base is delivered to your doorstep within ten business days. It is folded on the hinges and hence makes for a compact, hassle-free delivery. This also allows you to easily get it through your bedroom door.
Price Point
The Puffy Adjustable base is very competitively priced and offers high value for money.
| | |
| --- | --- |
| Size | Price |
| Twin | $849 |
| Twin XL | $949 |
| Full | $679 |
| Queen | $1049 |
| King | N/A |
| King Split | $1098 |
Why Puffy Adjustable Base?
There are lots of factors that make the Puffy Adjustable Base an ideal choice for anybody on the lookout for the perfect adjustable bed base. Some of these are:
Plenty of size options, including split king
Attractive bed frame exterior
Helps in medical conditions like breathing problems, heartburn, and joint pains
Simple aesthetics
Can be added to the current bed frame
Customizable head and foot
Preset position memory setting
Wireless remote feature
Reliable brand value
Comes with a 10-year warranty
Wrapping Up
When it comes to adjustable bed frames, you cannot go wrong withPuffy. It is by far the sturdiest, most durable, and feature-rich adjustable bed base in the market. This supportive bed base allows you comfort and support with high technological design to give you the best sleep you can get.
The price point it is offered at only adds on to the pleasure of purchasing this product. You will be hard-pressed to find another adjustable bed base that gives you such high value for money. It might not offer you a massage option or a nightlight like some other adjustable bed bases, but it more than makes up for it with the competitive pricing, preset memory, and high quality.
Get the best deal on the Puffy Adjustable base, shipped directly from Puffy. Same free trial and lifetime warranty!