The Nectar Premier Copper
The Nectar Premier Copper mattress is a 14-inch-thick all-foam mattress with five layers:
A breathable, double-action cooling cover infused with copper fibers
4 inches of therapeutic gel-infused memory foam with ActiveCool phase change material
3 inches of dynamic response layer
7 inches of supportive base layer
A durable base cover
The Nectar Premier Copper mattress is designed to provide pressure relief, cooling comfort, and support for all types of sleepers. The gel-infused memory foam and ActiveCool phase change material help to keep sleepers cool at night, while the dynamic response layer provides support and bounce. The supportive base layer helps to prevent sagging and ensure a durable mattress.
The Nectar Premier Copper mattress has a medium-firm firmness level, making it a good option for a variety of sleepers. It is especially popular with side sleepers and back sleepers who weigh between 130 and 230 pounds.
The Nectar Premier Copper mattress comes with a 365-night trial and a lifetime warranty. This means that sleepers can try the mattress for a year and return it for a full refund if they are not satisfied. The lifetime warranty covers defects in materials and workmanship.
Nectar Premier Copper
Treat yourself to triple action cooling, more ActiveCool HD phase change material, and two extra inches of support. It's our tallest, coolest, most supportive mattress, made with CertiPUR-US® certified foams.
We earn a commission if you make a purchase, at no additional cost to you.
The Nectar Premier Copper mattress is the top-of-the-line model from Nectar and my favorite among the Nectar lineup. It has premium materials from the cooling cover to the supportive base. It is also the most expensive of the three Nectar models but in my opinion, it's well worth the upgrade considering the amount of time you will be sleeping on it. Below are my findings from delivery to sleeping on it for 3 weeks.
Here's a video overview of the mattress and my thoughts on it compared to the others in the line.
Ordering the Nectar Premier Mattress
There are two ways to get your hands on a Nectar mattress. You can order online and it will be shipped to you in a box in about a week's time. This is easily the most convenient way because you can order from home and you don't have to wait around for a delivery person. It's easy to get in your house and set up in your bedroom although you will most likely need two people. I was able to get it upstairs by myself by flipping it up the stairs, end over end.
My Nectar arrived in the box below about a week after the order was placed. The delivery driver left if just outside my door with no signature required.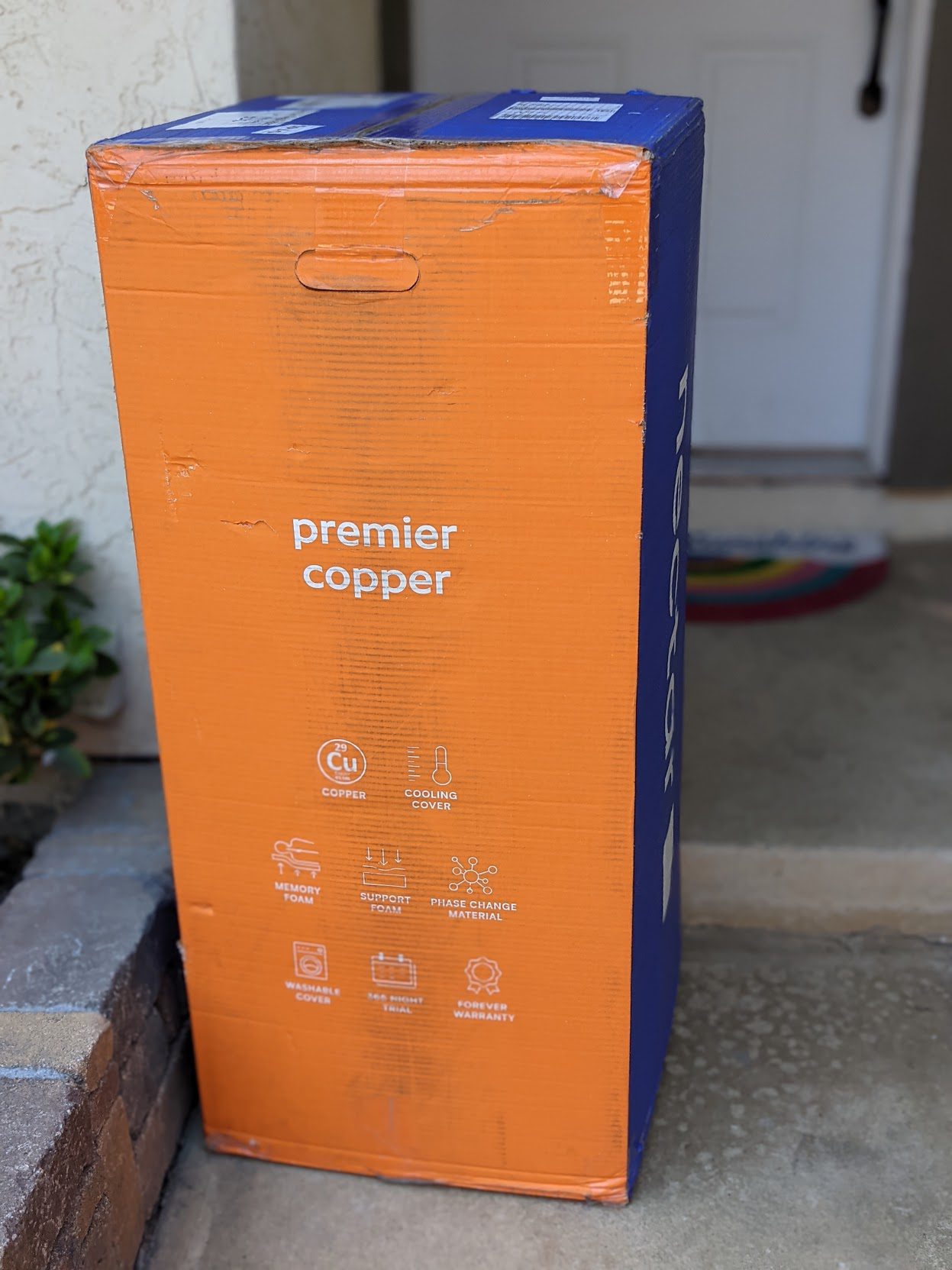 If you are unsure about whether or not you will like the Nectar Premier or you want to compare it against other Nectar mattresses, you can try it out in retail stores. We have all the Nectar models available to try at our Yawnder showrooms. This will give you peace of mind knowing that you picked the right model the first time, but as I said, if you can afford it, go with the Nectar Copper Premier, I think the vast majority of people will prefer it over the other models.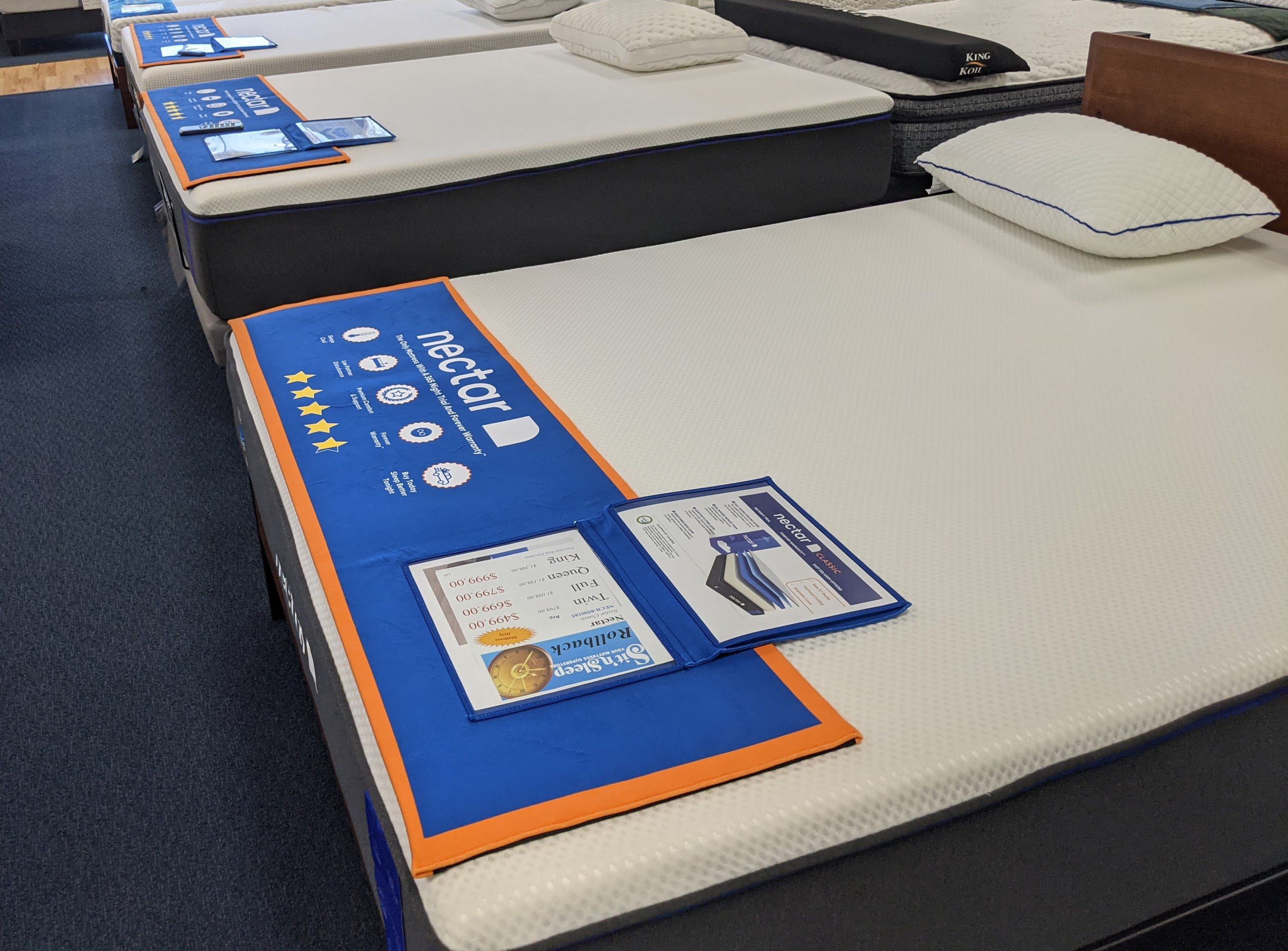 Construction of the Nectar Copper Premier

Quilted Cool Cover With Copper And Sleep Fabric Tech
Conk out cool with this soft, breathable poly-blend cover featuring heat-conductive copper fibers alongside other heat wicking, cooling technology for a cool-to-the-touch sensation.
Nectar Smart Layer With ActiveCool HD
Phase-changing material dynamically adapts to your sleep temp, while 4 inches of cushy, pressure-relieving gel memory foam cuddles every curve and joint. So you zonk out in a temperature-responsive oasis.
Dynamic Support Layer
Get tailored bounce-back with 1 inch of dynamically adjusting foam. This support layer gives you what your body needs to relax into a deep sleep.
Stay-Stable Base Layer
This sturdy 9-inch bottom layer of foam ensures the comfort and support layers above it perform at their tip-top best.
Shift-Resistant Lower Cover
How Much Does the Nectar Copper Premier Cost?
Below are the retail prices and prices with discounts as of this writing. Nectar also bundles extras with their mattress. Right now they are offering a free sheet set, 2 pillows, mattress protector and Google Nest Hub which has a total retail value of $498.
[table id=133 /]
My Nectar Copper Premier Findings
I expected a plush feel with this mattress given the construction but what I actually felt was a more medium-firm mattress. As these online mattress brands mature, they learn to dial in the feel so that is is optimized for most sleeping positions. This helps is a win for customers because they will get a great feeling mattress and a win for the company because it reduces returns.
Here I am sleeping on my back and you can see that it doesn't sink in all that much so it's great for both stomach and back sleepers. After opening this mattress I immediately felt the cooling effects of the phase change material.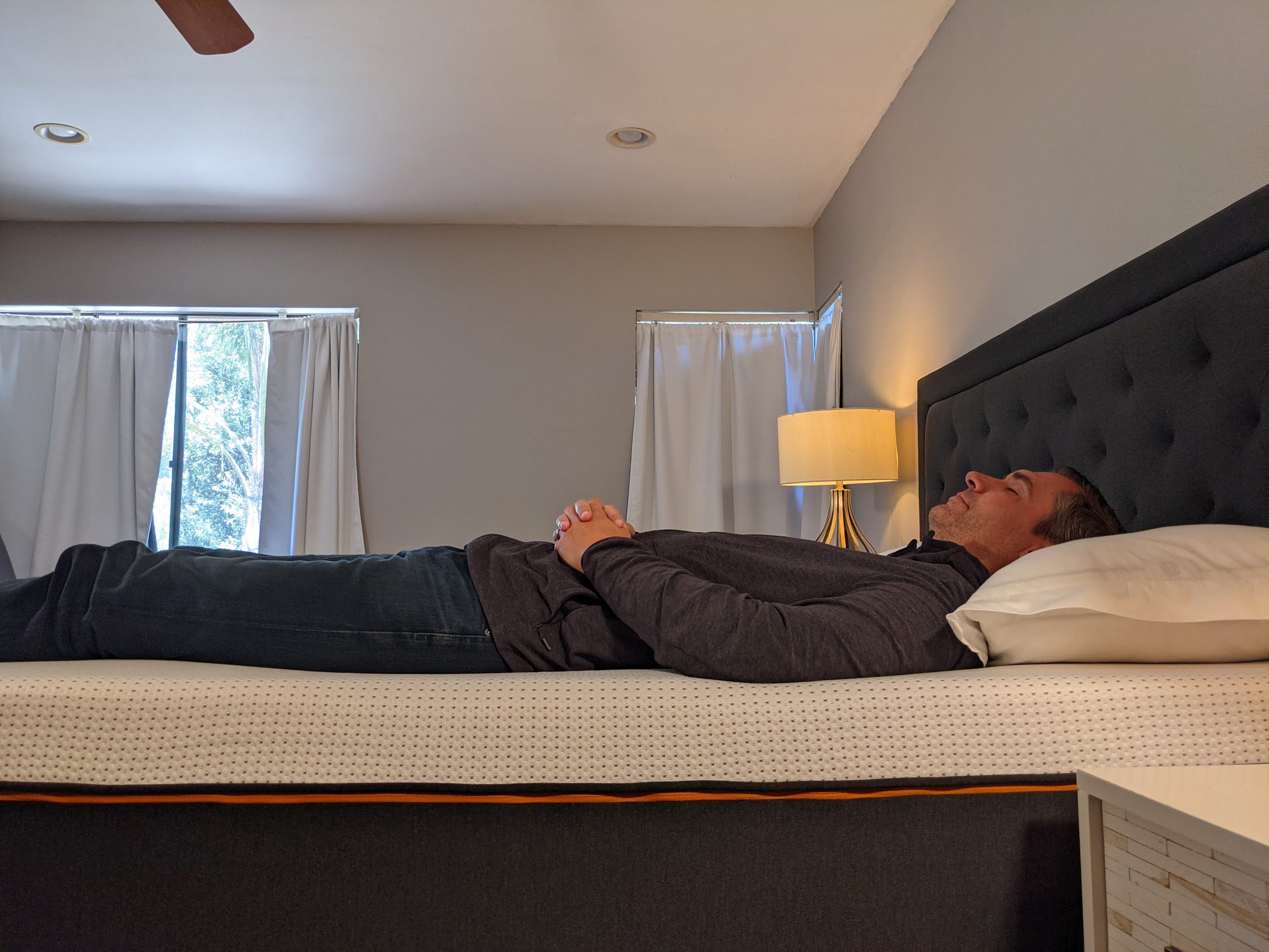 For side sleepers, there's adequate pressure relief. Again, you don't sink into this mattress too much, just the right amount. If you are used to a more plush mattress, this may take some time to adjust and you may want to explore a thicker pillow as you shoulders aren't going to sink in as much.
Below is my 14lb. bowling ball on the mattress to illustrate sinkage. What I like is that Nectar layered the mattress with a 4 inch layer of comfort foam at the top. Any more than that and it gets too squishy.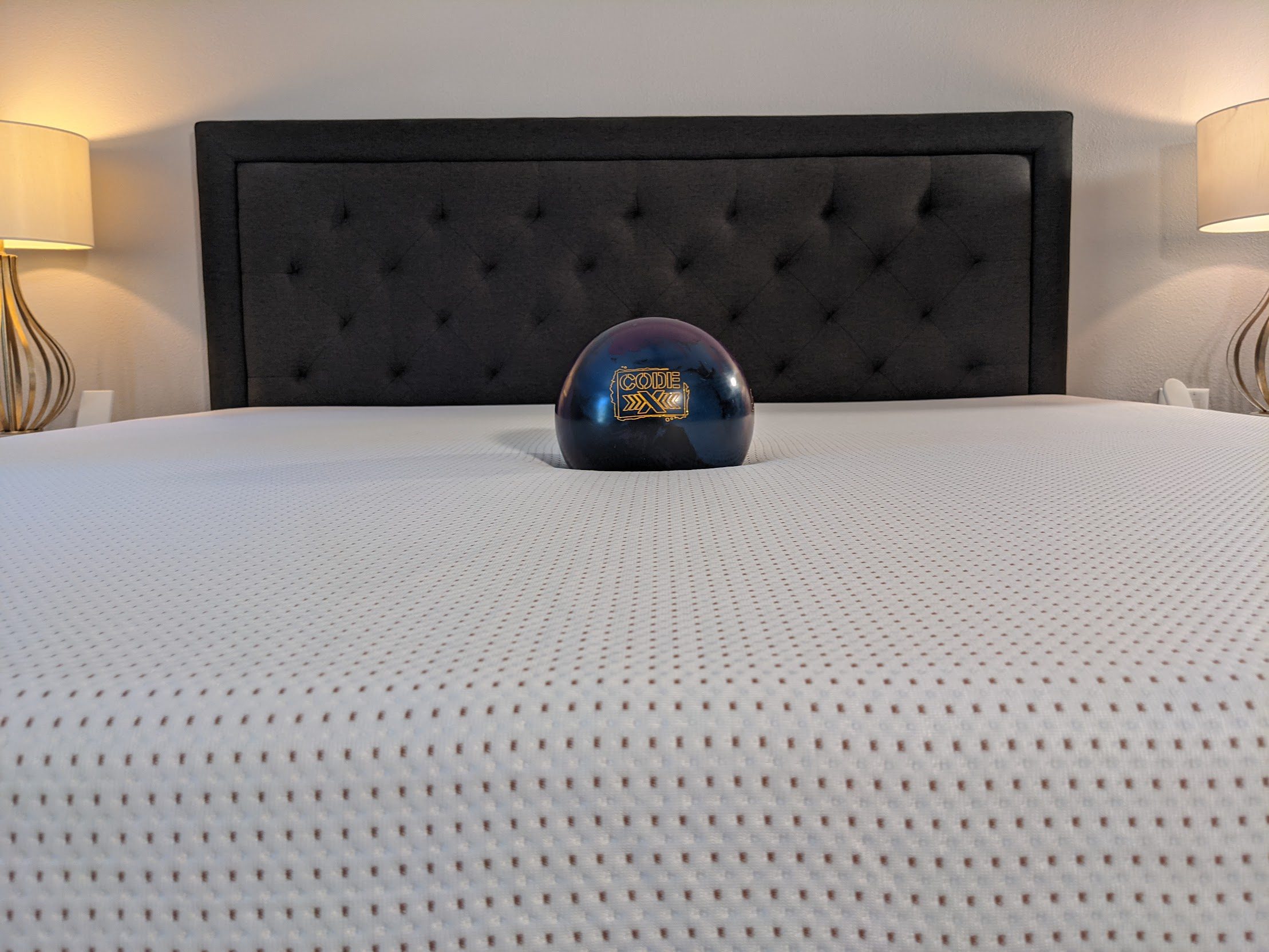 There are some other small features such as a zipper top that you normally only find in high-end mattresses. This makes it easy to clean the cover if it gets dirty. I strongly recommend using the Nectar mattress protector so you don't have to worry about this.
Below you can see each layer. The blue on the top of the first layer is the phase change material that gives you that cool feeling when you first lay down. Some companies will color the entire piece of foam blue but that really doesn't have much utility. Instead, Nectar puts a generous amount of phase change material at the top where it comes into contact with your body and where it counts the most.
My Nectar Premier Copper Recommendation
Nectar has really matured as a mattress company over the years and has now created a lineup that can legitimately compete with other big-name retail brands which is why you will start seeing them in more mattress showrooms across the country. They still offer their industry-leading 365-night trial where you can basically try it for a year and return it for free within that year if you don't like it. You also get their innovative Forever Warranty where as long as you own the mattress, they will work with you to resolve any factory defects or other issues the warranty covers.
Nectar has made a name for itself in providing value in their mattresses and the new Premier Copper is their best offering to date.
[vc_column_text class="sleep-sherpa-exclusive-deal"]

Get the best deal on your Nectar Copper Premier Mattress at checkout Activate Here[/vc_column_text]
Nectar Premier Copper
Treat yourself to triple action cooling, more ActiveCool HD phase change material, and two extra inches of support. It's our tallest, coolest, most supportive mattress, made with CertiPUR-US® certified foams.
We earn a commission if you make a purchase, at no additional cost to you.