Naturepedic was founded in 2003 by Barry A. Cik, a board-certified environmental engineer with over 30 years of experience. Cik was inspired to start the company after he had difficulty finding a safe and healthy mattress for his first grandchild.
At the time, most mattresses were made with synthetic materials and harmful chemicals, such as flame retardants and polyurethane foam. Cik wanted to create a mattress that was made with natural and certified organic materials, and that was free of harmful chemicals.
Naturepedic was the first company to offer certified organic mattresses. The company's mattresses are made with a variety of natural materials, including organic cotton, organic wool, and organic latex. Naturepedic mattresses are also free of flame retardants, polyurethane foam, and other harmful chemicals.
Naturepedic mattresses are certified by a number of third-party organizations, including the Global Organic Latex Standard (GOLS), the Forest Stewardship Council (FSC), and the MADE SAFE® certification.
Naturepedic is a family-owned and operated company. The company is headquartered in Chagrin Falls, Ohio, and has manufacturing facilities in both the United States and Canada.
Naturepedic is committed to providing its customers with the safest and healthiest mattresses possible. The company is also committed to environmental sustainability. Naturepedic uses recycled materials in its packaging and products, and the company offsets its carbon emissions by planting trees.
Naturepedic has won numerous awards for its mattresses, including the "Best Organic Mattress" award from Good Housekeeping magazine and the "Best Mattress for Back Pain" award from Health magazine.
Naturepedic is a leading manufacturer of certified organic mattresses. The company is committed to providing its customers with the safest and healthiest mattresses possible, while also minimizing its environmental impact.
The EOS Mattress from Naturepedic is a 12-inch organic mattress that can be fully customized. That means you can choose to go with springs and latex or if you have a latex allergy, go the all spring route. Naturepedic will substitute the top latex layer with micro-coils that provide great cushioning and support underneath the thick mattress cover.
The EOS is a bit more expensive than many of the online competitors but it is a quality mattress inside and out. There aren't that many organic spring mattresses out there that are this customizable. This is the only natural mattress I have reviewed where you can substitute the latex layer for a spring layer to avoid allergy issues.
After you order your mattress it should arrive in about 7-10 days. It comes in multiple boxes as seen below.
You get assembly instruction which shows you how to set up the mattress.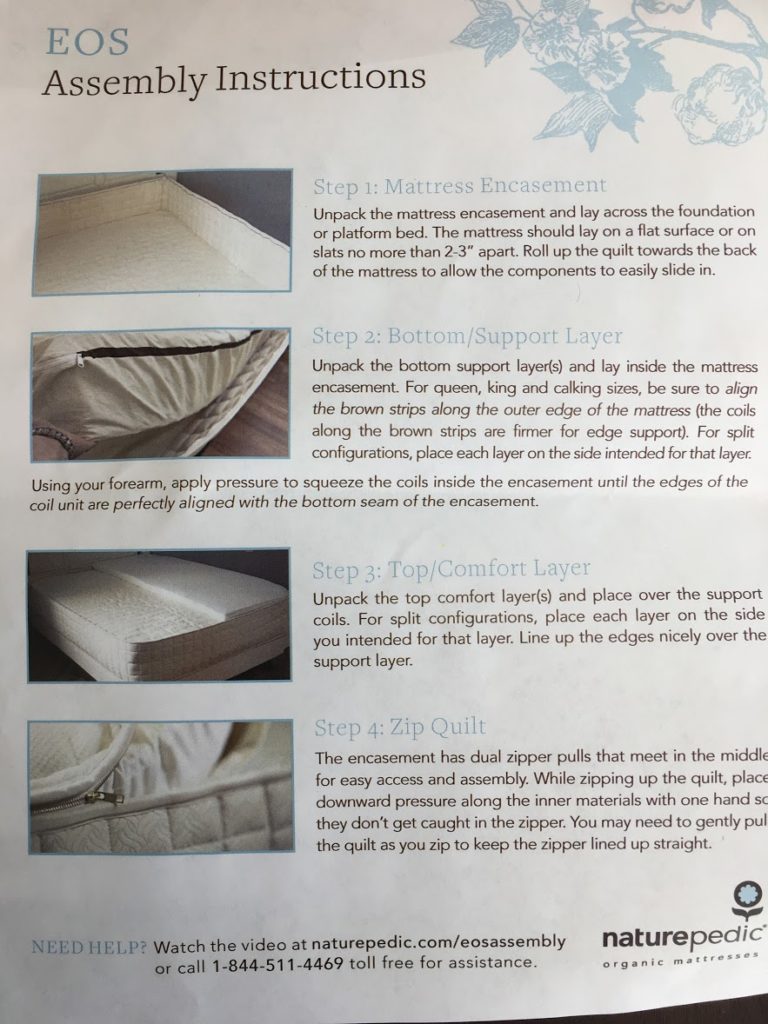 Each box is labeled so you know which one to open first.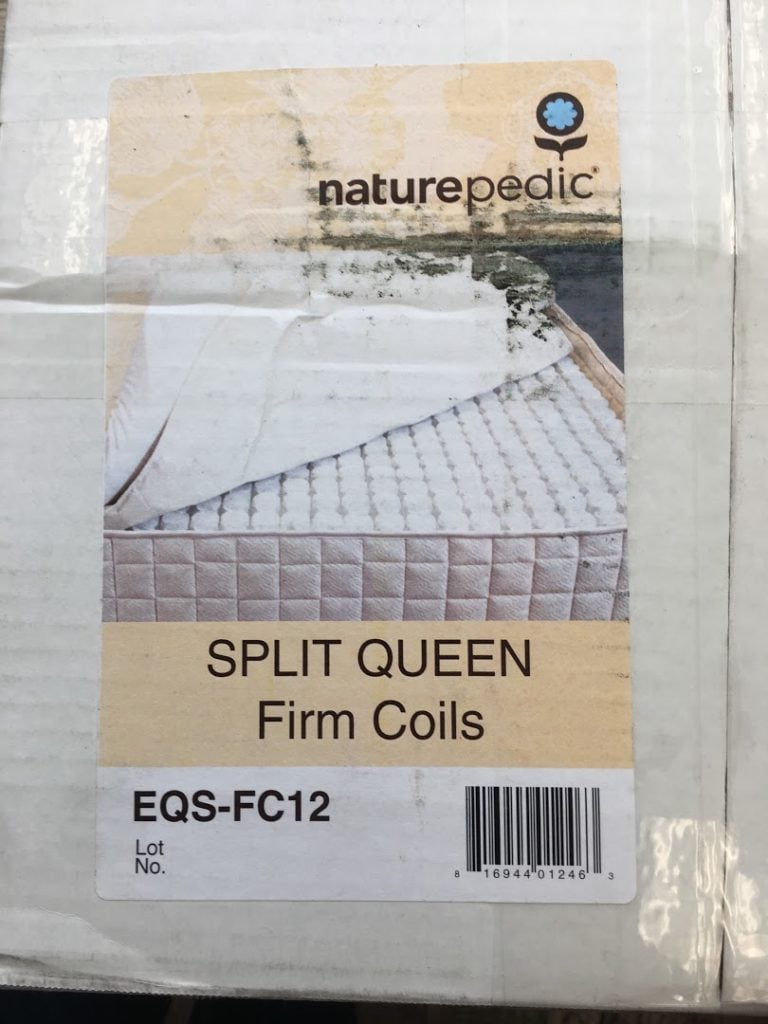 Below is a video overview of the mattress after it has been assembled.
The EOS mattress doesn't have a free trial like most online brands but they do have a 90-day comfort guarantee where if you don't like the feel of your mattress, they can switch out some of the components. Here are the details of the comfort guarantee from their website.
90 Day Comfort Exchange Policy – Swap any 3″ comfort layer within 90 days of your purchase and only pay for shipping. Just fill out a simple form at naturepedic.com/layerswap and order your new layers. Then, schedule a pickup for your original layers using a prepaid return label, and you're all set. You'll be issued a full refund once we receive your original layers back (so long as they're received back within 90 days of your original invoice date). It's that easy! Visit the EOS FAQ for more information.
Return Policy – We offer a 90-day money back guarantee, less ALL actual shipping charges (including those associated with any promotions) so long as your order was placed directly with Naturepedic. Orders placed with other retailers follow the return policy of those retailers. Orders must be received in a clean undamaged condition. Before returning, however, we encourage you to take advantage of our 90-day comfort layer swap program. We are confident that you'll find just the right configuration for you! Please visit naturepedic.com/layerswap to place your order.
Construction of the Naturepedic EOS
Below are the construction details of the EOS.
12″ Height
3″ organic latex or micro coil option
8″ pocket coil system for base layer
Organic cotton cover with organic cotton filling for extra padding
GOTS certified organic wool batting
PLA Comfort Layer
No flame retardant chemicals
90-day comfort exchange
Pricing for the EOS is the same with or without latex
Twin $1,799
Twin XL $1,999
Full $2,799
Queen $2,999
King $3,599
Cal King $3,599
My Naturepedic EOS Findings
Right from the beginning, this product screams quality. The boxes are clean and well labeled and the contents are packaged neat and secure.
Here's the mattress cover out of the box. This is a thick cover that not only keeps everything together, it provides a nice padded surface for sleeping. There was also no smell to this. Sometimes an all organic cover can smell like a sheep due to the wool batting but this one didn't smell at all.
Even the zipper is very high quality. This is important because the mattress is designed to hold all the materials tightly together which means that you sometimes need to pull hard on the zipper. Having a quality zipper makes the job easier and less likely that you will break it.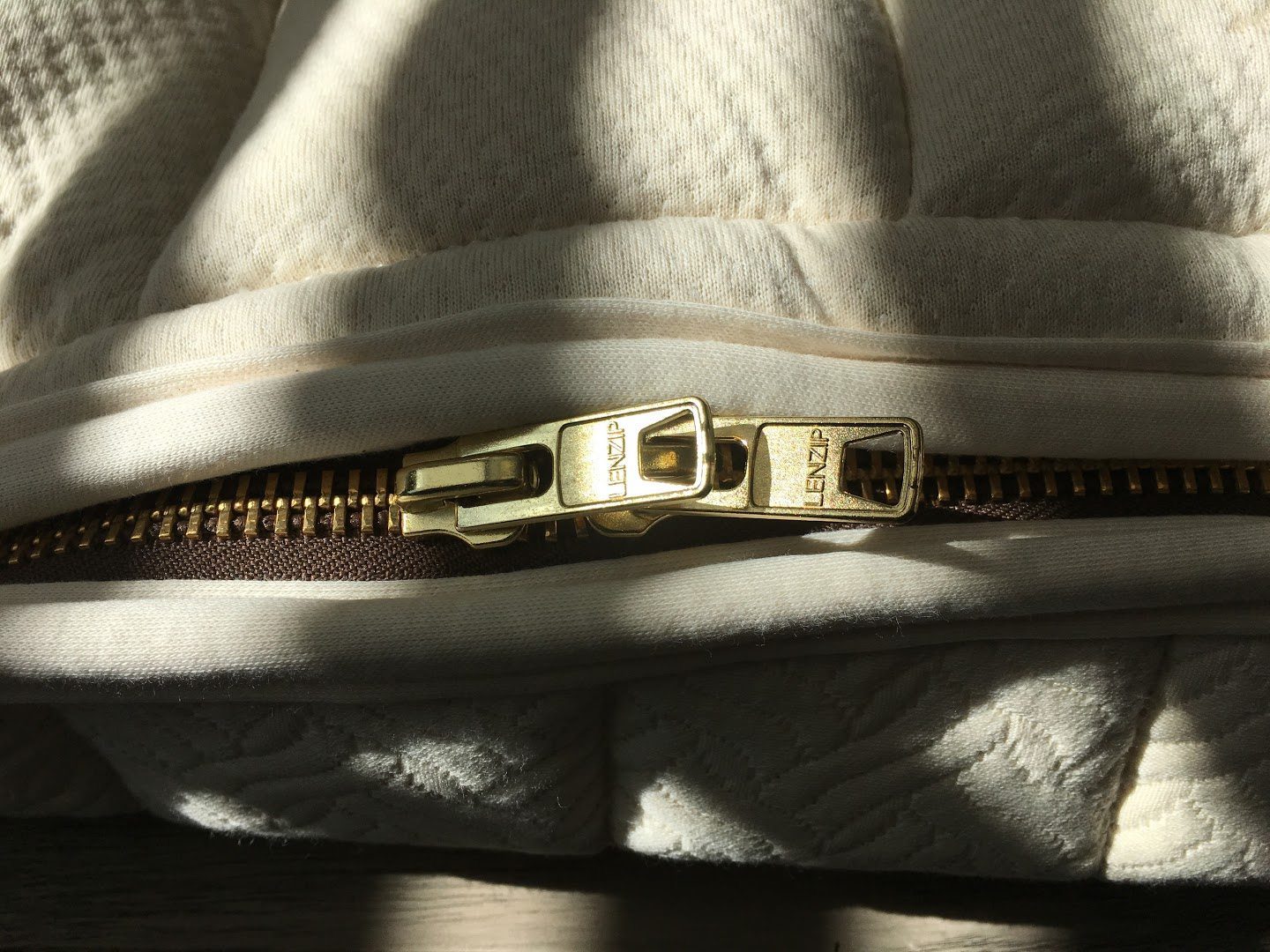 For my review I had a soft and firm configuration on a queen size mattress. This allowed me to test both ends of the firmness spectrum. I also opted for a latex layer instead of the microcoils so I can't really speak to how the microcoils will feel.
Below is a video of me dropping a bolwing ball on the soft side of the mattress.
And here is the same bowling ball on the firm side of the mattress.  I found the soft side had a bit more bounce.
Here's another view for comparison that shows how much the ball sinks on each side. Below is the firm side.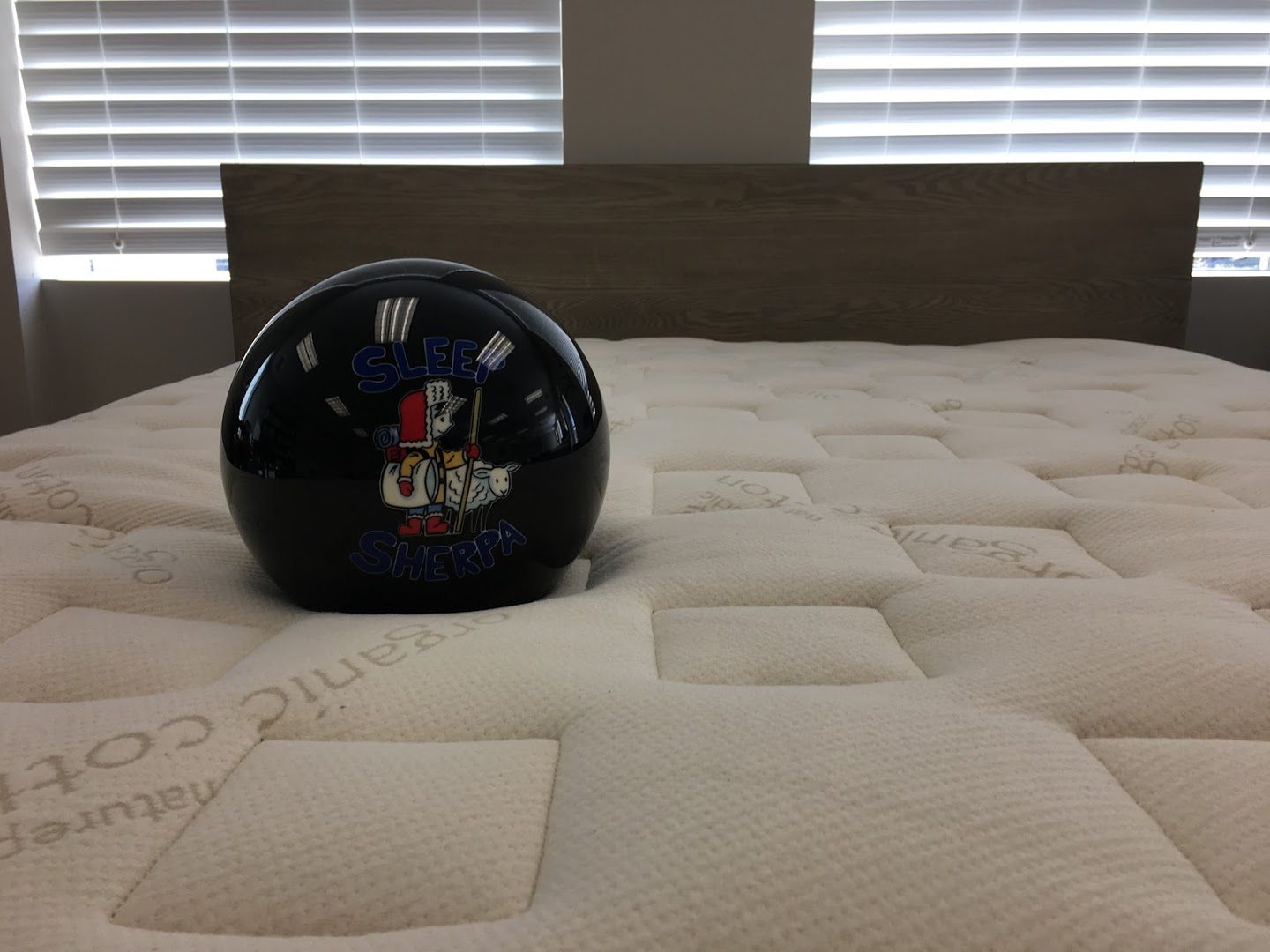 And here is the soft side.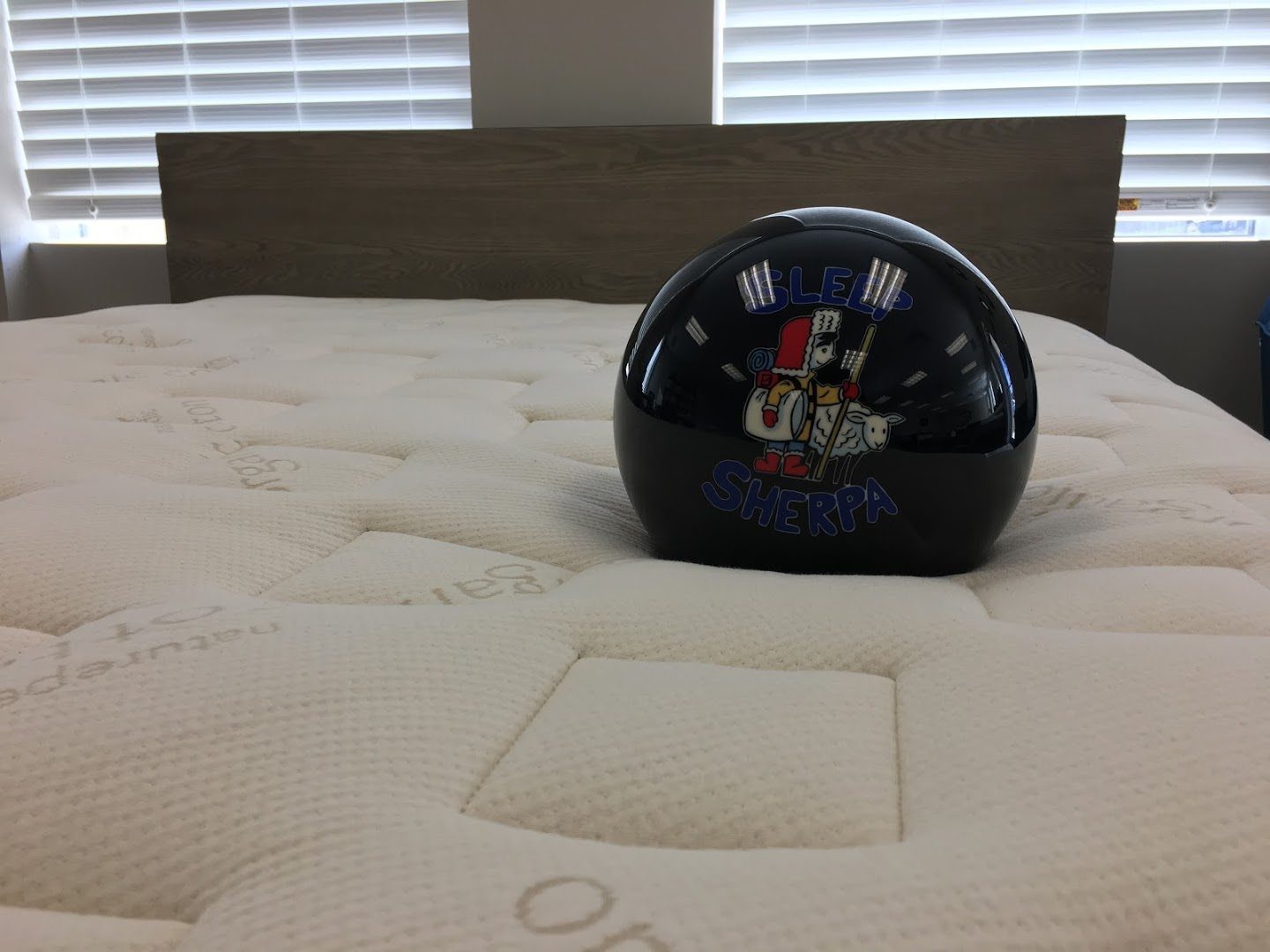 As you can see there is a significant difference between the soft and firm versions. Of course you can go with a medium firm as well.
Despite being a spring and latex/coil mattress, it handles motion transfer very well. That's because not only the latex and microcoil systems are separate pieces, the base pocket coil system is two separate units as well. As you can see in the picture below.

My Naturepedic EOS Recommendation
Naturepedic is a leading natural mattress manufacturer. They have all kinds of certifications that are a testament to the quality of their product. Their products are made by Amish craftsmen in their factory in Ohio. So, from the beginning, you are getting a quality product that should last a long while.
I found the soft configuration of the EOS to be a great feel for my preferences. It's great for side sleepers. Stomach and back sleepers will want to go for the medium and firm configurations.
Naturepedic EOS Mattress FAQ
1. What is the Naturepedic EOS Mattress?
The Naturepedic EOS Mattress, standing for Ergonomic Organic Sleep, is a customizable, high-end mattress produced by Naturepedic. The brand prides itself on designing eco-friendly, top-quality sleep products without harmful chemicals.
2. How is the Naturepedic EOS Mattress made?
The EOS mattress is handcrafted in the USA with organic, non-toxic materials. It features organic cotton fabric and filling, organic wool batting, and individually encased coils with adjustable comfort layers that can be customized to your specific comfort needs.
3. What makes the Naturepedic EOS Mattress unique?
The key differentiator of the EOS mattress is its customization feature. The layers can be easily swapped at home to alter the comfort level, and each side can be individually adjusted in the queen and king models, accommodating differing comfort needs of partners.
4. How does the Naturepedic EOS Mattress benefit sleep?
The EOS mattress's design, with organic and non-toxic materials, ensures a healthy sleep environment. Furthermore, the customizable comfort feature allows for optimal ergonomic alignment and pressure point relief, promoting a more restful sleep.
5. Are Naturepedic EOS Mattresses hypoallergenic?
Yes, the Naturepedic EOS Mattresses are built with hypoallergenic materials. The natural latex layers resist dust mites and other allergens, and the organic cotton and wool provide a healthy, breathable sleep surface.
6. What sizes does the Naturepedic EOS Mattress come in?
The Naturepedic EOS Mattress is available in Twin, Twin XL, Full, Queen, King, and California King sizes.
7. How can I purchase a Naturepedic EOS Mattress?
Naturepedic EOS mattresses can be purchased directly from the Naturepedic website, and they are also available from several authorized retailers both online and in physical stores.
8. What is the trial period and return policy for the Naturepedic EOS Mattress?
Naturepedic offers a 90-day money-back guarantee for the EOS Mattress. If you're not completely satisfied with the mattress within this period, you can return it for a full refund, minus the transportation costs.
9. How long is the warranty on the Naturepedic EOS Mattress?
The Naturepedic EOS Mattress comes with a 20-year limited warranty. This covers defects in materials and workmanship, providing long-term assurance of the product's quality.
10. How do I care for my Naturepedic EOS Mattress?
Naturepedic recommends using a pad or protector to keep the mattress clean. Regularly rotating the mattress can also help maintain its performance. Remember, it's essential not to expose the mattress to water or other liquids as it can damage the organic materials and potentially void the warranty.