We earn a commission if you make a purchase, at no additional cost to you.
You have probably seen the commercials or come across the My Pillow at your local mall. Maybe you heard about it from a friend who either loves it or hates it. Somewhere along the line you heard about the My Pillow and were wondering, is the My Pillow worth it? I really like it and it has mostly positive reviews on Amazon as well.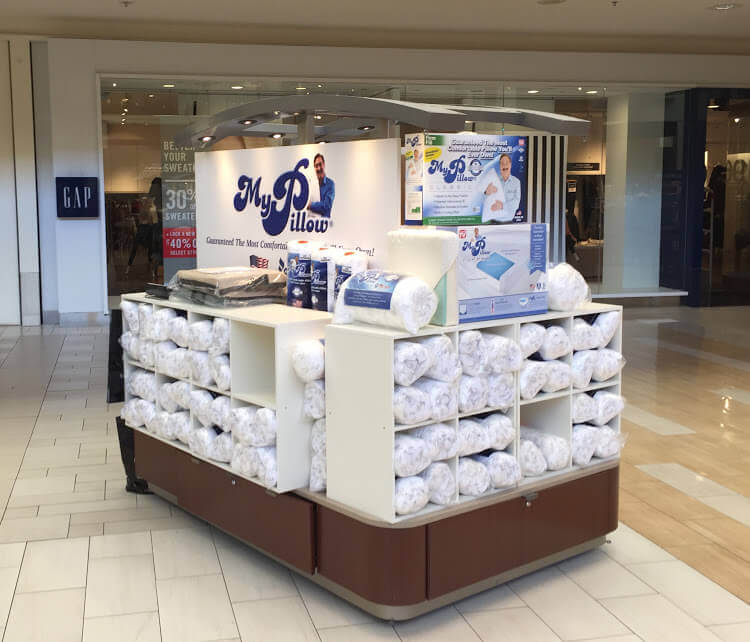 In this My Pillow review I break down all the components of the My Pillow and try to dispel some of the common My Pillow complaints. Please keep in mind, if you find a pillow that works for you, stick with it! Some people swear by My Pillow but they probably haven't slept on as many different pillows as I have. This gives me a great deal of context in which to compare the My Pillow against dozens of other brands.
My Pillow is made in Minnesota, my home state. I appreciate that it is a Made in the USA product and supports our local economy.
How is the My Pillow Made?
Here are some of the listed benefits of the My Pillow as listed on the website:
OFFICIAL PILLOW OF THE NATIONAL SLEEP FOUNDATION!Patented interlocking fill adjusts to your exact individual needs!Four different loft levels!10-Year warranty – will not go flat, stays cool!60-Day Money Back Guarantee
(less S&H)
Custom fit sizing
– Fits your size and sleeping position (for stomach, back AND side sleepers) for the most comfortable pillow for you 
How the My Pillow Feels
I purchased the My Pillow from Amazon.com. I really like how easy it is to both purchase and make returns from Amazon. Rather than have to put up with the hassle of returning it if I didn't like it, I thought I would use Amazon to be safe since their returns are easy and hassle-free.  Right now Amazon has the My Pillow Classic Queen size for $49.95. I couldn't find the standard My Pillow for sale on the mypillow.com website.
I was expecting a somewhat heavier pillow. This is one of the lightest pillows I have reviewed so I was a little worried that it wouldn't live up to my expectations. Per the instructions on the packaging, I put the pillow in my dryer for 15 minutes on a cool setting. It fluffed up very nicely and there was no odor after putting in the dryer. I used a dryer sheet just for the fresh scent.  After taking a nap with it and sleeping on it for a few nights, I found it to be a really nice pillow.  I like lighter pillows because I sometimes move mine around at night so this was a nice benefit.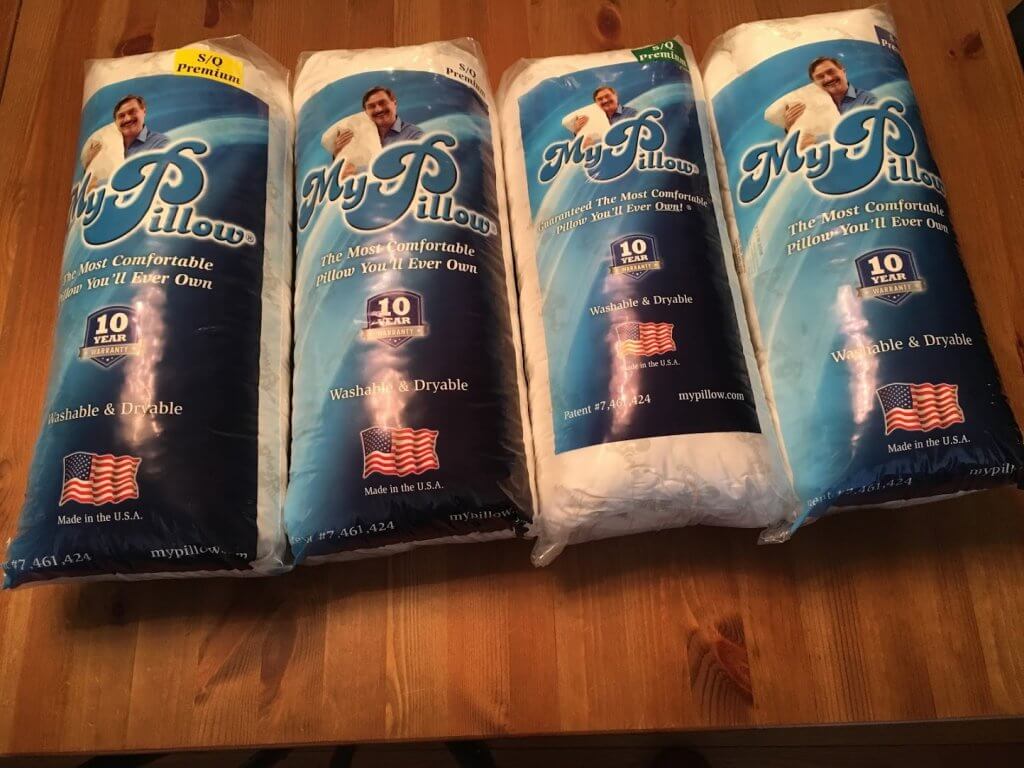 My Pillow Sizes
My Pillow premium comes in different levels of firmness. However, I have heard from friends who also bought that their sizing chart isn't always accurate. Part of the issue is that the sizing chart bases which color to get based off your shirt size. I think a better rule of thumb is as follows:
Yellow Level: (Least Firm) Stomach Sleepers
White Level: (Medium): Back Sleepers
Green Level: (Firm): Side Sleepers
Blue Level: (Extra Firm) Side Sleepers
The filling inside is supportive but not overstuffed so that I can't move it around as needed.  This pillow really cradles your neck and left me with no soreness in the morning. It also does a wonderful job with temperature regulation since it's not a solid piece of foam.  
One drawback is that you cannot adjust the amount of filling inside of it. It would be nice if there was a zipper where you can remove foam if you found it to be too firm however you can return it hassle-free if you need to go with a thinner or thicker pillow. 
I think the MyPillow will be well received by stomach sleepers in particular who prefer a thinner pillow that is also able to provide some neck support and is easy to move around. People are very particular about what pillow they like so it would be hard to say that one is necessarily better than another. What I can say is that this pillow has a very unique feel that I have not come across in any other pillow. Your head sinks into it a perfect amount.
 I think if you try out this pillow with the right expectations, you should be pleased with the results. The pillow doesn't go flat overnight and keeps you supported. 
There's something about My Pillow that makes it feel like no other. Many people absolutely love it and wouldn't consider any other pillow. Finding the right pillow can take time,  the pillows on this site give you a good overview of what's on the market and what to expect before you make a purchase.
Update January 26, 2023
I have been sleeping on the My Pillow every since I first purchased it many months ago and its still my "Go To" pillow. I like that it's light and that I can easily adjust it during the night. I realize how much I depend on it when I have to stay at a hotel without it. Below is a video explaining the difference between the My Pillow Original and My Pillow Premium.
Here's a video comparing the My Pillow vs My Pillow Premium
As I said, I have tested dozens of pillows and I keep coming back to My Pillow every night when I'm not testing another pillow. It just works.
In January 2017 the Better Business Bureau downgraded their rating of My Pillow to an F. This is because they have been running the buy one get one free offer for over a year and this violates FTC rules.
I still haven't found a pillow that feels similar to the My Pillow. Many of the shredded foam pillows on the market use a denser foam that doesn't have as much bounce. They also cannot be washed.
The My Pillow 2.0
The new My Pillow 2.0 is designed with temperature-regulating technology. Basically, it's the same phase change cooling material you will find on the cooling mattress covers and cooling mattress protectors. It's cool to the touch and it will draw heat away from your head for about 20 minutes before it loses its cooling power. It's a nice feeling but certainly won't last all night. As expected with the other My Pillow 2.0 reviews, this pillow has a similar feel to the original My Pillow except the cover is thicker making it heavier and actually less breathable than the original. The My Pillow 2.0 prices are a bit higher than the original my pillow and if you purchase through Amazon, you get easy, free returns and you don't have to use the My Pillow promo code since it is already discounted and sold directly by My Pillow.
My Pillow Alternatives and Recommendations
As you know, Mike Lindell is a big Donald Trump supporter and this can be a turn-off leaving some searching for an alternative to My Pillow. To be honest, the My Pillow has a unique feel and so I have not found a similar alternative but there are plenty of other pillows available that I think are worth trying. First being the Coop pillow. It is made with a blend of shredded foam and fibers for smoother fill and because it is adjustable there's no need to worry about getting the right height.
Check out my other pillow reviews to find out which is right for you: Yawnder Pillow Reviews

Disclosure: We aim to highlight products and services you might find interesting, and if you buy them, we may get a small share of the revenue.
My Pillow Complaints
Questionable Comfort and Durability:
A prevailing complaint among numerous users revolves around the pillow's actual comfort level and durability. While "My Pillow" advertises its ability to mold and adapt to individual sleep positions, numerous consumers have reported a lack of comfort and inadequate support. These dissatisfied customers claim that the pillow's supposed adjustability falls short of expectations, leading to discomfort and restless sleep.
Additionally, some users have voiced concerns about the pillow's durability. Reports of the pillow losing its shape or becoming lumpy after a short period of use have raised questions about the promised longevity of "My Pillow." These complaints suggest that the product fails to maintain its intended form, leading to a decrease in overall satisfaction.
Allegations of False Advertising and Overinflated Claims:
Another cause for concern revolves around allegations of false advertising and overinflated claims made by "My Pillow." Several consumers have expressed disappointment upon discovering that the product does not live up to its marketed benefits. This includes assertions that the pillow fails to alleviate common sleep-related issues, such as neck and back pain, as promised in its advertisements.
Moreover, the founder and CEO of "My Pillow," Mike Lindell, has faced legal scrutiny for his marketing practices. In recent years, Lindell has encountered legal challenges related to claims made about the pillow's health benefits, which allegedly lack scientific evidence. These allegations have only added to the skepticism surrounding the company and its products.
Customer Service and Return Policy Woes:
A significant number of complaints regarding "My Pillow" also revolve around customer service and the company's return policy. Dissatisfied customers have voiced frustration over difficulties encountered when attempting to seek resolution for their concerns or obtain refunds. Many have reported unresponsive customer support, prolonged waiting times, and an arduous return process, leaving them dissatisfied and disenchanted.
I prefer the Malouf Carbon Cool pillow over the My Pillow and My Pillow 2.o. It sleeps cooler and has much better pressure relief. 
Best Cool Sleeping Pillow
We earn a commission if you make a purchase, at no additional cost to you.