My Pillow has gained a reputation for producing some of the best pillows on the market, but how does their mattress measure up? As someone who values a good night's sleep, I was excited to try out the My Pillow Mattress and put it to the test. In this review, I'll share my personal experience with the mattress and evaluate its comfort, support, durability, and value. So if you're in the market for a new mattress and wondering if the My Pillow Mattress is worth the hype, keep reading to find out.
Get $100 off your My Pillow Mattress with coupon code BED100
My Pillow, famous for their unique feeling foam pillow now has a mattress for purchase. In fact, the base layer of foam used in the mattress is the same foam used in their pillow. What struck me about this mattress is that when I first laid down, I thought there were springs in it because of the good support and pressure relief. Instead, it's multiple layers of resilient foam put together in a unique way to provide a one of a kind feel.  This mattress comes shipped in a box directly to your house and is Made in the USA.
Similar to the My Pillow it has a one-of-a-kind feel that is sure to set it apart from the pack which is why you should take it into consideration. The foam used is breathable resilient so you will adjust in no time. at 10 inches thick it accommodates all types of sheets and is light enough to easily transport.
Overview of the MyPillow Mattress
Before we dive into the specifics of the My Pillow Mattress, let's take a look at what sets it apart from other mattresses on the market. The My Pillow Mattress is designed with several layers of foam, each serving a different purpose. The top layer is a soft, cooling foam that provides comfort and temperature regulation, while the middle layer is a firmer foam that offers support and pressure relief. Finally, the base layer is made of high-density foam that provides overall stability and durability.
One of the standout features of the My Pillow Mattress is its ability to customize the firmness level to your liking. You can choose from four different firmness options – yellow, white, green, or blue – depending on your sleep preferences. The yellow is the softest option and is best for side sleepers, while the blue is the firmest and is ideal for stomach sleepers. The white and green options fall somewhere in between, offering a balance of support and comfort.
In addition to its layer and firmness customization, the My Pillow Mattress also boasts a removable, machine-washable cover for easy maintenance. This is especially useful for those who suffer from allergies or have pets that sleep on the bed.
Overall, the My Pillow Mattress appears to be a well-designed sleep solution with a lot of customization options. But how does it actually feel to sleep on? Let's find out.
Here's a video overview 
I personally tested out the My Pillow Mattress in the white firmness level, which is a medium level of support. When I first laid down on the mattress, I immediately noticed how comfortable it felt. The top layer of foam provided a soft, plush feeling while still feeling supportive. As I settled in, I could feel the firmer layer beneath me providing a nice level of support without feeling too hard.
One of the things I appreciated about the My Pillow Mattress was how it seemed to alleviate pressure points. I tend to sleep on my side, and sometimes wake up with sore hips or shoulders. However, with this mattress, I didn't experience any of that discomfort. The foam seemed to contour to my body and provide support in all the right places.
In terms of temperature regulation, I found that the My Pillow Mattress did a decent job of keeping me cool throughout the night. I tend to run hot when I sleep, so I appreciated the cooling top layer of foam. However, on particularly warm nights, I did find myself getting a bit too warm, despite the mattress's cooling properties.
As for durability, it's too early to say for sure how well the My Pillow Mattress will hold up over time. However, I didn't notice any signs of wear or tear during my testing period. The foam seemed to bounce back to its original shape after each night's sleep.
So, is the My Pillow Mattress worth the investment? I would say yes, especially if you're someone who values customization and pressure point relief. While it may be pricier than some other mattresses on the market, its ability to customize to your sleep needs and alleviate pressure points makes it a worthwhile investment.
How Much Does the My Pillow Mattress Cost?
When it comes to value, the My Pillow Mattress is priced in the mid to high range compared to other mattresses on the market. However, considering its customization options, pressure point relief, and durability, I believe it's a good value for the price.
Here are the retail prices and price after discount as listed on their website. You can use the My Pillow Mattress promo code BED100 at checkout for the $100 off.
Construction of the My Pillow Mattress
Here's a photo of the inside of the My Pillow mattress where you can see each layer of foam. With the multiple layers of foam, you get good transition into the mattress so it doesn't feel like you are just sleeping on one piece of foam but a legit mattress.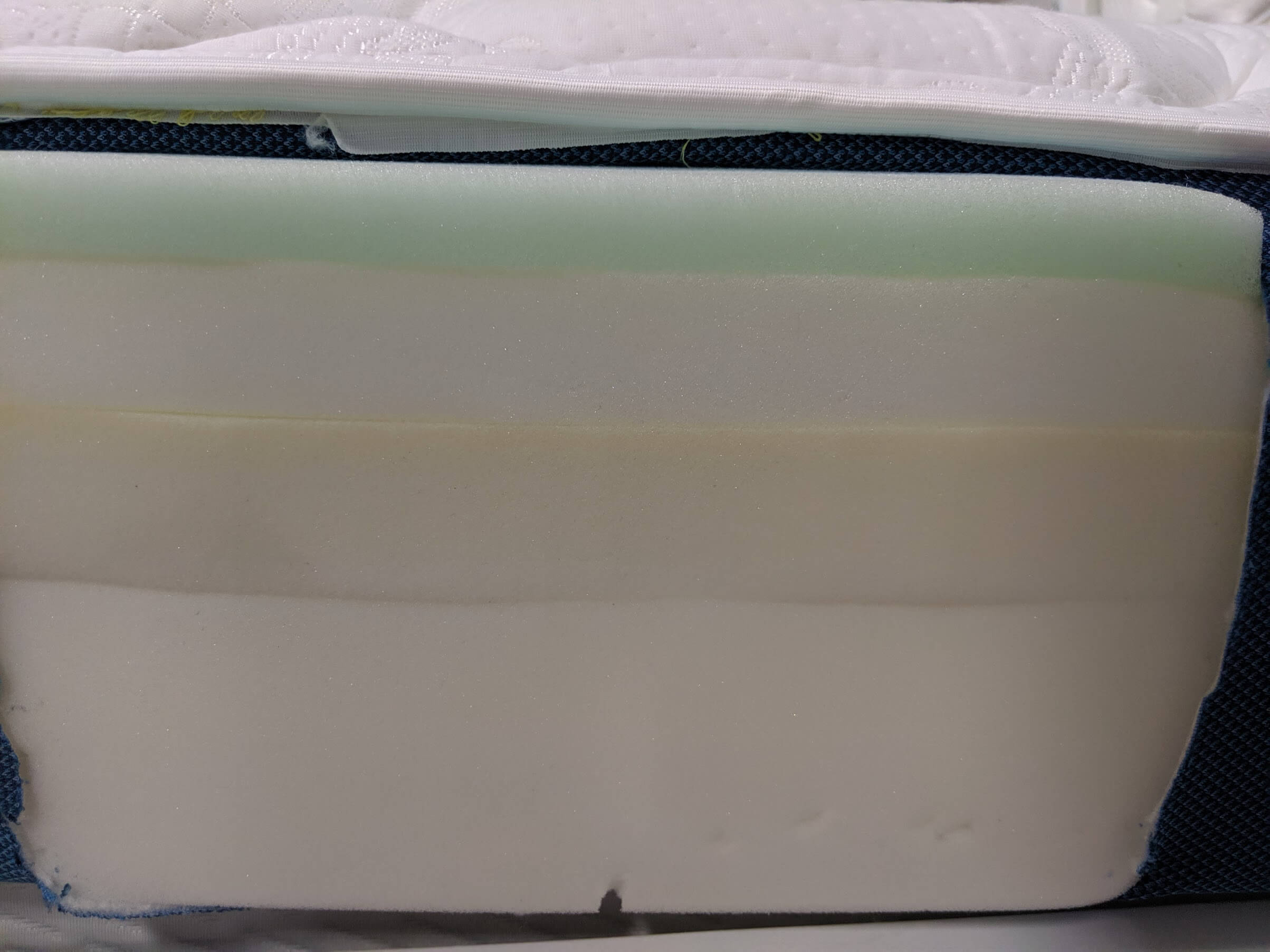 Quilted MyPillow QDS® Fabric Cover

This special comfort finish is soft and cooling. It is also quick-drying and stain-resistant.
High Airflow Comfort Foam

Provides maximum airflow to keep your body at a comfortable temperature throughout the night. It has 4.5x more airflow and is 3X more moisture-wicking than traditional foam.
Extra Soft Comfort Foam Transition Layer

This layer is made up of plush, extra-soft high density foam.
Plush Transitional Comfort Foam

Second layer with firmer transitional foam to increase the overall performance of the mattress.
Supportive Base Foam Layer

The same foam used in all MyPillow® products creates the perfect supportive base that reinforces and stabilizes the mattress.
My Pillow Mattress Findings
This is a very versatile mattress and would be suitable for all sleepers. One caveat is that I wouldn't recommend it for heavy sleepers and I think it may lack the support needed. If you are over around 220 lbs, you may want to consider looking at a mattress with denser foam or low gauge coils. However, if you are lighter, this is a great mattress for side back and stomach sleepers although I think that side and back sleepers, in particular, will be most pleased.
I love how this mattress cradles me quickly and is easy to move around on. It has a more traditional feel and doesn't feel like your a sleeping on foam at all. And, because it's all foam there's basically no motion transfer either.
The My Pillow Mattress Recommendation
If you are a fan of My Pillow I think you should definitely give their mattress a try. I was pleasantly surprised at how much I liked this mattress. It comes with a 120-day guarantee with free returns if you don't like the mattress within that time period and comes shipped in a box right to your house so no need to wait for a delivery.
My Pillow Controversies
My Pillow, the company known for its pillows and bedding products, has been surrounded by controversy in recent years. The founder and CEO, Mike Lindell, has been an outspoken supporter of former President Donald Trump and has made controversial statements about the 2020 U.S. Presidential election. These statements have led to backlash from some customers and retailers who have dropped the brand from their stores.
In addition to the controversy surrounding Lindell's political views, My Pillow has also faced criticism for its advertising practices. In 2016, the company settled a lawsuit with the Better Business Bureau over its advertising claims. The lawsuit alleged that My Pillow had falsely advertised its products as being able to cure a variety of medical conditions, such as sleep apnea and fibromyalgia.
More recently, My Pillow has faced criticism for its claims about the effectiveness of its products in preventing and treating COVID-19. Lindell has made numerous claims about the effectiveness of My Pillow products in combating the virus, despite a lack of scientific evidence to support these claims.
Overall, the controversy surrounding My Pillow has raised questions about the company's business practices and the credibility of its claims about its products. While the company's pillows and bedding products may be of high quality, its association with controversial statements and advertising claims has led some customers to question whether they want to support the brand.
My Pillow vs. Nectar Premier
The My Pillow Mattress is designed with several layers of foam, each serving a different purpose. Its customization options make it a great choice for those who have specific sleep needs. In contrast, the Nectar Premier is made with memory foam and gel-infused foam layers, designed to provide both support and cooling.
In terms of firmness, the My Pillow Mattress offers four different options to choose from, while the Nectar Premier is available in one universal firmness level. The My Pillow Mattress's customization options may be a selling point for those who prefer a specific level of support.
Both mattresses offer pressure point relief, but the Nectar Premier is specifically designed to alleviate pressure on the hips and shoulders, making it a great option for side sleepers. The My Pillow Mattress does a decent job of relieving pressure points, but its primary focus is on customization and overall support.
When it comes to durability, both mattresses are designed to last. However, the Nectar Premier offers a longer warranty period of lifetime, compared to the My Pillow Mattress's 10-year warranty.
In terms of price, the Nectar Premier is priced in the mid to high range, while the My Pillow Mattress falls in the high range. However, the My Pillow Mattress's customization options may make it a worthwhile investment for those who value a specific level of support.
Ultimately, choosing between the My Pillow Mattress and the Nectar Premier will come down to personal preference. If you prioritize customization and overall support, the My Pillow Mattress may be the right choice for you. If you're a side sleeper and prioritize pressure point relief, the Nectar Premier may be the better option. Regardless of which mattress you choose, both offer quality construction and a comfortable night's sleep.
The My Pillow 2.0
The MyPillow 2.0 is a pillow that was designed by Mike Lindell. It is made with a special type of foam that is supposed to provide support and comfort. The MyPillow 2.0 is also supposed to be hypoallergenic and to help with sleep apnea.
The MyPillow 2.0 has been advertised on TV and in newspapers. It has also been endorsed by several celebrities.
Some people have praised the MyPillow 2.0 for its comfort and support. Others have said that it is too expensive. Still others have said that it is not as effective as it is advertised to be.
If you are interested in trying the MyPillow 2.0, you can order it online or from a MyPillow retailer.