Finding a good pillow is analogous to pairing a good wine with a good meal. If they don't go together just right, things can go south fast. All of the pillows I review have some specific benefits and can be amazing but only if you match them to a specific sleep style and a particular type of mattress. Enter the Marriot Pillow, the swiss army knife of pillows that is sure to please even the pickiest of sleepers. Luxury hotels understand that if you can produce the perfect pillow, your guests will sleep better and become loyal customers. Although the perfect pillow will properly support your head and neck, it's easier said than done and takes many iterations to get right. That's why Marriot proprietary information about its pillow cannot be found.

To be frank, the Marriot Pillow and for that matter, most hotel pillows aren't all that remarkable. Even the best hotel pillows are a simple feather pillow and often a down alternative pillow. That great sleep you got is more likely due to the fact that you spent all day travelling and are exhausted.
If you still want to get a Marriot pillow, they thankfully aren't that expensive just make sure that you buy one from the official Marriot website or an authorized Marriot pillow reseller.
One option on the menu of pillows is the Marriott Hotel Pillow. This pillow is actually made by Pacific Coast, it's their Down Surround Standard Pillow. It is a relatively light pillow that is very soft. It is an amazing pillow for stomach sleepers and those that like to move their pillow around while changing positions at night. You can't buy just one of these though. If you can afford it, go with a 4 pack and transform your bed into the haven you've been cravin'. You can also choose the Marriot Down Alternative Pillow if you have allergies, are vegan or just want a more hypoallergenic bedroom.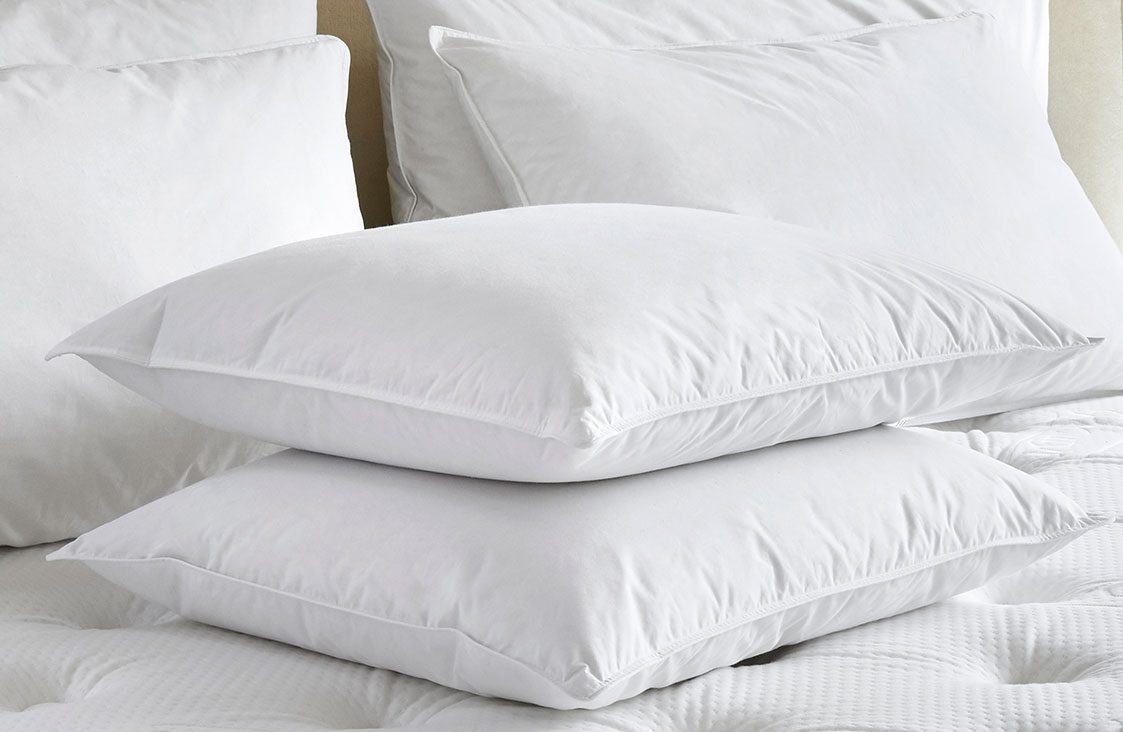 Pillows.com currently has them on sale for $44.99 which is 40% off the retail price of $74.50. It's a great price for a good pillow, period, let alone a pillow that is found at one of the top hotel chains worldwide.
What I like about trying hotel pillows is that they need to create a pillow that pretty much everyone will find comfortable. If not, people wont want to stay at their hotels. Lots of research has gone into these pillows to find what people really want. Here are the tech specs of the pillow:
Design: Medium Support Down Comfort Pillow
Ideal for all sleep positions
Pillow-in-a-pillow design
Fabric: 230 Thread Count – 100% cotton
Barrier Weave™ down proof fabric
Fill: 550 Fill Power
Fill Weight: 27.5 ounces
Fill Type: Duck feather & down (inner chamber) & minimum 75% Goose down (outer chamber)
Hyperclean ® Pacific Coast ® Down and Feather
Care Instructions: Machine wash, dry, and fluff
Allergy Free warranty – this warranty is available from the manufacturer only
5 year manufacturer warranty
Double needle sewn edge
Size: 20″ x 26″
Price includes 1 standard size pillowThe Marriott ® trademark is owned by Marriott International, Inc.; this trademark is not owned or licensed by Pacific Pillows. The Marriott ® trademark is used on this website for descriptive purposes to inform customers that the Pacific Coast ® Down Surround ® Pillow sold by Pacific Pillows is the same down pillow found in many Marriott ® properties. The Pacific Coast ® Down Surround ® pillow is not manufactured by Marriott ®.
Construction Details of the Official Marriot Pillow
Marriot doesn't disclose much about the exact details of its pillow and that's probably because they want to keep it a mystery to some extent. Once you have the recipe, the magic's gone.
A Marriott Hotels Exclusive
Inner chamber design
Outer chamber: 70% white down/30% natural Lyocell fibers
Inner chamber: duck feather
No-shift support
100% Cotton down-proof cover
Allergen-free
Machine washable
Size options:
King: 20″x 36″
Queen: 20″x 30″
Standard: 20″x 26″
I recommend to readers to make note or shoot themselves an email every time you stay at a hotel or resort and just jot down some notes about how you sleep. What do you like, what don't you like? Is it a good mattress, pillow, sheets? Does the room smell good? Like the wallpaper or blackout blinds? Chances are they can all be bought and the concierge or receptionist will be happy to show you where to buy them.
Who is the Marriot Pillow For?
I recommend the Marriot Pillow for side sleepers and back sleepers. Stomach sleepers will also really enjoy it. The Marriot pillow also makes a great addition to a guest room. Hotels have figured out how to make a pillow that will appeal to the broadest range of sleeping and support preferences.
If you want to take the comfort of Marriot Hotels along with you, check out this pillow. Among hotel pillows, it is one of the cheaper ones and you still get that luxurious sleep you are searching for.
So, in conclusion, if you are a side or combo sleeper and haven't found the right pillow yet, this would be a good first choice. It has mass appeal and really works with you throughout the night. Instead of buying through Marriott, check out Pillows.com where you can get a good discount. Marriot pillows also have a pillow protector option which I recommend if you prefer a hyperallergenic pillow. If you prefer the down alternative pillow, which is found in the Marriot feather free rooms, you can get by without a pillow protector.
The Marriot Pillow is one of my top picks for hotel pillows and in most cases, if you buy it, you should be comfortable all night long.