Holiday Sale 25% off Lovesac when purchased online.
The Lovesac Sactional is popular for a number of reasons, including:
It is modular and customizable. The Sactional is made up of individual pieces that can be arranged in many different configurations. This makes it easy to create a sofa that fits your exact needs and space constraints. You can also add or remove pieces as your needs change.
It is durable and easy to clean. The Sactional is made with high-quality materials and construction techniques. The covers are also removable and machine-washable, making it easy to keep your Sactional looking and smelling new.
It is comfortable and supportive. The Sactional is filled with a soft and durable foam that provides excellent support and comfort. The covers are also available in a variety of fabrics to choose from, so you can find a Sactional that is both stylish and comfortable.
It is backed by a lifetime warranty. Lovesac offers a lifetime warranty on all of its Sactionals. This warranty covers any defects in materials or workmanship. If you experience any problems with your Sactional at any time, you can contact Lovesac for a replacement or refund.
In addition to these factors, the Lovesac Sactional is also popular because it is a well-known and respected brand. Lovesac has been in business for over 25 years, and it is known for its high-quality products and excellent customer service.
Overall, the Lovesac Sactional is a popular choice for consumers because it is modular, customizable, durable, comfortable, supportive, and backed by a lifetime warranty. It is also a well-known and respected brand.
Here are some additional reasons why people love the Lovesac Sactional:
It is perfect for families with children or pets. The covers are easy to remove and wash, and the Sactional can be easily rearranged to accommodate different activities.
It is a great option for people who move frequently. The Sactional is easy to disassemble and reassemble, and it can be configured to fit any space.
It is a versatile piece of furniture that can be used in a variety of ways. The Sactional can be used as a sofa, a bed, a sectional, or even a chaise lounge.
If you are looking for a modular, customizable, durable, and comfortable sofa, the Lovesac Sactional is a great option to consider.
Lovesac Review 2023 Update
The Lovesac Sactional is the most versatile couch I have ever owned. It is also the most durable. I bought my first Sactional back in July of 2013. Just recently I bought another back and seat to expand it as my family is growing. Although this furniture isn't cheap, you definitely get what you pay for which is quality that will stand the test of time and kids.
How Much Does the Lovesac Cost?
A lot! Don't get me wrong, it's a wonderful, versatile couch and will last year and year but it to get a Lovesac you will want to lounge in for movie marathons will set you back at least $5,000. A delux setup will be easily over $15,000.  That's why it's so important to wait for a LoveSac sale and study the LoveSac warranty like the bible. Look, if you're tired of Ikea furniture and want to upgrade to something more adult, this will last from when your kids are in diapers to when they are ready to take the keys to the minivan. So in this regard, the construction and warranty justify the lovesac cost. 
Ordering the Lovesac Sactional in 2023
You can order any of the Lovesac products direct from their website. This includes the couch, pillows, blankets and more. If you place your order online, shipping is free. They also offer financing through the website which can be anywhere from 6-12 months.
Here are the details on Lovesac Returns according to their website:
Eligible merchandise may be returned within 30 days of the date you received it.
We cannot accept returns for special order/custom merchandise, gift cards, shipping and handling, services, and interest fees.
Floor model and clearance merchandise are marked final sale and cannot be returned.
Returned merchandise is subject to a 15% restocking fee 1 business day after the order is placed.
Merchandise is eligible for a one-time price adjustment within 14 days of the order being placed. Merchandise marked to final sale (ie. floor model, clearance) is not eligible for a price adjustment. To request a one-time price adjustment, please visit your local Lovesac store or contact Customer Love:Chat: Click Here Mon – Sun: 9 AM – 10 PM EST
Call: 888-636-1223 Mon – Fri: 9:00 AM – 5:00 PM EST
Email: 

[email protected]
Unboxing the Lovesac Sactional
After placing your order, your Sactional should arrive in a couple of weeks. Mine arrived in 8 days after ordering. You will get a tracking notification when it ships and an estimate of when it will be delivered. No need to be present on the delivery day either.
I ordered 1 back and one seat as I am expanding my existing Sactional. Here's what that looks like in terms of packaging.  The big box is the base and the medium size box is the back and the small box is the cover.

How to Setup the Lovesac Sactional
If you have put together legos, then setting up your Sactional should be a breeze. The video below shows all the pieces needed to get started.
All the pieces come wrapped in plastic so they don't get wet during delivery.
The back and seat cushion can be found tucked underneath the base as seen in the picture below.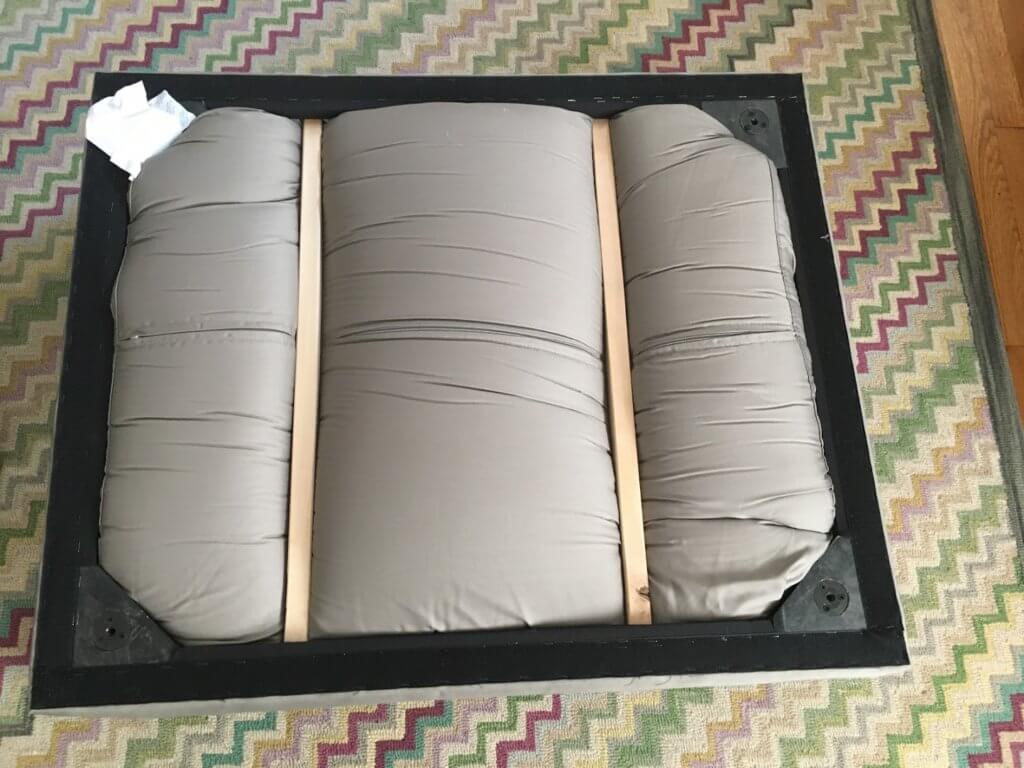 The covers are easy to slip on. To secure them you just velcro them to the bottom. In the 4 years I have owned my sactional they have never come loose and are easy to detach if you want to wash them.
The seat cushions are made with quality zippers that will hold up through multiple washes.
The next step is to connect the base to the back. You get the following pieces to do this. A metal collar that holds the pieces together at the middle as seen below.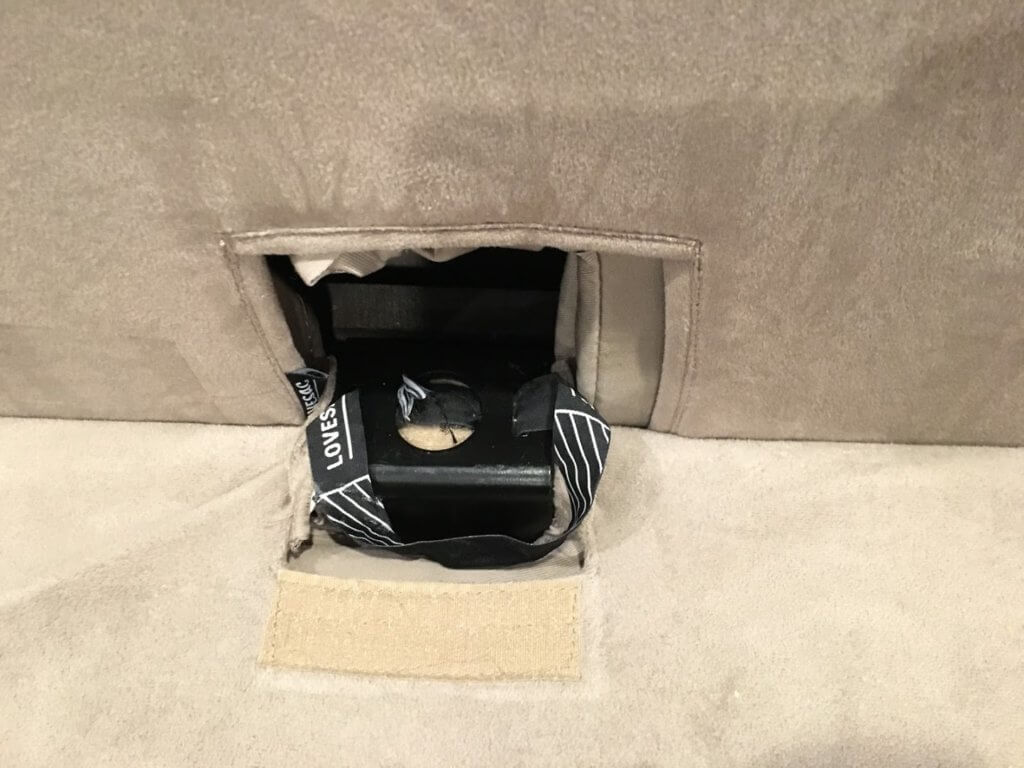 A wooden base connector where the feet of two different bases can attach to secure the bottom. If you have hardwood floors, there are some wool pads to put on the feet so that you don't leave any scratches.
Here's a look as I am setting up the sactional.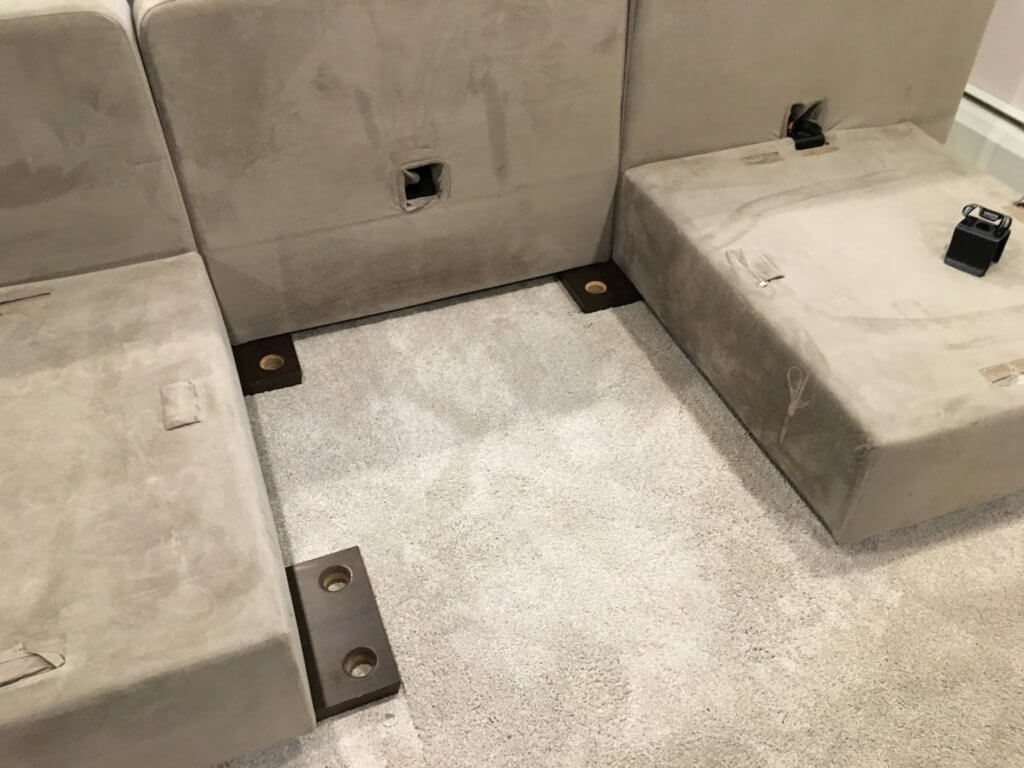 Here's another picture of what it looks like all complete. The blanket in the photo is also a Lovesac blanket. These blankets are super soft, machine washable and even have a foot pocket to keep your feet cozy.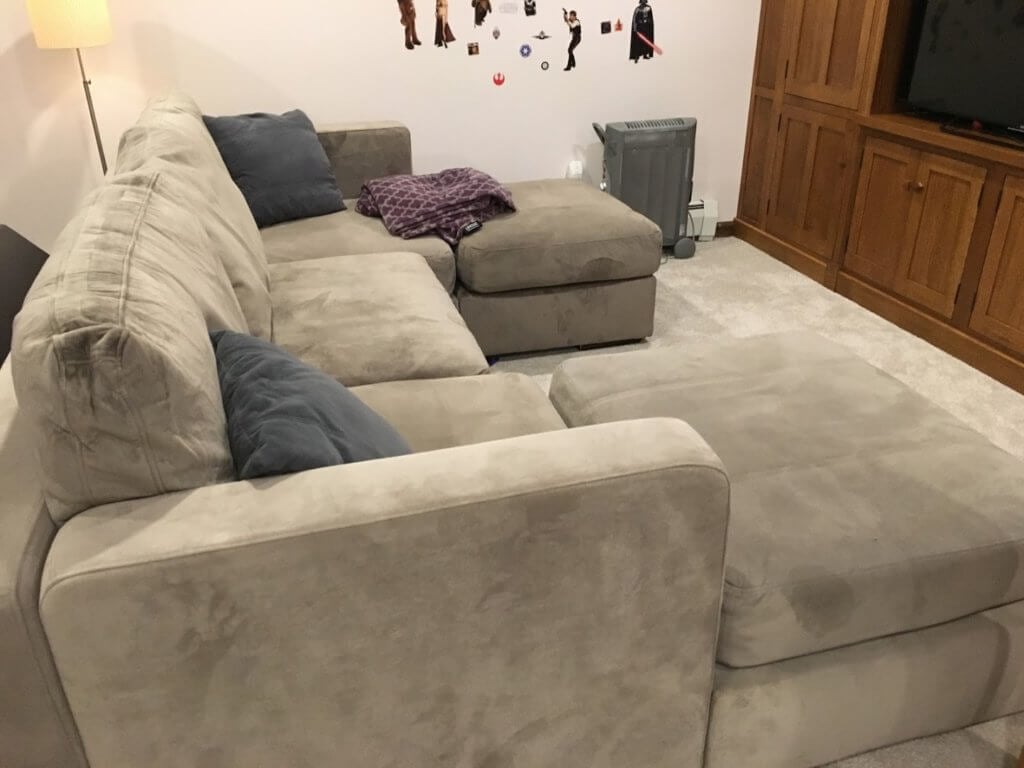 There are lots of ways to configure your sactional which is why it is so valuable. If you move frequently or just grow tired of your current configuration, you can switch up the look easily. Not only that but you can also buy different covers.
Below is a picture of some of the many configurations for a lovesac with 5 sides and 5 bases like mine. If you go to their website and choose the number of bases and sides you can get a configuration guide for your number of pieces.
Does the Lovesac Ever Go On Sale?
Absolutely! Just about every month you will find a Lovesac sale. If you are paying full price for a LoveSac, you are paying the sucker price.  The best time to buy a lovesace is Black Friday, Memorial Day or 4th of July. This is when you will find the best Lovesac prices. 
As much as you want it, there is no lovesac available at Costco. Costco does not sell the Lovesac. 
Lovesac Return Policy
Acording to the Lovesac website, you get 60 days to figure out if you want to keep your Lovesac. However you will not be reimbursed for any shipping or delivery fees. 
We believe in Total Comfort, and a big part of that is making sure you are completely satisfied with your purchase. But if you'd like to make a return for any reason, you can return it by contacting Customer Love to coordinate your return authorization. Eligible merchandise may be returned within 60 days from the date you received it for a full refund or exchange. Custom merchandise, floor model, and clearance item sales are final, and returns cannot be issued. Any shipping and/or delivery fees are non-refundable. Gift Card purchases cannot be cancelled or returned. Merchandise is eligible for a one-time price adjustment within 14 days of the date ordered. Floor models and clearance merchandise are not eligible for price adjustment. Financing terms cannot be adjusted after a purchase is made. Proof of purchase is required for all returns, exchanges, warranties, and refunds. 
My Lovesac Sactional Recommendation
I have had my original sactional with 4 bases and 4 sides for over 4 years now and it has held up extremely well. I have configured it different ways many times in order to use it as a bed when guests come. Over time some of the legs have broken but I was able to get free replacement legs, no problem. Other than that the couch has held up perfectly after multiple washes and kids climbing and jumping on it.
The Sactional is an investment as their entry-level configuration with 2 seats and 4 sides currently retail at $1,700 however this couch has held up longer than any other couch I have owned. We have bought Ikea couches and sectionals in the past but the fabric on them was not machine washable and faded quickly. I also found that the cushions on the Lovesac are of better quality and last much longer. If you have pets that climb on furniture this would make it worth it alone.
In 2021 Lovesac Introduced the StealthTech technology which adds Harmon Kardon speakers inside your Lovesac couch for the ultimate surround sound experience that you can feel and hear but not see. It's a great way to get surround sound without ugly speakers and wires everywhere. Check out this Stealth Tech video below