I received the new Hathaspace Smart True Hepa Air Purifier for review and it is a great choice for large rooms. It is designed to purify the air in rooms up to 1,500 square feet. It will eliminate over 99% of particles under 0.1 microns. This machine has a 5 stage filtration system that can not only get rid of dust but also smoke and VOCs. I have gone reviewed other air purifiers on Yawnder but so far this one is the most effective for big rooms and the best value.
Ordering the Hathaspace Smart True Hepa Air Purifier
There are two ways to buy this air purifier. You can order direct through Hathaspace which I recommend or through Amazon. Either way, shipping is fast. Mine arrived in under a week from Hathaspace. It was also packaged very well.

How Much Does it Cost?
This retails for $399 but if you order through Hathaspace, you have the option of joining their filter club plan which will send you a new filter automatically every 4 months at a 10% discount. Opting into the filter club also reduces the price of the air purifier, so then the price becomes $369. You also get an extended warranty. Hathaspace has a 60 day trial period if you order direct but if you decide to return it you will need to pay return shipping costs.
Overview of the Hathaspace Air Purifier
Here's a video overview of the device. In the video, you can see how easy it is to change and replace the filter and how loud the device can get on its highest setting which will most likely be rarely used.
Construction of the Hathaspace Air Purifier
My Hathaspace Findings
There's really not much to get this setup. There are instructions but the most important is to remove the plastic wrapping from the filter itself before operating.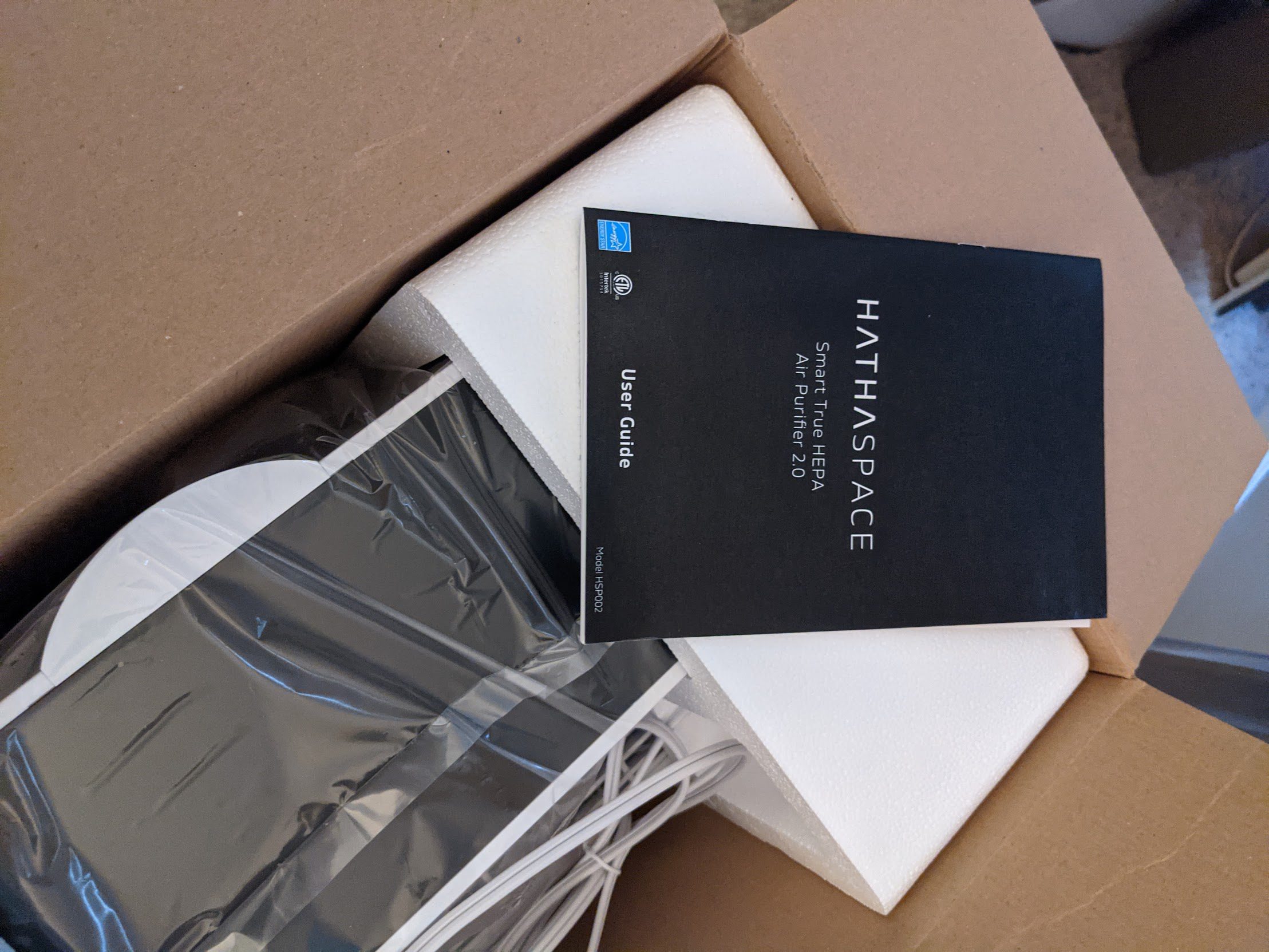 This is the second 5 stage air purifier I have tried and I am a convert to this technology. I noticed a real difference in air quality within minutes after turning this on. Here's a look at each filter.
The black grid in the picture below is the pre-filter that gets rid of the biggest particles. This is a washable filter and to clean it you just need to run it under the sink and use a light scrub brush with a little bit of soap and then let air dry before re-attaching.
The blue filter is the polypropylene prefilter which captures bigger particles so the HEPA filter can run more efficiently. Behind this filter is the HEPA filter which blocks smaller particles. There are tabs at the top that make it easy to remove from the device when it comes time to replace it.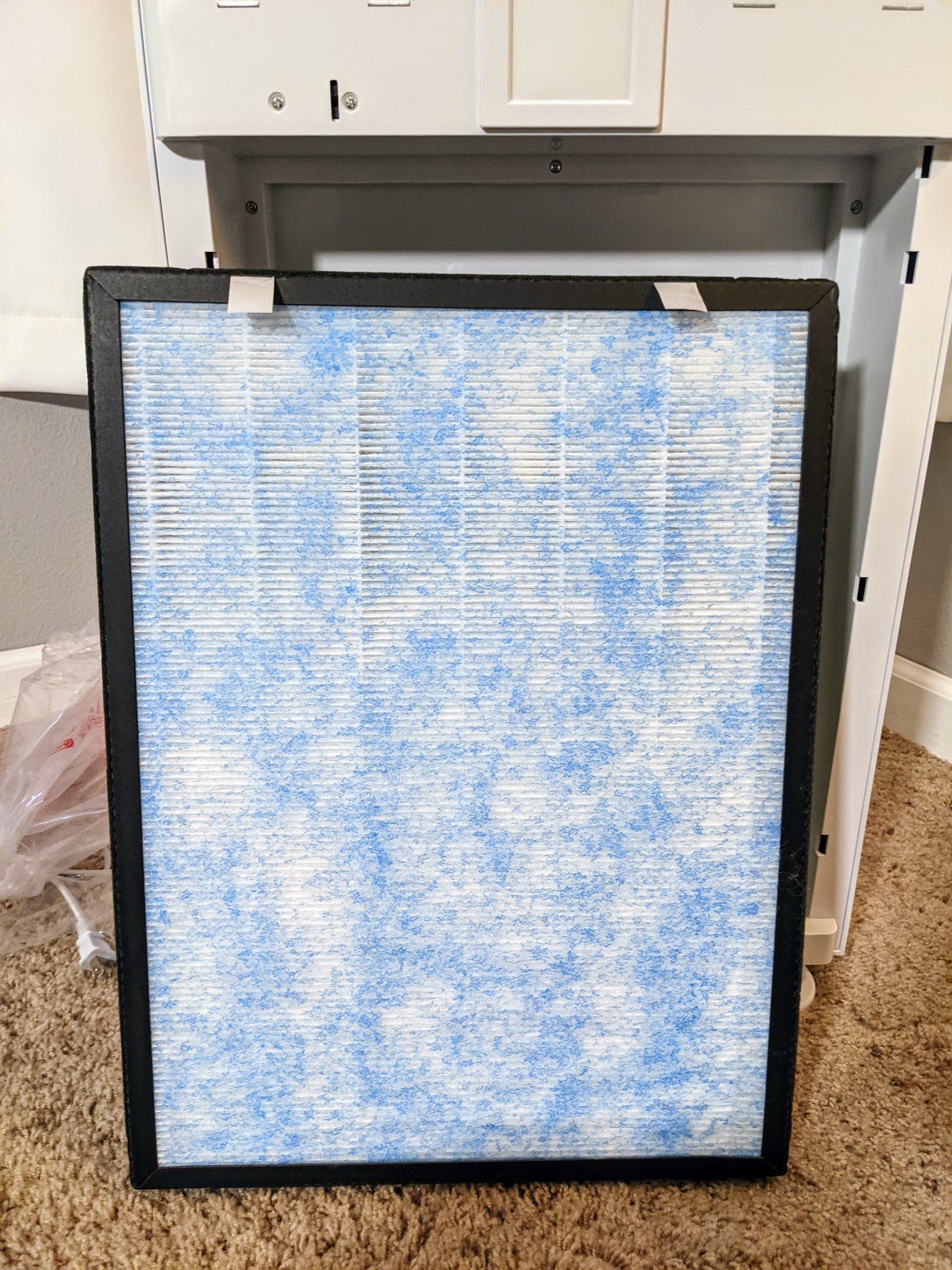 There's also a carbon filter inside that traps odors.
The backside of this is the cold carbon filter. This is the final stage of the filtration process and will remove VOCs.
I like that the filters are all put together in one container. When it comes time to replace it, you simply take it out and put back one piece. The only real maintenance is washing the pre-filter and wiping down the outer container if it gets dirty.
My Hathaspace Smart True Hepa Air Purifier Recommendation
This is air purifier is an incredible value for the money. At just under $400 you get some of the more advanced air cleaning technology that will remove more than just air particles. It's hard to find large room air purifiers that are this effective at this price point that will run this quietly. It is very intuitive to operate as it has an automatic mode that will detect air quality and adjust the fan as needed. There's even a night mode that will turn off all the display lights if you keep it in your bedroom. The overall design is sleek and modern so it won't look awkward in your living room.
As we are spending more time indoors it's important that we have an optimal environment for health and productivity. Breathing clean air will reduce your likelihood of getting sick and just make you feel healthier and happier.