The Floyd Bed is a modular bed that is easy to set up and takedown making ideal for people in small spaces or tend to move frequently. It is proudly designed in Detroit and doesn't require any tools to assemble.  This bed can transform from a twin all the way to a king-size just by adding panels. You don't have to discard the bed as your needs change. Not only is this the perfect solution for all those bed in a box mattresses out there crying for a quality bed frame, it just makes sense as people tend to be more mobile these days.
Overview of the Floyd Bed
The Floyd Bed can be purchased directly through their website. Items in stock will ship the next day so expect it to arrive quickly to your door. The bed also comes with a 30-day trial so if you don't like it for whatever reason, it's a free return. Should you decide to keep it, you get a 10-year warranty on any of the parts. Since this has few parts to begin with, it's unlikely that you will experience problems, but if you do, you are covered and can get replacement parts under the terms of the warranty. What's nice about this bed is that it is portable and you can get it into tight spaces. The bed and headboard arrived in these boxes.

Here's a quick video that shows the entire setup process including the headboard.
How Much Does the Floyd Bed Cost?
Below are the current prices of the bed as of this writing with and without the headboard and before any discounts offered on their website. You also have the option to add under-bed storage. One side is an extra $280 and both sides is an extra $560.
Construction of the Floyd Bed
Real Birch
We utilize all-natural Grade-A birch plywood for our panels, made with care in Virginia. Our panels are CARB-2 certified; our products do not emit any VOC's. It's a timeless material, used for its durability and strength by design pioneers such as Ray & Charles Eames and Alvar Aalto.
Steel Supports
The supports are made from powder-coated steel. Each steel support is made from a series of 8 bends from a single piece of steel, which reduces waste in the production process.
Nylon Ratchet Straps
The ratchet straps complete the system, securing the panels and supports for rigidity. No creaking!
Cotton Canvas
Made with a strong canvas that holds up to 100 lbs, it's perfect for stashing late-night reading materials, fresh top sheets, or all of your mismatched socks (we hope you don't have 100+ lbs of mismatched socks!).

My Floyd Bed Findings
Floyd is an ideal bed if you live a more mobile lifestyle and are tired of moving bulky furniture. You can expect some damage to your furniture during a move, it's just a part of the process. With the Floyd, it's easy to disassemble and reduce the chances it will get banged up.
Setting up the bed is super simple and I appreciate that Floyd used much less styrofoam in their packaging than other beds I have unboxed.
I received a queen size for review which includes 3 platform bases that you align vertically and attach with metal connectors.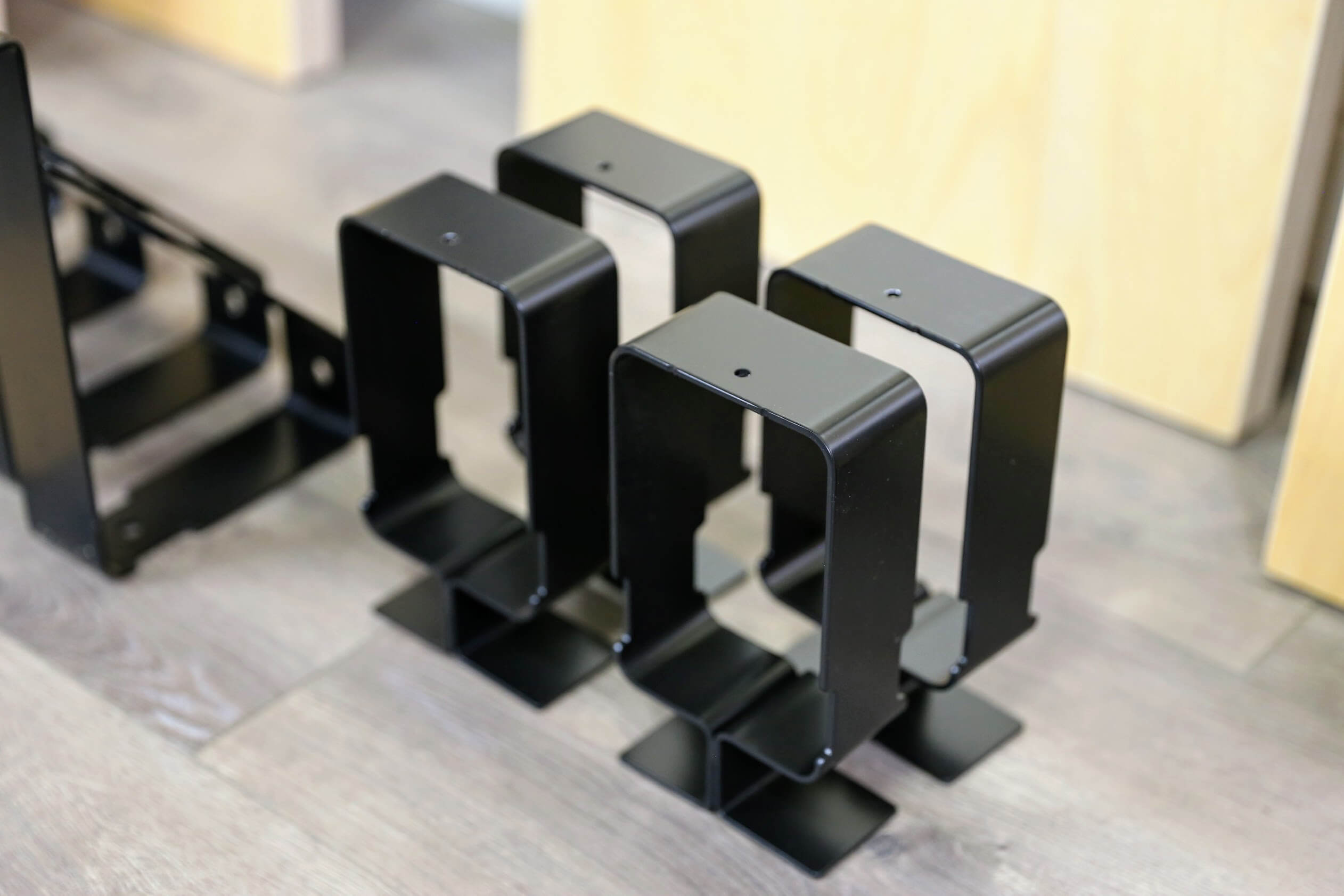 There's no nails, screws or glue required.
It's the same process with the stands for the corners of the bed.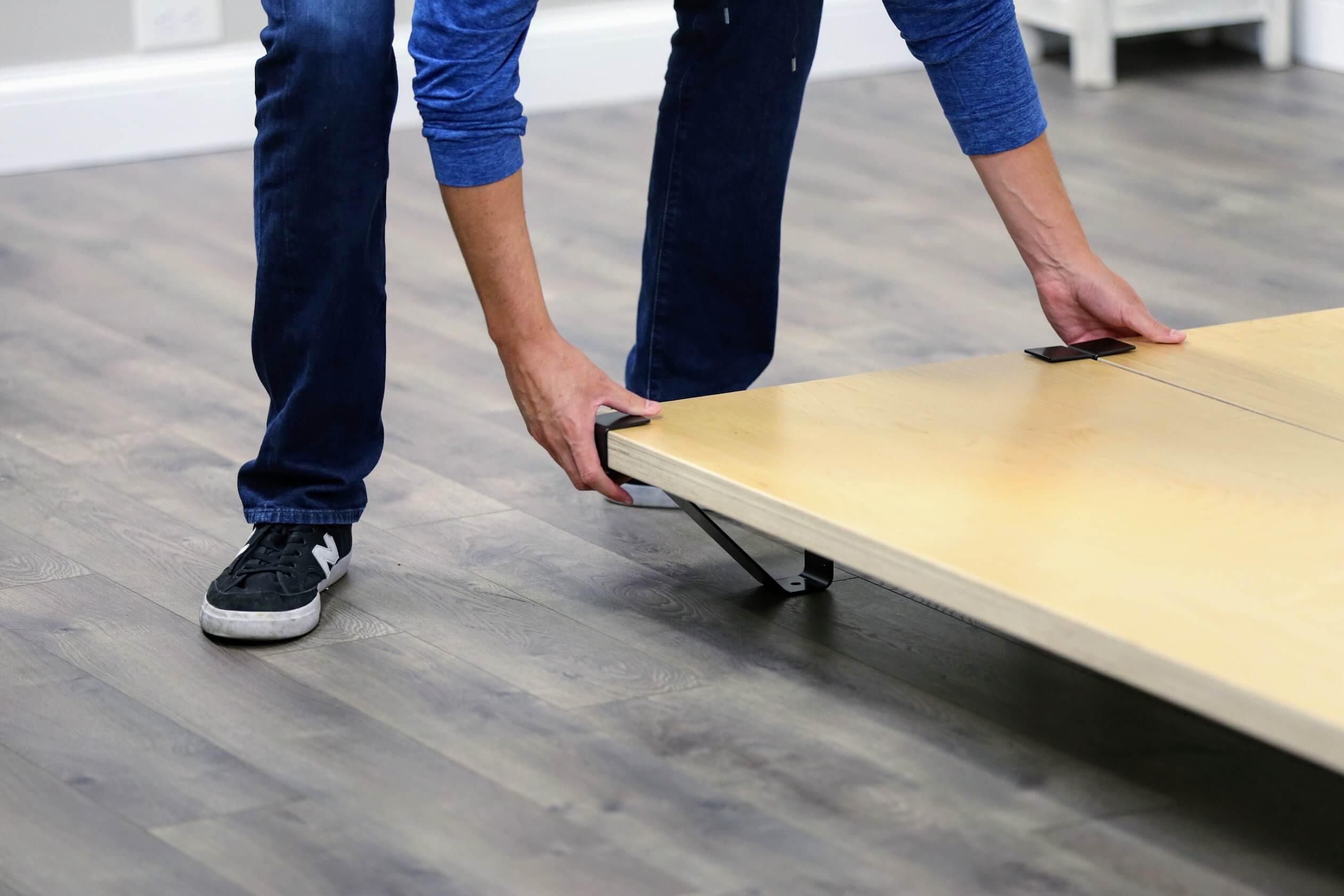 The whole bed is held together with two straps at the head and foot of the bed. I found this to be the most cumbersome part of the setup. I don't normally use ratchets so it took some time to loop it correctly and to get it tight enough on the frame. Granted, if I were to do this again it wouldn't take as long but keep in mind there is a little bit of a  learning curve.

Here's what it looks like all set up, without the headboard which you can purchase separately.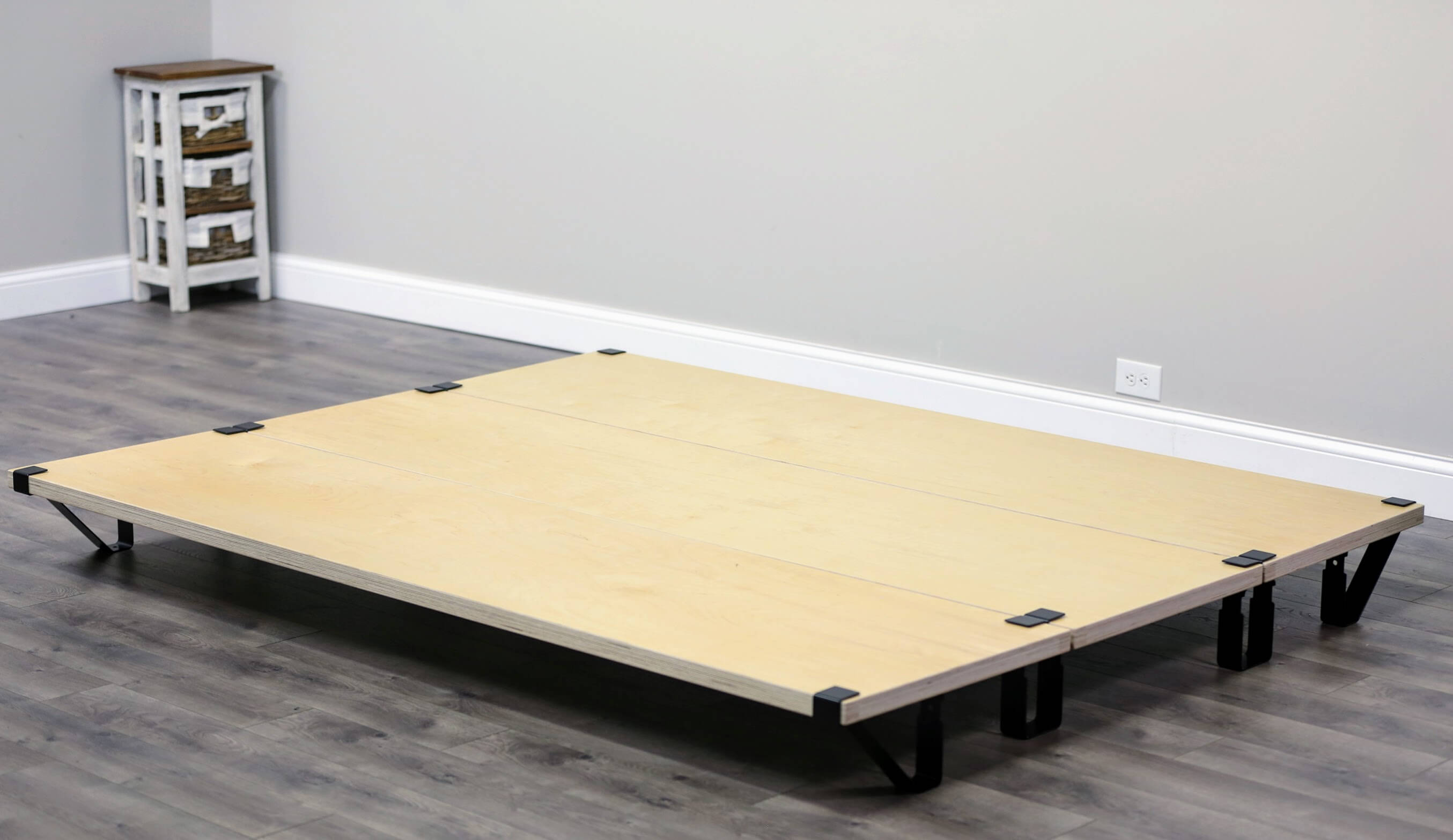 The headboard was the easiest piece to install. The metal base pieces slide in between the slats so make sure that the strap holding them all together is loose enough then tighten the strap again and rest the headboard on the metal pieces and screw it in to secure it.
My Floyd Bed Recommendation
Since the introduction of the bed, Floyd has introduced a bunch of other furniture for your home, all around the concept of easy setup and takedown. I like the modern look of the bed and the fact that you can expand it into a king size by adding another slat or removing one for a twin size bed.  Keep in mind that the frame sits low to the ground which can make it a little harder to get out of if you are tall like me. I recommend Floyd for people in urban spaces where flexibility is a premium. Often people buy new furniture after a major life event like moving, getting married, divorced or having kids. This bed makes it possible to get a bigger or smaller mattress without having to get rid of your frame.
Floyd Bed Complaints
Mattress Slippage: Some users have reported that the mattress tends to slip on the bed platform due to the absence of border support or retaining edges. This issue seems to be more prominent with latex or memory foam mattresses, which may not adhere to the bed platform as effectively as traditional innerspring mattresses.

Stability Issues: While the Floyd Bed's design aims to simplify assembly, some users report issues with stability and noise. The bed may occasionally creak or move, especially when weight is shifted, which can cause discomfort or disturbance during sleep.

Cost vs. Quality: Although Floyd positions itself as a premium furniture brand, some customers have voiced concerns about whether the bed's high price point is justified by its overall quality and durability. Despite its chic, minimalist design, a few users feel that the bed does not offer a commensurate level of comfort or longevity.

Lack of Underbed Storage: Given its low-profile design, the Floyd Bed doesn't provide much room for under-bed storage. For those living in smaller spaces who need to maximize storage, this can be a disadvantage.

Delayed Shipping and Customer Service Issues: Some users have mentioned issues with delayed shipping times and lackluster customer service. While these points don't directly concern the bed's physical features, they do impact the overall customer experience.

Assembly Difficulties: Although Floyd Beds are marketed as easy to assemble, some users have noted that the assembly process can be more challenging than advertised. This could be due to factors like unclear instructions or difficulties aligning and securing the bed's components.
Best Modern Bed Frame
Thuma
Get Black Friday Savings Now at Thuma!. Thoughtfully designed and crafted to elevate any bedroom. The Bed includes the frame, extra-strength cushion-coated slats, and either The PillowBoard or The Headboard.
We earn a commission if you make a purchase, at no additional cost to you.
Thuma vs. Floyd
Here is a comparison of the Thuma and Floyd bed frames:
| Feature | Thuma | Floyd |
| --- | --- | --- |
| Material | Solid wood | Plywood |
| Finish | Natural, walnut, or white | Natural, walnut, or black |
| Weight | 140 lbs | 100 lbs |
| Assembly time | 30 minutes | 15 minutes |
| Price | $899 | $799 |
Advantages of Thuma:
Solid wood construction is more durable and sturdy than plywood.
Thuma beds are made with sustainable materials and finishes.
Thuma beds have a sleek and minimalist design.
Thuma beds come with a 10-year warranty.
Advantages of Floyd:
Floyd beds are more affordable than Thuma beds.
Floyd beds are easier to assemble than Thuma beds.
Floyd beds are made with sustainably sourced plywood.
Floyd beds come with a 5-year warranty.
Overall, the Thuma bed is a better choice for those who are looking for a durable, sturdy, and stylish bed frame. The Floyd bed is a better choice for those who are looking for an affordable and easy-to-assemble bed frame.
Additional considerations:
Thuma beds are heavier than Floyd beds, so they may be more difficult to move.
Thuma beds have a longer warranty than Floyd beds.
Thuma beds are made in the United States, while Floyd beds are made in China.
Ultimately, the best bed frame for you will depend on your individual needs and preferences.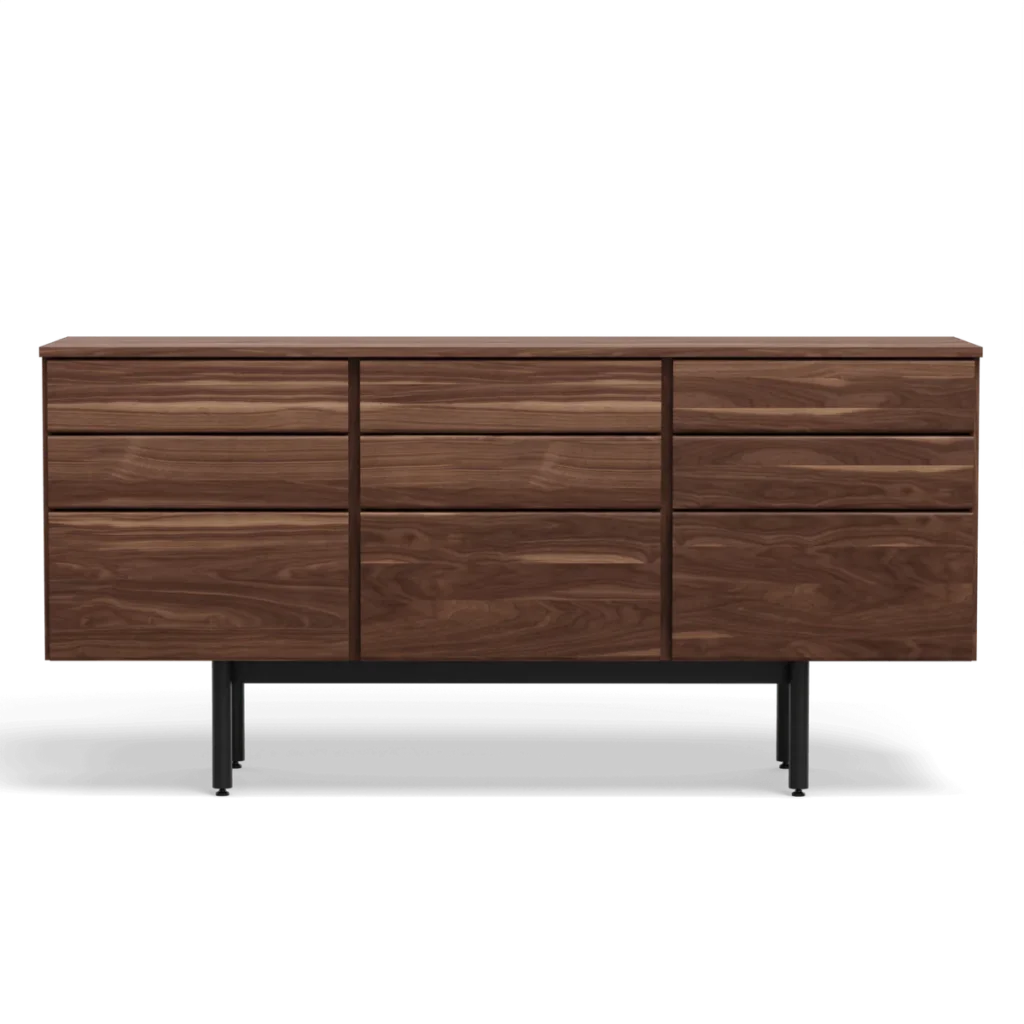 Other Floyd Furniture
Sectionals
Three-Piece Form Sectional: $2,152.50
Sink Down Sectional: $2,061.50
Two-Piece Form Sectional: $1,890.00
Chaise Add-On: $716.00
Sofas
The Sofa: $1,180.00
Form Ottoman: $620.00
Beds
The Bed Frame: Starting at $796.00
The Bed Frame in Color: Starting at $540.00
The Mattress: Starting at $716.00
Headboard Add-On: $340.00
Upholstered Headboard Add-On: $440.00
Bed Framework: Starting at $220.00
Short Expansion Units: $132.00
Tall Expansion Units: $176.00
Bed Frame Expansion Kit: $500.00
Tables
The Table: Starting at $356.00
Coffee Table: Starting at $356.00
Media Console: Starting at $700.00
Side Table: $276.00
Bedside Table: $276.00
Cabinet Shelf Standalone: $276.00
Storage
Underbed Storage: $1,440.00
Cabinet Add-On: $340.00
Short Cabinet Expansion: $176.00
Accessories
The Y-Lamp: $276.00
The Floyd Leg: $26.00
The Utility Set: $29.00
Outdoor
Outdoor Chair: $356.00
Outdoor Table: $540.00
Outdoor Bench: $476.00

Outdoor Chair Single:

 $276.

00